I have been reading people's responses about the effect of lockdown is having on them. For the most part, you find positive stories. Stories about resilience and people discovering themselves. I believe that over the next couple of years, we are going to see a ramp-up of small business owners because of this. People are believing in themselves and others like never before. We can see it with the BLM Movement. For instance, I ordered a Malcolm X shirt 6 weeks ago. It just came today in the mail because that is how slammed these small black business owners are right now.
Now what we don't see a lot of is the negative effect of the lockdowns. There is one though. Domestic abuse rose all across the world as we dealt with the first waves of the coronavirus. I saw many posts about people finding creative ways to reach out to the abused but since the BLM Movement picked up steam that focus has shifted. Now, I haven't seen a post in a little over a month.
In Children
My grandmother made this her life's work. She was the helping hand that saved thousands of lives from their tormentors. As I was growing up summer vacation meant spending as much time at her place of work as I did at camp. If not more. For years it was even simultaneously. Her work was always about helping the youth and the people who sought to care for them and educate them. She was the executive director of her agency following in the social footsteps of the 3 black women who held the title before her. She extended her heart to every man, woman, and child regardless of race and age. Since her agency was located in a predominately black area over 90% of their cases involved black women and children. The agency didn't survive after her but its legacy lives through the lives of the children it saved.

It is very well known the American education system leaves something to be desired. One thing that it does offer though is a way of identifying problematic cases. These kids have immediate ways of getting help. They have teachers, counselors, coaches, and general contact with other families and kids. This does prove to help thousands of kids. However, it has been reported that since the lockdown happened the number of cases reported to social services has reduced dramatically compared to last year. That's a problem. That means kids are suffering in silence. We need to be aware and stay on top of our family, friends, and neighbors.
The other problem is that the system has created ingrained issues inside underserved communities. When people are constantly met with the lack of having their basic needs met then it affects them mentally and emotionally. The American Academy of Pediatrics did a case study in 2010 to see why black families are more likely to be accused of child abuse. Their conclusion:
Although our findings do not preclude the possibility of racial bias, these findings suggest that racial bias in reporting and in the child welfare system are not large-scale drivers of racial disproportionality. Our data suggest that reduction of black/white racial disproportionality in the child welfare system can best be achieved by a public health approach to reducing underlying risk factors that affect black families.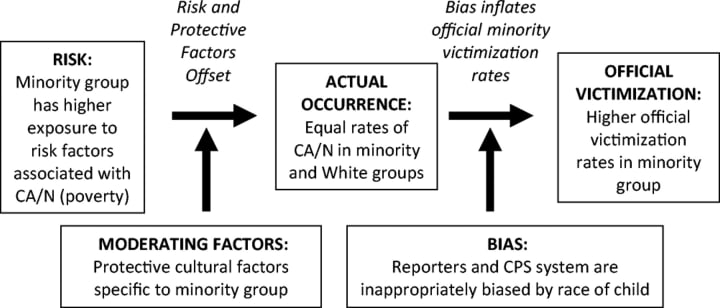 What this means is while race does play a part in the reports, it is the socio-economic situation that minorities face is in fact the main problem.
In Women
Day One, a non-profit organization that is dedicated to stopping dating abuse and domestic violence said this in their June 8th piece:
Domestic violence impacts individuals from all genders, races, ethnicities, and socioeconomic backgrounds. However, according to research done by the National Sexual Violence Resource Center, sexual violence is inextricably tied to oppression. The Washington Coalition of Sexual Assault Programs (WCSAP) says that this includes, "disproportionate rates of violence people of color experience, how the criminal justice system mass incarcerates and punishes more harshly people of color over white people, and how the movement to end sexual and domestic violence replicates oppression, power imbalances, and racism within mainstream and other organizations."
What people need to understand is that the BLM movement is not just for black people, it is for all who have been oppressed in this country. It is for the people who fear the government because they know that before a word comes out of their mouth they will be judged. Simply for being born into a different race than that of white. Under the Trump administration oppression has taken a life of its own. It is the governing hand of America and the basis of how Trump addresses the people he represents. He reinforced the idea o retribution and police harassment. So now instead of receiving help when you need it most, you are more likely to be putting yourself in danger with the police or with the person who you're trying to receive protection from.
The CDC did a case study for the years 2003-2014. Their conclusion:
Homicides occur in women of all ages and among all races/ethnicities, but young, racial/ethnic minority women are disproportionately affected. Over half of female homicides for which circumstances were known were related to intimate partner violence (IPV). Arguments and jealousy were common precipitating circumstances among IPV-related homicides. One in 10 victims of IPV-related homicide were reported to have experienced violence in the month preceding their deaths.
This is once again stemmed from the disadvantages of systematic racism in the government. A lot of the studies I read say that the numbers are possibly higher in the black community among both sexes. Due to the stigma and fear that surrounds calling the police certain personalities, such as the strong black woman and the strong black man, are adopted instead. I know from experiences with family members and friends, calling the cops was never an option that was considered. Only calling family and friends were the options even then it was after years of abuse. Until that person was ready to receive help what was we to do?
Conclusion
The BLM Movement is so intricate and complex. Many people who don't support the movement say 'what about black on black crime, it is only when a white man kills a black person is when you speak up.' The responses to these people are filmed and put on the internet for millions of people to watch. Most people don't know what to say in their response because they haven't looked that far into what exactly the system has done to our communities. They typically say 'it's not about that' when it is about that.
Poverty has destroyed our communities and it continues to do so because we do not get the same opportunities. This starts from the moment we are conceived in our mother's belly. What BLM is fighting for is more than defunding the police, it is a fight to start on a level playing field. To receive the same opportunities so we can properly combat the issues within our communities. We want a chance without having to worry about who is going to take that chance from us. Then and only then can we rebuild our communities through proper education, health care, and financial opportunities.
Also as we see states opening back up hospitals are seeing more severe cases of child abuse/neglect and hotlines for domestic violence victims are starting see spikes.
So be aware and look out for one another.
Reporting
Child Abuse/Neglect: 1-800-422-4453 and your local Department of Health and Human Resources
Domestic Violence: 1-800-799-7233