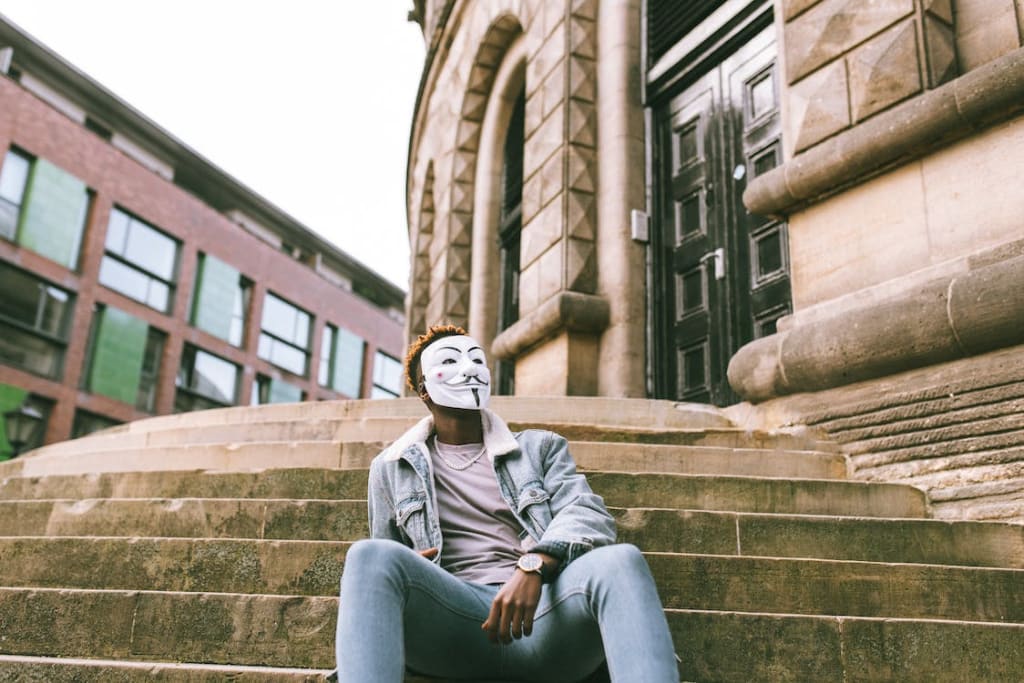 Photo by Anete Lusina (Pexels). Copyright free.
"Do what you must, do all you can, break all the fucking rules, and go to hell with Superman..." --Bad Religion
People believe that nihilism is a destructive, pointless philosophical toilet bowl, wherein people who "just don't give a fuck" just...don't give a fuck. Actually, it's quite liberating. Once you realize the futility of earthly endeavors, the relatively brief period in this world in which you have to live and shine and define yourself, and deceive yourself into believing that, ultimately, anything you do here will matter after they shuffle you under the earth--an inexorable eventuality for every man and woman walking the face of the planet -- liberates you, somehow. It frees you from the petty, self-deceptive boxes you're commanded to choose to live in (but not with too much choice, really; there is only an alternative between Acceptable "A" and equally Acceptable "B") by a society that will otherwise rubber-stamp you as one of the "bad people." But even the "good people" get shoveled under, brought down by the relentless march of time.
Sooner or later, no matter who you are, or believe yourself to be, no matter how much credence you give yourself, how much importance you put on your own skin, that skin will dissolve to dripping, reeking putrescent mucus, and your precious skull will be invaded by bugs. The accomplishments you accomplished in this life will be overtaken, and your own investment of time, money, and attention to what was, ultimately, proven to be "relative and trivial" (to borrow a quote from William S. Burroughs) will be rendered a moot point.
Your race is meaningless; ultimately, so too, nation, class, creed, what-have-you. All are doomed to fade into oblivion. No, that's not even quite right; destined to VANISH in the blink of an eye, when your heart stops beating. You stop breathing, turn blue, fall over, and smell really really bad. And that is FOREVER.
No matter who does or doesn't "like" you, they will disappear. Every single person you ever encounter in your life will die or disappear eventually. None of their opinions can finally have any consequence. Nietzsche proclaimed a man must stretch his "rope across the Abyss, climb to that other side, and avoid looking deep down, staring into the abyss, because that same abyss, if so stared into, will stare back." None of that is exact quotes. It is a summation. But it is truth, revealed. But, then, why even walk across the tightrope? Life can be pulled from beneath you at ANY TIME, even through sheer misadventure or folly. I am not trying to be unduly grim; I am only telling you a fact that we try to avoid focusing on in our egoistic, self-deceptive delusion.
Once I realized I was alone in the world, it gave me a certain freedom. No one cares, nothing I do will have any permanence, and even if my work out lives me a century--what of it? Does that do ME any good? Shall I rest in the boneyard and hope an occasional lost soul will usher forth and pat me on the left side of my grave as if patting me on the back, and say to my moldering bones, "You did a great job, Tom,"? NO. Life exists in the NOW, only as a continual stream of stimuli. YOU choose the experience of that continual stream of consciousness; but that's not quite right either, because a circumstance is thrust upon you, and you react to it. Or, rather, you CHOOSE how you will interpret it, and what sort of value you attribute to it. One man experiences pain as pleasure, and vice-versa; beauty to one is ugliness to another. A human body, a beautiful one even, can be appreciated for its aesthetic value, or clinically, coldly appraised as a repellent vector of potential disease-carrying biological matter, one destined to, one day, become an inert mass of reeking slop, a biohazard that must be eliminated quickly after certain ritualistic obsequies are observed, and then thrust into a crematorium or landfill, to become the compost heap of so many empty tomorrows.
But this should not dampen your ardor for life. On the contrary, the "freedom of Nothingness" should open the door for you, and liberate you as a prisoner is liberated from the confines of his cell. In time, you know, you'll simply be another strange, forgotten image in an old photograph, someone who long ago shuffled off this mortal coil, and is now part of a curious past, one that has lost all meaning in our ascent toward the ever-shifting panorama of tomorrow, tomorrow, and tomorrow still.
Below is a picture of a street scene from 1909. No one knows who these people were. No one cares. It fundamentally makes NO difference who they were; no one will ever know. Whether they were a committed social reformer or Jack the Ripper, is irrelevant and meaningless. A triviality. Their work, in this life, what they thought of as ultimately their promise and purpose, is only a curiosity to us now, something collecting dust in a museum collection. The wealthy and powerful film stars of yesterday, the singers and actors and musicians--none of their films and recordings remain fresh, vital, or anything more than the bizarre, outmoded forms of expression of a past we can only guess at, surmise the mentality of through That Which Remains.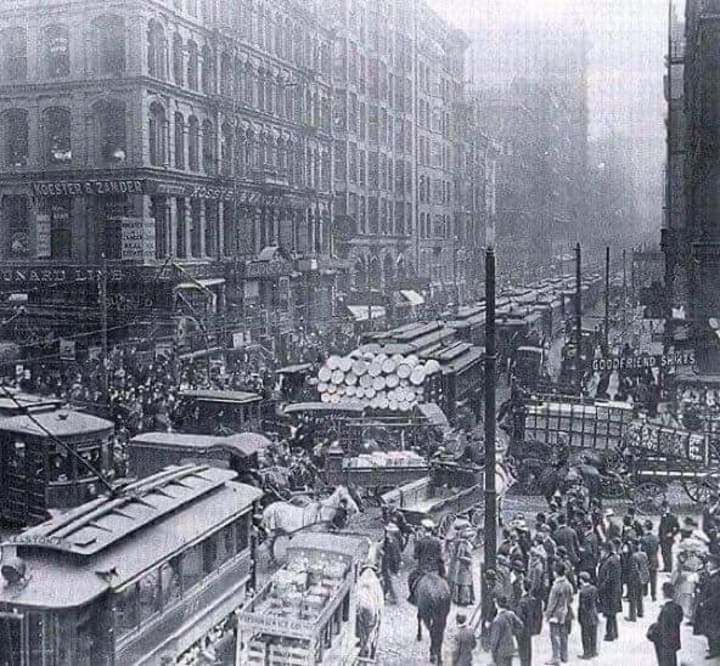 March up to the ballot box on Election Day, and stuff it with used toilet paper or dirty condoms. Maybe a few handfuls of bullshit or a can of lard would be just as appropriate. This is hyperbole, of course, but it's all the same. Whatever gangster criminal fraud happens to be "shifted into power," the world spins on, closer and closer to thermonuclear annihilation, the looming "Doomsday" of which our clock ticks down...moment by moment...urging us forward into oblivion. Make love how you want. Create and destroy as you feel compelled to do so. DO WHAT THOU WILT, saith the Great Beast, SHALL BE THE WHOLE OF THE LAW.
That thing that you want to do? If you can do it, DO IT NOW. Tomorrow may never come. Hell, today might end with your death. Old Ragnar "Blacklisted, Banned, Burned, Berated, and Boycotted by Those Not Worthy to Lick His Undeniably Dead Boots" Redbeard said, "Make of your life what you can, NOW, while you still have the chance. For later, the worms eat you. Can't you see?" We are, as he said, "ruled by dead men, the inhabitants of tombs." Albert Libertad, the anarchist writer of the turn of the last century, who died young, wrote an essay called the "Cult of Carrion," about paying undue obeisance to the past, to the Dead.
Anarchists and nihilists are not interested in the dead, in being shackled to a tomb. They are interested in the NOW. There is no Tomorrow. Tomorrow never comes. There is only Now, Right Now, and nothing more.
My favorite quote from slain anarchist individualist outlaw and philosopher Renzo Novatore is: "For dying, they have drunk the Sun."
Somewhere at the center of our consciousness, we are part of a Greater Force. What that is or entails, I'm not certain. You incarnate into physical life. You die. Lord Krishna tells us we return. Schopenhauer spoke of the "world soul." (Do You think I'm bad? That man dripped gloom from every pore of his miserable, aching old self.)
It's a life in which we'll suffer. We have to suffer. But not because we choose to. No one ever has to choose to feel or believe anything. No one else's opinion ultimately, has any bearing on YOUR situation. "We're only gonna die," as Bad Religion sings. Give the bastards HELL on the way out.
Do what you want.
About the Creator
Author of Haunted Indianapolis, Indiana Ghost Folklore, Midwest Maniacs, Midwest UFOs and Beyond, Scary Urban Legends, 50 Famous Fables and Folk Tales, and Notorious Crimes of the Upper Midwest.: http://tombakerbooks.weebly.com
Reader insights
Nice work
Very well written. Keep up the good work!
Top insight
Heartfelt and relatable

The story invoked strong personal emotions
Add your insights