Did Donald Trump Just Cross the Floor?
Donald Trump sides with Democrats over Harvey aid and debt ceiling.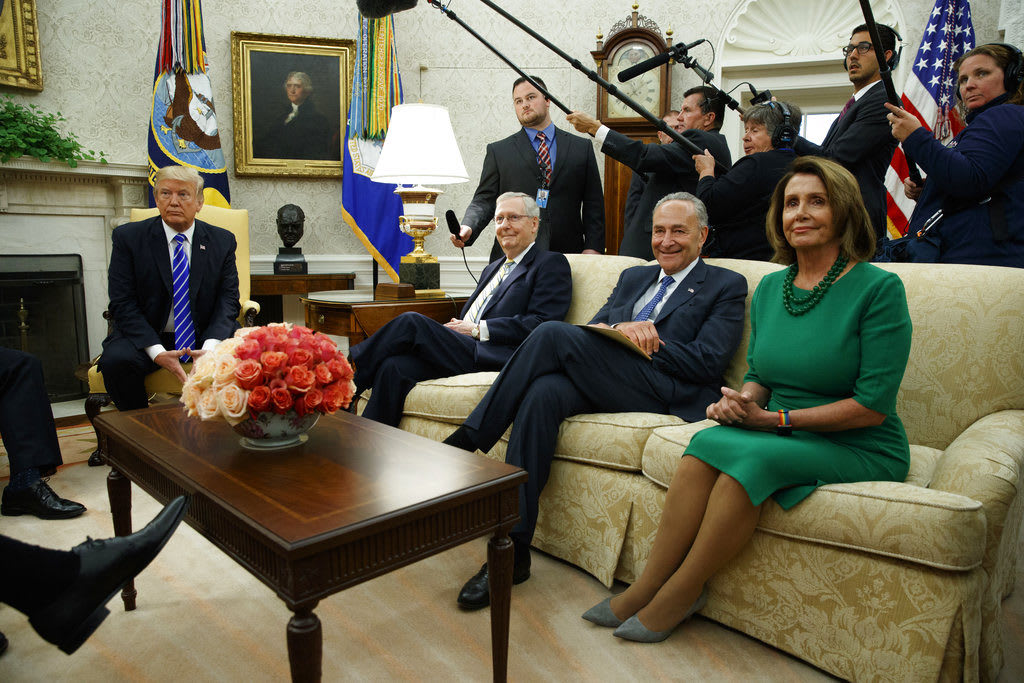 Today Donald Trump did something that no president has done before. (No surprise there.) He was presented with two deals. One Democrat, one Republican, and he chose Democrat. In the UK, we have a phrase for this. It's called "crossing the floor" when a member of Parliament crosses the floor of the House of Commons to sit with the opposing party. Is this what Donald Trump just did?
CNN reported that Republicans in the oval office were "shellshocked" at the president's decision. But oddly I agree with what the president did today. He rebuffed his own party leader's base and agenda and did something for the good of his country. He had to pass two key bills. One to continue government funding for the foreseeable future or else America would have been forced to default on its debt and the second to provide emergency aid for the people currently suffering in Texas. The Democrat bill removed the posturing and haggling of government and merged the two so that they could be passed quickly and without fuss. It provides the aid needed in Texas and extends the government debt ceiling for another three months.
This has been a short term victory for the president, Democrats, and Americans as a whole. Finally the administration is moving on policy which has been stalled ever since the failed healthcare bill. But it also signals a shift. Donald Trump has tried time and again to move legislation forward without the consultation of the Democrats. This is the first time that he has reached out and it has proven to be a fruitful endeavour. So could this be the beginning of a move toward a more democratic agenda? And what does it mean for the future?
Trump was right to turn against the Republican bill. It was arguing for 18 months of funding and couldn't find traction in the senate. But what Trump has surrendered is a golden opportunity. The relief package for Hurricane Harvey has found bipartisan support both in and outside Washington. What Republicans had attempted to do was hijack this support to push through a plan which would keep the government open not just for now but until after next year's mid-term elections. What Democrats have sneakily done here by limiting funding till December is force the issue to arise again when the final decision on the controversial DACA policy will need to be taken. Democrats can now use this leverage to force the next funding bill to contain clauses about the ratification of DACA. For a man who wrote The Art of The Deal, something this simple should have been obvious to Donald Trump.
Speaking at a rally at the end of August, Donald Trump said that he would force a government shutdown if no new deal contained funding for his wall. So why didn't he make that a priority here? He could have demanded funding and when Republicans and Democrats refused the bill he would have been in his right to take to Twitter and announce that Congress had voted against relief aid. And had they backed his plan he would finally have the wall he and his base have dreamed of.
Don't get me wrong, the fact that legislation is moving in America is always a bonus and what is most important here is that relief aid reaches those who need it in Texas. But when it comes to the game of thrones which is raging in Washington, the Democrats and Republicans have tried to hijack this disaster for their own gains and it was the Democrats that have come out on top with their new ally Donald Trump. Now of course as I write this there is every chance that Trump will be tweeting away, destroying the new found support he has made for himself but if for some miracle he can hold his tweets, we may have just witnessed a move that may just save a presidency on the verge of collapse.
trump
25 year old living in Devon UK. Interested in Politics, History and Gossip.
I currently write as a hobby. I am also saving for a wedding so if you are willing, able and like my articles please consider leaving a gift.