Could the "Blue Wave" Be Starting to Break Far from Shore?
Democrats see clouds on the horizon.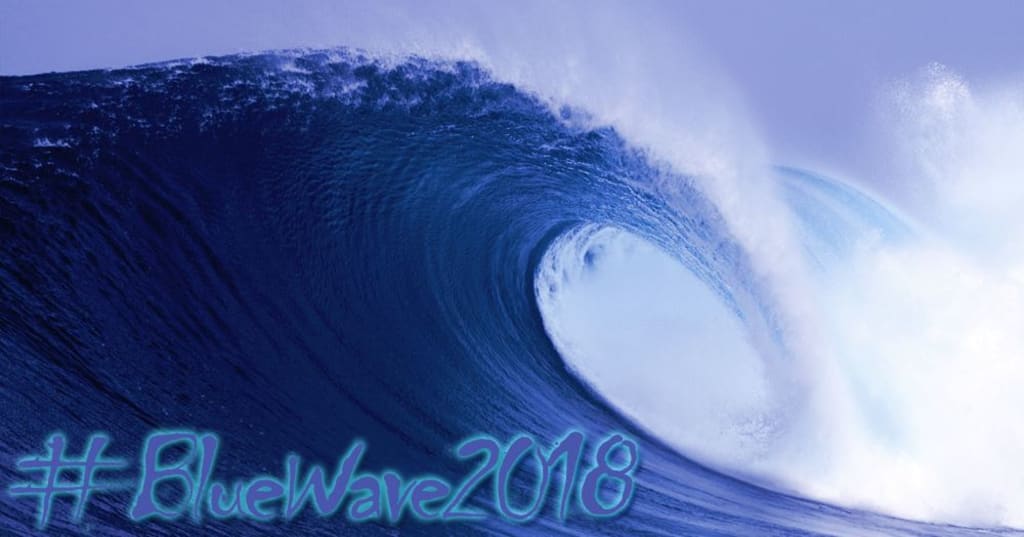 The Democratic party is being plagued by multiple issues that could easily keep them from retaking the Congress. The "Blue Wave" which Democrats had been hoping for (taking many congressional seats and most importantly, the majority) is starting to look more and more like it's going to break short of the shore.
Trump's Popularity
If you told me six months ago that Trump's approval could hit 50 percent, that optimism for the economy would hit some of the highest numbers we've seen since 2002, trust that the Mueller probe would fall to abysmal levels, and that the end of the Korean War could put a big win in the Trump camp, I would have said you were insane.
These changes are sucking a lot of the power and passion behind the "resistance", as many middle and lower class Americans find themselves content with the state of current affairs. The Democrats central message for 2018 has been all about resisting the Trump administration, they've received harsh criticism from both sides of the aisle for their lack of a strong central message.
The Economy
As previously stated, optimism among Americans in the economy is sitting at one of the highest points in recent history, according to a Fox News poll it's currently sitting at 66 percent with a +/- of three percent.
The economy has seen its largest growth since 2003, when in Q 1,2, & 3 of 2017, the economy saw a three percent GDP growth, in which it hasn't seen in 15 years. Growth for Q1 of 2018 also exceeded expectations with a 2.3 percent growth, with a 2.0 percent expected.
The Mueller Probe
After a year of investigations and extensions with the scope of the investigation, many are starting to notice the cracks in the Mueller probe. Mueller popularity has been falling dramatically in recent weeks. While recent enough polling hasn't come forth, polls from April show a downward trend of an astonishing 11-point swing, according to the poll by NPR, Mueller sits at 32 percent viewing him favorably and 30 percent viewing him unfavorably. Rasmussen found an even more incriminating number for Mueller, in which 40 percent of those polled saw the Mueller probe as a partisan witch hunt, with only 46 percent believing the investigation is genuine.
North Korea
So far, North Korea has been a huge win for Trump, and if all goes well, it could be his legacy. Most Americans are optimistic about North Korea with the Fox News poll putting Trump's meeting with North Korea at a 64 percent approval, with 33 percent of Americans believing war with North Korea is less likely than two years ago (35 percent saying as likely), and an increase in the number of Americans believing North Korea will give up its nuclear weapons, now 28 percent compared to March with 16 percent; It spells danger for the Democrats.
Many have been discontent with Democrats handling of foreign policy. After blunders in Iran, North Korea, Syria, Mexico, and Ukraine, many Americans are skeptical that if given control, Democrats could continue the wins the Trump administration has seen.
Money Troubles
The Democratic National Committee has been pretty lousy about their fundraising for the midterms. After releasing a report that showed falling donations, increasing debts, and storm clouds on the horizon, many are more than anxious about the future of the DNC. After the December report, the DNC had $6.5 million in cash on hand, with $6.2 million in debt. This debt increased to $6.3 million in April after falling to $6.1 million March.
Being strapped for cash is going to make it nearly impossible for the Democrats, on a national level, to support state elections which is what is needed to win the midterms.
Midterm Polling
In recent weeks, the generic congressional ballot for 2018 has been narrowing, in which responders vote whether they plan on voting for a generic Democrat or generic Republican, while the Democrats enjoyed a 13 point lead in January, that lead has fallen to an average of 5.5 points. While the election is still far out and we could see another shift in the blue, many are worried about falling support.
The Blue Ripple
While each of these factors alone would not spell disaster for the Democrats in November, the combination of all of them should worry even the most optimistic Democrat. If the Democrats can't reform their message and find the passion they thought they had in January, this November could easily keep the Democrats from their coveted Congressional majority.
congress