Costa Rica without plastic or carbon emissions in 2021
Costa Rica now wants to be the first country in the world to completely ban disposable plastic by 2021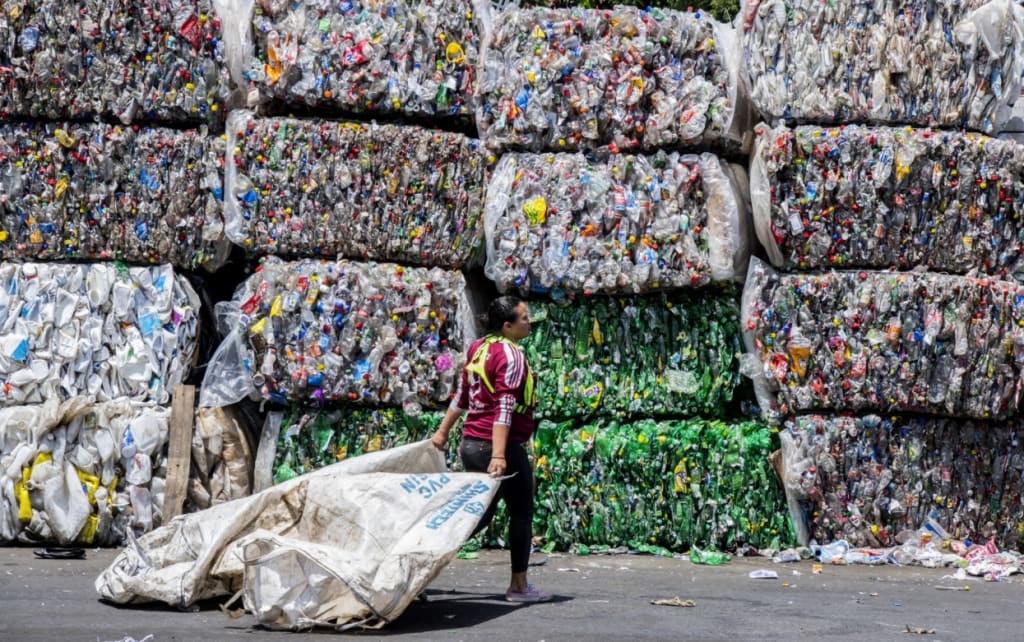 An employee at a recycling center in Barva, Costa Rica
"Costa Rica will soon be free of plastic and carbon emissions", several articles state very exaggeratedly, even if the Central American country has indeed put in place measures to fight against single-use plastics as well as to reduce its emissions of carbon.
Several sites have reproduced the same article entitled " Costa Rica says goodbye to plastics and carbon emissions: it will be the first green nation in the world ".
According to the text, " by 2021, this wonderful state will become the first country in the world completely devoid of plastic and zero-carbon ".
These sites extol Costa Rican measures that are sometimes vague (" since 2014, the country has used energy from renewable sources "; " limit the use of plastic "), sometimes more precise (" thousands of everyday objects made from polluting petroleum-derived plastics are quickly giving way to biodegradable and recyclable materials. ")
Shared nearly 20,000 times on Facebook in less than a week, these articles arouse many reactions, one Internet user comparing for example with France where it would be " far from the mark ".
Costa Rica, however, has not taken such drastic measures.
On plastic
A bill is under discussion in Congress, supported by the government, which aims to eliminate the marketing of single-use plastics, certain polystyrene products, and those that contain microplastics. This bill would prohibit public institutions from acquiring this type of product.
It is therefore not a question of eliminating all plastic but rather of introducing a gradual tax on plastic products according to their pollution potential.
If the project were adopted, which is not yet the case, the financial resources generated by this tax would be used to finance plastic recycling and reuse activities.
There is still a long way to go: in June 2018, Eugenio Andrevetto, director of environmental health at the Ministry of Health, explained to La Nacion, the main Costa Rican daily, that the country was throwing 564 tonnes of plastic a day and recycling it ... 14.
On carbon
In 2012, the Costa Rican government set itself the goal of converting to a carbon-neutral country by 2021. The plan includes actions to reduce carbon emissions and to increase its offset using forests.
It is not a question of eliminating carbon emissions by 2021, but of achieving neutrality between reduced emissions, on the one hand, compensation via forests on the other.
At the same time, Costa Rica launched a plan in 2019 to "decarbonize" the economy. In this case, the goal is, among other actions, to end the use of fossil fuels ... but by 2050.
COSTA RICA
Costa Rica is considered a pioneer in environmental policy. The country has successfully resisted deforestation. Costa Rica now wants to be the first country in the world to completely ban disposable plastic by 2021. In June 2017, the government announced a new national measure to replace single-use plastic products with biodegradable alternatives.
CHILE
Chile was the first country in South America to pass a law in 2018 that would completely ban the retailing of plastic bags. Companies that do not comply with the new law will be fined $ 370. In Chile, 3.4 billion plastic bags were used annually, many of which ended up in the sea.
IRELAND
Ireland is a pioneer in the fight against plastic
in Europe. The "PlasTax" was introduced in 2002: plastic bags were no longer allowed to be given to customers for free, but only for 15 cents per bag. Thus, the consumption of plastic bags dropped within a year by 90 percent - from an annual 328 plastic bags per person to 21 bags per person. The plastic tax continues to rise every year - with a limit of 70 cents per plastic bag. A bag currently costs 22 cents.
CHINA
The People's Republic of China has been banning thin plastic bags like those found in fruit stalls since 2008. A tax is due on thicker bags. Before the law, about 3 billion bags were used in China every day. Just one year after the ban was introduced, 70 percent fewer plastic bags were distributed. After seven years, the use of plastic bags dropped by two thirds. This means that around 1.4 billion bags were avoided. Nevertheless, China remains the largest producer of plastic packaging in the world.
KENYA
Kenya has the strictest law against plastic bags in the world. In February 2017, the East African country decided to completely ban the manufacture, import, sale, and use of plastic bags. Anyone caught on the street with a plastic bag faces a penalty of up to 32,000 euros or even up to four years in prison. There are still no concrete statistics on the effects of the new ban, but supermarkets have already switched completely to reusable bags.
NEW ZEALAND
New Zealand decided to take a drastic step against microplastics and, last year, banned microspheres from being contained in care products such as shampoo, shaving cream, and sunscreen. Because the particles, which are only 0.5 to 500 micrometers in size, can o