Chaotic First Presidential Debate
Nothing but an embarrassment the USA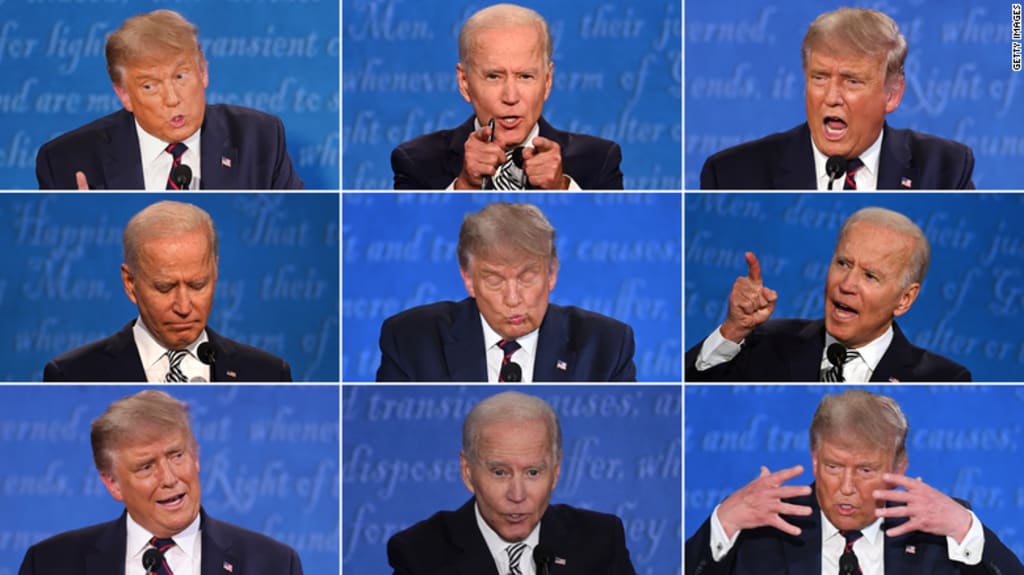 Many Americans on Tuesday, after months of being clogged by the COVID-19, tired after a long summer of rapidly spreading wildfires and social equality protests, enduring mass joblessness, and becoming very pessimistic about government from long stretches of toxic political talk turned people turned TVs on to hear what the two men competing for the country's most noteworthy office had to say for themselves.
People wanted to know what their arrangements were for ending COVID-19, which is ravaging the societies, and how the people were going to get back the jobs. They also wanted to know about their opinions on climate change and how they were going to target the problem or who will fill in for Ruth Bader Ginsburg's Supreme Court seat, or the white supremacist resurgence in the country? Many citizens wondered why the President of the United States only paid $750 in 2016 as taxes and wanted to hear his explanation about it. 2020's first presidential debate did not give a lot of original information on any important topic. This further left the United States citizens and the world at large asking more questions than before, wondering why did they watch the debate in the first place and what explanation the candidates have for such a messed-up performance. Some say that they won't watch it again because it was a mistake watching it in the first place.
For the first time since the presidential race began, Joe R Biden Jr. showed up on stage together with President Donald Trump on Tuesday for the presidential debate, which didn't actually go down as a presidential debate normally would. It was more of an altercation than a debate. A word describing the first presidential debate for the November 2020 elections would simply be chaotic. It was a whole charade.
Analysts Were Proven Right By The Presidential Candidates
Many pundits and even laypeople predicted that the debate would be chaotic, and it happened exactly as they had expected. Joe Biden was interrupted and attacked by President Trump every step of the way, and demonstrated little respect for facts. He yelled over the former VP and the arbitrator, Chris Wallace, of Trump's darling Fox News and didn't want to give them a chance to talk. When his administration faced criticism during the discussion, he turned it around on his rival, arguing that it wasn't him, and blamed everything of former VP Joe Biden, saying that Joe was the one who had a background marked by prejudice and a dangerous relationship with Russia and would have had a more catastrophic outcome with the pandemic.
Trump blamed his opponent, Joe Biden, for embracing a "radical lefties" stance. At that point, he consistently scolded him for taking positions the extreme left wouldn't care for. He additionally evaded questions about the biggest controversies he is faced with, from his distrust with respect to the settled study of environmental change to his recently released tax records. His response to a question about whether or not he would denounce his white supremacist groups by embarrassingly asking the neofascist Proud Boys to "stand back and stand by". Of course, the racist group took this to be an endorsement from the president.
Biden's Performance
Biden began somewhat flimsy, of course. However, he recouped rapidly enough, unwinding into his standard persona: the respectable, sensible, empathetic person annoyed by Trump's lack of dignity and put off by radicalism, everything being equal. Confronted with a rival who has never indicated a lot of enthusiasm for fundamentals banter, the very prepared Biden blended his recitations of policy ideas, figures, and facts that once overwhelmed such debates with similarly practiced responses to the President's jokes.
He laughed regretfully when Trump made a wild allegation and jumped as though suffering sort of pain when Trump gloated or lied. In the midst of so much boast, even the bluntest comebacks like, "You are the worst President America has ever had," "Everyone knows he's a liar" scarcely recorded. So Biden likewise had a go at talking into the camera directly, urging the audience to vote ahead of time and that he didn't trust Trump to release a vaccine for coronavirus, and also an encouragement for people to do in-person voting.
Bottom Line
As compared to their specific performance in their past debate experiences, the two candidates had an entirely ordinary debate session. During the session, Wallace could be considered as some sort of a weak link because he didn't entirely conduct the debate as he should have, and he didn't urge the candidates to follow the rules in case they were going out of line. Even when he asked questions, he didn't follow up on the candidates to answer them appropriately. He let them answer questions the way they wanted and didn't call for more context. From time to time, he followed up when a response needed more context, but didn't ensure that it was so the whole night.
When allowed to describe the racial theory, Trump described it as "sick" and "racist" without giving any information on the standards it teaches. Biden got the chance to defend his modest credentials by making statements like "I am the Democratic Party," without expounding on where and why he shifted with his lefty colleagues. In more ways than one, Wallace addressed Trump as if he was tending to a kid, enticing him to proceed onward from arguments he wouldn't drop by saying, "Mr. President, you're going to be very happy" with the subsequent subject. And he didn't bother to correct a statement that was misleading, or he would barely do so.
Many Americans came out of watching the debate more confused than they were prior to the arguments. Although this reaction was expected, analysts further say that it would be a bad idea if both tried to convince confused voters. At long last, the only achievement made by the tête-à-tête on Tuesday was to pour more salt on fresh wounds. Furthermore, because of that, dropping the last two discussions of the 2020 political debate cycle or any discussion that appears to be bound to more confusion than to clear it, pundits suggest that the two remaining debates should be canceled. With two more presidential discussions to go, the audience clearly didn't need a rerun of the Tuesday debate.
Reader insights
Be the first to share your insights about this piece.
Add your insights