Brexit: Article 50 Petition Calling for Brexit to Be Cancelled Reaches 6 Million Signatures Ahead of Parliament Debate
A petition calling on Parliament and the UK government to revoke Article 50 (Brexit) has hit six million signatures.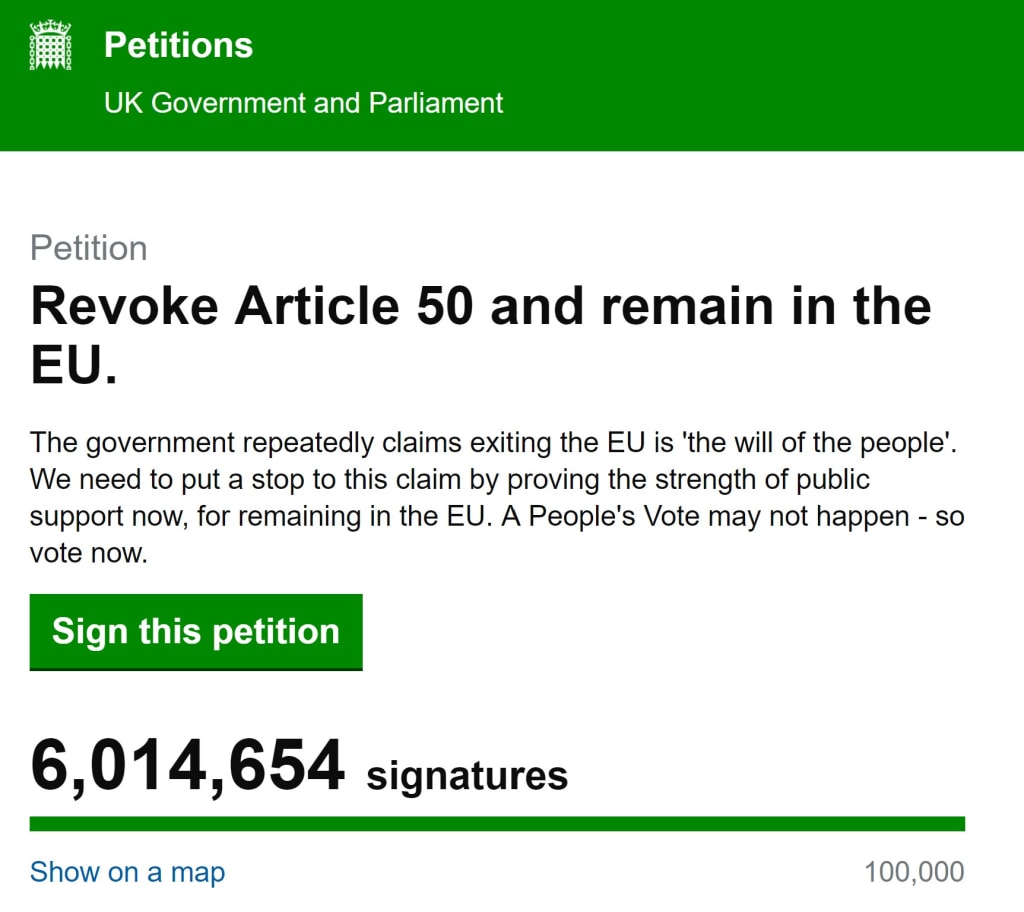 As the UK Government and Parliament try to figure out how to continue the Brexit process (the process of the UK leaving the European Union), the public has come out in waves to call on the UK Government to cancel Brexit.
Through a petition on the official UK Government and Parliament Petitions website, the public have been voicing their opinion on their wish to cancel Brexit. After Prime Minister Theresa May's deal has been defeated three times in Parliament, it is unclear how the UK will proceed, but Parliament is less than 24 hours away from debating the petition to call for a cancellation of Brexit.
In the last few hours, the petition has reached over six million signatures, making it the most popular UK petition to date. A petition calling for a second EU referendum comes in at second, and a petition calling for Donald Trump to be banned from the UK coming in at third.
With there being no clear plan in place, Parliament will debate the petition on 1st April at 4:30 PM. But the UK Government has already made its intentions clear in a response to the petition, saying:
"This Government will not revoke Article 50. We will honour the result of the 2016 referendum and work with Parliament to deliver a deal that ensures we leave the European Union."
Even with Parliament debating the petition, it is unlikely that any outcome will come of it. With the government against the idea of revoking Article 50 and MPs in Parliament being unable to come up with a consensus on any of the possible options given to them during indicative votes this week, it does not look likely that neither government nor Parliament would be able to commit to any action as a result of this petition. Nonetheless, it will give Parliament yet another chance to air their views, and this time more specifically on revoking Article 50. It could provide a more rounded indication of where MPs stand and how many are interested in the possibility of revocation of Article 50.
Next week, Parliament will also debate 8 other potential avenues of Brexit, including a second referendum, revoking Article 50, a different deal, the currently agreed deal, and more. This week's indicative votes didn't bring any consensus among MPs, but with at least one more, if not tow more, indicative votes planned, MPs may finally come together and show a consenus against one particular option. One option that has been named as being most favourable is the option of remaining in the customs union, allowing the restriction-free flow of goods through the EU, which is a mandate that the opposition, labour, supports.
As Brexit seems to not be getting any closer to a conclusion, the timeline for next weeks political events are as follows:
Monday, 1 April: Indicative votes will be held on other potential Brexit options
Wednesday, 3 April: If necessary, another round of indicative votes could be held
Wednesday, 10 April: Deadline for the UK to request a further Article 50 extension, in which case an emergency summit of EU leaders takes place
Friday, 12 April: Brexit day! If the UK does not request an extension, or the EU refuses to grant an extension, the UK leaves the EU without a deal
23-26 May: Elections are held for the European Parliament
There is also the possiblity of the opposition, Labour, calling a no-confidence vote. If that takes place and the vote passes, it could trigger a general election, throwing everything into further confusion. It's not yet clear if Labour will proceed with this, but the possibility has been heightened by the 3rd vote on Theresa May's deal falling flat.
Whether the UK comes to an arrangement or not, it is currently on a path to leave the EU on 12th April, with or without a deal, unless a further extension is agreed on 10th April with the European Commission.