Boeing Safety Threat Denied and Defended
FAA Knowingly and Willfully Give Materially False Statements to Congress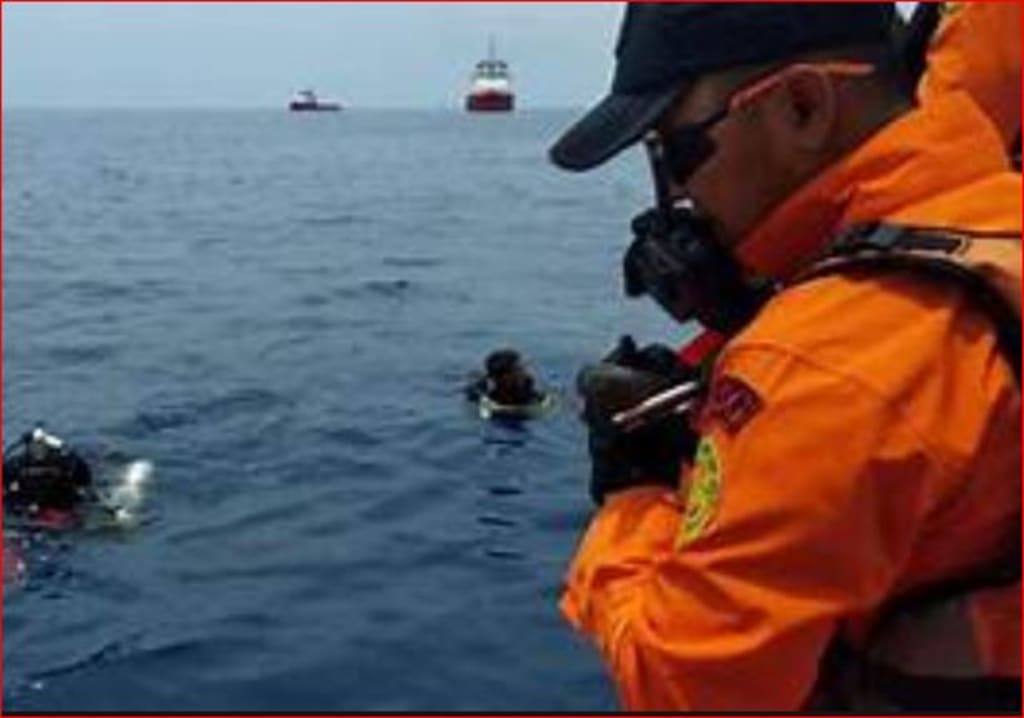 U. S. Federal law makes it a crime to "knowingly and willfully "give materially false" statements to Congress.
A matter of massive Chinese fake safety parts knowingly installed on flight Control systems of Boeing planes has been badly covered up.
The matter fell under FAA jurisdiction and FAA acknowledged it. However FAA knowingly and willfully abused its power by not conducting independent investigation, refusing to pass on the serious counterfeiting information to law enforcement agencies for criminal investigation, setting criminals at large. As a result, the safety threat remained.
Recent efforts seeking US lawmakers' attention and intervention to compel FAA correct its wrongdoing and re-do the job went in vain.
No response from the Office of Rep. Peter DeFazio to an appeal letter written by an American citizen Mr. Gerral Eastman on behalf of this whistleblower.
I witnessed many kinds of fraud within Boeing itself due to quality assurance corner cutting when I was an inspector there, as documented on my website. Just like in Mr. Shi's situation, I had reported that fraud to the FAA, but they refused to fully investigate it, and in the end they only had incompetently investigated some eight percent of the items that I had reported to them, while they didn't investigate at all the central allegation of my report—the Boeing QA management corruption behind all of the other items in my report.
Please ask that the DOT OIG perform the noted Boeing supplier raw material traceability audit as soon as possible to ensure that the fraud Mr. Shi uncovered is not repeated throughout Boeing's supplier base due to their cost cutting driven abdication of their supplier oversight responsibilities.
In responding to recent Rep. Brian Mast's inquiry, the FAA continued to lie and cheat the Congressman.
FAA letter to Rep. Brian Mast October 11, 2018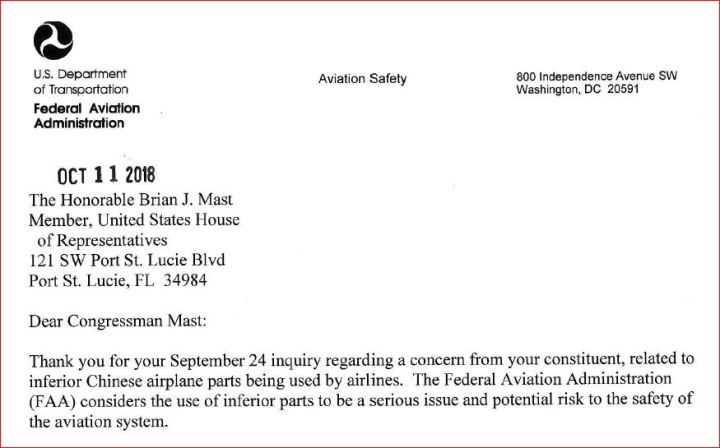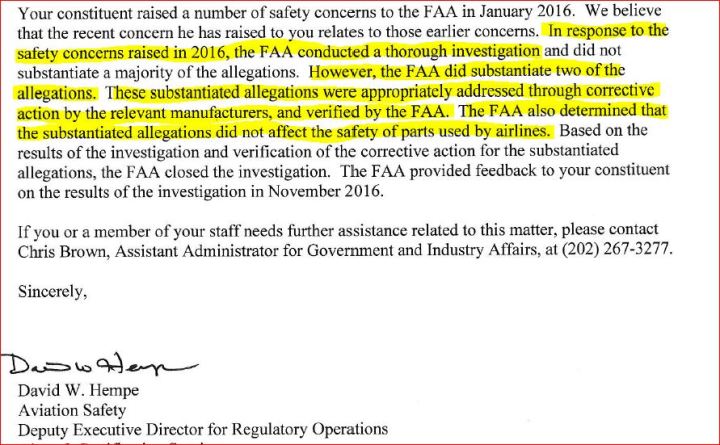 In the letter, FAA lied to U.S. Congressman that
In response to the safety concerns raised in 2016, the FAA conducted a thorough investigation and did not substantiate a majority of allegations.
This is completely false and deceptive. In fact,objective evidences indicate FAA did not conduct any independent investigation.
FAA knowingly and willfully ignored the major and fatal allegations, in particular, counterfeiting SPOFs of B737 spoiler compromising some 500 B737 now in service.
FAA went on lying:
However, the FAA did substantiate two of the allegations. These substantiated allegations were appropriately addressed through corrective action by relevant manufacturers, and verified by the FAA.
In fact, non of the two substantiated allegations were appropriately addressed, instead they were willfully manipulated and covered up, not to mention any corrective action.
Finally, FAA boldly but criminally lied:
The FAA also determined that the substantiated allegations did not affect the safety of the parts used by airlines.
In fact, Fake Boeing 737 Spoiler SPOFs Are Cracking or Breaking...
It is beyond any doubt FAA knowingly and willfully gives materially false statements to Congress and therefore, commits a felony.
This is not the only time the FAA is abusing its power and taking the air safety threat for granted.
The relator was told by Mr John King, a fellow aviation whistle blower that FAA used deny, delay or deflect tactics in FOIA requests down through the years.
DELAY.
The FAA say the investigation is "open" and thus they cannot release any information. Use of excessive time, (with my Eastern allegations, 18 months passed to release the documents. Buried in over 1,100 pages were the documents showing the allegations were correct - but by then the repeated denials were all that anybody remembered.
COMPARTMENTATION OF DOCUMENTS.
Different officials would respond but not in support of the allegations. By simply giving a partial file to another official responding, but leaving out supporting documents is easy to do. Similar to cherry picking the evidence. Denials or deflections become "official," as a bonus, your credibility is diminished.
MISFILE THE EVIDENCE.
After I(John) filed a new complaint of specific FAA officials placing false documents in the public records (a felony), and some time had passed, a U.S. Senator asked the FAA where these allegation were. The FAA wrote is "was misfiled."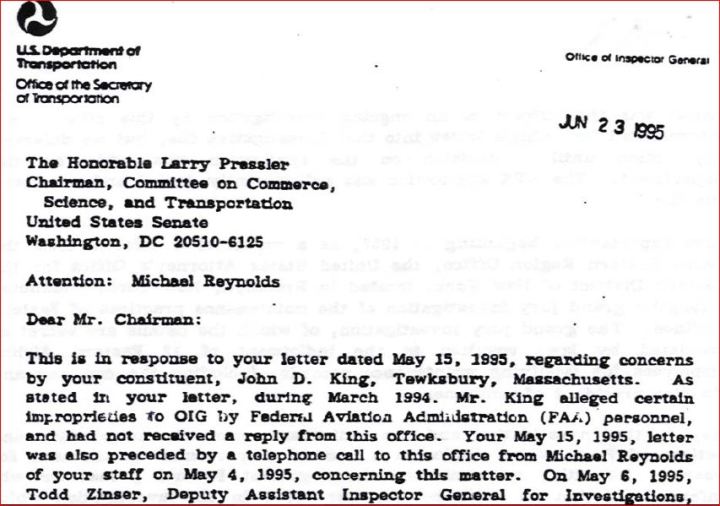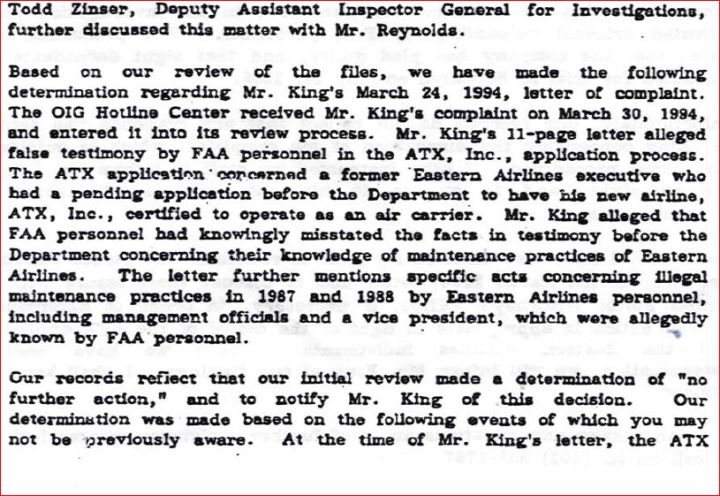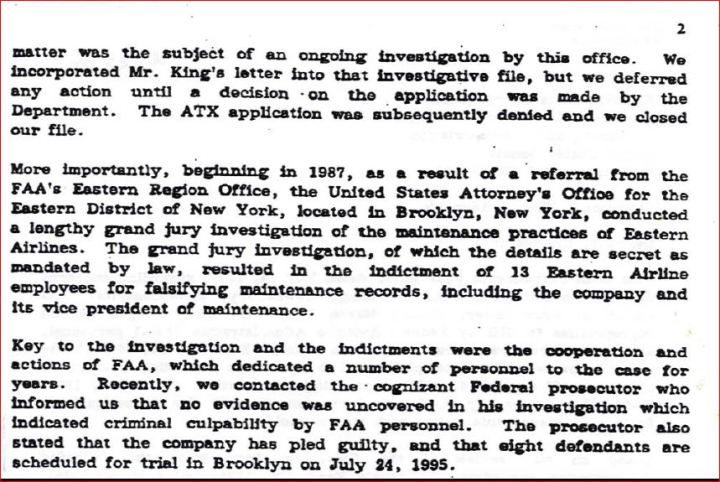 THE FRAUDS—FOLLOW THE MONEY—AND AS WITH ANY CRIMINAL ENTERPRISE, NO ACCOUNTABILITY.
Something I can say about my experience with the FAA Hotline some years ago. The FAA called me in for a deposition with a FAA Lawyer and the FAA Regional administrator I had handed written evidence of three specific and separate safety violations by Eastern Airlines supervisors.
An Airbus A-300 was returned to service by a supervisor's signature after our maintenance team had refused to sign the release-to-revenue service documents because the maintenance manual prohibited this fuel leak without further maintenance actions. I mentioned that I had immediately called the FAA Hotline. They said the claim would have been believable except that they had no other Hotline calls. After waiting 18 months for the FAA to release all records, a second Hotline call was noted some four days later.
Another document, an Eastern document I produced (thanks to a very brave woman in the Eastern administrative office) was placed along with my earlier congressional testimony describing an 'incentive program'. Eastern's forced response described this where maintenance supervisors received -on average - $ 60 a week for meeting on-time maintenance performance. It was not in that FAA release many months later. Mention of this Eastern program was also not included in that 60-count indictment. As one of the investigators explained to me - the 60 count indictment came from the New York Attorney General's office and 12 jurors drawn from the streets of New York.But because of the overwhelming production of fraud coming now from, not only Boston, but from New York and Atlanta Eastern mechanics, the FAA administrators were no longer in full control of events.
As a New York AG investigator had said to me; "first we are going to get Eastern, and then we are going to get the FAA"! However, control was somewhat regained as the 5-year statute-of-limitations was allowed to run out.
By 1995, all the defendants were released from any accountability for their crimes actions – and so too were the FAA officials who had defended Eastern for over 15 months and until it was no longer for they to contain the problem. (" labor-management problem they said).
I have been approaching journalists from Linkedin connections, but most of them did not respond, I am feeling even press is compromised or bend to powerful business like Boeing…… Do you know any journalist or press who can stand up and do a story?
Rodney Stitch's decades of efforts and documentation on the press's inaction still remain.
This way of doing business is systemic and not easily rooted out, said Congresswoman Cardiss Collins years ago. She lost her husband some years earlier in an air crash. My journey has followed his.
Flying public, do you agree that crimes can be tolerated that concerns your safety?
Please join us in crying out! Contact me at below for new press release:
email: [email protected]
corruption

Charles Shi
Charles Shi. formerly employed by the Aircraft Group of Moog Inc. as East Asia Supply Chain Manager,a whistleblower of the Federal Aviation Administration ("FAA") on an extraordinary Boeing plane safety threat.
See all posts by Charles Shi →