AUSTRALIA IS ON FIRE
As raging bushfires burn across the country, land and lives are lost.
Photo by Mick Reynolds, NSW Rural Fire Service
Photo by Mick Reynolds
For my first story of 2020, I racked my brains for an idea. The film fanatic in me set to work on some reviews, but it didn't seem right. It was like trying to complete a puzzle where every piece was too small. That's because there's only one thing worth writing about at the moment. The one thing that's calling for attention. That floods my newsfeed and winds its way into every conversation.
My country, Australia, is on fire.
Since September, about 10 million hectares and over 2,000 homes have burned. A thick blanket of smoke obscures the sky around the country, resulting in hazardous air quality. An estimated 480 million animals have been killed and 25 lives have been taken from us – among them volunteer firefighters.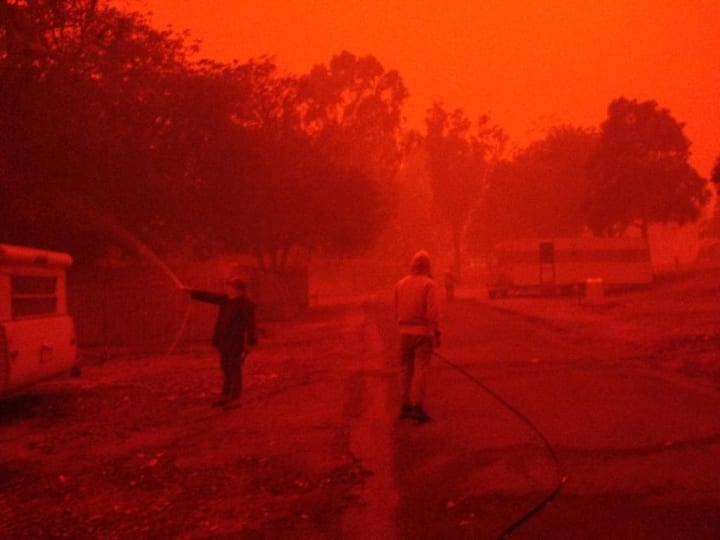 This national disaster can't be ignored. Not with "BREAKING NEWS" flashing on the TV, the thick haze that hides the horizon, or the smell of smoke creeping under doorways. That smoke now hangs over South America, a reminder of the agony and heartbreak more than 12,000 kilometres away.
"State of emergency", "catastrophic conditions" and "evacuate now" have become familiar announcements to Australians in the past few months. Too familiar.
Apocalyptic images plague social media. Images of families in Mallacoota forced to seek safety on the beach, huddled with the few belongings they could snatch. The sky a haunting red with warships sent to evacuate them from their perished town.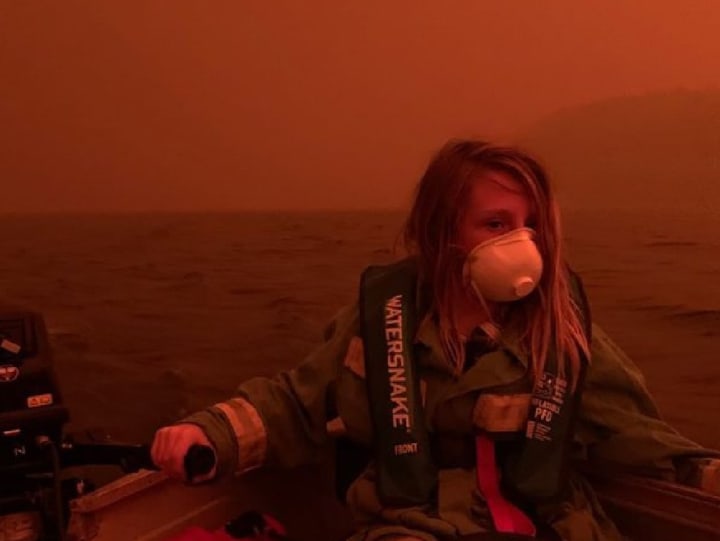 Many have taken to compare the mass devastation to the California fires and the Amazon fires to alert the rest of the world to the tragedy that is unfolding. To plead for help.
Australian comedian Celeste Barber has used her platform to raise more than $40 million for fire services. Russell Crowe dedicated his Golden Globes acceptance speech to Australia's disaster, saying, "the tragedy unfolding is climate change based."
Celebrities and influencers such as Selena Gomez, Kylie Jenner, Pink, Nicole Kidman, Pheobe Tonkin, Shani Grimmond, Ellen DeGeneres, Hugh Jackman, Kylie Minogue, Chris Hemsworth, Leonardo Di Caprio and climate activist Greta Thunberg have shared our national emergency with their millions of followers, encouraging donations as well as thoughts and prayers.
"Thoughts and prayers." It's a heartfelt message, meant to comfort those affected by the climate disaster. Because sometimes that's all we can do. But still, the phrase is scorned. It is shunned by the public when nothing is being done to fix the problem. When open discussions about the looming effects of climate change and bushfire hazard reduction are rejected, that is when we disapprove.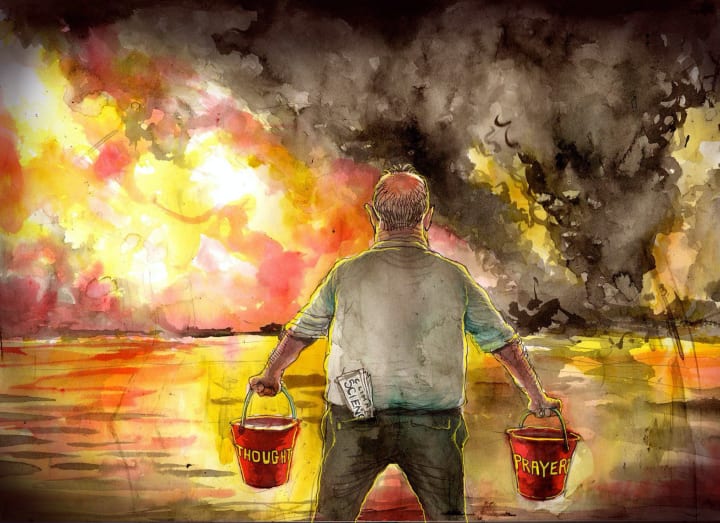 For those who do believe in climate change (do some research if you don't), you can be known as "inner-city raving lunatics" or "woke capital city greenies." At least that's what Australia's Deputy Prime Minister, Michael McCormack, had to say back in November in defence of Scott Morrison's blasé attitude towards the climate crisis.
The NSW Premier, Gladys Berejiklian, received her serve of heavy backlash as when Mr Morrison was asked about the connection between climate change and the unprecedented fires she called out, "not today!"
Climate change isn't the main cause of these wildfires. No one can claim that after a number have been deliberately lit (why someone would do that is beyond me), but it's a large contributing factor.
According to Mark Howden, director of the Climate Change Institute at the Australian National University, fire risk is driven by four main factors: "drought conditions which result in very dry fuel – leaves, grass, branches etc – high temperatures, high winds and dry air." He acknowledges the role of climate change in worsening these conditions and resulting in "an unprecedentedly severe fire season."
The former chief executive of Victoria's Country Fire Authority, Neil Bibby, states that "this is the new future" and warns that it "will only get worse" if no changes are made.
Perhaps it's time we take the advice of the Aboriginal peoples who employ cultural burns (low-intensity fires) to manage the risk of bushfires. Also known as cool burns, these fires are self-extinguishing and cause little damage to flora and fauna, allowing animals time to flee before they are scorched and for plant regrowth. The traditional owners of the land survived centuries in the sunburnt country with their traditions, so you'd think they'd know what they're talking about.
As the fires continue to burn and Australia is blanketed in ash, there's one thing we know for sure: we need to act. We need to listen, plan and act. And now is the time.
Now is the time.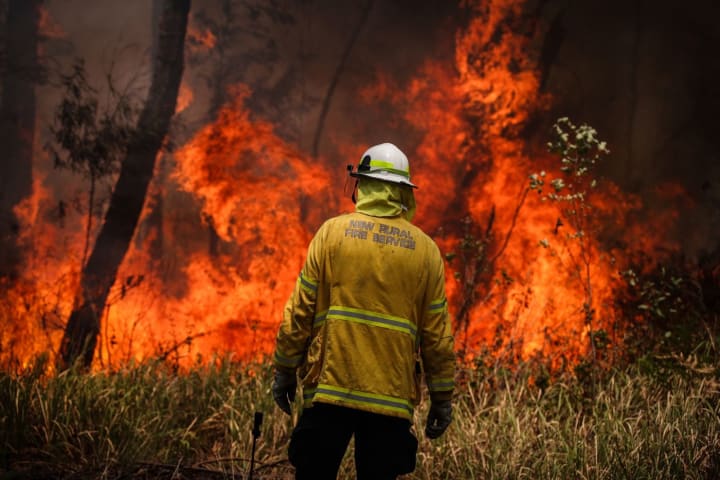 Australians are hurting, and we turn to our Prime Minister to lead. We want to trust our government, but how can we do that when our leaders run away from questions and the country itself?
On January 6, the Federal Government announced the National Bushfire Recovery Fund with a $2 billion investment to provide support for those affected by the wildfires. "Whatever it takes, whatever it costs," is what Scott Morrison had to say, pledging his support of the Australian people.
This is a step in the right direction. Better than forcing victims to shake his hand, failing to notify the RFS of support from 3,000 army reservists, or producing an ad to showcase the work of the Liberal party amid a national disaster.
The trending Twitter hashtags #ScottFromMarketing, #NotMyPrimeMinister and #ScoMoMustGo reflect the anger and disappointment of a large number of Australians who feel our Prime Minister could be – and should be – doing much more.
It's easy to play the blame game. It's easier than facing the unimaginable horror that has destroyed lives and it's easier than trying to contain the storm of emotions that rages inside each of us.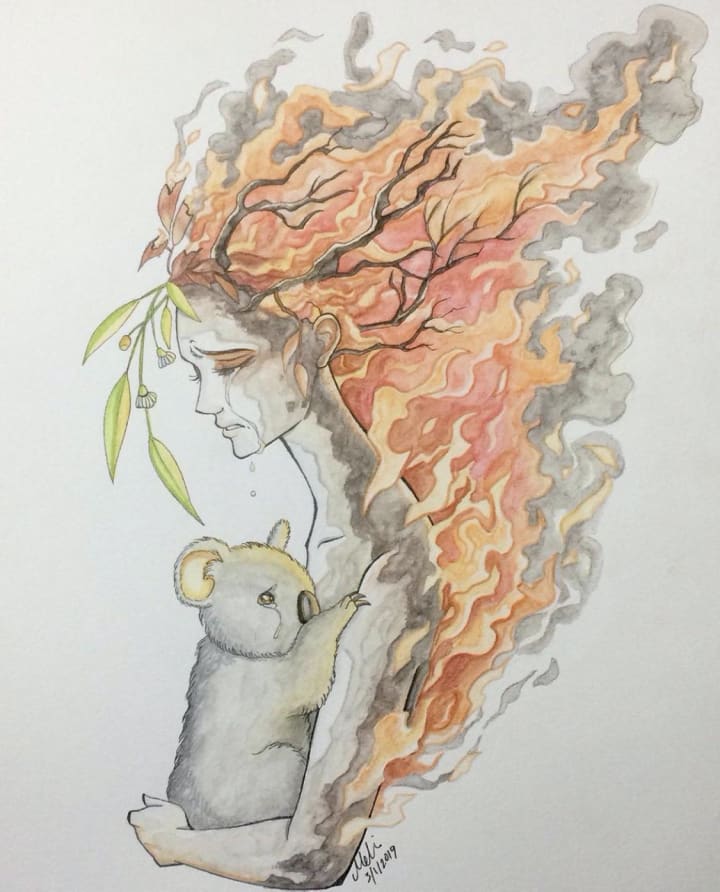 But the politics aside, our country has come together. We don't care about our dismal summer. Whether it be sharing a heartfelt message, giving generous donations of food and supplies to victims, or offering up a spare bedroom to evacuees, our nation is united.
We're united in suffering and fear, but most importantly, love. Because that's what being Australian is all about.
Here's how you can help:
Australian Red Cross – Recovery programs, evacuation centres and emergency assistance .
Donate here: https://www.redcross.org.au/campaigns/disaster-relief-and-recovery-donate
The Salvation Army – Supplies and meals to communities.
Donate here: https://www.salvationarmy.org.au/donate/make-a-donation/donate-online/?appeal=naturaldisasters
WIRES – Rescue and care for affected wildlife.
Donate here: https://www.wires.org.au
humanity
I review and analyse because that's how my mind works...
Receive stories by Tessa D'Alfonso in

your feed