Analysis of US Mid-Term Elections 2022
Race for US Congress- House of Representatives, Senate, Gubernatorial Race, Secretary of State etc.
The Mid-term Election is the second most important election in the USA after the General Election, which is also known as the Presidential Election. The most important aspect of it is the race for the US congress, while it also consists of other elections for governors and secretaries of state. The last Midterm election was in 2018, followed by the Presidential Election in 2020. The Mid-term elections happened on November 8th 2022, but mail-in voting had started more than a month ago.
This Mid-Term election was the one highest turnout as well as the one with a tight race, nail-biting till the end. This has been the closest Mid-Terms as well as one with the lowest margin required by any party to flip the Congress since 1932, ie. the year Franklin D Roosevelt came into power.
This article is meant to be educative in nature. Hence, the author has divided the article into two portions. The first portion talks about the relevance and importance of mid-term elections, the issues at hand and knowing the contests. The second half will look at the results and analysis of the same. Hope full cooperation.
Analysis of 2020 Elections and Basics of the US political system
Do check old articles for understanding how US political system works, types of parties, their ideologies, policies and voting systems.
Congress
US Congress is the legislative body of the US government, and hence it is very crucial to discuss the elections to the same. US Congress is divided into two chambers with distinctive powers and functions.
House of Representatives
It is the lower chambers of Congress. It has 435 seats which are also known as congressional seats, each representing a congressional district in each state. This is divided on the basis of the population. The congressional districts are redrawn every ten years and it's the state legislatures which can control the same. Capital DC has one delegate who cannot vote.
The House of Representatives is the one that controls the spending of the federal govt, decides the limit on borrowings and debt, conducts hearings on various aspects, impeaches presidents and a lot more. The head of the House is the Speaker.
In 2018 and 2020, Democrats took control of the House since it was under Republicans from Obama's time. In 2022, it was poised that Democrats would lose the House and Republicans will be back to power, but there was no clear-cut measure on the same, as the majority would still be narrow. Republicans just needed to pick up five seats more than Democrats to win the House.
In the new scenario, what we see is the HoR race getting skewed due to partisanship. The races have become somewhat predictable. Due to gerrymandering and polarisation, the essential and closely contested races are merely 30. Most races are evenly split between both parties.
Interesting Facts about this House Race
Both the Speaker and Minority leader of the House is from the same state- California. Nancy Pelosi is contesting from the 11th district (San Francisco) in Bay Area, while Kevin McCarthy is contesting from 20th District and both are projected to win their respective seats.
The most notable House races to watch will be Iowa's 3rd district, North Carolina's 13th District, Colorado's 8th District, Texas' 13th district, Pennsylvania's 8th District, California's 22nd etc.
Issues affecting the House Elections 2022
1. Gerrymandering- The changes to Congressional maps has led to a number of Gerrymandered districts which make the election less competitive and more leaning towards one party.
2. Economy- Post-pandemic, the big challenge the US and a lot of countries face today is inflation. This has made the ruling party nervous, and this issue can lead to Republican gain in the election.
3. Crime- Issues of BLM and defunding the police created headlines in 2021. This issue is seen as favourable to Republicans.
4. Jan 6 Committee- Post capitol hill insurrection, the formation of the Jan 6 committee, is hailed as a victory for Democrats. This issue is more favourable to Democrats.
5. Roe Vs Wade- Both sides of the abortion debate equally claim this to be an issue, but this issue leans in favour of Democrats.
There are several other issues like Gun violence, legislations like Infrastructure Bill, Chips Act, issues like the Russian invasion of Ukraine etc., might also see an impact. The election result is also largely impacted by the turnout. Usually, midterm elections see less enthusiasm than general elections. Women tend to vote democratic more than men, and similarly, men tend to vote Republican more than women. Similarly, Republicans perform well in rural areas, and Democrats do well in urban areas. So, the real fight happens in the suburbs.
Senate
It is one of the most important organs in US politics. Being the upper chamber of Congress, it has distinct and more powers than House. Each of the 50 sends two senators each, giving the total tally as 100. The head of the Senate is the Vice President. It is a council of the states.
Senate holds control of various legislations, foreign policy, conviction, confirmation appointments, taxation, and a lot more. Senate cannot be fully dissolved; hence not all 100 seats are up for elections. This time over 35 seats are up for election. In 2020, the Senate elections followed by runoffs gave the verdict of an evenly divided Senate, which is 50-50 for democrats and republicans. The Vice-President comes with the tie-breaker. Even then, coming to the population divide, Democrats represent more population than the republicans.
In 2022, the race for Senate was tight and too close to call. Republicans just needed to flip one seat to win and get control of the Senate. There were chances for both the parties to win as well as the Senate to hold it 50-50 as well, which is favourable to Democrats once again. Some interesting and close Senate elections were Pennsylvania between John Fetterman(D) and Dr Mehmet Oz(R), Georgia between Hershel Walker(R) and Rafael Warnock(D), Arizona between Blake Masters(R) and Mark Kelly(D), Nevada between Laxalt(R) and Mastro(D), North Carolina- Ted Budd(R) and Cheri Beasley(D) etc.
Issues affecting the Senate Elections
1. Candidate Quality- Most key races flipped away from Republicans solely because most of them were outsiders and were backed by former President Trump. The entire MAGA wing was solely fighting the elections, banking on Trump's endorsement. Even the senate minority leader Mitchell McConnel had emphasised that candidate quality does play an important role in Senate elections.
2. Foreign policy-related issues- US Foreign Policy is known all over the world. Senate has an important role in making and ratifying treaties. Two notable events which shaped the world in the past two years were the US exit from Afghanistan and the Russian Invasion of Ukraine. Although these two issues won't change domestic politics, all Presidents starting from Obama, have promised withdrawal from Afghanistan. Similarly, issues like China, Russia, Taiwan, high oil prices etc., will surely determine the overall control of the Senate.
3. Immigration- US is directly affected by both Legal and Illegal immigration. On the southern border, refugees from South America are seeking entry to the US. Republicans want more control and hence Senate elections can be influenced by immigration which can directly benefit Republicans.
4. Guns- The second amendment guarantees the right American citizens the right to bear firearms. This issue came into the limelight with a lot of cases of violence, and shootings came up. Hence this is an extremely polarising issue.
5. Legislations- Different bills were passed as well as failed in the past two years. Infrastructure Bills, Gun violence prevention, Inflation Reduction Act etc., have been passed; similarly, the Voter Rights bill, and Abortion Rights Bill, have failed.
These issues are not exhaustive, like what we have seen before. Like the House race, issue of Economy, Crime and Roe vs Wade still continues to make headlines.
Impact of Congressional Elections
• New Congressmen and their impact on policies would influence national elections in future as well.
• Future of the January 6th Committee, as well as multiple investigations in the Trump Presidency and beyond.
• The role of independents as an essential voting group and which side they vote for is significant for all parties.
• Role of Hispanics and Latinos as an important vote bank in several border states, which in recent times have shifted to Republicans. Will they stay, or they shift back to Democrats?
• US foreign policy largely depends on the Senate and its rapport with the President.
Gubernatorial Race
The US is a federation of states; hence states have a lot of say in the Government. The head of the state is Governor, who is directly elected by the people. Unlike in India, being a governor in the USA is a strong post. Governors can veto legislation put forward by the state legislatures, approve the budget, and make appointments. Often Governor's election resembles the fact of whether a state is blue, red or purple. Sometimes, Governors can also be elected contrary to the nature of the state.
Blue states like Massachusetts, Vermont and Maryland have had Republican governors. 2012 Presidential candidate Mitt Romney was the Governor of Massachusetts. Similarly, red states like Kansas, Louisiana and Kentucky have Democratic Governors. Purple states like Florida and New Hampshire have Republican Governors. The term of a Governor is four years.
In this year, 2022, there were 36 states up for Gubernatorial races. Most watched for Gubernatorial races are Florida between Ron DeSantis(R) vs Charlie Christ(D), Pennsylvania between Josh Shapiro(D) vs Douglas Mastriano(R), New York- Kathy Hochul(D) vs Lee Zeldin(R), California- Brian Dhale(R) vs Gavin Newsom(D), Arizona- Katie Hobbs(D) vs Kari Lake(R) and Kansas- Laura Kelly(D) vs Derek Schmidt(R).
Largely Governor's races are fought on a mix of national issues, state issues and candidate quality. Unlike Congressional races, Governor must be able to look at the state as a whole. Generally, a candidate who is well known in the state has good political experience and can lead the state politics is fit to be a Governor.
Winners and Losers of US Midterms Elections 2022
House
The Republican party has taken control of the House with 219 seats beating the Democratic party, which could catch only 212 seats at the time of the article. The race was too close this time without any party having a crystal clear upper hand. Usually, it is the President's party that happens to be a big loser; this time, the tight race has ensured that the majority is wafer-thin.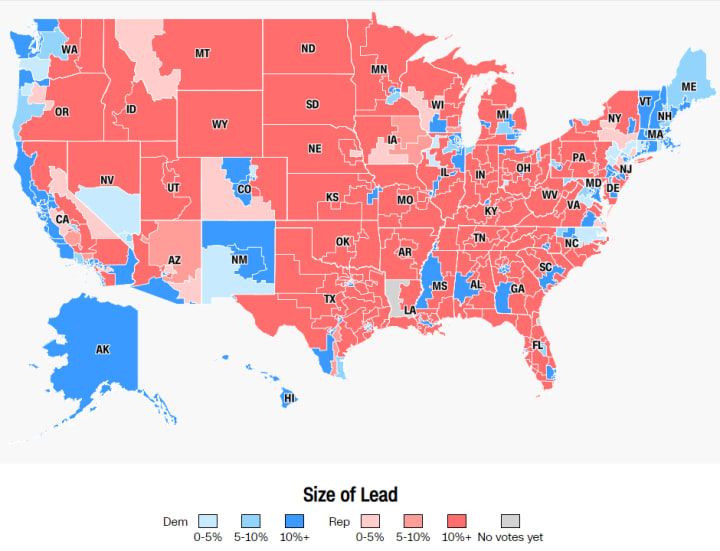 As expected, Democrats have cleanly swept New England, Urban centres across the country, suburbs, and seats with racial minorities and college graduates. Those urban centres they lost were because of gerrymandering. Similarly, the Republican party were dominant across the country in rural areas, southern states, a few suburbs etc. Notably, the Republican party made a big comeback in Florida. Even in the deep blue state of Florida, Republicans swept the rural areas.
Both Nancy Pelosi and Kevin McCarthy have won their respective congressional seats in California.
Republicans narrowly flipped Iowa's 3rd district (Des Moines suburbs), flipped Tennessee's 5th District (Nashville suburbs), Arizona's 2nd district, Virginia Beach (2nd District), Texas' 15th district (Southern Texas), Democrats flipped North Carolina's 13th District (Raleigh city), Colorado's 8th District (Denver suburbs), Ohio's 1st district (City of Cincinnati), Illinois' 13th District, Washington's 3rd District and Won Pennsylvania's 8th District (City of Scranton).
In New York's 13th district (Manhattan and The Bronx), Democrats secured 98% of the votes. Staten Island became the only Republican stronghold (New York's 11th district) in the blue sea of New York City. Democrats performed well in Nevada's Clark County, which houses the city of Las Vegas and its suburbs, which also helped them for the Senate.
Democrats lost a lot of seats in the Long Island part of New York suburbs. Even in the Governor's race, Democrats could not repeat their 2018 performance under Andrew Cuomo, despite winning it.
How large cities voted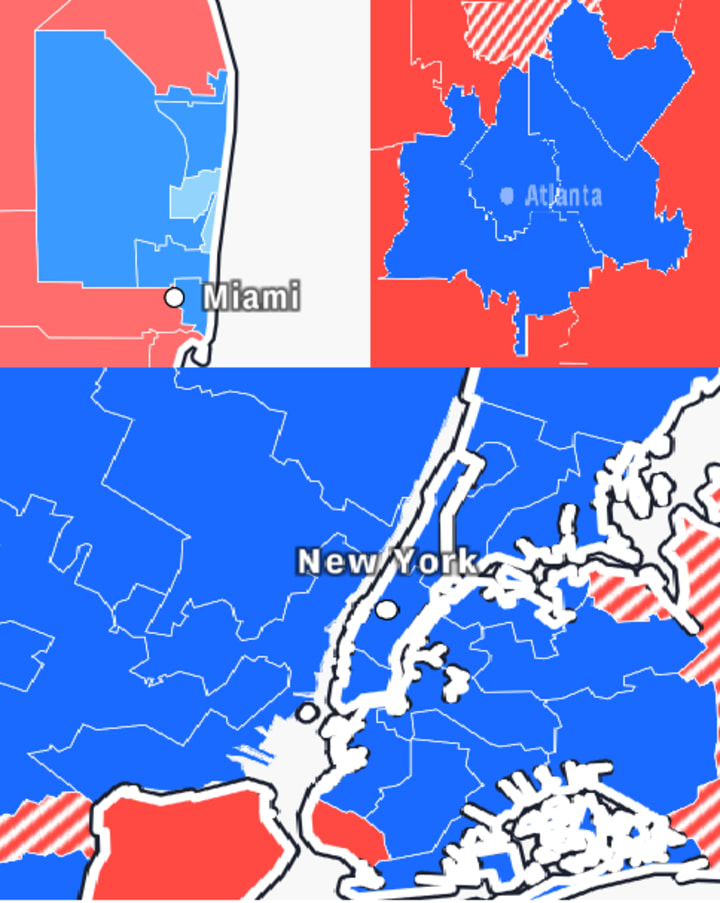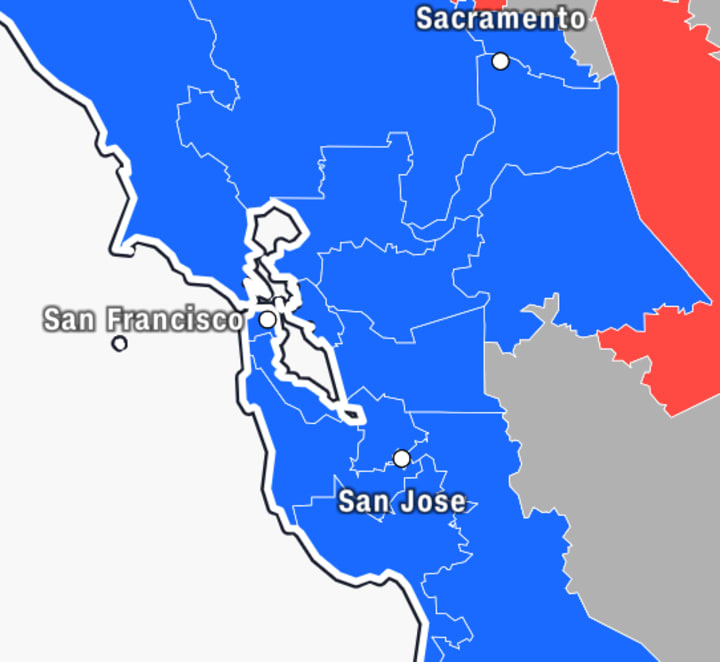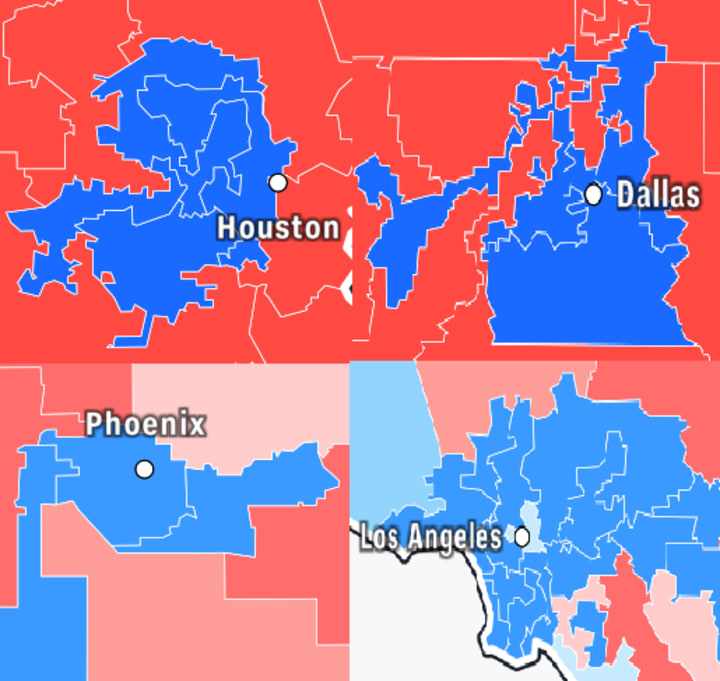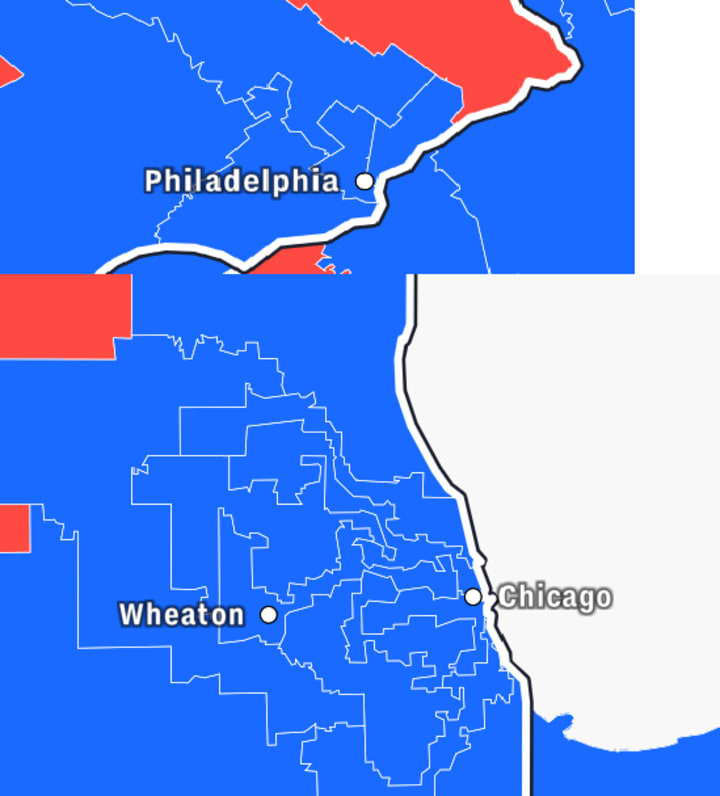 Senate
Democrats have retained control of the Senate with 50 seats, and the opposition Republican Party has 49 seats. Even without the result of Georgia, Democrats will be able to manage with the tie-breaker.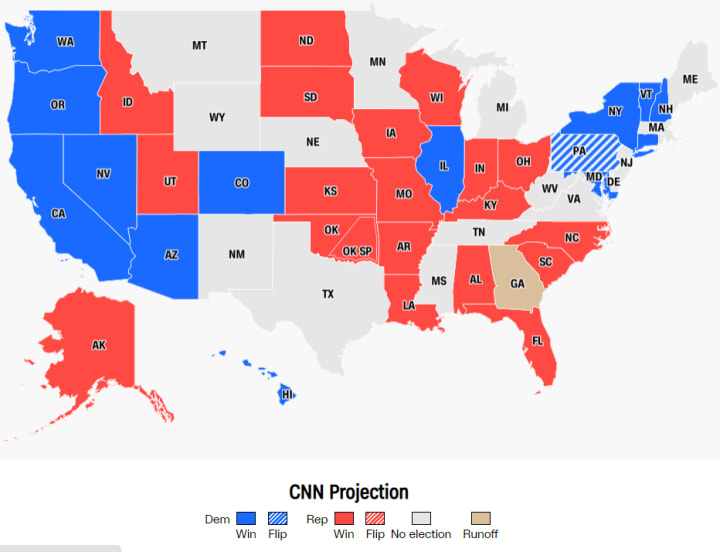 In the Senate, the race was tight yet favoured the democrats due to the type of opponents they had to face. Chuck Schumer(D) from New York will continue to be the majority leader, while Mitch McConnel(R) will be the minority leader. Trump-backed MAGA candidates lost in Senate elections. Georgia between Hershel Walker(R) and Rafael Warnock(D) will face a run-off on 6th December.
In Pennsylvania, John Fetterman(D) defeats Dr Mehmet Oz(R), Blake Masters(R) is defeated by Mark Kelly(D) in Arizona, Mastro(D) defeats Laxalt(R) in Nevada and in North Carolina, Ted Budd(R) defeats Cheri Beasley(D), Ron Johnson(R) defeats Mandela Barnes(D) in Wisconsin in tight competitive races. Almost all other senate races were like fixed matches.
Gubernatorial Races
Most watched state of Florida saw a record margin of Ron DeSantis's (R) victory against Charlie Christ(D); in Pennsylvania, Josh Shapiro(D) defeats Douglas Mastriano(R) like a blue storm. In a surprisingly competitive race in New York- Kathy Hochul(D) defeats Lee Zeldin(R) with a much lesser margin than in 2018 when Andrew Cuomo won the state, Gavin Newsom(D) carried the gigantic state of California, beating Brian Dhale(R) who is also seen as a potential candidate for Democrats in 2024, He had come stronger after the 2020 recall race where he received more than 60% votes. In Arizona, after a nail-biting race, Katie Hobbs(D) defeats Kari Lake(R) narrowly. In the red state of Kansas, Laura Kelly(D) wins re-election Derek Schmidt(R) championing abortion rights.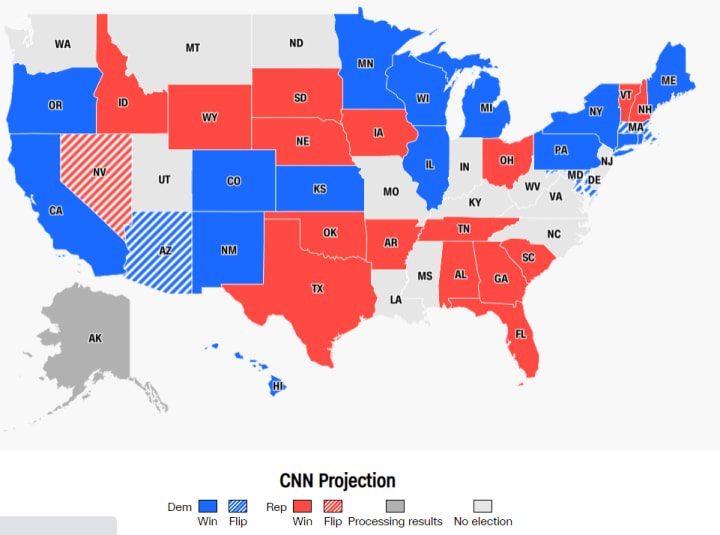 Analysis of the US Midterms Elections 2022
As per the pollsters and media reports, it was suggested that there would be a red wave. With the low popularity of Joe Biden and the economic challenges the country is facing right now, Republicans were favoured to win big in the House and, at a point in time, the Senate as well. Most House races were a fixed match with clear expected results. It was a tiny minority of competitive races which decided the fate of elections. In most of the competitive races, Democrats overperformed their expectations. Democrats won the support of more independents than the Republicans.
Democrats' big victories came in from their usual strongholds like urban and suburban areas. More than that, the notable victory for Democrats came in from the rust belt, where it won big in Pennsylvania, Michigan and Wisconsin, which traditionally swings states. In Michigan, the Governor's race victory is attributed to high women turnout for them due to the overturning of the Roe vs Wade judgement. Women's vote has been technically important for both parties but has benefited Democrats more, that too from college graduate women.
Young people's voter turnout has led them to this victory, while other age groups tend to favour the Republicans. Democrats are clear on their demographics as a target- racial and ethnic minorities, Asian-Americans. They can only win significantly if they are able to hold on to the working class in several states.
A big loss from Democrats came from its stronghold state of New York, where Republicans made a big comeback in the suburbs. Similarly, Ron DeSantis, in the past term, was successful in converting Florida from a purple swing state to a solidly red state. He had won in 2018, defeating Andrew Gillum by a small margin; now, he won with more than 59% of the vote. Republicans were also able to flip Democrat strongholds of Palm Beach County and Miami Dade county.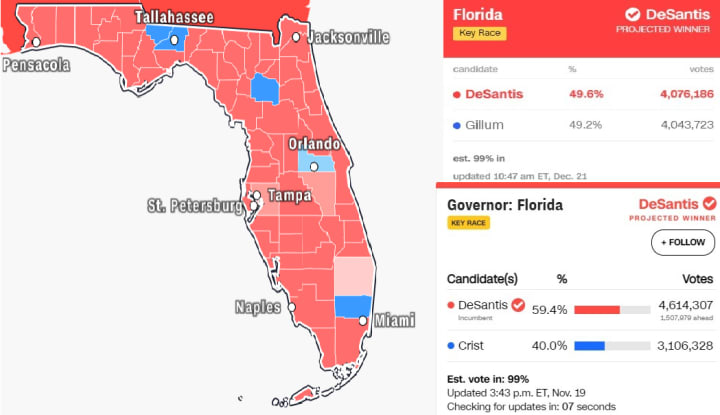 There were two main reasons which led to the Democrats' loss in Florida. The first is the drifting away of Latino votes to Republicans, and the second is the general phenomenon which benefitted Republicans in New York as well, which is gerrymandering. Even the Democrat House DCCC lost the 17th District in New York. When New York suburbs became slightly red, the city became bluer. The issue of crime did have an impact in making New York state as competitive as ever.
In New York, the court stopped the democratic legislature from implementing a new map that favoured Democrats. While in Florida, the court allowed the republican legislature to implement a new map that favoured Republicans. Hence both states have ensured safe support for Republican Party. It is estimated that the seat Democrats lost in New York would have been enough for them to take control of the House.
Democrats could not also touch swing states like Ohio, which has crystallised into a red State. On the flip side, Democrats have successfully converted swing states like Arizona and Nevada to purple democrat leaning, yet not proper blue states. Similarly, North Carolina and Georgia are short of becoming swing states.
Rafael Warnock's performance indicates how close Democrats have been able to challenge Republicans in Georgia, which was considered to be a red state. In the governor's race, Stacy Abrams failed to repeat her 2018 performance, and she underestimated Brian Kemp's popularity, who stood firm against Trump as well.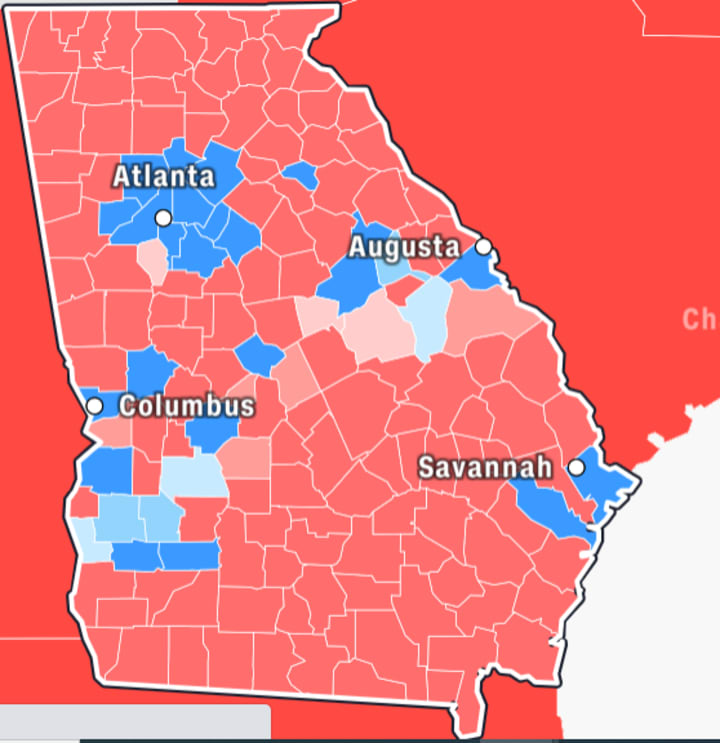 For Republicans, they couldn't perform as expected, but they did put out a tight show, not allowing Democratic victories in many of their strongholds. Through gerrymandering in several red states and high amounts of voter restrictions, it was expected that they would be able to perform well. Republican victories and leads did have a lot of racial minorities reaching out to them, but this is at the cost of shrinking College graduates. Hence, in the long run, it would be tougher for Republicans to balance it out.
Florida was a big win for Republicans getting a chunk of Latino votes. In Texas, Governor's race was a repeat of 2018 with the same candidates, but it is far from turning Blue. The immigration issue was raised by both Texas and Florida against Democrats, which has hurt them. This is clear from the Republican flip of Texas' 18th district.
In Georgia, they were able to restrict Warnock from securing more than 50% and pull it off for a run-off. There is clearly no incentive for people to elect a Republican as Senate is anyway under Democrat Control. They were also able to stay intact in California.
A Big disappointment for Republicans was not being able to excel in Pennsylvania, where they lost both Senate and Governor's race. Dr. Mehmet Oz (R), residing in New Jersey, couldn't win against John Fetterman. In Nevada and Arizona, they failed to make a dent hence failing to win the Senate. The rising minority population in both states have favoured Democrats more.
Trump-backed candidates and their support for overturning the Roe vs Wade judgement had backfired. It was the best opportunity for them which they failed to make use of. They just had to slip five house seats and one senate seat, which they failed. Republicans were confident of a majority of 60 and later 30; now, they barely have crossed the majority mark.
Impact on Biden's Presidency
A divided Congress is always a headache for President in power. Most of his legislation will hit a roadblock. If Democrats manage to secure Republicans to cross-vote, then some relief will be there for President's agenda. Having a Senate majority is a relief to Biden, and his larger foreign policy outlook will not be directly affected.
Getting bipartisan support in the House will be needed for passing legislation which is less likely in the highly polarised partisan atmosphere we have right now. Biden has experience in managing the Senate; hence control of foreign policy and ratifying of treaties may not be affected.
The way ahead
With Biden looking for re-election in 2024, he needs to show the report card to voters on the performance, for which he needs policies which will mean strict and devoted negotiations between both parties with President taking the lead.
Donald Trump has shown interest in contesting once again, although his control over the party is now minimal after massive losses in midterm elections. With DeSantis emerging as the new star, more moderate and conservative Republicans will support him in 2024. Trump will have to go through a tough primary. With a Republican House majority, the status of the January 6th committee is also in question. Will GOP scrap it, or will it convict Trump is something which decides the fate of his 2024 run?
After a loss of 7 million popular votes in the 2020 election, Trump is unable to give his party the victory that is needed; hence Trump will be the maker or breaker of the 2024 elections. Catching most of the swing states in 2022, Democrats still have the edge if a Presidential election is held today. But all is not well for democrats as their margin of votes in both blue and purple states has shrunk. Similarly, most traditional democratic-leaning demographic groups are slowly shifting away. Getting them back is crucial otherwise, they won't enjoy the support as they do now, having the upper hand in US politics.
Credits to CNN and USA Today for Interactive maps, Projections, and Fivethirtyeight for analysis and numbers. Thanks to ABC, CBS, NBC, and AP for constant updates.
Note- I am an Indian who is interested in US Politics and Elections. I have written, taking information from US and international media, trying my best not to dilute the quality from the American point of view. Please excuse me for any mistakes hence done in the same. Do let me know your thoughts and suggestions in the comments.
---
If you enjoy my content and find it informative, do support me at Buy Me a Coffee. My membership starts at only $1 per month, which means a lot to me and helps me present the best of the articles. I have started a Telegram Channel which will contain the record of all my articles. Follow my blog for behind-the-scenes and informative content.
---
Also Read
About the Creator
Content Marketer|Engineer|Blogger|Podcaster. Political and International Relations Analyst|Writes on Science, Technology, Politics|Infodaily Blog and Journal of Knowledge Podcast|6 languages|Join on my journey to gain and share knowledge.
Reader insights
Nice work
Very well written. Keep up the good work!
Top insights
Expert insights and opinions

Arguments were carefully researched and presented

Eye opening

Niche topic & fresh perspectives

On-point and relevant

Writing reflected the title & theme
Add your insights