About Bhagat Singh
Bhagat Singh was an Indian revolutionist whose two dramatic acts of violence during the Indian Independence Movement against the British and execution at the age of 23 made him a national hero of the Indian freedom struggle. Indians also refer to him as Shaheed Bhagat Singh and many consider him to be one of India's earliest Marxists.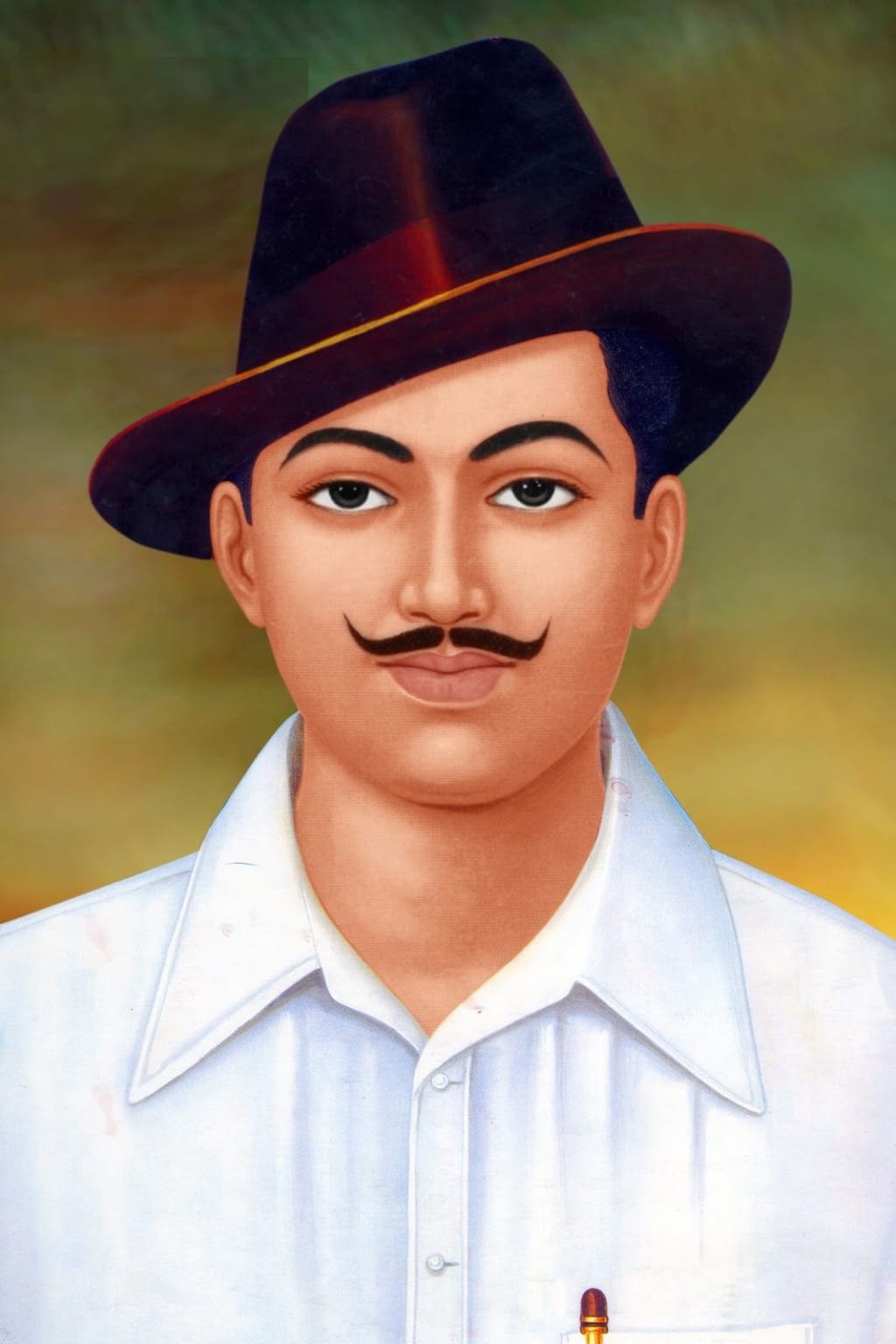 Bhagat Singh was born and raised in a Sikh family in Punjab, India (now Pakistan). He was the second son of Kishan Singh and Vidya Vati. The family was inspired by nationalism and participated in independence movements. At the time of Bhagat's birth, his father and two uncles were in jail for causing political unrest. Khatkar Kalan, near the town of Banga, India, in the Punjab district of Nawanshahr (now called Shaheed Bhagat Singh Nagar), was his ancestral village. Arjun Singh, his grandfather, followed Arya Samaj, the Hindu reformist movement of Swami Dayananda Saraswati, which had a major influence on Bhagat Singh. His father and uncles were members of the Ghadar Party, headed by Kartar Singh Sarabha and Har Dayal. Because of pending court proceedings against him, Ajit Singh was forced into exile while Swaran Singh died at home in Lahore in 1910, following his release from prison.
Bhagat Singh History
Bhagat Singh did not attend Khalsa High School in Lahore as the allegiance of the school officials to the British government was not accepted by his grandfather. Instead, he was enrolled in the Dayanand Anglo-Vedic High School, an Arya Samaji institution. Singh visited the site of the Jallianwala Bagh massacre in 1919, when he was 12 years old, hours after thousands of unarmed people gathering at a public meeting were killed. It deeply affected him as a child. When Mahatma Gandhi began the Movement for Non-Cooperation in 1920, at the age of 13, he became an active participant. He had high hopes that, in India, Gandhi would bring independence. But he felt frustrated when, after the Chauri Chaura riot in 1922, Gandhi called off the campaign. At that point, by burning his government school books and any British-imported clothes, he had openly defied the British and had followed Gandhi's wishes.
Bhagat Singh famously won an essay competition organized by the Punjab Hindi Sahitya Sammelan in 1923. That attracted the attention of Punjab Hindi Sahitya Sammelan members, including Professor Bhim Sen Vidyalankar, its General Secretary. He studied at the National College in Lahore in his teenage years. He had fled home to escape early marriage and joined the Naujawan Bharat Sabha organization. Singh and his fellow revolutionaries were famous among the young in the Naujawan Bharat Sabha. At the behest of Professor Vidyalankar, he also joined the Hindustan Republican Association, then led by Ram Prasad Bismil and Ashfaqulla Khan.
Revolutionary Activities
Under Sir John Simon, the British government formed a commission to report on India's current political situation in 1928, which was boycotted by the Indian Political Parties because Indians were excluded from representation. Lala Lajpat Rai led the protest against the commission in a silent, non-violent march when the commission visited Lahore on October 30, 1928, but the police reacted with brutal force which resulted in his death.
Bhagat Singh witnessed that incident. Along with Bhagat Singh freedom fighters Shivaram Rajguru, Jai Gopal and Sukhdev Thapar vowed to take revenge and plotted to kill the police chief. In the event of mistaken identity, Gopal told Singh about the appearance of J. P. Saunders, the deputy police superintendent. Thus, instead of Scott, Singh shot Saunders. He left Lahore quickly to flee from the police. He shaved his beard and cut his hair to avoid recognition, a violation of one of Sikhism's holiest tenets.
The British government passed the Defence of India Act in the response to the acts by the revolutionaries to give the police more power. The Act, defeated by one vote in the council, was intended to combat revolutionaries such as Bhagat Singh. The Hindustan Socialist Republican Association intended to blow a bomb in the assembly where the ordinance was to be passed in response to that act. Singh and Dutt dropped bombs on the assembly corridors on April 8th, 1929 and shouted: "Inquilab Zindabad!" ("Long Live the Revolution!"). After the blast, Singh and Dutt gave themselves up for arrest. He and Dutt were sentenced to life for the bombing on June 12, 1929.
Execution
Bhagat Singh, Rajguru, and Sukhdev were charged with the murder of J. P Saunders shortly after their conviction and trial for the Assembly bombing. Bhagat Singh wanted to use the court as an instrument for publicising his cause for India's independence and thus acknowledged the murder. He and other prisoners launched a hunger strike while in custody, advocating for prisoner rights and under trial. They were striking to protest against preferential treatment of British murderers and thieves, who would obtain better conditions by statute than Indian political prisoners.
He also wrote a pamphlet entitled "Why I am an atheist," before dying, to address the accusation of vanity for denying God in the face of death. On March 23rd 1931, with his comrades, Rajguru and Sukhdev, the British hanged Bhagat Singh in Lahore. He was immediately proclaimed a shaheed or a martyr by his supporters who had been demonstrating against the hanging.
Singh was cremated on the banks of the Sutlej River at Hussainiwala. The Bhagat Singh Memorial today commemorates India's freedom fighters.
Thoughts and Opinions
Political thoughts of Bhagat Singh significantly shifted from Gandhian nationalism to progressive Marxism. By the end of 1928, their group was called the Hindustan Socialist Republican Association by him and his comrades. He had read Karl Marx, Friedrich Engels, and Vladimir Lenin's teachings and believed that India could only function properly under a socialist regime with such a huge and diverse population. During his time at the National College in Lahore, those principles were introduced to him, and he believed that the Russian revolution should be re-enacted by India.
Conclusion
The death of Bhagat Singh had the impact he wanted and motivated thousands of youths to support the rest of the Indian independence movement. Youths in regions across Northern India rioted in protest against the British Raj after his hanging. The Communist Party of India (Marxist) itself recognizes the contribution of Bhagat Singh to Indian society31 and the future of socialism in India in particular. A group of intellectuals have set up an organization to commemorate Singh and his values to mark the centenary of his birth.
Bhagat Singh was criticized by both his contemporaries and people after his death because of his aggressive and revolutionary stance against the British, his opposition to the pacifist position taken by the Indian National Congress and particularly Mahatma Gandhi. The tactics he used to make his point were opposed to the non-violent non-cooperation preached by Gandhi.
23-year-old, Bhagat Singh, was hanged on March 23rd, 1931 by the British after being tried on charges of hatching a plot against the colonial government. Along with Bhagat Singh freedom fighters, Sukhdev and Rajguru were also hanged for the murder of J.P. Saunders.
Bhagat Singh is best known for his revolutionary acts against British oppression, including the murder of J.P. Saunders and the Central Legislative Assembly Bombing. As a teen, he famously won an essay competition organized by the Punjab Hindi Sahitya Sammelan in 1923. To popularize revolutionary activities against the British, he voluntarily chose death and the day of his death is observed in India as Martyr's Day.
Bhagat Singh wrote a pamphlet entitled Why I am an Atheist while in a condemned cell in 1931, in which he explored and promoted the theory of atheism. For his inability to understand faith and God while in a condemned cell, the pamphlet emerged as a counter to criticism by fellow revolutionaries. He followed his convictions and said that he was a firm believer of God, but dismissed the myths and beliefs that others kept close to their hearts. He admitted in that pamphlet that religion made death simpler, but proclaimed unproven philosophy to be a sign of human weakness.