A New Cult? Quantum Networking
Could this be a new Pyramid scheme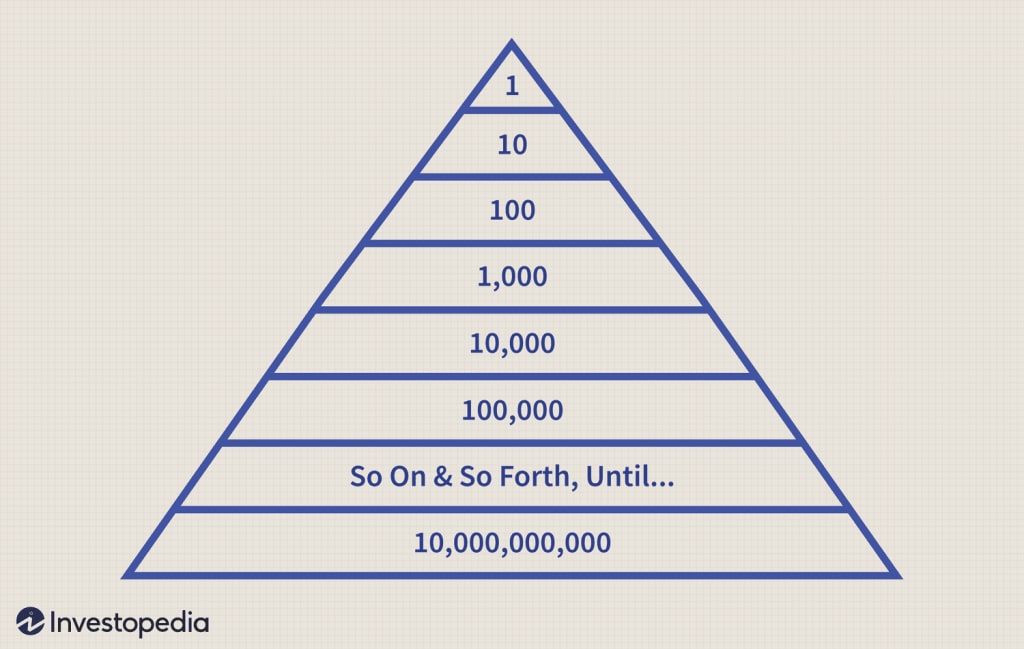 Last night, while watching YouTube, one of the content creators I enjoy mentioned something intriguing—a new group or organization. It made me wonder if this could potentially be the next example of a situation similar to Keith Raniere, who is currently serving a life sentence for his involvement in sex trafficking and cult-building, with Allison Mack at the helm of that pyramid scheme.
Andra J. Pickens, the founder of the Quantum Wealth Community, along with his girlfriend Sam Rossi, seem to have come up with a scheme promising quick riches. In the following paragraphs, I'll present the evidence I've gathered as I delve deeper into this matter.
A pyramid scheme is typically a deceptive plan where those at the top reap the benefits by enticing others to join and invest money. For instance, in this case, each lesson comes at a certain cost, depending on your subscription level. They're presenting this as a monthly subscription, tailoring their message to appeal to as many people as possible. I'm conducting a thorough investigation into this.
The individual seemingly at the forefront of this group, who goes by the handle @Mandy.on.earth on TikTok, employs language that appears to be designed to influence or captivate others. It's quite evident that Mandy is the face of this initiative, and they seem to have followers residing at what they call the "Phase Two House."
This is particularly concerning when it involves children, as Mandy offers various classes, including a "Phase Two Parenting Class." These situations tend to persist, and I'm reminded of cases like Rose McGowan, who grew up in a cult, or even figures like Charles Manson. This group appears to exploit vulnerabilities.
While researching this article, I shared my findings with my husband, who raised concerns about potential malware on some of the websites involved. He may be onto something, but I felt compelled to take the risk and continue investigating.
The leader of this group has a significant presence on TikTok and is beginning to establish one on YouTube. They claim to be legally blind while wearing sunglasses. It would be interesting to know if this is indeed the case or if it's a deception.
This leader often discusses the concept of a "cluttered closet" as a metaphor for our beliefs and how they may be holding us back from financial success. However, it's important to note that falling for such schemes is not about money; it's clearly a scam.
Cults typically revolve around a charismatic individual who promises followers the world in exchange for their loyalty. In reality, it's usually the cult leaders who benefit the most, not the followers. This is known as "false consciousness," and I plan to explore this further.
In my next article, I intend to conduct a thorough psychological evaluation of Andra Pickens, the leader of this group. This introduction serves as a starting point for a series of articles where I'll be delving deeper into this topic.
On TikTok, one of my favorites, Julie The Systems Gal, faced significant backlash from members of this group for expressing her beliefs. In future articles, I'll provide more details on this subject. Julie is standing up for what she believes in, while Eleanor, a member of the cult, is defending the cult leader. Stay tuned for more on that in upcoming pieces.
As human beings, we can be quite susceptible to believing almost anything. It raises questions about the regulations surrounding interviews, especially in the context of social media. Does the US Homeland Security selectively enforce these regulations, picking and choosing when to take action?
About the Creator
For the many readers who never want to read one niche but many this is the place for you to come. This blogger has everything never just one thing. She is a author, a blogger, and flawed woman. She is never perfect but happily married.
Reader insights
Be the first to share your insights about this piece.
Add your insights