Top 10 NFT Marketplace Development Companies
What are the best to choose?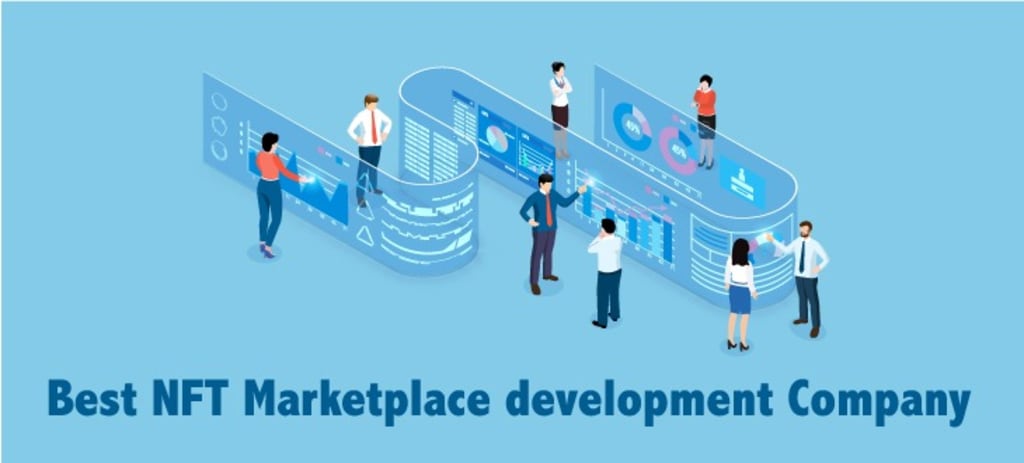 During the past 2 years, everyone is talking about NFTs although they have been around us for more than five to seven years. Yes, NFTs are the trendy market nowadays and they will continue in the forthcoming years. However, an NFT marketplace is a platform where traders can buy or sell their digital assets and collectibles.
So here comes the entrepreneurs and startups who want to launch their NFT marketplace and gain benefits from this trendy market. Everything you have to get started is to find & approach the best NFT Marketplace company and get your platform designed, developed, & deployed as per your requirements.
Choosing the best NFT marketplace development company is an important part of the nft marketplace development process.
While in the current situation the market is filled with so many companies that offer NFT marketplace development services. As an entrepreneur, you might wonder which company is the best for you. No need to be worry! We have compiled a report that covers companies that provide the best-in-class NFT marketplace development solutions globally to clients.
If you are not sure about which company to choose, here, in this blog, let us give insights into the top 10 NFT marketplace companies.
But before that let's dive into the parameters you must think of before choosing an NFT market development company.
Factors you should pay attention to:
Size of the company
Being cost-effective
Total number of app they have provided
Market share of the company
Feedback generated by client review
Company turnover
The annual business growth rate
The variety of industries that they have worked with
On-time delivery management
Proven track record
Reliable communication channel
High platform design standards
Unique UI/UX
Expertise in technology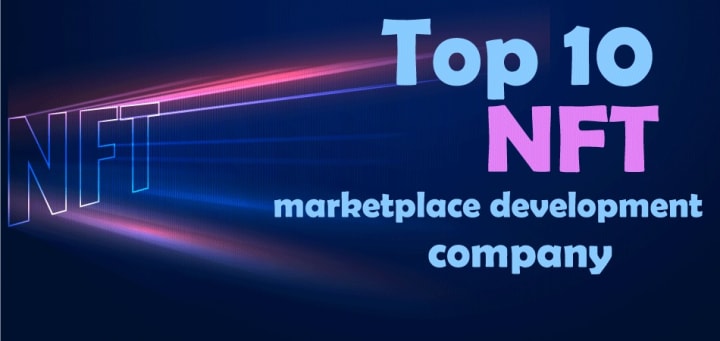 1. Interexy
Interexy is one of the top NFT companies that want to serve its clients with cutting-edge NFT development services. The company offers NFT marketplace development services for some domains, including art, fashion, games, real estate, and more.
Leveraging the latest technologies and frameworks, the marketplace developers at interexy try to deliver a great user experience by developing NFT marketplaces that are suitable for their clients' requirements.
For building Top NFT platforms, the experts use blockchain like Ethereum, Binance, and Solana.
This company is founded in 2017, and the size of the company is 51-200. An hourly range rate for their development is something around $50-$99.
2. AppDupe
Appdupe is launched in 2007 and through these years has proved itself as a reliable company, AppDupe is one of the best NFT companies that have headquarters in Chennai, Tamil Nadu. The team has experience in creating non-fungible tokens on the blockchain network based on the kind that you choose. This company is active in the field of real estate, music, fantasy sports, gaming, metaverse, and more.
Telephone: +918056176377
Founded in:2013
Company size: 51-200
AVG hourly rate: $50-$99
3. Pixelplex
Headquartered in New York, Pixelplex is one of the other NFT marketplace development companies that has over 9 years of experience in blockchain. The expert at pixelplex tries to help to build an NFT marketplace with a blockchain that the clients want, this blockchian is powered with a crypto wallet safeguarded with hardware-level security protocol.
Pixelplex, is one of the biggest NFT companies that serve clients from all around the globe in different domains such as music, arts, fantasy, sports, gaming metaverse, and more.
While developing an NFT marketplace, the experts make sure to sit with clients in order to understand the target customer groups, ballpark their entry barriers, and to understand the design and effect expectation
Telephone
+1 646 490 0772
Founded In
2007
Company Size
51 - 200
in. Project Size
$25,000+
Avg. Hourly Rate
$50 - $99s.
4. INORU
In blockchain space, INORU is one of the most noticeable and reliable NFT marketplace development companies, serving global clients. This company is popular for the on-time delivery of finished products without reduction in the delivery quality of products and confidentiality of data.
Telephone
+91 805 617 6377
Founded In
2006
Company Size
51 - 200
Min. Project Size
$1,000+
Avg. Hourly Rate
< $25
5. RisingMax
RisingMax is one of the leading NFT marketplace development companies that provides end-to-end services to individuals, startups, and enterprises who want to design, build and launch the top NFT marketplace
With a reputation for helping businesses adapt to modern technologies, it's no surprise that RisingMax is working within lots of niches and offering support for the development of unusual marketplaces.
6. Unicsoft
Hourly rates: $50–$99 / hr
Minimum project size: $25,000+
The number of employees: 50–249
Location: London, UK
Unicsoft was founded in 2005 to provide technology consulting and software engineering services for startups and different entrepreneurs.
This company was based in the UK, unicsoft can create blockchain-powered systems for intellectual property management to protect the rights of digital asset owners.
7. Applify
This company is founded in 2014 in India that undertakes projects from idea validation to testing and deployment. Besides this software engineering firm provides assistance in promoting NFT marketplace apps to attract and engage users while filling a niche and maximizing.
Hourly rates: $25–$49 / hr
Minimum project size: $10,000+
The number of employees: 50–249
Location: Punjab, India
8. Boosty Labs
Hourly rates: $50–$99 / hr
Minimum project size: $25,000+
The number of employees: 50–249
Location: Kyiv, Ukraine
Boosty Labs is an NFT marketplace development company that offers services to sectors such as digital art, retail, fintech, real estate, and education. Headquartered in Kyiv, Ukraine, Boosty Labs has representative offices in the US, UK, and Germany.
When making the front-end of NFT marketplace platforms, the team uses React.js, Vue.js, and Angular while for the back-end, the engineers apply to Go, Java, and Node.js.
9. Hyperlink InfoSystem
Gujarat, India
Telephone
+91 800 016 1161
Founded In
Founded In
2011
Company Size
Company Size
501 - 1,000
Min. Project Size
$10,000+
Avg. Hourly Rate
<25$
The marketplace developers will help integrate your NFT projects with different APIs, data, and ecosystem tools to provide a feature-rich and exceptional user experience. The company has more than 650 professionals who are always ready to build solutions using the latest technologies that get maximum ROI.
10. Radindev
Radindev is a premium NFT marketplace development company with professional developers focused on providing marketplace solutions dedicated to trading non-fungible tokens.
With Radindev, entrepreneurs or business people can think of creating the platform from scratch and even go for choosing the ready-made NFT marketplace solutions to launch their platform instantly.
Also, Radin company provides white label scripts and popular ready-made nft marketplace clone scripts opensea clone scripts, Rarible clone scripts, and some others.
Radindev tries to meet the expectation of its clients and turn what they have in their minds into something real in this market.
Telephone:+13183020002
Hourly rates: <$25 / hr
Minimum project size: $5000+
The number of employees: 51–249
Founded in: 2017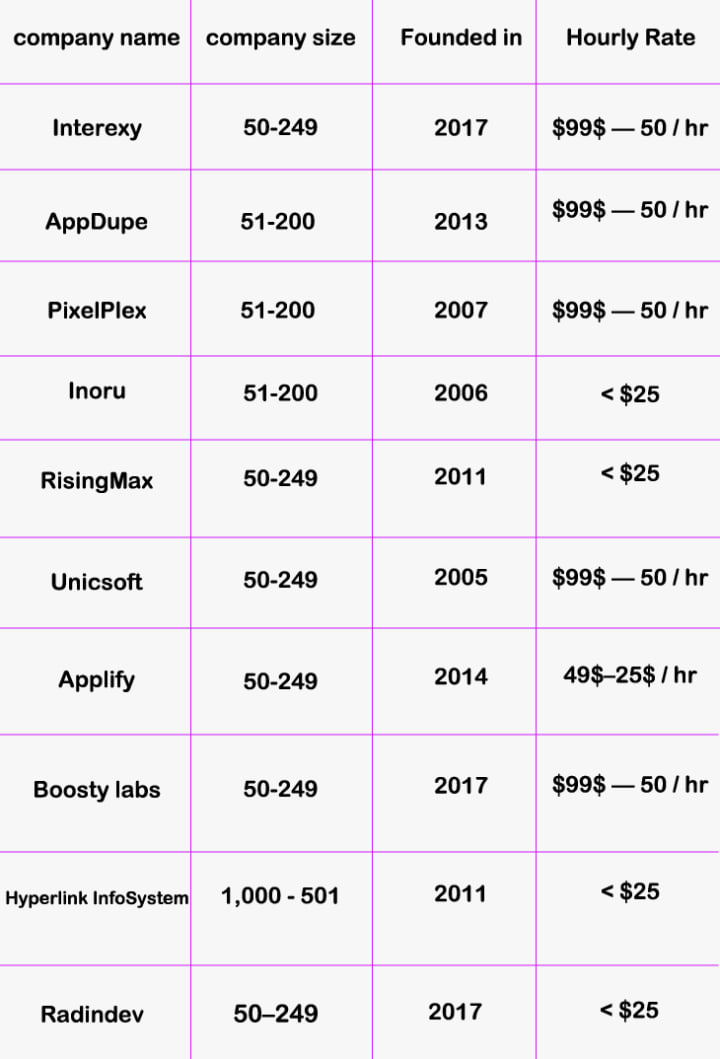 Last words
When choosing an NFT marketplace development company, it is essential that you check out all the team's expertise by domain, technologies, and operating systems. Moreover, you should consider all the budget you want to spend on this project and all your preferred deadlines.
If you ever decide, to purchase a white label NFT marketplace to reduce expenses, you must pay attention to the functionality and customization capabilities provided by the platform.
You also should know what you need for example if you don't have any technical knowledge it's better for you to choose a white label or NFTs clone script or hire a full-cycle software development.
So, instead of choosing to develop an NFT marketplace from scratch, aiming for a clone script is an ideal choice for entrepreneurs who want to launch an NFT marketplace platform immediately faster, and with less price.
Reader insights
Be the first to share your insights about this piece.
Add your insights