NFT Metaverse marketplace development: An Overview!
NFT Metaverse development - Most preferred marketplace of crypto token users!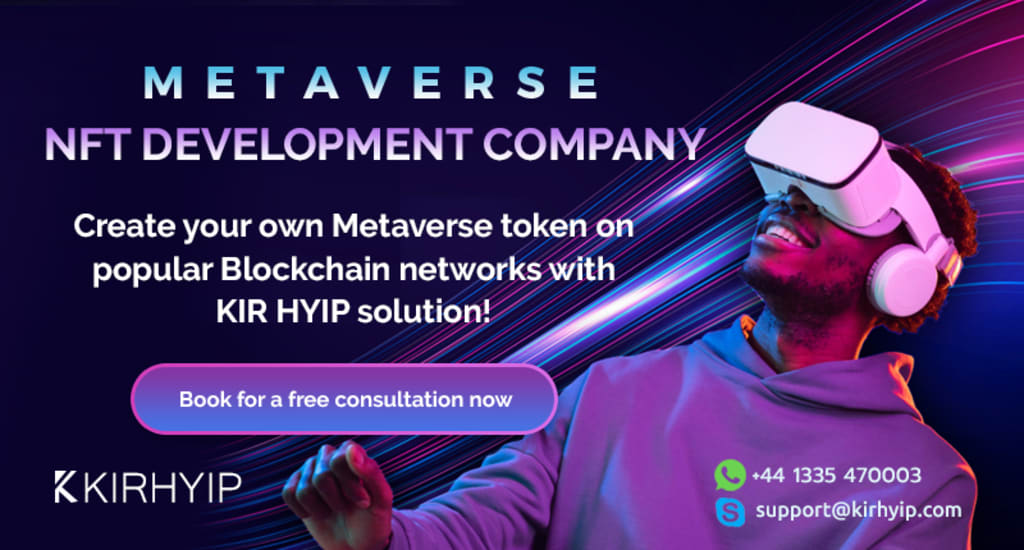 NFT Metaverse Development has become the most popular among business enthusiasts. Many industries are eager to enter into the NFT Metaverse in order to gain virtual experience and expand their businesses to the next level. It allows business owners to create their own 3D reality world and makes unlimited ways to connect with their customers.
Today, it is one of the most popular technology breaks for developers and investors. Before moving on to the topic it is crucial to understand the concept of what Metaverse is and what NFT does in the Metaverse.
What is Metaverse?
Metaverse is a 3-dimensional virtual reality-based simulation of the actual world in the virtual world. You can create your own 3D avatar who can converse with other avatars in this virtual world. Your avatars can do anything that you do in the real world, including shopping, playing games, and having fun.
The future of virtual reality, cryptocurrency, and artificial intelligence is Metaverse. And NFT will be the key to Metaverse's virtual universe.
So, what does NFT do in the Metaverse?
NFT in Metaverse serve as a link between both the Metaverse and the user, providing them with identity in the Metaverse. It might be anything like an avatar, a thing, a community, etc. And it provides a transparent and fair economy powered by blockchain technology.
The NFT Metaverse is a virtual environment that runs efficiently on the blockchain since it is extremely scalable, transparent, and adaptable. It allows anybody to create NFTs to collect virtual assets. It expands the opportunity for real-world and digital assets to be monetized, benefiting both companies and consumers by leveraging Metaverse structures. Therefore, as above mentioned NFT is key to the Metaverse. And now lets us see the features of NFT Metaverse Development.
Here is the list that needs to be given utmost importance while developing this platform.
Selection of blockchain network
Easy to use interface
Features selection
Database and IPFS storage
Wallet integration
Decentralization
Pear-to-Pear interaction
Tokenization
Security features
These are the above thing you need to consider while at the developing stage.
Essential Features of NFT Metaverse Development
Decentralized platform – It creates decentralized websites for gaming, socializing, and shopping that is tailored to your project's requirements.
Cross-Chains – The Metaverse marketplace is being structured in such a way that different blockchain may be added to the platform.
Wallet Integration – It provides safe cryptocurrency wallets and payment gateways based on cutting-edge technology like Swap and Liquidity Pools.
Tokenization – Allowing users to tokenize their assets quickly and easily.
Multi-layer Security – To provide a strong defense against intruders and the platform is constructed with DDOS, CSRF, and SSRF.
P2P Interaction – Peer-to-peer interactions can be enabled for safe asset exchanges.
User experience – The platform will be more engaging, providing a better user experience for Metaverse users.
The above benefits help to attract users to this Metaverse NFT market development, so the number of users using this site is gradually increasing, which means that it will continue in the future.
If you want to create your own NFT Metaverse marketplace, joining the best experts in the industry is the most preferred recommendation. When you are interested in creating your own Metaverse NFT marketplace development, select the right providers in the industry as it is a new concept very few are experienced in developing this platform.
With this, KIR HYIP Solution is leading NFT marketplace development companies that can help you transform your idea into a real-life NFT Metaverse marketplace. Metaverse is built exclusively for you, with advanced features tailored to your business needs. Our knowledgeable blockchain experts will help you transform your idea into a real-world NFT Metaverse Marketplace.
Get live support via,
Whatsapp chat: +44 1335 470003
Skype/Email: [email protected]
blockchain
About the author
KIR HYIP offers the world's most secure blockchain solutions with smart contracts. We have significant years of experience in HYIP & ICO industry, now offer development services for Token creation, Metaverse NFT Market, DeFi & clone Scripts