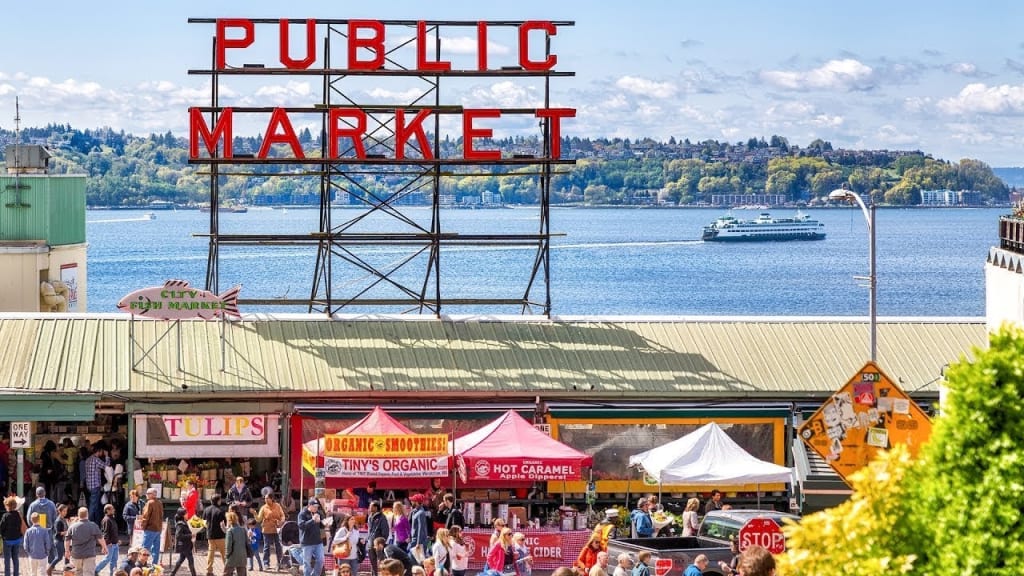 MARKET SHARE : A Short Play
by Grace Carmack
Cast of Characters
Man: A scruffy man in a dirty T-shirt. He may be the creator of Bitcoin.
Hillary: An employee of the public market.
Setting
A public market.
Time
July, 2019.
(A dirty public market. It is midsummer, which means three cruise ships are in town, each equipped with their own water slide. Tourists cram their six-person families into narrow corridors, desperate for a glimpse at the famed shops. Seagulls swoop in, stealing fish bits from exhausted men in plastic overalls. It's 6pm, the sun is high, and the shops are mostly closed.)
(HILLARY has finished her shift at the bulk spice shop and is walking along the cobblestone.)
(A MAN approaches HILLARY, walking in the same direction.)
MAN
Hey! Mind if I walk this way?
HILLARY
Public road dude, go for it.
MAN
Where you goin'?
HILLARY
Home. You?
MAN
I don't know yet, I'm visiting.
HILLARY
Oh weird. I thought you worked here.
MAN
Why's that?
HILLARY
I don't know, you look like a market rat.
MAN
Ha, funny. I haven't had a job in years.
HILLARY
Lucky you.
MAN
Where do you work?
HILLARY
Spice shop, in the corner back there.
MAN
Sounds fun, do you like it?
HILLARY
Better than wearin' a suit.
MAN
You'd look weird in a suit anyway.
HILLARY
Ah, thank you.
MAN
Want some Chambord?
HILLARY
What? No.
MAN
Too good for Chambord?
HILLARY
Are you just carrying it around in your backpack?
MAN
I've also got this.
(MAN produces a bottle of Macallan whiskey. HILLARY sighs.)
HILLARY
Yeah okay.
(He hands the bottle to HILLARY.)
HILLARY
Macallan. Nice whiskey. Heavy bottle.
(MAN laughs)
MAN
It's very nice whiskey. You are holding one of four bottles of The Macallan 64 Years Old in Lalique.
HILLARY
What does Lalique mean?
MAN
That's the crystal it's held in.
HILLARY
Crystal?
(HILLARY pretends to drop the bottle. MAN doesn't flinch.)
HILLARY
Did you steal it?
MAN
Nope, bought it at auction in 2010. You can have the first taste if you like.
HILLARY
No way, you go first so I know it's not drugged.
(MAN takes the bottle, removes the top, and takes a swig. He hands it back to HILLARY who also takes a swig. She makes a face as if to say "smooth." Beyond that, she's unphased by the caliber of the spirit. They are standing together on the market's single cobblestone road. They've paused to share the bottle. No one else in the market seems to care.)
HILLARY
So you don't have a job, your T-shirt is dirty, and you're drinking a bottle of designer scotch with a spice merchant at the market? What's your deal, dude?
MAN
Have you heard of Bitcoin?
HILLARY
Yeah, sure.
MAN
I benefited early.
HILLARY
I don't follow.
MAN
I'm Bitcoin rich.
HILLARY
Is that your name?
(MAN laughs.)
MAN
Not even close.
HILLARY
Okay, you're rich from Bitcoins, whatever that means, and you've come to the market for?
MAN
I've been talking to people about net neutrality.
HILLARY
For fun?
MAN
Kind of, yeah! I spend my time teaching people about decentralizing the internet.
HILLARY
I don't know what that means.
MAN
You know how people use Google as a search engine?
HILLARY
Yeah.
MAN
Alright. So Google is operating as a third-party. Google isn't necessary to find information on the internet. But you tell me, how else would you go about finding something online?
HILLARY
Jeeves?
MAN
Another third-party. A notably worse one. Because Google prevents Ask Jeeves from committing the same crime.
HILLARY
Fine, they have a monopoly on....information. Why do you care? You just told me you're Bitcoin rich.
MAN
I think people have the right to a better online community. And the right to generate money outside the control of the central bank.
HILLARY
So some asshole invented another currency, you got rich off of it, and now you wander around as an internet spokesperson?
MAN
No, I invented Bitcoin. I am that asshole.
(A pause. HILLARY narrows her eyes.)
HILLARY
Just to get rich?
MAN
Nah, because fuck 'em.
(A pause.)
HILLARY
I agree with you there. But you're still full of shit.
MAN
Alright, well, at least take this.
(He hands her what looks like a business card. It only has a web address.)
HILLARY
Nice cardstock. I'll search this later.
(She puts the card in her back pocket.)
MAN
That's all I ask.
HILLARY
How long have you been Bitcoin rich?
MAN
About a decade.
HILLARY
Well, I'm happy for you. Thanks for sharing your whiskey.
MAN
Want a ride home?
(MAN gestures at a black Mercedes idling along a side street.)
HILLARY
Nah, this was fun but that sounds dangerous.
MAN
Fair enough. What's your name, by the way?
HILLARY
Hillary, what's yours?
(HILLARY extends her hand. He accepts it and they shake.)
MAN
Most people know me as Satoshi.
HILLARY
I'm just gonna call you Bitcoin Rich.
(MAN smiles and starts walking towards the Mercedes. HILLARY waits long enough to see if he actually gets in. He does. HILLARY continues walking towards her bus stop.)
(END OF PLAY)