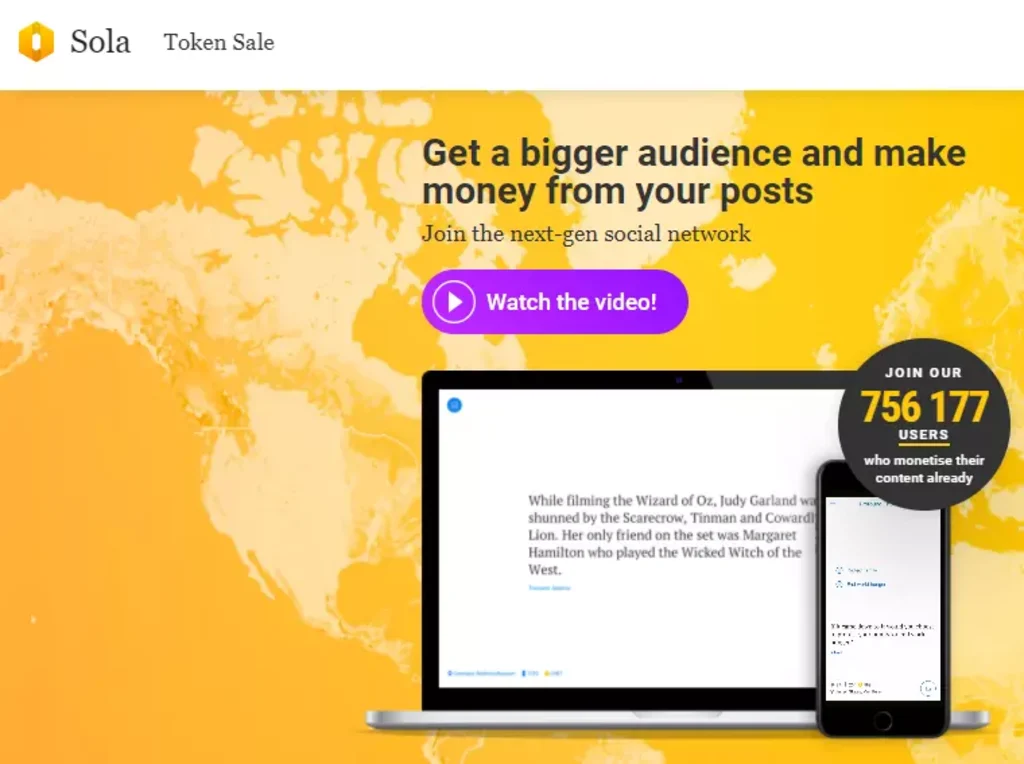 What is Sola?
Sola is a new way to monetize your content. Sola is a social media platform similar to Steemit, Wildspark, or Sphere. You can post pictures, stories, comments, videos, etc. and you can earn cryptocurrency for your posts.
The post and vote system are based on Action points (AP). Every time you endorse (vote) or post something, you use your points. So, let's say you only have a 100 AP—you may be careful how you use them. This AP system prevents you from spamming and makes you think about the way you endorse a card.
The card-based environment is very addictive. You swipe cards to endorse them or not. It's not that great for videos, but you can always turn-off the auto-start. When you swipe up the card, you have the possibility to choose how much AP you want to give for the card (0-100). The AP you receive from your posts become Sol tokens (for now 200 AP = 1 SOL = 300-500 Satoshis).
You can trade SOL in two cryptos pairs: SOL/BTC and SOL/ETH. Tidex is a secure and user-friendly exchange. It has a flat fee of only 0.1 percent that can be reduced down to 0.05 percent through participation in the loyalty program.
If you're tired of travel pictures or general stuff, you can pick a channel. If you are more in cryptos, you can choose a channel created by a Sola user who's into altcoin and browse the cards directly in the channel everyday. You can also prioritize users. If Bob is picked, you'll see his posts first when you're browsing in the «world mode». The more a card is endorsed, the more users will be able to see it and eventually endorse it.
What happens if I swipe down?
If you swipe down, you skip the card, not endorsing it with the AP, and it will not be spread any further from your location.
How to get more AP?
Simply by browsing. Just swipe cards. At the end of every day, you'll receive BONUS AP just for browsing, commenting, and swiping.
Share your content on other social media website like Twitter, Facebook, Steemit, Reddit, Google +, etc. You'll receive AP for each click on your link to Sola. Clickers don't even have to sign up. Just by clicking you can get up to 50 AP per day.
**Referral. Get 10 percent of all SOL earned by a referred user for 365 days. **
Verdict
Right now, I just tried Sola for a few weeks. As I said before, the application is based on the same principle as Steemit. You can get cryptpo based on the votes of the readers. They have the opportunity to endorse you from 0 to 100 points. These are exchangeable at the end of a 7-day period for SOL coin.
Sola is probably less paying than Steemit or any other monetize-blogging social media paltform for now. But its sleek design is much more enjoyable to use. Posts appear as a card that can be swiped, a bit like Tinder. This gives a lot more visibility to your posts and photos.
I'm still learning to use Sola, but I think there is a lot of potential. Eventually, when the number of users will grow, we'll see a growth in the quality of the content and the SOL price rise. We can expect the crypto to reach 1000 satoshis in a few months. I'll be back in a few weeks with some tips on how to optomize your content on a blockchain social media platform like Sola.
Thank you and good swiping!
Join Sola today and earn 200 AP FREE!