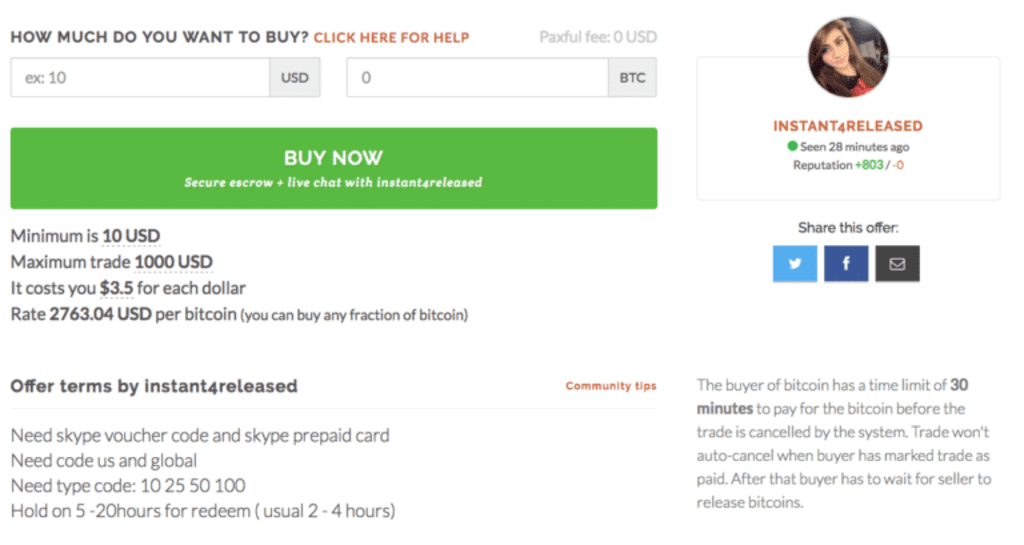 The developers behind Paxful's first goal is to provide a user friendly, fair and secure platform that allows anyone to trade Bitcoin. The site acts as a global peer to peer payment platform and facilitates Bitcoin trades in the same way that Ebay facilitates the exchange of goods.
Paxful in an American corporation, and was established in 2015 by a group of devs who wanted to create a peer-to-peer marketplace that allowed buyers and sellers to interact while posting trade offers. The site functions as a proxy between interested parties and provides a place for its users to safely trade.
How to buy Bitcoin with Paypal? The process is pretty simple.
Go to Paxful.com
Select the amount of Bitcoins you want to buy
Select the currency you want the exchange rate to be in.
Select Paypal as a payment method. Then you get the chance to either search through the full list of sellers or just get shown the best ones possible based on Paxful's filter.
Once you select a seller click "trade" You will be redirected to the trade page and you can chat directly with the seller via the live chat. Once they answer you then follow their instructions to pay.
Usually, you'll need to take a selfie of an ID and to write down on a piece of paper the date and the trade ID.
The seller should give you an address for Paypal or send an invoice. Click mark as paid and wait for them to release the bitcoins directly to your Paxful wallet.
Most trades are instant, but it depends on the when a trade starts; seller bitcoins are transferred automatically to Paxful secure escrow, and at this point the seller can't cancel the trade. Only a buyer can cancel a trade at any moment and the bitcoins will be transferred from the escrow back to the seller's wallet. If the buyer hasn't delivered the payment and didn't mark payment as complete within the payment window time frame, a trade will be automatically cancelled and the bitcoins will be moved back to seller's wallet.
Security tips
Don't set up external trades with sellers as this make the escrow service useless and opens up the possibility of scams taking place. It's also best to stick to communicating through the Paxful chat and avoid sending messages via email, WhatsApp, or text message.
Check the vendor's profile and verify that they are safe for dealing with. When possible look for vendors with an account with a long history and a high positive feedback rating.
Enable Two Factor Authentication—Wallets require complex passwords and two-factor authentication to guarantee security. Enabling 2FA keeps your wallet protected against hackers.
Paxful is a very popular way for investors to trade Bitcoin and remains a good option for many in the Bitcoin world. The site provides buying opportunities for investors who may usually be unable to get Bitcoin. As a result, it is a great choice for both new and more experienced traders. Paxful users should make sure to use all the resources necessary to verify vendors and trade in ways that keep them safe at all times.
Lower your Risk and Earn Free Bitcoin
The Bitcoin is going up these days and you may have the feeling that you're missing something big. Anyway, you don't have much to invest and you may be worried you'll lose everything. The best strategy is to diversify your portfolio with free crypto. For instance, if you buy $50 on Paxful, try to earn at least 30 percent of this amount online. It will lower your risk. There's a lot of faucets out there where you can get Bitcoins or altcoins, but they are often annoying and repetitive. By using multiple methods you can easily earn a respectable passive income.
Step 1. Go to Eloot.gg.
Step 2. To register you'll need a Gmail login.
Step 3. You can go to the video sections and watch videos or answer some surveys.
Step 4. When you have at least 500 000 points, you can exchange your points for Bitcoins, Litecoin, Bitskins, or Cash.