BRACE YOURSELF! 140,000 Bitcoins About To FLOOD The Market!!
MtGox Creditors Repayment Is Just Days Away!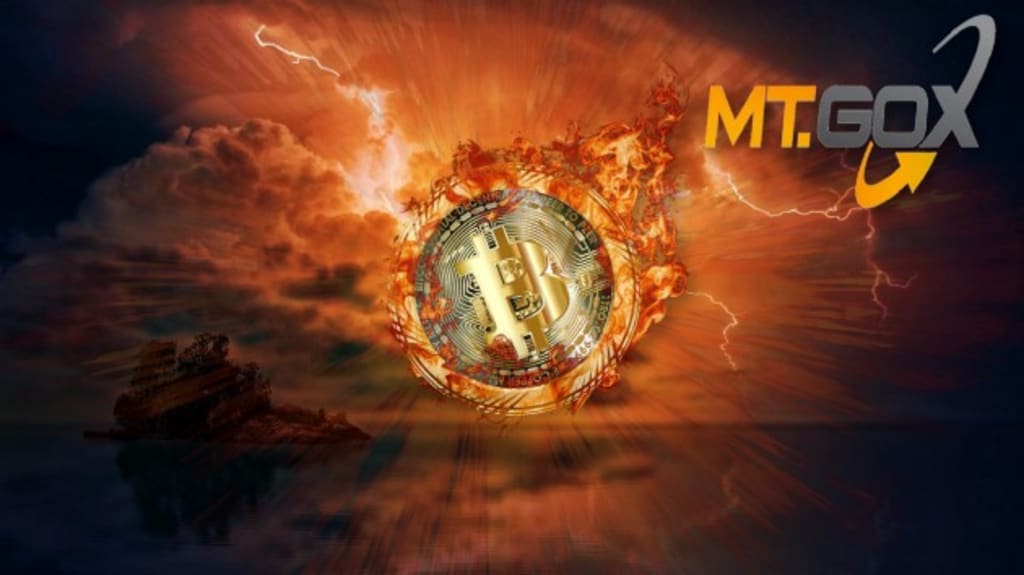 Cover Picture by "jplenio" on Pixabay (modified)
Imagine being forced to "hodl" Bitcoin for eight years, watching the market volatility and the new Bitcoin ATH.
Knowing you possess life-changing wealth but not having the option to move or use it. This is exactly what the MtGox users experienced.
The announcement of the MtGox collapse appeared at a time when Bitcoin completed a lengthy bullish cycle, starting at a price of less than $10 and ending at approximately $1150. It was already declining fast before the MtGox collapse, having lost 50–60% from the ATH.
These extraordinary rewards created an early Bitcoin speculative frenzy, yet the main exchange at the time was already facing significant issues.
MtGox had been hacked several times since its launch in 2010, and during its final months, it was delaying withdrawals and creating suspicions.
In February 2014, Mark Karpeles (Mtgox CEO) announced the exchange was insolvent, unable to repay its customers, and filed for bankruptcy.
850,000 Bitcoins were declared stolen or lost because of hacking activities and mismanagement. At current prices, it was perhaps the most significant loss of digital wealth in history ($14 Billion).

The Story of MtGox (Short Version)
MtGox begins with Jed McCaleb. Ripple (XRP) fans probably know him well since the sale of 9 billion XRP he received (in increments) after quitting his seat at Ripple were always discussed negatively by the XRP investors.
Jed has a long history in the field from the very early days (Ripple, Stellar, MtGox).
In 2010, Jed read about Bitcoin in the legendary Slashdot article that attracted thousands of tech pioneers and developers to Bitcoin.
He had already registered a website called MtGox in 2006 and used it as a market to trade virtual cards of the digital version of the game Magic the Gathering (Online). He named the website MtGox after Magic the Gathering Online eXchange.
McCaleb transformed MtGox into a Bitcoin exchange in 2010 and announced it on the Bitcoin forum, and this is where all the pain and suffering begins for Bitcoiners.
Months later (in 2011), McCaleb sold MtGox to our favorite effortless French, Mark Karpeles.
MtGox enjoyed rapid growth and became the top Bitcoin exchange. By 2013 it handled 80% of the trading volumes.
In 2014, the exchange announced the loss of 850,000 Bitcoins, yet during the initial investigation, Karpeles discovered a "forgotten" MtGox cold wallet containing 200,000 Bitcoins and relinquished control of the funds to the authorities (source: Reuters).
The trustee handling the MtGox liquidation process sold approximately 60,000 BTC in 2018, causing unparallel damage to Bitcoin's price, creating with this sell-off a liquidation cascade that ended with BTC losing 80% of its value when he stopped.
These 200,000 Bitcoins (BTC and Bitcoin Cash), or what is left in the wallet, contain the potential to wreak havoc in the cryptocurrency market.

The Ghost of MtGox Is Back With A Vengeance
The MtGox Cold Wallets (~140,000 BTC remaining)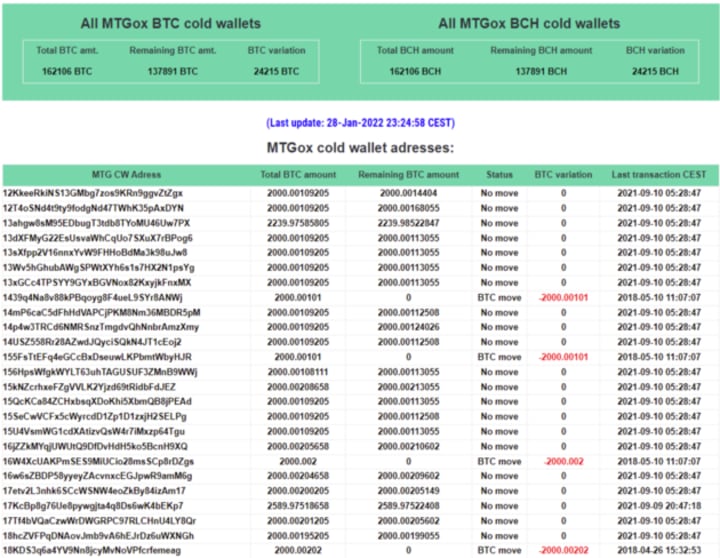 By the end of 2017, the MtGox trustee (Mr. Kobayash) had already announced he was selling part of the cold wallet stack in the spot market under an agreement with part of the creditors.
Some analysts suggested (correctly perhaps) that this was the beginning of the bear market, which created panic selling conditions and a bear market that lasted almost two years.


When the MtGox wallets start moving Bitcoin to the creditors' wallets, prices will drop abruptly. Currently, the market presents low demand, so it won't absorb a sale of 140,000BTC without problems.
MtGox creditors were given a choice to select either BTC, Bitcoin Cash, or Japanese Yen to receive as repayment. Of course, this means, the trustee will sell (or perhaps is already selling) BTC and Bitcoin Cash, adding pressure to the price of both.
What About The Rest 650,000 Bitcoins?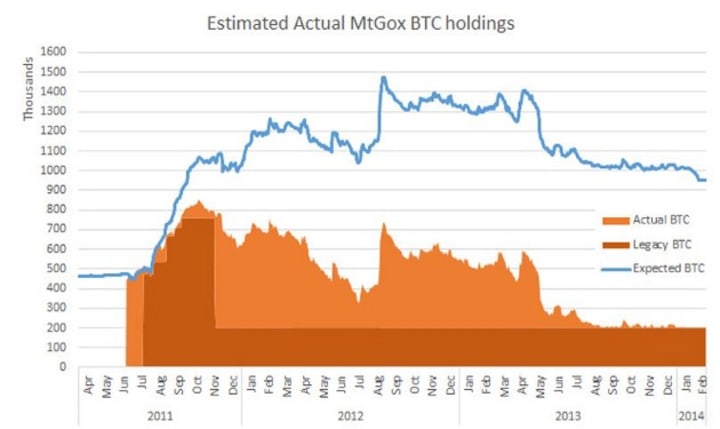 MtGox was hacked multiple times throughout its history.
Hackers laundered stolen funds, usually with OTC trades and mixers moving Bitcoin to clean addresses.
Blockchain analytics were poor in 2014, and creditors of MtGox had no idea what had happened.
WizSec is a firm funded to track the stolen MtGox Bitcoins and exposed MtGox's malpractices and weak security while contributing to the search for stolen Bitcoins.
Eventually, researchers discovered many wallets containing stolen Bitcoins and keep tracking them to this day.
There was also an arrest of a cryptocurrency exchange operator (BTC-e) accused of facilitating the laundering of stolen Bitcoins from MtGox.
During his 2017 summer vacation in Northern Greece, Russian national Alexander Vinnik was arrested, following an indictment by US authorities accusing him of laundering $4 Billion worth of stolen Bitcoin.
Officials from three countries were involved after the arrest and demanded Vinniks extradition (USA, France, and Russia).
Vinnik was extradited to France in 2019 and currently serves a five-year prison term, pending a second extradition to the US.
The 1Feex address (1FeexV6bAHb8ybZjqQMjJrcCrHGW9sb6uF) contains approximately 80,000 Bitcoins (currently ~$1.8Billion), from an early hack in 2011. The hackers never moved any Bitcoin out of this wallet.
Coincidentally, Craig Wright claims the above address belongs to one of his companies (Tulip Trading Limited!), probably as an attempt to move coins (BSV) from addresses only Satoshi has access to, by forking the BSV chain and continue with the narrative of being Satoshi.
This address has caused wide speculation about whether the hackers control the private key or wait until they figure a way to move the funds without getting noticed.
Some suggest that only a few MtGox creditors will sell their Bitcoins, but reality begs to differ. Most likely, everyone will sell, and the market will react negatively before the coins start moving out of the MtGox cold wallet.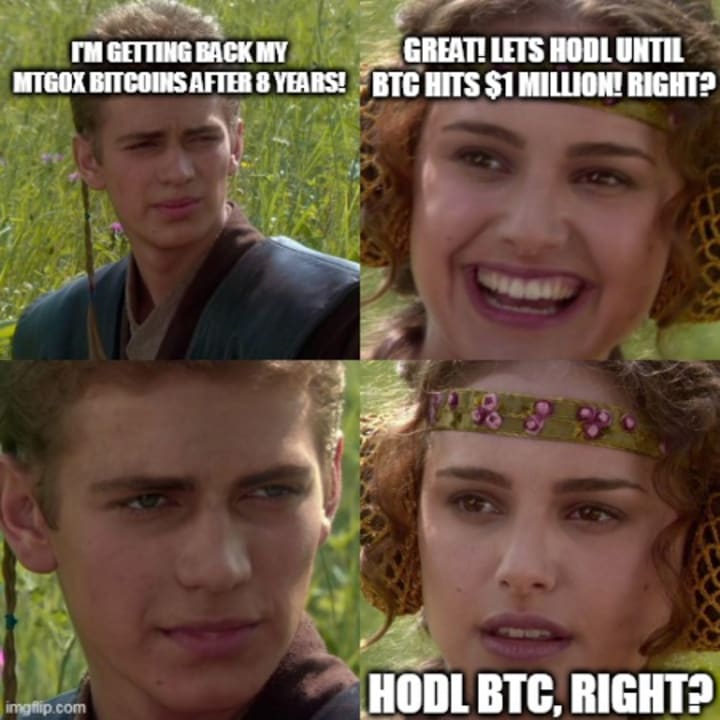 Sell pressure will intensify way before the release of the MtGox BTC.
The likelihood of MtGox creditors rushing to sell more than 100,000 Bitcoins creates uncertainty in the market, perhaps at the worst possible moment.
The MtGox reimbursement occurs right after:
The Terra Luna scheme and the UST stablecoin collapsed
Celsius, 3AC, and other funds declared bankruptcy, while BlockFi, Nexo, Voyager, and more are facing severe issues and
Tesla sold 75% of its Bitcoin holdings
It is not just the intention of the MtGox creditors to sell this 140,000BTC but the climate of fear that covers the market like a dark cloud.
There won't be warnings but announcements.
The MtGox trustee can start moving the cold wallet Bitcoins in the following days or weeks. We will learn about it immediately.

Originally published on Medium.
Cover Picture by "jplenio" on Pixabay (modified)
My Links:
● ReadCash ● NoiseCash ● Medium ● Hive ● Twitter ● Reddit ● email
Copyright Disclaimer:
Material published in this content, is used for entertainment and educational purposes and falls within the guidelines of fair use. No copyright infringement intended. If you are, or represent, the copyright owner of images used in this article, and have an issue with the use of said material, please notify me.

bitcoin
About the author
In Crypto Since March 2017.
Crypto writer since 2021.
Also interested in science, technology, economics.
----
https://medium.com/@panterabch
https://twitter.com/Panterabch
Reader insights
Be the first to share your insights about this piece.
Add your insights