Beginners Guide to Crypto Airdrops
cryptocurrencies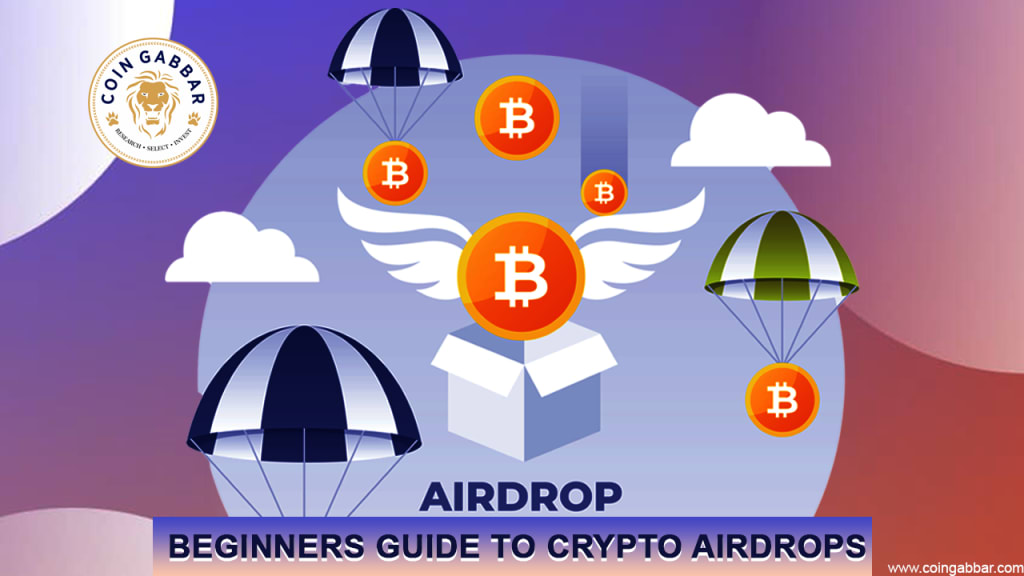 If you have been dabbling around the crypto sphere for some time, you would have stumbled upon the concept of airdrops. Airdrops are widely considered to be lucrative, primarily free, ways to attract new users to a platform. You will find new airdrops every day on social media websites like Twitter and Telegram.
These airdrops are sometimes very profitable and are a win-win situation for both parties as the issuers get new and unique users into their platform, free shilling.; in addition, the airdrop users get free new cryptocurrency.
But the word free is generally followed by skepticism, and when you are in the crypto world, the skepticism may or may not be correct. It is crucial to filter out nefarious airdrops so that your funds stay safe; hence here is the beginner's guide to airdrops, what and what not to do.
What exactly are crypto airdrops?
Crypto airdrops are marketing strategies that involve luring unique customers to the platform in exchange for cryptocurrencies. These airdrops are widely free with few easy tasks to raise awareness and build communities.
Airdrops, upon listing, also help investors and institutions determine the fair value of an asset since they have the option to sell the asset immediately or HODL. Hence, many new generation major cryptocurrency projects like Uniswap(UNI) and Stellar(XLM) started on an airdrop.
While many are free, some airdrops are required to hold a certain amount of their native cryptocurrency on the required platform. The announcement of the upcoming airdrop is generally made on their medium page, and social media handles. You can find new airdrops on third-party airdrop tracking websites, increasing their credibility and authenticity. An airdrop can also be distributed to wallet holders on specific blockchain platforms or in the event of a soft fork.
For many crypto enthusiasts, airdrops can be a lucrative way to receive money with little to no investments. These enthusiasts are known as airdrop hunters.
How are Airdrops so popular? Why are they considered to be a sure-shot way for business to market their products?
The risk-reward ratio
Airdrops offer an incredibly high risk-reward ratio since one retweet or minimal investment can give you high returns. In most cases, if the cryptocurrency prices don't shoot up, you have nothing to lose; who does not want that?
Marketing and shilling
Airdrops usually work on referrals and require users to follow and repost their content in order to spread awareness; in short, airdrops are a remarkable way to build a community before the official launch. The shilling that retailers can provide is what airdrops are generally about.
Time constraint
The time constraint does interesting things to different people, but it does help shoot the base price up when the airdrop has 'holding' requirements. When an airdrop is announced, a considerable amount of retail buying is triggered up till the time of the snapshot.
Different types of airdrops
Holder airdrop
A standard airdrop is a cryptocurrency airdrop that can transfer a certain amount of native coins into existing wallets. Usually, this is done to promote the native brand and encourage more people to join it. Thie standard strategy is also common in the event of a fork or issuance of a new cryptocurrency. In most cases, the only essential requirement is to provide the wallet address, or do nothing, just hold the coin.
Bounty airdrop
Companies use Bounty airdrops as a marketing strategy. Bounty airdrop includes different small promotional activities in exchange for a little amount of the digital cryptocurrency. These activities may include referring to friends and following and reposting the blockchain project on Twitter and other social media websites. Bounty airdrops typically require little work and involve little money.
Exclusive airdrop
Exclusive airdrops are a set of individuals who get the airdrop via third-party platforms. These third-party applications share information about airdrops that offer promising rewards for airdrop hunters who apply via their website.
Airdrops, while lucrative, can be a source for nefarious individuals to scam newcomers. Therefore, aspiring airdrop hunters need to learn about those scams and stay away from them.
Types of airdrop scams
The send money to receive money scam
These types of airdrops generally imitate some trending cryptocurrencies and lure you into doing some tasks on Telegram and Discord. After that, these scammers will ask you to send some menial units of a cryptocurrency in order to 'verify' the receiver. Of course, you will not get the promised amount back.
Phishing scam
In such airdrops, airdrop hunters are sent to a phishing website instead of the real one. With this, you can get your wallet hacked.
Seed retriever trap
In this scam, users are asked for their software wallet's seed phrase; once received, they will drain out all the funds from their wallet.
How to be safe from such scams?
(1) Never share your seed with someone.
(2) Never get involved in an airdrop without proper research.
(3) Never connect wallet extension to shady wallets.
(4) Use a new and empty software wallet for an airdrop.
(5) Do not fall for unrealistic offerings.
(6) Do not send cryptocurrencies to airdrop issuers.
Conclusion
Airdrops are an effective marketing strategy that is essentially a win-win situation for both parties. They are a great way to spread awareness about a new project and, for retailers, are a great way to earn side income. While there are some malicious projects out there, there are many genuine airdrops issued each day, and some of them can be highly profitable and prove to be that one airdrop that changed your life.
visit:- https://www.coingabbar.com/en/blog/beginners-guide-to-crypto-airdrops
About the Creator
Coin Gabbar Keeps you Updated with Latest Cryptocurrency News, Cryptocurrency Prices, Charts, Live Solana, Ethereum, Dogecoin prices in INR. Info of Cryptocurrency exchanges & trading mobile apps in India.
Reader insights
Be the first to share your insights about this piece.
Add your insights