Women in Business Rock Series:Madamfo Luxe
Madamfo Luxe is a luxury womenswear brand based in Johannesburg, South Africa.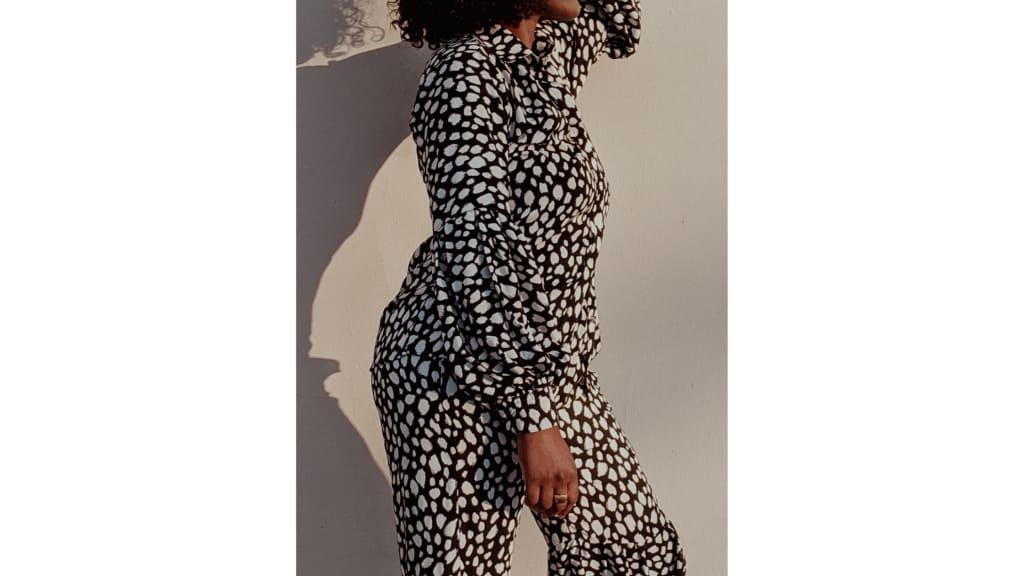 Pebble Print Co-ord two-piece by Madamfo Luxe
Let's delve into the world of female-led brands again with another installment of Women in Business Rock. Today, we dive deep into the world of Madamfo Luxe, an African luxury brand founded by brand clarity coach and fashion marketing expert Louise Darko.
Madamfo (Mah-dahm-fo)is the Twi(Ghanaian language) word for "My friend," and the brand is a rich blend of subtle, complex and bold.
The idea for the brand emerged during the heavy and deafening silence of the global lockdown in 2020; when the world stood still and creative energy was high. Louise sketched ideas and birthed concepts resulting in the stunning, effortlessly feminine piece quite poignantly dubbed "The Dutchess."
The Duchess is a versatile Toga-style wrap dress in a regal 24 Carat gold hue, most definitely art for the feminine form.
The wrap style is reminiscent of cloth worn by influential men and women in Ghana and other parts of Africa. This is no surprise as Louise is British-born with Ghanaian heritage. In a recent interview with Honey TV Africa, Louise mentioned the connection between her wrap dress designs and Ghanaian clothing.
Louise also draws her inspiration from the idea of being unapologetically feminine. No airs and graces, just effortless feminity and her designs reflect that notion.
A quote from Louise:
"We've got such strength in our feminine energy, it is ok to be as feminine as you can be because there is strength in that. You don't have to compete; you don't have to create space, there is confidence in us just 'being.' The pieces I design and create allow you to have genuine confidence because they showcase the right elements of your body to make you feel and exude that effortless confidence and beauty."
The most prominent piece in the Madamfo Luxe line is the epic 'Ntoma' dress. With its luxurious simplicity and sultry complexity, it's a powerful piece. Just a simple fabric switch transforms the dress into a whole new showstopper.
Effortless Femininity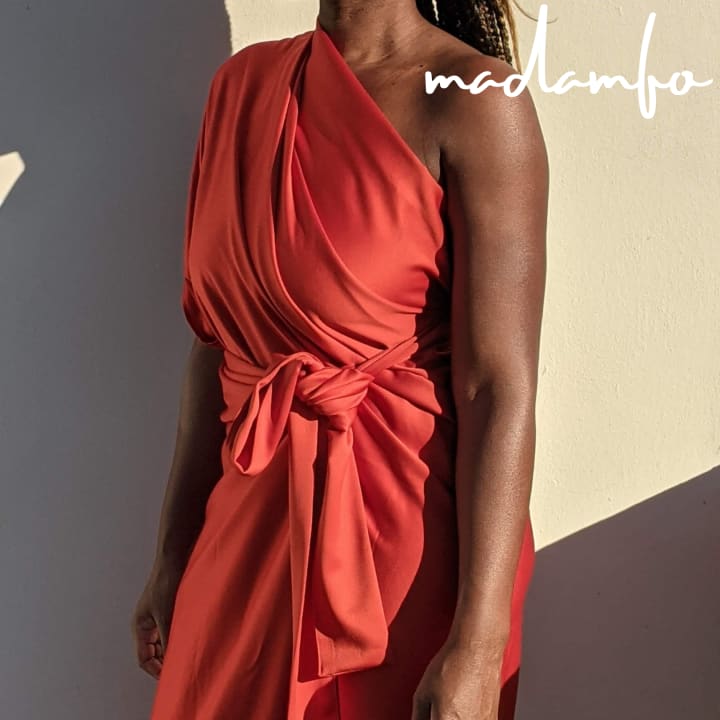 The Ntoma wraps the feminine frame in an easy, breezy, ultra-feminine way. From bold and vibrant Chartreuse to rustic and regal copper rust. Hugging every curve with an intriguing fluidity that's simple yet intricate, it's my personal favourite.
Louise is a multi-faceted and passionate creative with a strong business mind and head for branding and marketing. With a keen eye for detail and creative flair for designing and making; she's a triple threat. With a degree in Fashion Design and Marketing, a minor in Psychology, and experience in the fashion industry, Louise is truly making her mark.
Madamfo Luxe currently operates from Louise's creative space in Johannesburg, South Africa. A quick glance at the @Madamfo.luxe Instagram feed and you get the sense that Madamfo Luxe is an effortless labour of love that comes ever so naturally to Louise.
With bold and rich colours, fabrics and designs, we look forward to the next showstopping yet subtle design to come from the Madamfo Luxe chest of creative ideas.
I am obsessed with the loungewear pieces that were specially commissioned by the founder of Fix House and Afrikan Krowns, Kwena Baloyi. The pieces were made for a special event in collaboration with Kwena Baloyi and MPL Hair.
Simplicity and Creativity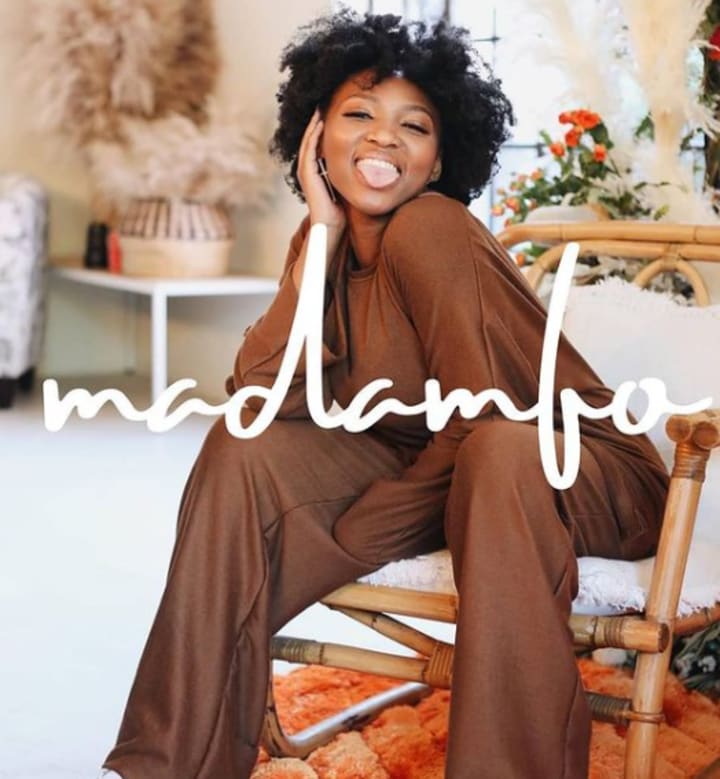 Made using brushed chenille which Louise says she chose because of the "soft feel and flow over the feminine form."
This collection is beautifully simple in delicious chocolate hues; just imagine wearing one of the stripped-down and stylish loungewear sets, a cup of coffee or green tea in your favourite mug, scented candle burning and listening to your "replay" song on repeat(only on vinyl) soft socks and a quick reminder to "self" and to your best girls, "it's self-love Sunday."
A weekend of lounging and sipping tea and wine followed by Monday brunch in your Ntoma wrap dress just because you can. Madamfo Luxe is a whole mood, from day to evening, from early morning to late afternoon, you always have something to wear.
Another notable piece, the Labadi Crossback dress, can't get enough of it. Especially in the rich olive green, it's an unforgettable one.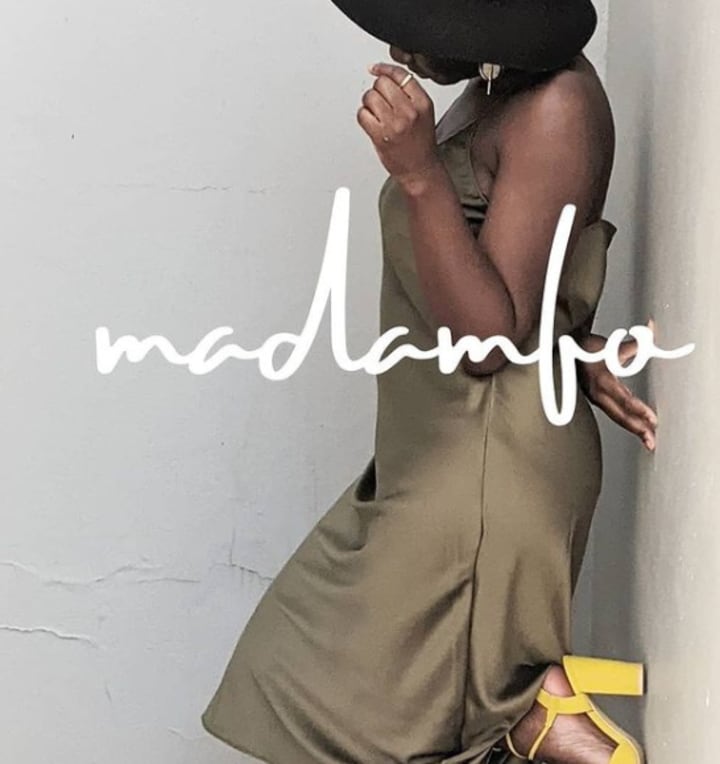 Recently Madamfo Luxe launched their first t-shirt in their Basics range, but it's not just any t-shirt. Louise felt compelled to give back by using this simple and minimal tee to help transform the lives of young women in South Africa who suffer as a result of period poverty.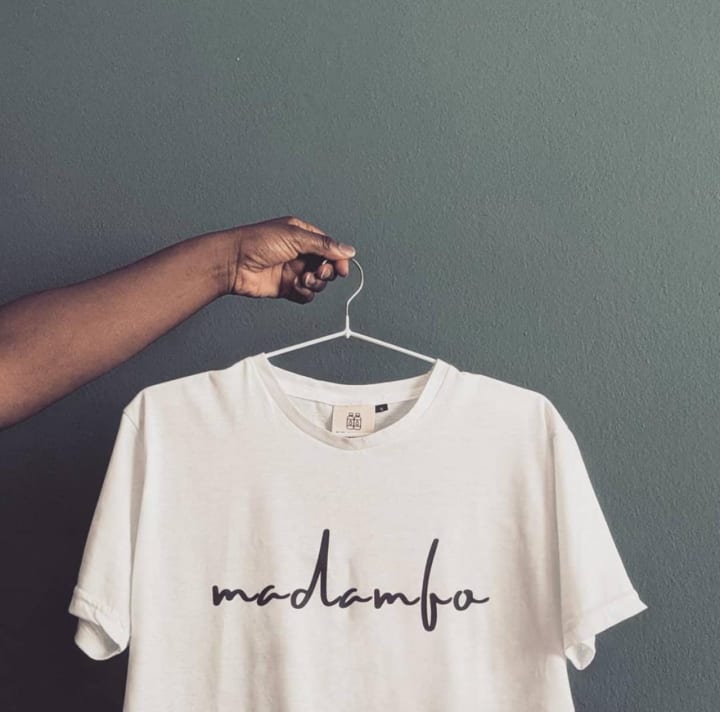 For every t-shirt purchased, Madamfo Luxe will donate R100 to The Red Movement South Africa, a social impact campaign to completely eradicate period poverty in South Africa.
Sadly, 3 in 10 girls miss up to one week of school per month due to a lack of funds to purchase sanitary products during their menstrual cycle.
The new t-shirts are clean, minimal, basic tees bearing the Madamfo logo. When you purchase one, you automatically pledge R100 to The Red Movement South Africa.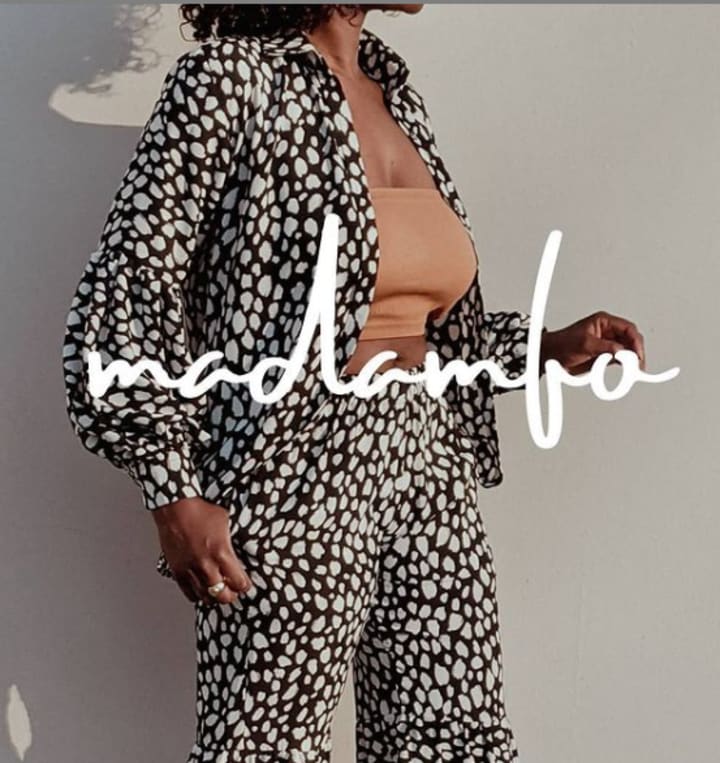 Most recently, Madamfo launched a stunning Pebble Print co-rd set, designed with regal lantern sleeves and bold, flared trousers, reminiscent of a 70's vibe. The co-ord is available on a limited edition pre-order basis.
Madamfo Luxe is certainly going from strength to strength, and I can't wait to see what pops up next on their elegant and ultra-feminine Instagram feed.
Visit Madamfo Luxe online: