Upcycled Patagonia Beanie
Functional Fashion with a Sense of Humor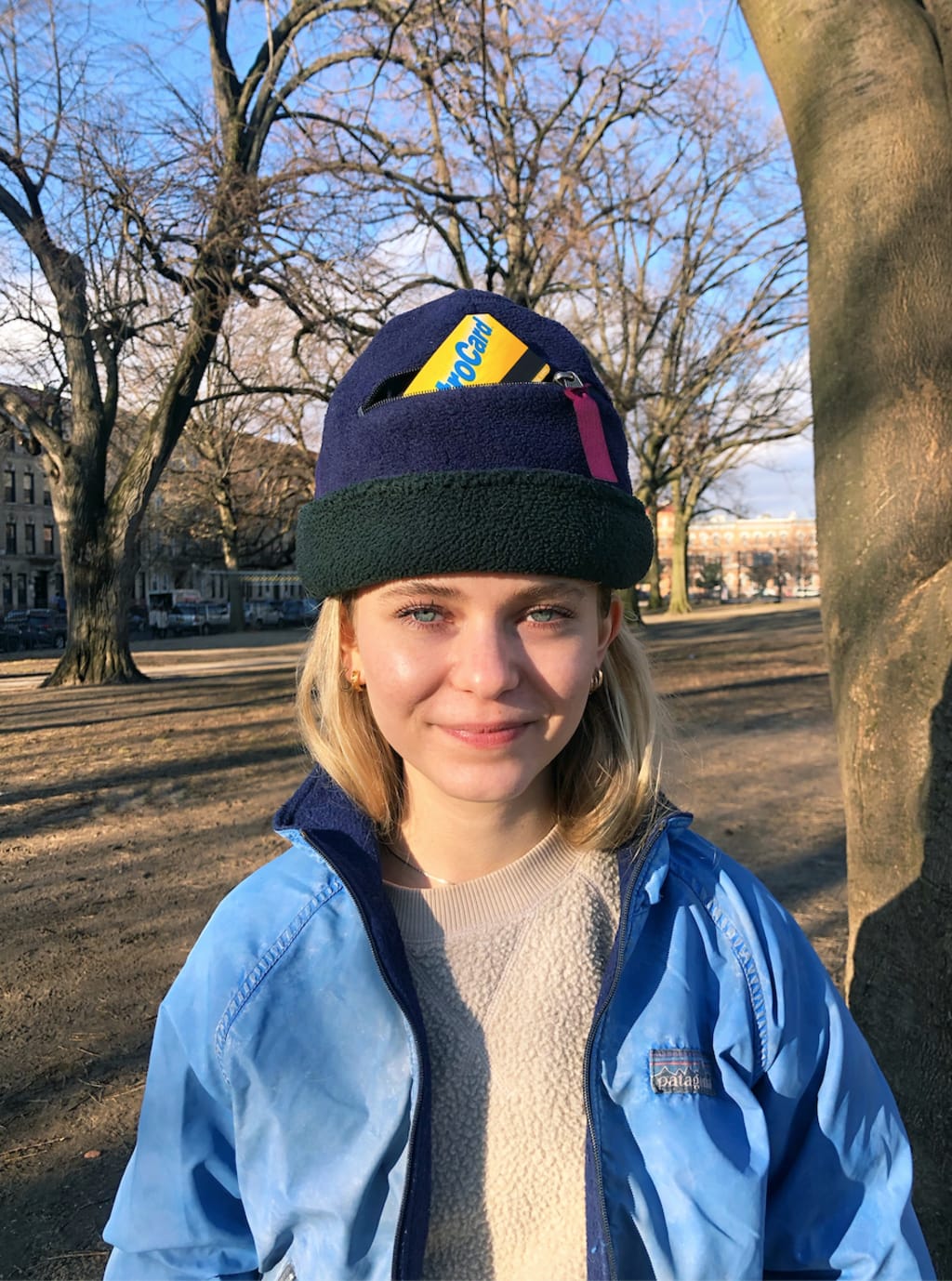 A photo of me in my reversible upcycled beanie.
Ah, thank you to my trusty pair of scissors (I'm sorry for all that I've put you through). From an 8 year old with a fascination for tulle- to a college student with a love for kevlar- I've been sure to keep our time together interesting.
Having a great pair of scissors is like having a great pair of jeans. If you take care of them, they'll take care of you. I love owning things that can be repaired, sharpened, and passed down over time. And when something can no longer be used for its original purpose, I love that you can change it up, adding value to the same object while changing how it functions.
This brings me to a project I worked on this past winter, taking damaged and unwanted Patagonia fleece jackets, and turning them into beanies (with a cute little pocket on your head). Changing one's perspective of an object can bring new life to it- so I'm always trying to find new exciting ways to work with a medium. In all of my work, I aim to be mindful and create with intention. Upcycling something that needs a new life is a great way of doing that.
New York felt especially cold this winter, and my ears were in desperate need of some protection. I set out to make myself a hat- one that would look great with the clothes I already own, and could be reversed based on the outfit I picked out that day. While scrolling through Ebay one day I came across a great Patagonia fleece and decided this was the material my heart desired.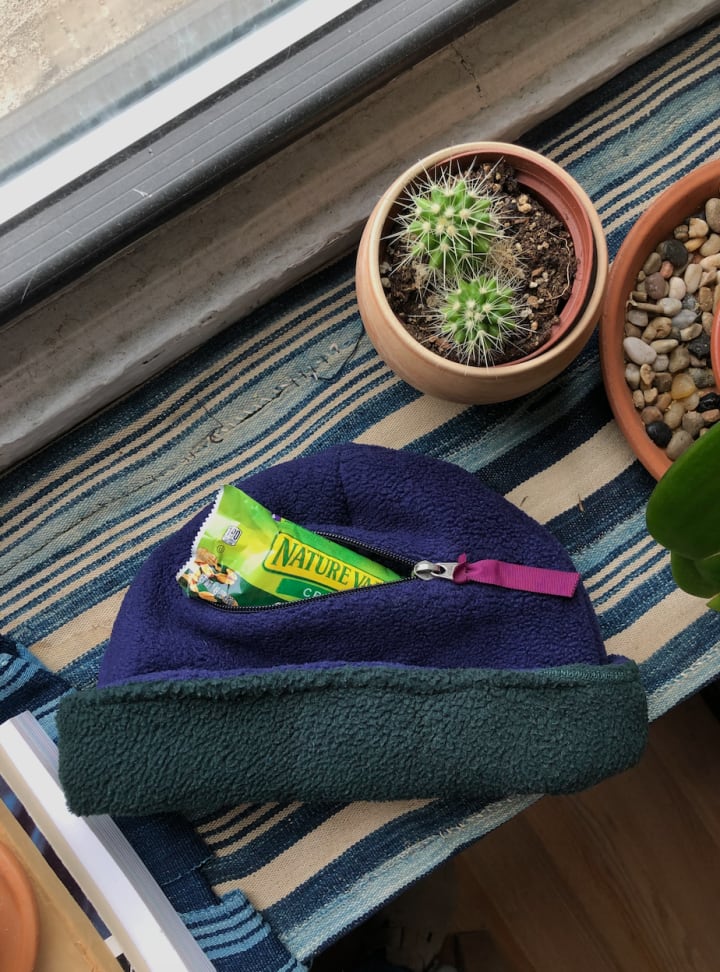 My favorite part of the Patagonia fleece is the large pockets, so I knew that I wanted to prioritize the placement of those. My favorite vintage coat that I wear most of the time, was handmade and doesn't have any pockets. It's strange to come across a piece of outerwear without pockets, but I love it too much as it is to alter it. I decided that having a pocket right on my forehead would actually be very helpful to carry my NYC essentials- like a metro card, hand sanitizer, and snacks. Plus, how delighted would you be to see a stranger pull a granola bar out of their hat- it's hilarious! I love fashion that has a sense of humor while still being functional.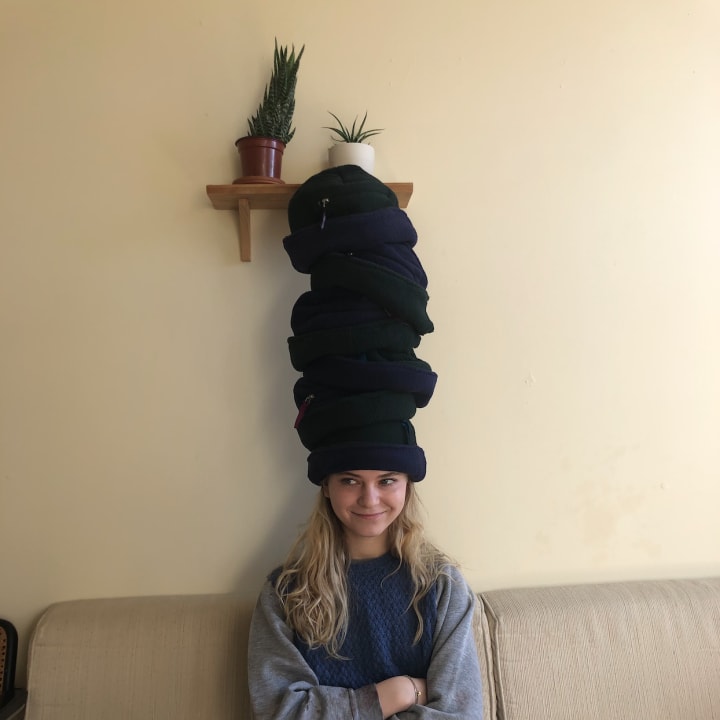 The hat itself is rather simple to make. It's just 4 pieces, two as an outer fabric and two as a lining. This way- the hat would be reversible. The most tedious part of the project was finding the right way to cut the jackets, because salvaging as much of the pocket as possible without creating excess waste was my #1 priority. I bought two XL men's fleeces, which can make 3 reversible hats, or 6 non reversible hats. Once I came up with the best cutting pattern and design, I made one for myself and an extra two for my friends.
After making the first 3, I discovered that others found these to be quite desirable. I decided to make a proper batch of them and post them on social media to see if there was any more interest. I was pleased to learn that there was quite a bit of it. For about a month straight, this is all I was spending my time doing, I found it to be very fulfilling.
I have put my hat making on pause since NYC decided to jump right into full blown summer, but I am working on a new concept in the same vein- stay tuned for the next project!