Thrifting for Threads
Shopping at Thrift Stores and Consignment Shops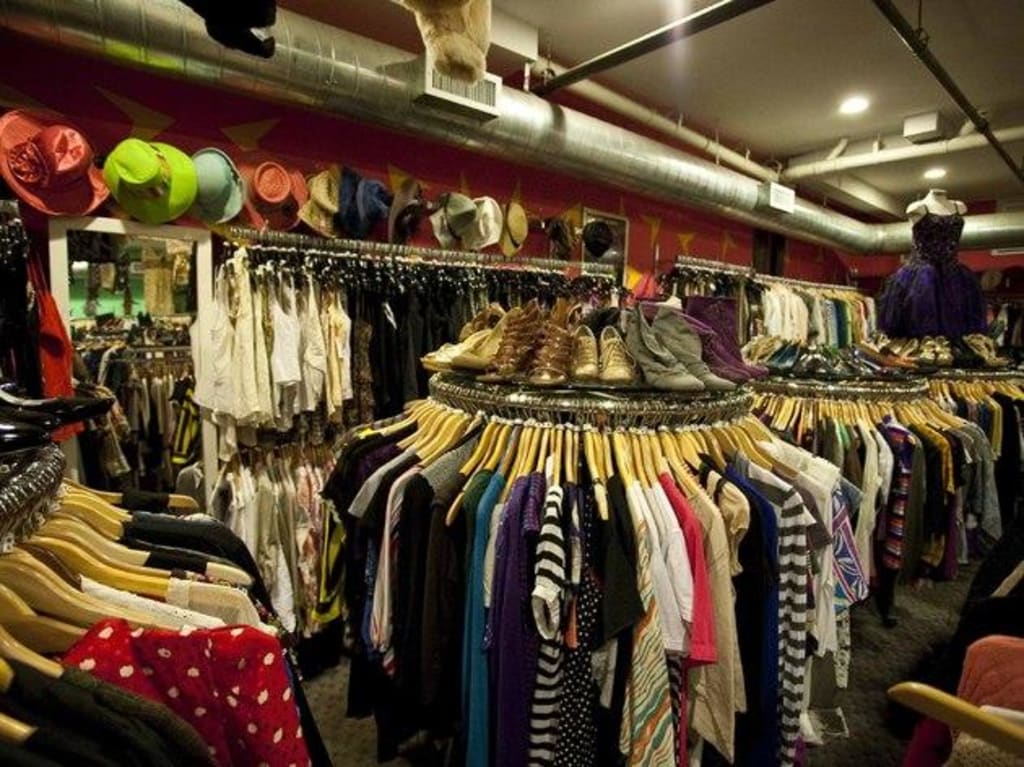 For some, buying clothes second-hand may be second nature, but for others, it may even make them a bit wary and uncomfortable, especially if they have never thrifted before. A common misconception is that thrift shops only sell used, out-of-style clothing or run-down appliances and furniture. That isn't always true. If you look closely, you can often find items that still have the original tags or that are very gently used brand-names. My goal here is to share just a little bit of advice on what to look out for and how to save some extra money while thrifting.
Let's start with what second hand stores really are. The two types of stores that I frequent would be thrift shops and consignment stores. Thrift shops can sell anything from books to furniture to clothing, but they rely mostly on donations for their inventory, which means items can be hit or miss with quality and current styles. Consignment stores typically sell items for people who want to make some money off of their used goods. The store will sell the item and give the consigner a percentage of the sale. Because the store and the original owner of the item are both looking to make a profit, these stores can have higher price tags than thrift shops but also higher quality items. Consignment stores may be specialized, such as baby items or brand-name clothing, or they can sell a broad range of items.
Now for the advice I have. My number one tip is to find and follow local thrift shops and consignment stores on social media. Many stores post deals and special discount days on Facebook, so taking a peek at their page once or twice a week never hurts, and you may even be surprised by an amazing deal. Some shops will even give an discount if you mention the ad you saw on their page.
Bag days! On bag days, the shop will provide a bag, usually a large brown paper bag, and you can fill that bag with as much as you can fit for a set price, often around $5 to $10. Be sure to ask what items are included in the bag sale because it may only be a certain section of the store or one type of apparel. These days are great to load up on clothes for a specific event, season, or just because you want to refresh your wardrobe. I recently went to a $5 bag day and got eight sweaters, some new with tags. That's less than a dollar a sweater!
Buying out of season is a good way to save money as well and not just in the thrifting world. As shops prepare for the next season, they try to remove the previous or current season's inventory. Shopping for next summer's clothing in fall or even winter is a great way to get some amazing deals. This can be tricky if you're planning to lose weight or if you gain some during the colder months, but it may be a risk worth taking.
Always call ahead or check the shop's page to see if it is cash only or if there is a card limit. Nothing is quite so frustrating as arriving at a shop only to find that they don't accept cards or have a high limit that you have to meet. I've run into this issue before, and it's not fun because you either have to find an ATM and risk the fees, or buy more than you were expecting just to be able to use your debit/credit card, which leads me to my next bit of advice.
Don't buy something just because it has a low price tag. If it isn't calling to you, leave it on the shelf. Buying items that you don't truly want or need will cause clutter at home and takes away from someone else who actually may really want the item. You'll probably end up throwing it away or re-donating it in the future anyway.
Check what you pick up before you buy it. That sweater may have a hole in the armpit or those jeans could be ripped up the back. I've seen items that appeared perfect at first glance but were actually stained, torn, or just not what I had expected.
Try on items that you're not absolutely sure will fit. Many shops provide a changing room of sorts and for good reason. Vintage items are sized differently than modern styles, so a size 10 from 1980 is not going to fit like a size 10 from 2018.
When you finally get your items home, be sure to wash them. This may seem like a common sense item for some people, but not everyone thinks to wash clothes they just bought. Even though many stores wash items before putting them out on the selling floor, there is no telling how long it has been on the rack or how many people have touched it or tried it on.
Lastly, here is a list of items that I don't recommend buying used: underwear, bras, socks, shoes with obvious wear and tear or that have been used for exercising, and items that cannot be cleaned thoroughly or that may hold bugs (pillows, stuffed animals, etc). Not all people frown upon the items I have listed, and some may even add more items. Undergarments are generally fairly cheap to buy new from your typical department store, and I don't take too many risks with personal hygiene.
Well, that's all the advice I have for now, so get out there and save some money!