The World Cup! What Watches Do Soccer Stars Wear?
The quadrennial World Cup officially opened in Qatar, and in the coming month, the headlines will be dominated by the theme of the World Cup. For watch fans, the best way to get to know these stars is to look at the watches they wear.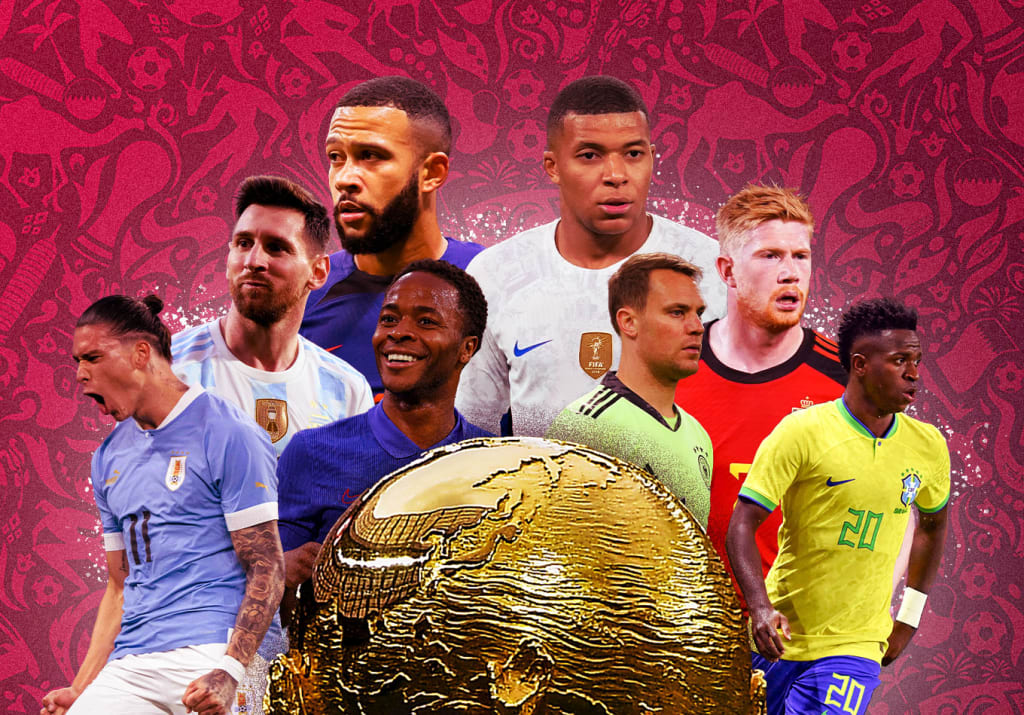 In fact, many of them have studied the world of watches, sharing photos on social media and sometimes pursuing new models. So today, let's take a look at some of the watches worn by soccer stars.
Mbappé x Hublot
Mbappé, the French soccer star, is wearing a Hublot BIG BANG Titanium Rainbow watch with a matte black skeleton dial and a bezel set with 48 baguette-cut diamonds, and a case in satin and titanium with 162 colorful stones and crystals. Mbappé will play for France in this year's Qatar World Cup, and as the winner of the last World Cup in Russia and the brightest star of the tournament, his journey to the World Cup is highly anticipated.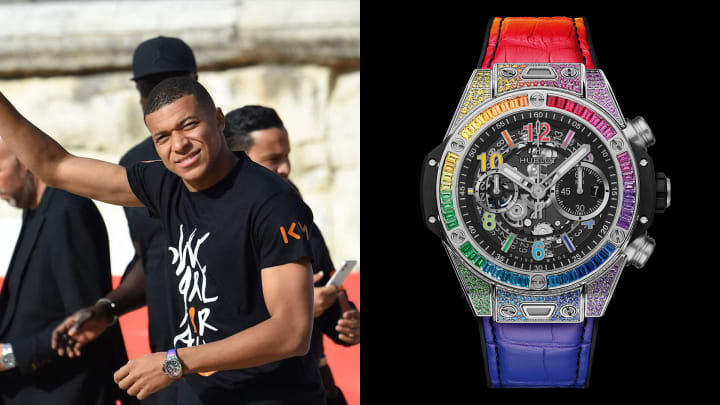 Modrić x Rolex
Modrić is wearing a new 2022 Rolex Datejust with an attractive mint green dial and JUBILEE strap. Having helped his club Real Madrid win the Champions League not long ago, as well as being the runner-up in the last World Cup, Modrić and his Croatian team are equally desirable.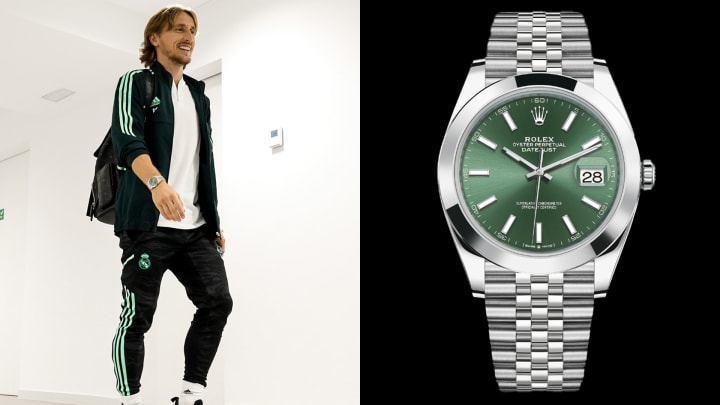 Ronaldo x Jacob&Co
This is a unique watch created by Jacob&Co, Bugatti and Ronaldo, with 232 diamonds and 109 black sapphires, and the "CR7" logo on the dial. Ronaldo will lead the Portuguese team, which has many stars, in this World Cup, and it is hoped that he will be able to break away from his unsatisfactory form at the club.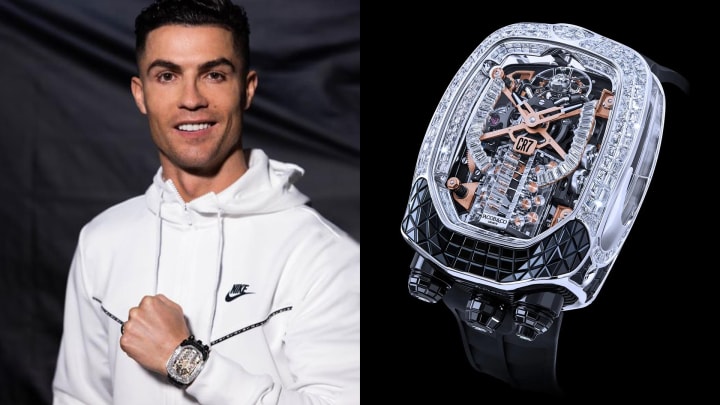 Messi x Rolex
This is the Rolex GMT Master II, Ref. 126710BLRO, with its black dial and red and blue colored bezel, is capable of displaying two different time zones at the same time, and is highly regarded for its robustness and versatility. As one of the best of the best, Messi will also lead Argentina to compete for the championship in this World Cup, so let's look forward to his performance.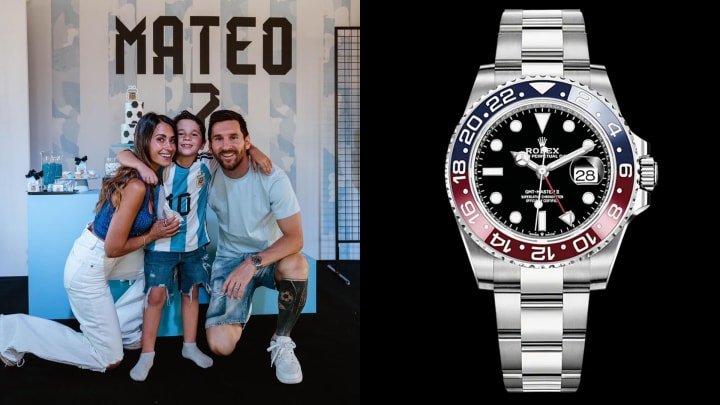 Benzema x Richard Mille
Golden Ball winner Benzema wears a Richard Mille RM055 Bubba Watson with a double barrel mechanism, an ATZ bezel with stable color and high hardness characteristics, and a bezel and back bezel made of grade 5 titanium and fitted with white rubber protection. Unfortunately, Benzema will be out of this year's World Cup due to an injury to the quadriceps muscle in his left thigh.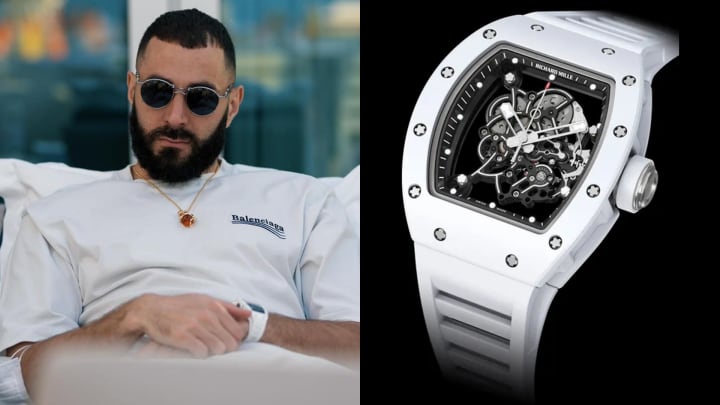 Ramos x Rolex
This is the Rolex Daytona 18K yellow gold model with a meteorite dial with a black three-eye circle and an 18K yellow gold bezel engraved with a tachymeter. Interestingly, this photo also features a soccer legend - Ronaldo and Ramos are not in the plans of Enrique, the manager of Spain's roster for this World Cup.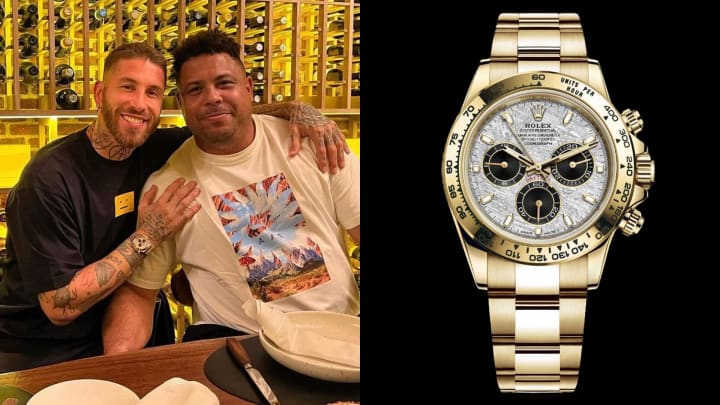 Marcelo x Rolex
Also not with the team for the World Cup was Marcelo from Brazil, who moved to Olympiacos F.C. after helping Real Madrid win the European Championship. In this photo, he is wearing a Rolex Daytona 18-carat eternal rose gold model with an ivory dial and an Oyster bracelet.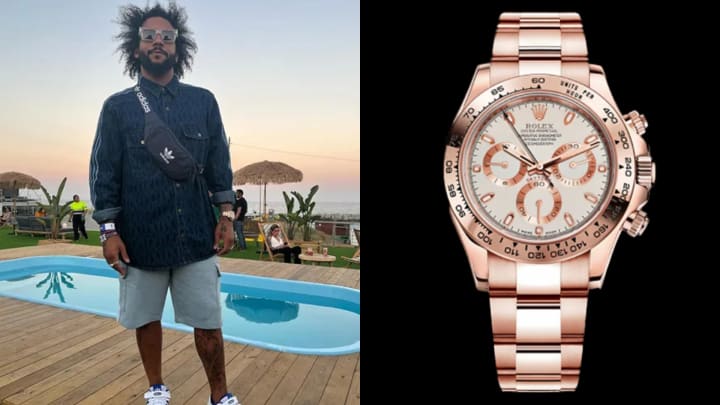 Ibrahimović x Audemars Piguet
Ibrahimović, born in Sweden, wears the Audemars Piguet Royal Oak Double Balance Skeleton 15416CE with a black ceramic case and a dark grey skeleton dial with luminescent pink gold applied hour markers and Royal Oak hands. It was a shame that Sweden did not qualify for the World Cup in Qatar, as they lost to Poland in the play-off final.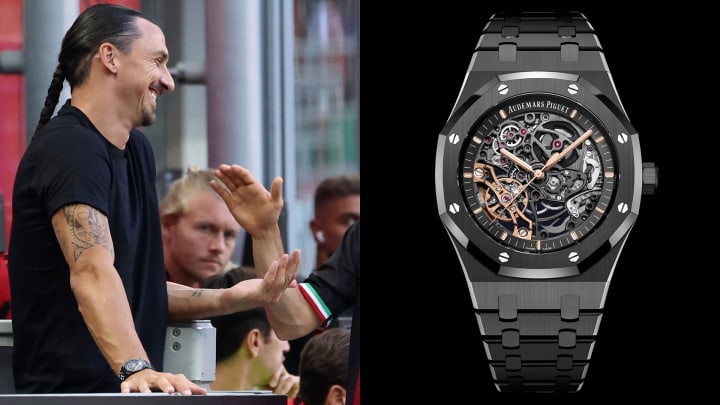 Haaland x Rolex
This is Rolex's hidden white gold yacht Ref. 226679TBR, launched in 2021, with a black dial and a bezel set with baguette-cut diamonds for a touch of luxury. The star who reigned supreme in the English Premier League is also out of the Qatar World Cup. Although Haaland has dual British and Norwegian citizenship, he will not be present at this year's World Cup as he has chosen to play for Norway, which was eliminated from the tournament in the qualifying rounds.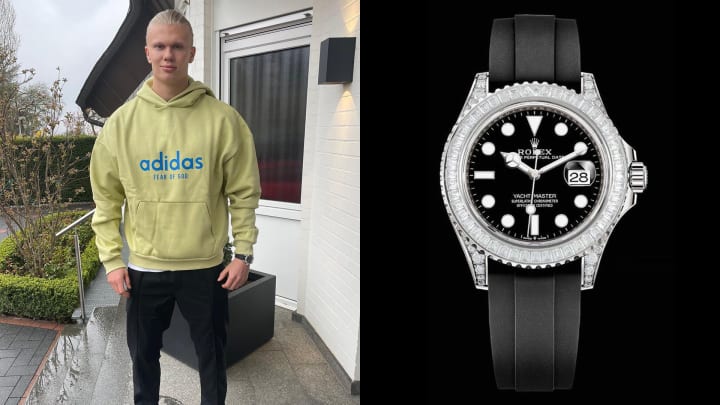 This time we have sorted out total of 9 soccer stars, almost half of them wear Rolex, which is undoubtedly the biggest winner in terms of the watches they wear. Of course, there is much more to these players than just this one watch, because this is just one part that we sorted out.
In the world of soccer, although some of the stars did not make it to the World Cup for some reason, they are all respected athletes, and for those who have already made it to the World Cup, let's all look forward to their wonderful performances!
men
About the author
Reader insights
Be the first to share your insights about this piece.
Add your insights