The Jeanne Tripplehorn Dress
There is something bold and romantic about a red dress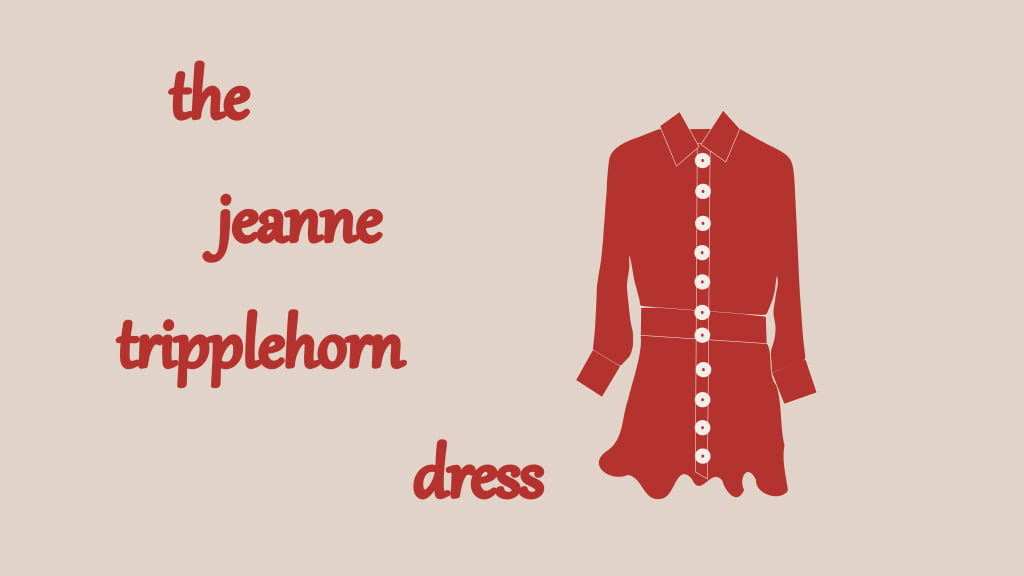 illustration by Melissa Toldy
Why are some sweaters sleeveless? Who thought overalls should be made of cashmere? When - and where - does one don lace gloves?
Fashion contradicts itself all the time. The practical aspect of clothing, of protective armor, gives way to the impractical delight of creative expression.
I'm intrigued by designs that offer such contradictions. For example, a long sleeve dress in a mini length. A long sleeve implies cooler weather. A short hemline means bare legs. How do these features complement each other in a garment?
Sure, you could argue: Wear tights. Cover the bare legs with the warm casing of a nylon tube, or even one made of wool. Yes, I understand, but no, this is not the answer.
Take Jeanne Tripplehorn in the 1993 thriller The Firm. Opposite Tom Cruise, the young Tripplehorn wore a red dress, outside, at her husband's company event.
Bare legs. Long sleeves. Mini length.
Since watching the film a few months ago, I haven't stopped thinking about Tripplehorn's dress. Mostly because I love it. The red color is a dark, deep hue, more cranberry than tomato. And best of all, the white contrast trimmings (buttons, scalloped placket) visually pop.
The style is vintage, and the style is complicated.
Initially, I only knew this: I love that dress. But as I took some time to think about why the dress left such a strong impression, I was able to access a memory. A dress I found, at a Goodwill warehouse, about 10 years ago.
Early 1970s, no doubt. High collar. Funky elephant print. Brown. And you guessed it - long sleeves, min length. I found the dress at a critical point in time. I had just begun selling vintage clothes, and I knew this dress would catch someone's eye on eBay, where I listed my items.
This was the beginning of my career as a vintage clothing seller. Could this be why that particular style caught my attention in The Firm?
Perhaps. However, the more I thought about it, the more I felt a different personal connection to the style. For whatever reason, I am better able to handle the cold in the bottom half of my body. Less so on top. Meaning, long sleeves on a short dress makes sense, for me.
The long sleeves add an element of sophistication to the otherwise scant mini dress. And really, the collar and buttons play a key role in the Jeanne Tripplehorn dress. By tempering the provocative "little red dress" with business-friendly details, the young wife comes across as powerful in her own right.
There is something bold and romantic about a red dress. And when Tripplehorn was interviewed about the film, prior to its release, she admitted that this role was a shift for her.
"I'm turning away from overt sex scenes. That was like a different time in film. It's time for something sweeter and more romantic."
In other words, Tripplehorn's role in The Firm was a move toward maturity, away from her "big-lipped" sex appeal in Basic Instinct.
Wearing a mini dress can always feel a little risky. You don't know if the wind will blow up your skirt, without your permission. Maybe you don't want to show off your legs, either. But the mini dress will never go out of style because it provides something all young women want: freedom.
As I get older, I find myself shying away from mini dresses. I don't want the attention. I prefer to cover myself up more. However, I think the long-sleeved mini dress provides young women with a classy option, suitable for looking professional on top, while maintaining some freedom below.
What I really love, though, on Jeanne Tripplehorn's dress: the buttons. The buttons go all the way down. This means, not slipping the dress over your head. This means, you can put on the dress the same way a man puts on his button-down shirt. With comfort and ease.
According to Vintage Dancer, the button down dress dates back to the 1940s, noting one "particularly charming variation of button front dress had scalloped edges."
Yes, the scalloped edges. Jeanne Tripplehorn had that scalloped trim on her dress placket and collar. The vintage detail that initially caught my eye.
Mini dresses date back to the 1960s, in sync with second-wave feminism. So there's the button down dress, offering comfort. And then there's the mini length, liberating women's legs.
In a sense, the Jeanne Tripplehorn dress is akin to the mullet - business in the front, party in the back. Except, I think, the dress is way more fashionable.
Are any designers making dresses in this exact style? Long sleeves. Mini Length. Collar. Buttons.
Shirt dresses have been popular for a while. It's a classic style. However, the trending shirt dress looks very different from the Jeanne Tripplehorn dress. Contemporary styles are looser, less fitted.
I don't know if anyone is making this exact style, but it's exactly the kind of dress Lanvin was cranking out in the 1970s, outfitting working women with comfortable and affordable fashion.
Maybe it's a good sign that women have more options these days. I don't necessarily want the Jeanne Tripplehorn dress to become trendy again. I just like its place in history, even if it only shows up occasionally. Like in a scene from a movie.