Semi-pro basketballer recalls how he started his international brand: "It was difficult to hear I'd never be able to play again"
Looking up at the signed Kevin Durant black basketball jersey on the white wall, Max continues: "I had never considered anything else; basketball was the be all and end all of my life."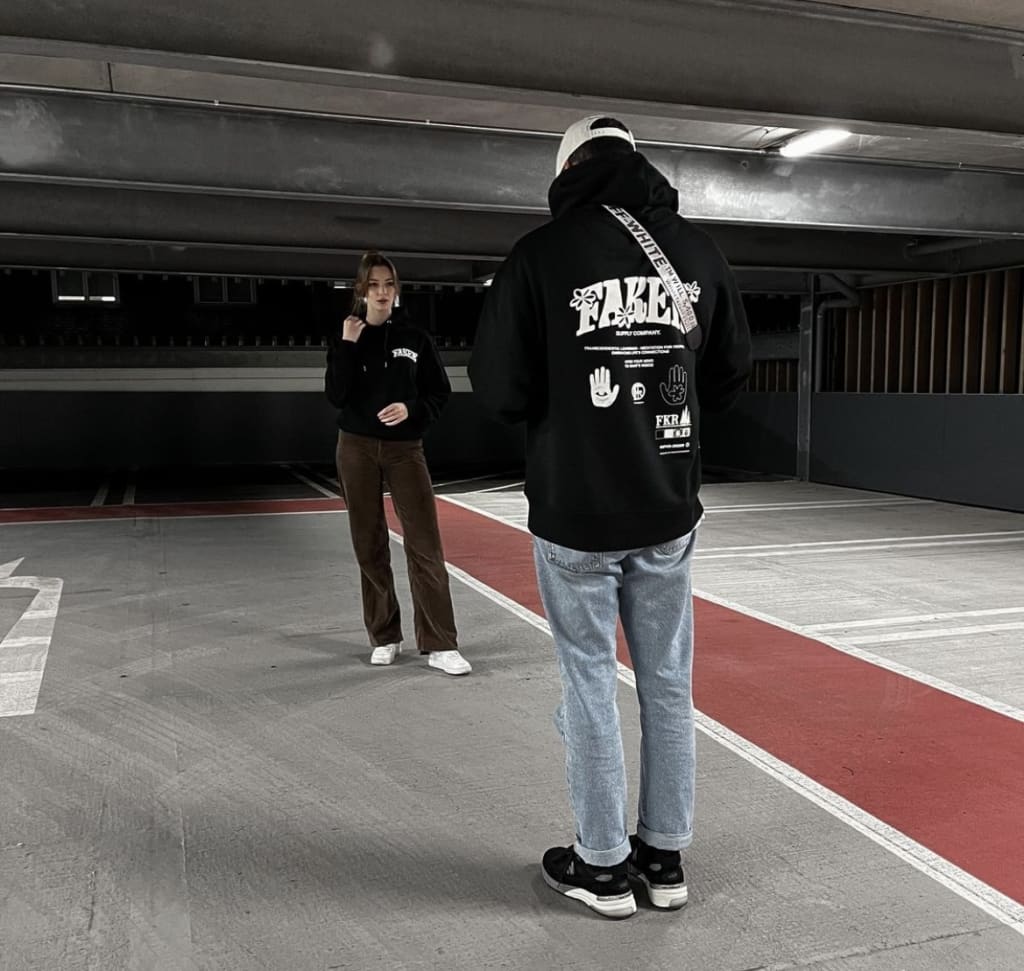 Faker Supply Wellness Hoodie
Playing semi-professional basketball and running an environmentally conscious streetwear brand are polar opposites. When Max Carpenter found himself unable to play the sport of his dreams, he had to find another passion. That's when he began making t-shirts for his friends. Since then, Faker Supply has over 16,000 followers, selling in 75 countries, and has over 500,000 views on TikTok. Max tells me about his journey to becoming an international streetwear brand and the difficulties along the way.
Sitting on an L-shaped sofa in his living room, Max recalls his dream. He explains: "From a young age, I always wanted to play basketball professionally and I got pretty close to that goal until a bad back injury basically took that all the way. My family relocated so I could play high level for the highest achieving basketball school in the UK, 40-hour weeks, missing school which really took a hit on my education."
Looking up at the signed Kevin Durant black basketball jersey on the white wall, Max continues: "I had never considered anything else; basketball was the be all and end all of my life. I was looking at going to play in Germany or Spain. Sadly, when we were playing an exhibition match against Italy, I got hit in the air and fractured my lower back. I just remember laying there and looking up, people telling me not to move. It was difficult to hear I'd never be able to play again."
Wearing one of his newly released 100% British wool woven in England with genuine horn buttons proudly, Max recalls his journey to become the founder of the fashion business Faker Supply. He said: "I had to invest my time and energy into something else. I didn't know it was clothing until I tried it. I try everything and see what I like. I'm currently selling second-hand cars I buy from auctions." Max laughs whilst saying: "Faker means pretender, and I'm pretending to know what I'm doing. And I hope I can carry on making designs I love and enjoying the freedoms of owning a business. It can be very difficult and it's not for people who quit easily. I hope I can show people that they can change their passions throughout life and turn those passions into businesses."
His future is far from what he thought it would be when he was a young boy, shooting hoops is much different than designing handmade woollen baseball jerseys made in Margate, Kent. Matt, who runs Palm Bay Skates in Margate, helps Max design and make the jerseys, they met through social media when Max approached him asking him to do some embroidery for his fleece jumpers. Max continues: "I want to keep growing my brand, hopefully being picked up by some local skate stores. I've posted my clothes all over the world, from Ukraine to the United States but I want to grow my company in the UK first. My next big goal is to have a store in Canterbury, where my basketball career began, ended and where my idea to make my own clothes blossomed."
Max sources vegan friendly materials from Portugal and uses environmentally friendly dying and printing techniques. He even uses biodegradable packaging, but it never used to be like that, guilty of buying fast fashion, Max recalls the origin of Faker Supply: "I had to consider what else I liked. At the time I was working at the shoe shop Office and spending too much money on clothes. I thought to myself 'I could make these for cheaper'. I decided to have a go. I have no art qualifications or knowledge of screen printing, only a degree in business. I made 25 t-shirts for my friends, and it built from there. Turning 25 into thousands."
Faker started to get noticed, having featured in Cene, Wired and GQ magazine. ASOS and Route One have also recognised the streetwear brand. But it hasn't always been easy, whilst checking a notification on his phone, Max says: "I've wanted to give up lots of times. I've had a lot of issues with Instagram which is my main platform, the algorithm doesn't show my posts to my followers anymore which directly impacts my sales. There have been times where I have put products out and they haven't sold as well as I had hoped."
Undoubtably, his life changing injury made Max face the reality of not knowing what the next step is for himself. He explains: "I've always said to myself that I never want to regret not trying anything in my life or regret giving up. I live by the fact that whatever I do, I'll do it until I know I won't regret not doing it".
When asked if he ever wishes he had a normal 9-5 job, he looks at me in shock. Laughing he says: "No! I don't think I've ever wished that. I come from a background of self-employed parents and have seen the life of a business owner. The hard work and difficult times are far outweighed by doing what you love. My time and ambition are worth more than that."
After hours of physiotherapy and many doctors' appointments, Max started playing basketball again in 2019. He plays basketball every Thursday for the low division team Kings Canterbury, they travel around Kent playing other teams and he has recently been made the captain. With a sigh of relief, Max says: "It's refreshing to be back on the court. I know I'll never play professionally but this is close enough."
industry
About the author
I am a B2B journalist based in London. I'm using this space to share my work I have previously done in my spare time.
Reader insights
Be the first to share your insights about this piece.
Add your insights