Plus Size Girls Want to Look Cute Too
Finding trendy clothes in sizes beyond a UK size 16 feels almost impossible right now.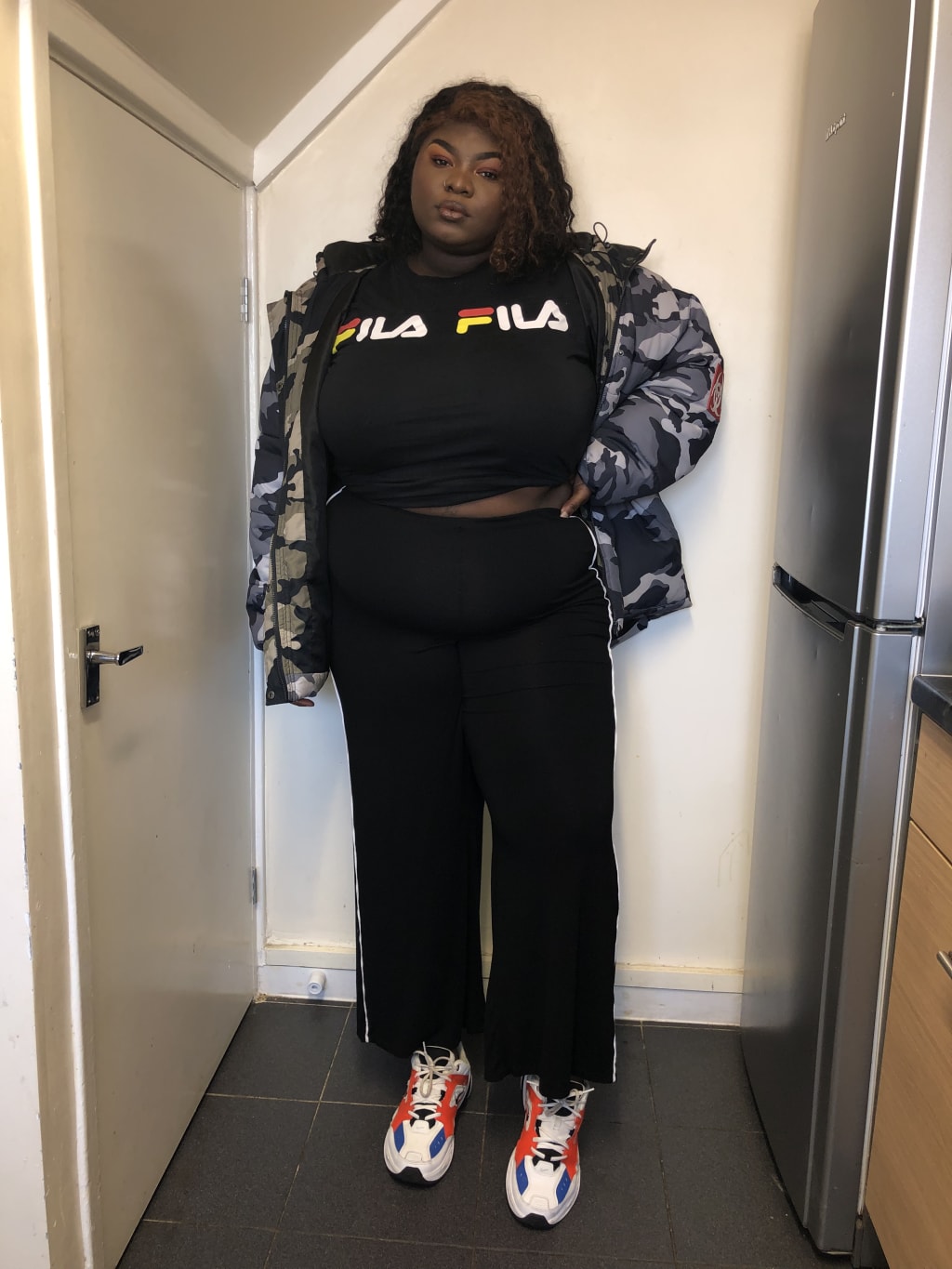 Outfit details: Jacket - Missguided, Shirt - ASOS, Pants - ASOS, Shoes - Nike
As a girl who wears a UK size 18 and 20 in clothing, it's very frustrating to shop in high street stores. Many of the high street stores that sell clothes that fit my style hardly ever provide sizes that would fit me. Even though some of them, for example, Topshop, sell size 18 clothes, their size 18 doesn't fit like a size 18 that I'm used to fitting in from stores that sell clothes specifically for plus size women.
Whenever I share my frustrations with high street stores to anyone, they always say "Why don't you just shop in stores that sell your size?" This is a question that annoys me because of course I do shop in the stores that sell my size but sometimes I just want specific items that are sold in Urban Outfitters or River Island. Most stores that cater to plus size women, sell clothes that look very bland and old-fashioned. As a young woman who gets most of her fashion inspiration from fashion icons on Instagram, Twitter and Tumblr, I would like to be able to purchase the same or similar items I see tagged in their photos.
I often see companies saying that it costs more to make larger clothing. This is a reasonable point and I feel as if they should just go ahead and make the larger clothes and just charge us plus size people a little bit more. I'd honestly be happy to pay because there have been many times I felt like paying a tailor to replicate items that I can never find in my size. It's pretty sad that this is something I'd have to do when people who are smaller than me can easily find clothes they like in basically any store they walk in. I just want high street stores to stop excluding plus size people because it's not fair for us to not be able to purchase the clothes that we would want to wear. I'm sure most plus size women, like me, don't want to spend forever wearing clothes that look like they were designed 20 years ago.
I will say that I have seen an improvement in fashion for plus size women. When I was younger, it felt almost impossible to find trendy clothing in my size. It upset me that sometimes I'd have to wear clothes that my mother or aunt also had. It was hard to find clothes that didn't make me look at least five years older than I am.
One of my favourite places to shop right now would definitely be ASOS, an online store. I'm able to find clothes that I love from both the curve line and tall line. ASOS sell plus size clothes that are just as chic as their straight size clothes and this makes me very happy. It's clear that ASOS as a brand are all for inclusivity and this is why I will continue to shop there.
PrettyLittleThing and Boohoo are two other online stores that sell nice plus size clothes but the problem I have with them is the fact that the models they use to showcase their clothes do not mirror what majority of plus size women look like. Most of their models are fairly slim with hourglass figures so it's frustrating for us plus size women with stomachs and back rolls, when shopping because we haven't got a clue how the clothes will look on our bodies. I do still appreciate their efforts to provide us plus size women with clothes that are just as sexy and stylish as their clothes for smaller women even though their idea of plus size sizing can be a little off most of the time.
I don't think it's too much to ask for high street and trendy online stores to cater to younger bigger women, keeping in mind that some of us actually want to look stylish and not like we're middle aged women with no style.