Now I Buy My Clothes From Thrift Stores ... and I Am Never Going Back
#Trendy #Budget #Fashion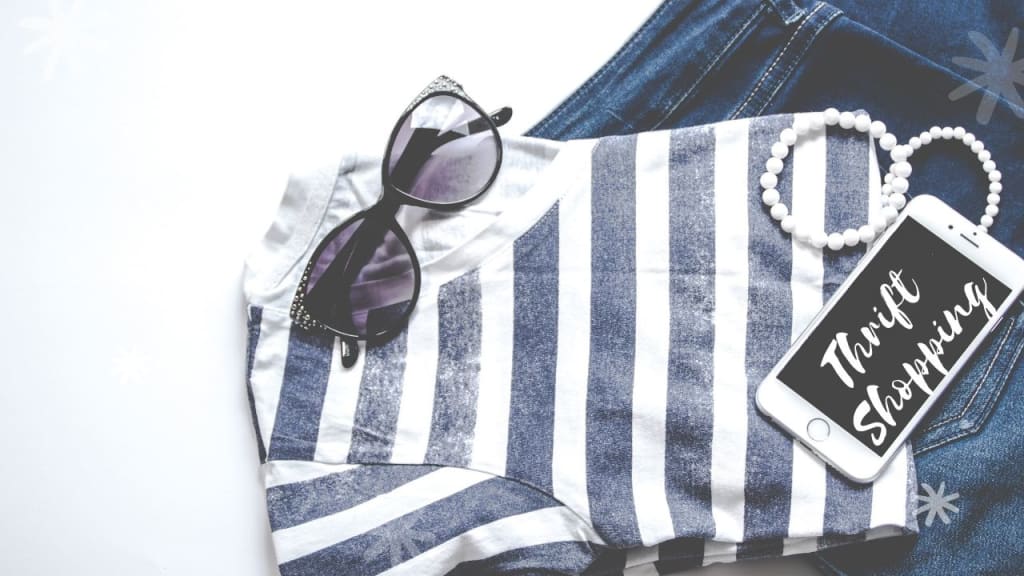 It turns out that Macklemore's song "Thrift Shop" was right all along. This is F***ing Awesome!
Now that I have been buying my clothes from second hand shops like Talize and Salvation Army... my life has changed forever. My favorite sweater was only 5$ and a shirt that I plan to wear to the next Family Christmas party was only 6$. Talize is my favorite thrift store... too bad it is so far away from me :( ... It is bigger than most thrift stores, and everyday there is a 'Manager's Choice Discount', which means that every day a new item category is 50 percent off. Which is why I try to go there to see if I can get just one thing from the 50 percent off category. However don't be fooled like I was, the 'pants' section is separate from the 'jeans' section. So if there is 50 percent off pants then it doesn't include jeans.
I can still get all the brands I love, and I can find them all in one store!
I have made some great finds over the past months since I started thrifting. Including long dresses, a ton of long sleeve t-shirts on 50 percent day, and even some sewing patterns. A couple of times I got lazy and didn't try on the clothes before I left... and they didn't fit :( ... but the good news it these items were only $3-$6, and all I did was put it back in the donation bin. Long story short, the great finds have really outweighed the few mistakes I have made.
Even my dog gets new stuff... I know she doesn't like wearing stuff... but to be fair, I also know that she loves the attention she gets when she is wearing a cute little sweater. Now I get my dog's bandanas for 60 cents, and I bought her a Tommy Hilfiger sweater meant for a toddler for only $3!
Want a song to dance to while Thrifting? Here is Macklemore's and Ryan Lewis' "Thrift Shop"!
How to be careful when thrifting:
As soon as I bring the clothes home I wash them right away. This may seem like I'm being a germaphobe... but it's actually just in case of Bedbugs. I don't want the thought of bedbugs to scare you away... because the chances of them being a problem are really small. With that said, it's better safe than sorry. Since bedbugs can't survive intense heat, a good wash AND being tumbled in the dryer will be more than enough to keep the rest of your belongings safe. The trick is to put your clothes in the wash right away. If you don't have a washer and dryer at home, no worries! All you have to do is put it a sealed bag of some sort (maybe even tie a knot on the talize bag) and then bring it with you on your next washing trip.
Check the items you want to purchase for holes and other types of wear and tear. No thrift store is perfect, there will items with holes in them. If you are in love with the shirt that has a hole in it, and you are awesome with sewing patches... then by all means still get that shirt! Unfortunately, I am a noob when it comes to sewing, so I have to avoid shirts with holes in them for now.
Thrift Stores are a place where your shopping also gives to charity!
When you shop at Talize you are also supporting Children's Wish Foundation. All the better, when you shop at The Salvation Army the money goes to a wide variety of places to help those in need. This includes, but isn't limited to food drives, community shelters, and even emergency disaster services. Not to mention, all thrift shops support recycling! Which means we can still get new clothes and have fun all while producing less waste.
Work Cited
"Charity." Talize, www.talize.com/.
"Food Services." The Salvation Army in Canada, salvationarmy.ca/what-we-do/food-services/.
Ryan Lewis Productions. "Macklemore LLC." YouTube, www.youtube.com/channel/UCXYRdIXDdeZIf816EWAr5zQ.
"Thriftstore Canada." Home Page Slide | Thriftstore Canada, thriftstore.ca/.