Connecting African Creative Brands to Global Markets: Ananse Africa
Ananse Africa is a comprehensive eCommerce platform that connects African creative brands to global consumers.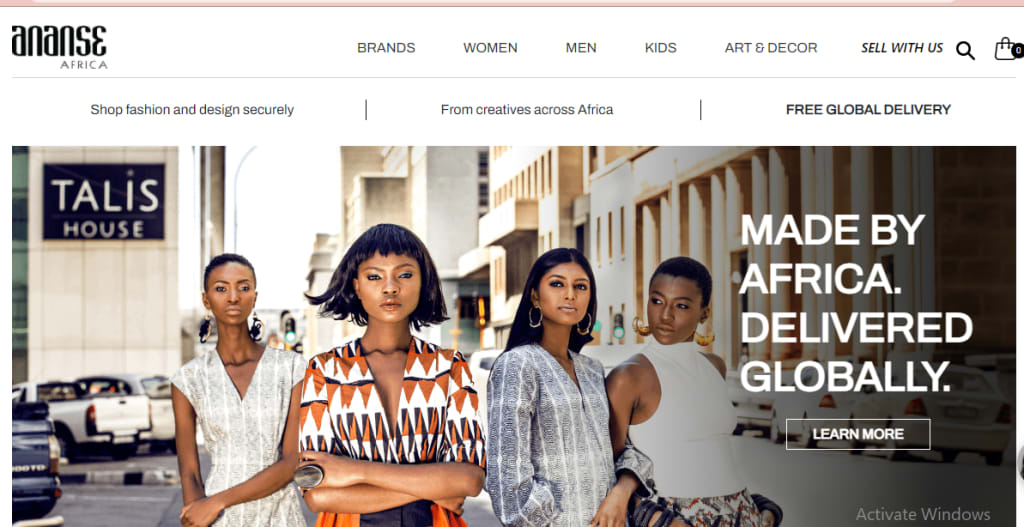 Ananse Africa
All eyes are on Africa as it experiences an awe-inspiring creative renaissance.
The rapidly expanding creative industry is significantly boosting the African economy. In Nigeria alone, creative industries contributed more than $18 billion USD to GDP according to the World Bank in 2020 and there is more to come.
There is an urgent need for expansive, simple and user-friendly pipelines to facilitate the growth of African creative brands; and in April 2021, Ananse Africa launched a platform that fulfills that need.
Ananse Africa connects African creative brands to global markets, and provides consumers with a simple one-stop online space to patronize African designers and artists.
Merging tech with fashion and art, Ananse Africa facilitates the process of purchasing African fashion pieces and artistic creations.
As the continent's creative industry gains momentum, Ananse connects African designers with local and international consumers.
Described as "beautiful things made by Africa, delivered globally." Ananse Africa is essentially an eCommerce platform that showcases the vibrant melting pot of Africa's creative talent.
Ananse Africa facilitates the entire online retail process to provide consumers with a simplistic buyer experience. Also eliminating the logistical challenges often faced by African creative brands and entrepreneurs.
Ananse has partnered with the Mastercard Foundation and logistics global leader DHL to introduce the 'most comprehensive, pan-African eCommerce platform.'
Ananse Africa aims to enhance global reach and facilitate growth and development for African creative entrepreneurs such as fashion designers and artists.
Ananse Africa and the Mastercard Foundation have a definitive goal, to provide the space and tools for African fashion brands to sell more than 1 million garments in the next three years.
The mission is to drive sales, facilitate growth and build the African creative economy by utilizing enhanced eCommerce tools with a comprehensive user-friendly platform.
The impact of Covid-19 meant that smaller, local retailers such as tailors and fashion designers suffered immensely; and with technological advancements and the global shift from physical shopping to online shopping. This is the perfect landscape for a powerful, forward-thinking platform like Ananse Africa to expand the digitization of African creative industries.
Moving beyond social media platforms such as Instagram and Facebook, Ananse Africa provides a reliable, high-tech storefront for African creatives to showcase their work and scale their businesses.
Ananse Africa is the brainchild of Sam Mensah, a Ghanaian ex-Silicon Valley executive and fashion entrepreneur. Mensah is a successful fashion brand founder with an extensive background in technology, investment banking and venture capital. This is what he had to say about Ananse Africa:
"We are not only making it easy for consumers around the world to shop from fashion designers and artists across Africa, but also making it straightforward for creatives to manage the payments and logistics functions necessary to complete an eCommerce order."
One of the major pain points for African brands is finding suitable, global payment systems to facilitate eCommerce transactions.
Many prominent payment solutions exclude some African countries from their approved list of global users. Ananse Africa solves the problem by providing easy POS and logistics systems plus an aesthetically pleasing, user-friendly platform to showcase the creative work of African fashion brands, designers and artists.

As well as their strategic partnership with the Mastercard Foundation and DHL, Ananse has also formed an exciting media partnership with Trace TV to highlight the outstanding work of African fashion designers, artists and artisans.
Trace TV is the premier global media outlet that connects, empowers and promotes a new generation of Afro-urban creators to a global audience.
Handpicked, engaging content will enable consumers to delve into the creative world of African makers and creative entrepreneurs. To learn more about their process and the work that goes into creating stunning clothing, accessories and artistic pieces.
Ananse Africa's seamless solution allows African creative entrepreneurs to trade globally and provides a comprehensive eCommerce space for consumers to patronize African fashion brands, artists and designers.
Shop African brands, designers and artists, enjoy engaging content and delve into the comprehensive Ananse Africa platform by visiting their official website>>>> Ananse Africa