Bring Back Layers
All Hail the Mighty Layer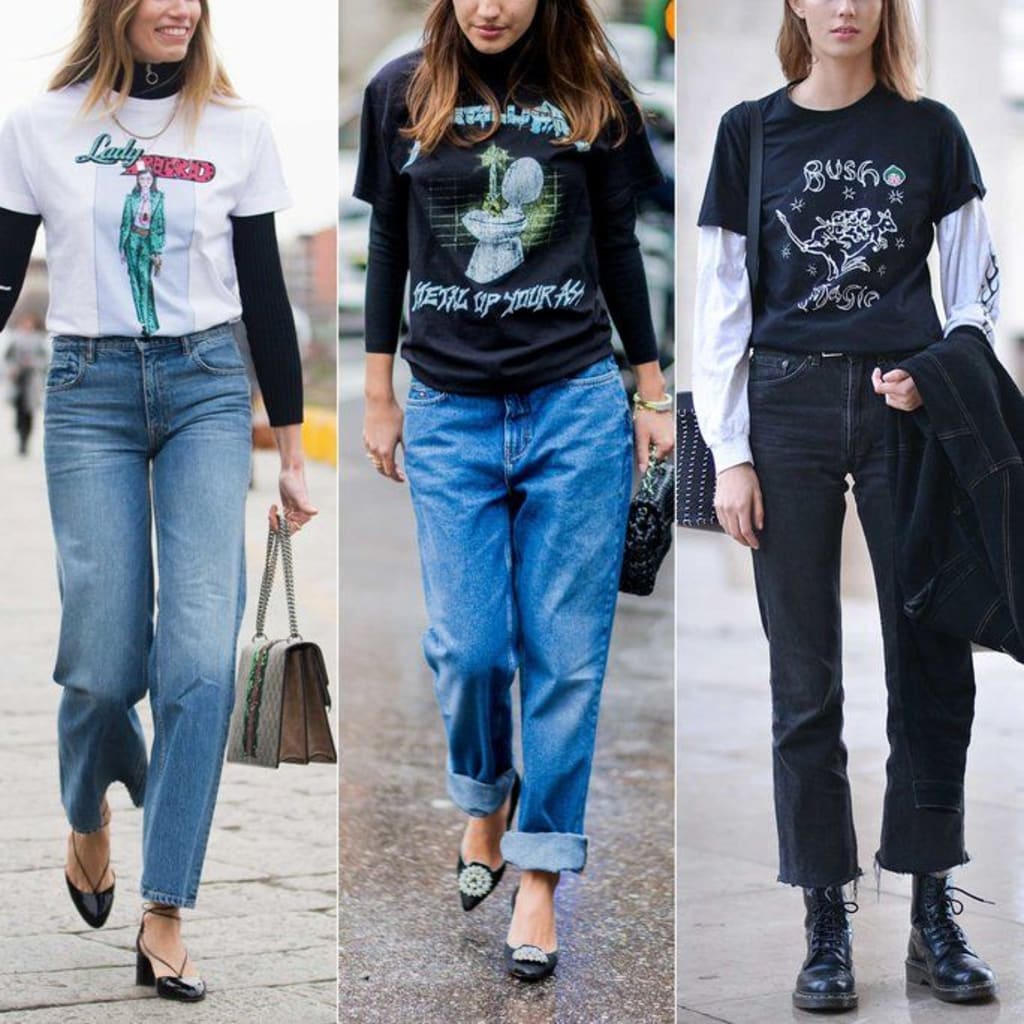 Image via Instyle
At this point in time, nearly every trend has come back. Glitter and mom jeans were predictable. A bit less predictable were corsets and full Victorian skirts. I definitely did not think scene coming back, but there are niches where people teach others to do scene hair! But the one that stubbornly stays out of trends? Layers.
Now of course, layers exist to some degree. It's not unheard of to layer a summer dress over a turtle neck so that voila, you have an autumn dress. But I'm talking about the grungy stuff, the t-shirts full of words layered over long sleeved tees. Stripy t-shirts over white long sleeves, band tees over black tees, it doesn't matter. And yeah, I can wear whatever I like, blah blah blah, but I would like to be a little bit on trend! Here are the reasons why this trend has GOT to come back.
It's Functional
I am a big fan of function over fashion. I prefer running shoes to literally any other shoe (they're light, durable, and serve the double function of exercise AND daily wear). I've never chased fashion trends, but I certainly have never purposely worn something that would get me classed as 'trendless'.
T-shirts over long sleeves is the most functional form of fashion. It helps maintain a capsule wardrobe, allowing three looks from two shirts. You get to display your likes throughout the seasons, without an issue. And sometimes, it's just that in between weather where you a single shirt isn't enough, but a jacket would be too much. What would you do? Throw on an extra layer! A t-shirt specifically, as that adds just the correct amount of warmth.
It's Environmentally Friendly
As mentioned above, bringing this trend back could be so incredibly helpful in maintaining a capsule wardrobe as well as get so many more wears out of a single shirt. Furthermore, it prevents people from buying so many outfits. I currently have tops and jackets for at least 6 different temperature ranges (at increments of 5˚c) so that I can wear an outfit without freezing or burning up in autumn and spring. But at least 2 of these temperature ranges (10-15˚c and 15-20˚c) would be made redundant if layering t-shirts with tops was trendy. Instead of a thin sweater that I only wear for the 15-20˚c range, I could wear a long tee with a t-shirt. And instead of the thicker sweater I wear in the 10-15˚c range, you got it—I could just wear a turtleneck with a t-shirt, adding a windbreaker or scarf as necessary (both items of which are important items in a capsule wardrobe).
I Just Really Like My T-Shirts
My favourite t-shirt is one I got as a gift after receiving my PADI open water certification. It's got a fantastic colour scheme and reminds me of a fantastic holiday. But I can rarely wear it—at above 23-25˚c (depending on how much sunshine there is), it's too hot to wear a solid black t-shirt made of heavy cotton, and below 18˚c it's too cold to wear an unlayered t-shirt. If I could wear layered though, I could easily wear it all the way down to 13˚c, or an extra 5˚c. Whilst this may not seem huge, this adds at least an extra two months of wear, which is much appreciated as that doubles the wearing time for my favourite t-shirt!
In Conclusion
Whilst all the other y2k era clothes are coming back, this is the one that I wish would come back the most! Unfortunately for me, layers made a mini come-back in 2016, so it'll probably be a few years before it makes a proper come-back. The only t-shirt layers we're seeing anytime soon are t-shirt skirts. Don't get me wrong, they're fantastic for extending a short shirt or providing extra modesty, but they simply do not provide that double layer of warmth that layering t-shirts on other shirts provides!
At least I have my other favourite type of layer to fall back on—flannel over t-shirts. If that one goes out of style, I may have to reconsider my line about being 'trendless'!