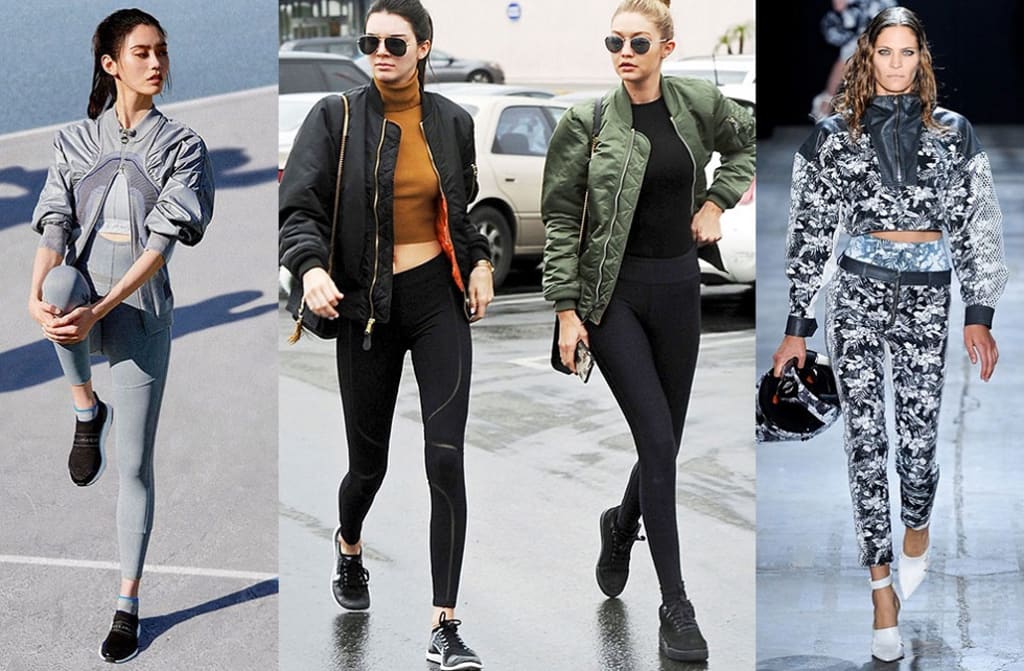 Athleisure Trend
Fashion is a world in constant evolution, with novelties or flashbacks from the past, but always with originality and creativity. In recent years, the athleisure trend has become increasingly popular.
Athleisure indicates clothing that combines casual with sporty and is suitable for physical exercise without giving up a touch of glamor. The name comes from the union of the English terms 'athletic' and 'leisure' free time.
What is Athleisure?
The Athleisure trend is the cross between streetwear and gym wear. This trend, which has been investing in luxury and lifestyle for several years, advocates a healthy lifestyle and proves that style and comfort are not incompatible. Young and old alike are embracing the Athleisure trend, especially women who want to feel as comfortable at the gym as they do to go for a coffee with friends.
Where does the Athleisure trend come from?
The Athleisure trend is not that recent. It appeared in the 1980s and 1990s in the United States before really gaining momentum in 2016. The trend is returning among young women who are active, sporty and energetic but who also like to be dressed to go out. Today's stars are also embracing this trend very well. The athleisure is worn by Rihanna, Gigi Hadid, Olivia Palermo, Selena Gomez and even Victoria Beckham, who has always been a style icon.
Luxury brands (like Gucci, Giamba, Kenzo, Versace, Fendi, Stella McCartney), emerging designers like Off White and historic sporty brands (such as Fila, K-Way or Robe di Kappa) are following the athleisure trend too by incorporating original ideas and shapes.
How to wear the Athleisure style?
What should you buy, what should you have in your wardrobe to show off a perfect athleisure look? The garments are numerous and everyone can choose the ones they find most akin to their style and their way of understanding this trend.
• Leggings: Leggings are the sporty garment par excellence, precisely because of its versatility. The classic leggings have been out of gyms for years and represent a perfect choice for daywear or nightwear, especially if in eco-leather, vinyl or with shiny inserts.
• Sneakers: The sneakers market has seen a surge in recent years, especially for women. Instagram has become the mirror and the showcase of trends and women's tennis shoes are now very clear not only in the office or at school, but also in the disco. In general, running styles are also popular for everyday life.
• Sweatshirts and jumpers: Oversized sweatshirts, possibly with hoods, to be combined with leggings and tennis shoes, are conquering the sector of the athleisure style.
• Baseball caps: Very Nineties, give a sporty touch to your looks.
• Terry socks: Hated and mistreated, in recent times they are returning to the fore, especially if they are white or with side stripes, like a tennis player, combined with flat sneakers.
Jockey is your one-stop shop for all your athleisure needs. Whether you want to buy leggings or sweatshirts, Jockey's online store has it all. Don't forget to make use of the Jockey coupons on Khojdeal to earn additional discounts.
The rules of athleisure
Athleisure means breaking the rules of fashion and mixing trends without ever giving up on comfort. To follow the coolest trend of the moment and get it into your wardrobe, just follow a few tips.
• Mix fashion and functionality by choosing garments in breathable, practical and comfortable fabrics, which are not too shaped, but which have glamorous details and a design studied down to the last seam.
• Don't overdo it. The athleisure trend makes fashion rules much smoother, which doesn't mean totally ignoring them. So, in the office or in formal contexts, avoid wearing transparent clothes and crop tops.
• Choose the right accessories. The secret to transforming sportswear into a cool and trendy look is in the details. Caps and sunglasses will make your look trendy and glamorous.
• When in doubt, go for black. If you don't feel like daring with tie dye and neon trends, you can never go wrong with black. Choose precise cuts and structured volumes and your sporty look will be perfect even in total black.