"AN EVERPRESENT BURDEN" WESTERNISED FASHION FAILS TO REPRESENT MARGINALISED WOMEN
BIG FASHION BRANDS NEGLECT THE CONTINUOUS ACKNOWLEDGEMENT OF UNDEREPRESENTED WOMEN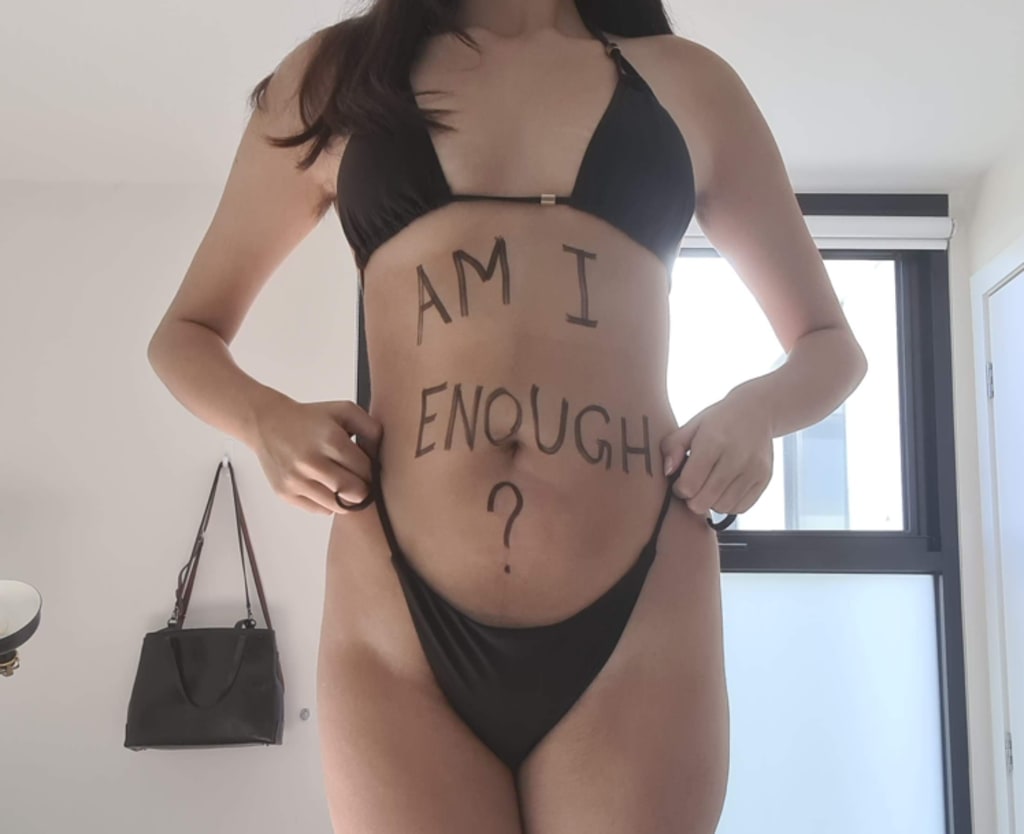 THE TOUGH QUESTION [IMAGE SOURCE: WILL KRAWCZUK]
As of August 2020, major fashion publication Vogue has released fashion trends for the future, and it isn't hard to notice the lack of diversity within their chosen models.
In a sea of thin Caucasian women, the singular Black and Asian models appear to be tokenised like some form of cultural checklist that major companies such as Vogue put out to appeal to the marginalised communities.
For plus-sized women and women of colour, being underrepresented can feel demeaning when dealing with an overload of stereotypical Westernized beauty standards.
Young women of colour today such as Chaya Wajntraub find it hard to deal with the pressures of neglect in the fashion industry. "I find it particularly frustrating when I see Fashion Week and I see how they represent marginalised women." As a consumer, Chaya has struggled with body image in the past.
"It feels like a lot of the time, that these images of us, of our experiences, are placed as a means of advertisement, and then affluent White women continue to dominate."
This issue has been raised before within the word of beauty. From Rihanna's Fenty Beauty Line, a makeup designed for women of a darker pigment, to Ashley Graham becoming the first plus-size model to be featured in sports illustrated, true representation is slowly beginning to gain traction.
"It's wonderful to see a woman of colour walking a runway," Chaya continues. "That maybe we can finally have a voice, have a presence on the global scale!"
"But then it's one time. It's one person in a group of forty. You have your one: you have your token."
The issue appears to rise not from the women chosen to represent the greater world, but from the lack of continuous representation throughout everyday life.
From the Sara Battaglia Ready to Wear Spring/Summer Collection to the Roberto Cavalli Resort, Vogue has failed to continuously showcase these women and use their cultural identity for an illusion of diversity
Through the incessant bombardment of thin White women in fashion brands such as Vogue, young impressionable audiences are shown to have unrealistic expectations of their own body size and skin colour.
Taken from Chaya's thoughts as a young teen, she expresses her pain on this realisation. "For most of my life, I've wanted more than anything to be fair and lovely," she admits. "To have caramel curls that flow down my shoulders across ivory skin. To rid myself of the dark, bushy locks that plant themselves across my body and the uneven, discoloured-mud tint that encases me."
However, it is not only the feeling of racial inequality that effects women today. Poor body image is a major factor in feelings of inequality and inadequacy. "I've wanted to rid myself of the pudgy, rolls that encase my torso." Chaya continues.
"For me, it was always a stark reminder of my South East Asian lineage, since my body structure doesn't fit the mould of the slim-thick or thin-framed expectations of a woman's form. Instead, I have small hips, chubby thighs and a stomach that sits between size 8 and 10 jeans. A body that refuses… repels even, the ideals of Western beauty."
Even in recent past, Vogue has had problems with promoting women of colour. In 2018, Beverly Johnson became the first Black woman to appear on the cover of Vogue and it was met as a "failure to address ongoing racism."
In reporter Lauren Frias' piece published in Insider, Ms Johnson expresses how "My debut was meant to usher in a current of change in the fashion industry."
"But as the national conversation around racism expands, stories about discrimination in the fashion industry and at Vogue, in particular, have come under the spotlight."
In a private email leaked from Vogue, Johnson illustrates the struggles of being an employee of colour at Vogue.
"Managing racism is one of the things the fashion industry does do well," Johnson wrote. "Year after year, companies inflict harm against black culture while actively gouging it for inspiration and taking all of the profit."
Vogue US editor-in-chief Anna Wintour has recently apologised to the marginalised community stating that "Vogue has not found enough ways to elevate and give space to black editors, writers, photographers, designers and other creators. We have made mistakes too, publishing images or stories that have been hurtful or intolerant. I take full responsibility for those mistakes."
Women such as Chaya and Ms Johnson have both dealt with issues involving discrimination and equality regarding their image and the tokenisation of their colour.
As equality controversies soar across the world as a result of the death of George Floyd, the strive for true representation puts heavy pressure on the fashion industry.
"Forty-six years after my Vogue cover, I want to move from being an icon to an iconoclast and continue fighting the racism and exclusion that have been an ugly part of the beauty business for far too long," Ms Johnson claims
Through the images of multi-cultural women in the 2021 catalogue, marginalised women are presented amongst White women indicating a level of growth within the industry. We as consumers can only hope that Vogue continues to present these women continuously in the future.
"Representation is consistent, it's honest, and it's proportionate," Chaya states. "It needs to be about everyone. This is a movement for everyone."