African Thread Series: Ejiro Amos-Tafiri- Afro-Eclectic Fashion
Ejiro Amos-Tafiri, a contemporary Afro-fusion womenswear brand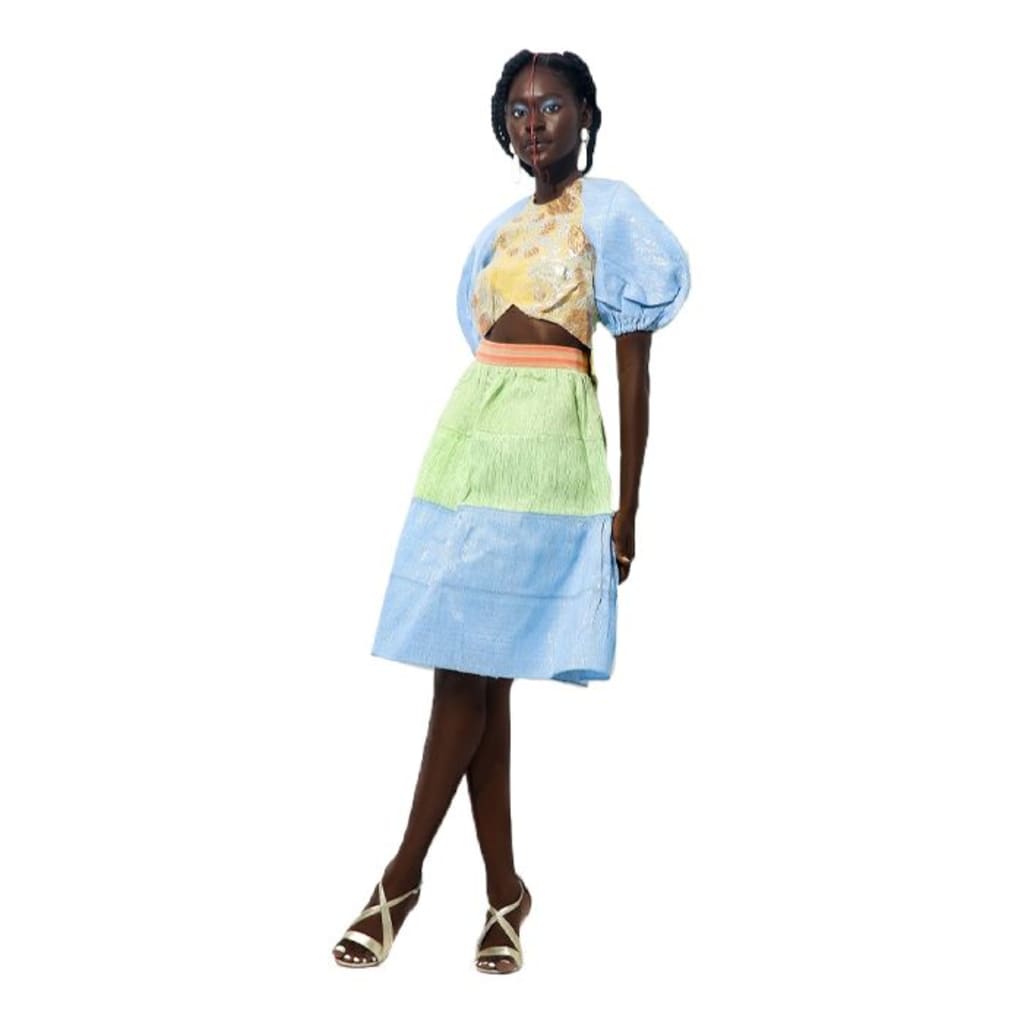 Zahrah Set
Think Africa and think of rich culture, vibrant colours and unapologetic pride. African-inspired fashion has taken on a life of its own in recent years. With both new and established brands taking centre stage, one such brand is Ejiro Amos-Tafiri. An Afro-eclectic womenswear brand by forward-thinking Nigerian designer Ejiro Amos-Tafiri.
Established in 2010, Ejiro Amos-Tafiri or EAT has gained global recognition for their high-end women's wear that offers a mouthwatering amalgamation of African dress forms with meticulous contemporary design methods.
Each piece is inspired by unique elements of the feminine form, as well as the fluidity of striking ornamental style.
Ejiro Amos Tafiri offers innovative design and distinctive, captivating pieces that provide bold and unforgettable clothing for the modern and style-conscious woman.
Utilising regal traditional African layering techniques, design features and textures to accentuate the feminine form in an elegant and idiosyncratic way.
EAT is widely known for its revaluation of the traditional outfit "Oleku." Fusing traditional elements with contemporary styling, this particular piece became a popular showstopper in Nigeria amongst the most elegant trendsetters in the bustling Nigerian city of Lagos.
Major publications such as The Guardian, CNN and Marie Claire have featured the brand. High-profile celebrities such as Tiwa Savage and Joselyn Dumas are fans of the Ejiro Amos Tafiri brand.
With multi-functional pieces that range from classic wardrobe staples to contemporary, trendy, office and casual wear.
From the quirky and feminine two-piece Zahrah set to the high-fashion, edgy Ire Pants. Ejiro Amos Tafiri magnifies African creativity with the expertly designed, deeply creative, almost poetic pieces. It's Afro-fusion contemporary fashion at its best.
Ejiro is a highly-focused, passionate designer with years of experience under her belt. Born in Lagos, Nigeria, she tapped into her passion for fashion in her early years. Although the initial plan was to enter the field of medicine to become a doctor, Ejiro eventually gave in to her deep love for all things fashion when she enrolled in Yaba College of Science and Technology to study Fashion.
Ejiro gained valuable fashion experience throughout the years working for Out of Africa, Zizi Ethnic Clothing and Tiffany Amber.
The Ejiro Amos-Tafiri brand has grown from strength to strength from its inception in 2010 up to now, 2021.
Covid-19 transformed the flow of the brand however, Ejiro saw an opportunity to slow down, regroup, refocus and inject new life into the brand to create more bold and eclectic pieces.
"Being able to Bless people is the biggest opportunity for me as a designer.." -Ejiro Amos -Tafiri
Ejiro is a creative thought leader in Nigeria, on the continent and globally as her brand continues to grow and thrive internationally. Tafiri has gained the much-deserved title "drape queen" as her brand is renowned for its innovative drapery and bold statement pieces.
The Ejiro Amos-Tafiri brand is sophisticated, style-focused and elegant offering contemporary, stylish pieces for modern fashion-conscious women.
Aside from the primary Ejiro Amos-Tafiri collections, the brand has branched out to introduce a fresh new sister line of clothing, DEAT. A fun twist on the classic Ejiro Amos-Tafiri distinctive style for the budget-conscious, forward-thinking young woman
The Ejiro Amos-Tafiri brand branches beyond fashion retail, they also offer a highly acclaimed fashion training school, Ejiro Amos Tafiri School of Design. The school launched in 2015 and so far, more than 50 students have graduated from the academy.
Ejiro is a multi-award-winning designer with a plethora of awards under her belt such as the Outstanding Designer in Retail at the Heineken LFDW awards in 2015 and the Designer of the year at the City of People Fashion & Beauty Awards in 2015.

Ejiro Amos-Tafiri is currently featured on the freshest and most comprehensive eCommerce platform for African creative brands, Ananse Africa.
Ananse Africa is partnered with the Mastercard Foundation and International logistics leader DHL.
The seamless online retail space provides African creatives with an efficient platform to showcase their products. It's a one-stop space for African fashion and art enthusiasts, offering a simple solution to the challenges that some African brands face in relation to payment solutions and logistics.
Shop Ejiro Amos Tafiri and other African creative brands on Ananse.com