2021 Spring and Summer Fashion Trends - What to Watch For
We're seeing some interesting things make an appearance this year...
Trends in the fashion industry are ever changing! I first started paying attention to them when I was in my early teens. Back then mustaches and chevron patterns were ALL the rage! Style has obviously moved on from then, and trends for this coming year range from neutral and versatile to bold and colorful!
So what should you be looking out for? How should you shop in order to achieve the high fashion looks this year?
Allow me to help you out a bit!
Trend #1: Statement Trousers
We've all seen the recent debates between Millennials and Gen-Z's about the place of skinny jeans in the fashion world. I remember circa 2012-2013 in my freshman year of high school sporting neon skinny jeans and patterned fitted trousers. A lot of us can now agree that, sadly, the glory days of the fitted jean being high fashion are mostly over, and in their place are coming statement trousers!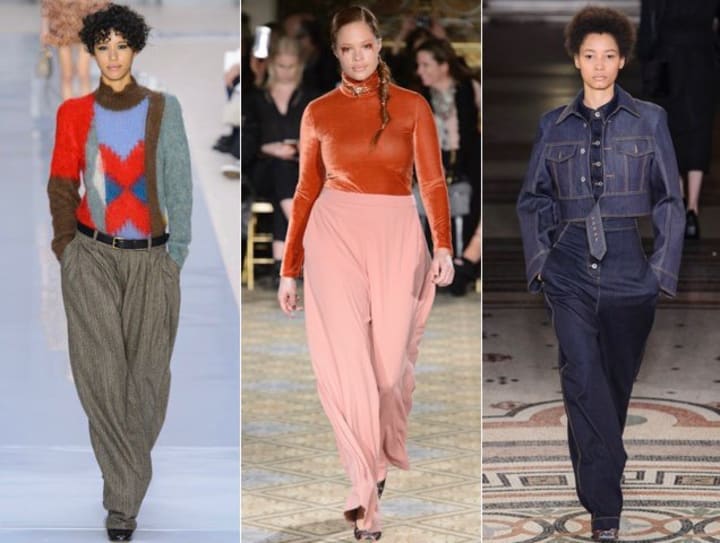 I'm personally OBSESSED with this trend! I'm always in favor of statement pieces over neutrals. And while neutrals are still in, their being phased out for a more bright and bold future! Statement trousers aren't for everyone, the bright colors and large patterns can create a bit of a disconnect for people who don't always want to be the center of attention, but getting out of one's comfort zone is the most important part of partaking in fashion!
So if you're feeling the need to spice up your business casual go-to's, this is definitely the time to do it! Pair your trousers with a loose, solid-colored blazer or a fitted turtleneck top and a pair of pumps!
Trend #2: Sorbet Pastel Colors
Another bright and beautiful trend! Pastels never seem to truly go out of style, but this year they're being put into the spotlight! As the sunshine starts to come out and the cold weather is traded for blooming flowers, people tend to gravitate towards pastels to add color to their wardrobes without making too much of a statement. The toned-down nature of pastels make them a perfect way to add a small statement to a casual look!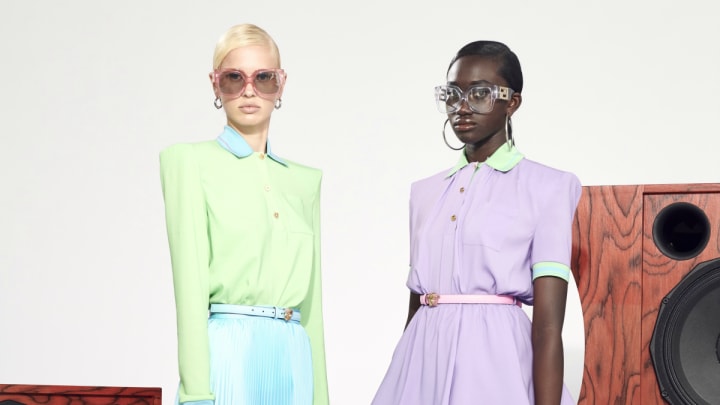 Something about a sorbet pastel trend that differs from the standard trends are the inclusion of multiple pastels in a single look! The idea of a sorbet is something soft and delicate that includes several shades of pastel beauty! Think blues, yellows, purples and pinks, but ALL in the same outfit!
This trend is perfect for anyone looking for a youthful and flirty look! Flowy dresses and skirts are the perfect way to utilize the color pallet, or try a bold color-blocked pantsuit! This look creates a ray of sunshine everywhere you go!
Trend #3: Bold Bralettes
Bralettes have been making the rounds lately, but this year looks to redefine how we wear them! Forget the lace straps showing under an off the shoulder top, instead think bold patterns and intriguing fabrics being put on display! The crop of a bralette fits perfectly with last year's crop-top trend while adding a sophisticated and high-fashion look!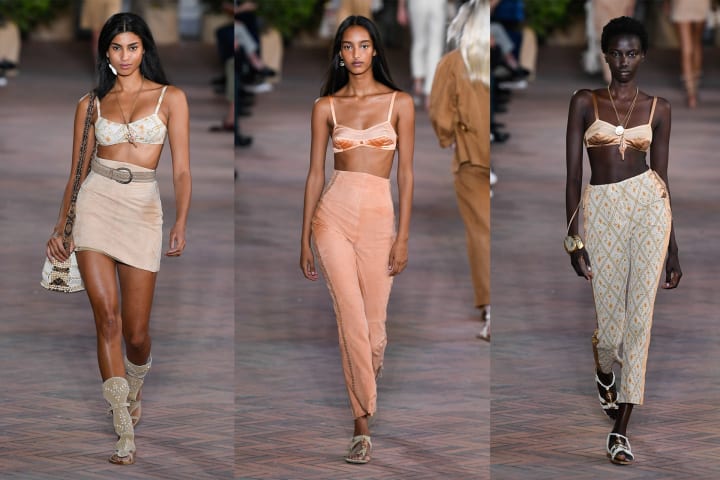 And despite what many may think, this isn't just a trend for the runway models and fit girls of the world! We're seeing more and more plus-sized women come into their own with more exposing trends and shamelessly show the world what they've got! Don't let your size discourage you from trying this one out! As trends grow and brands expand their availability, we're seeing more supportive and inclusive sizing come on the market as well!
I'll be all about this trend this summer! Find me pairing a patterned bralette with a flowy midi skirt or matching sport jacket and trouser set!
Trend #4: Fancy Flip Flops
While I'm on the fence about this trend, it's not going anywhere! We're seeing a resurgence of early 2000's trends, and the fancy flip flop is no exception! I've seen leather padded flip flops begin to hit the market, and I'm noticing more and more magazines and internet articles embrace this footwear for the new year!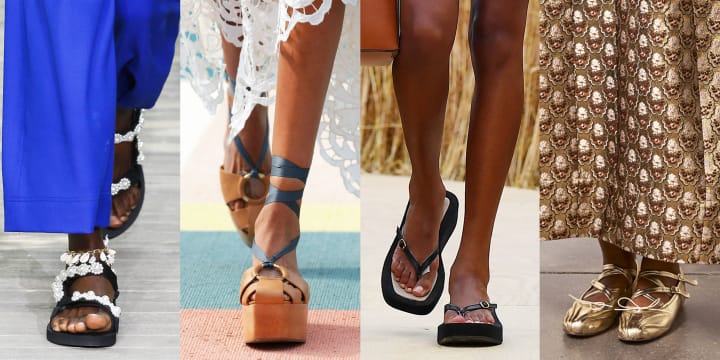 While they may not be my personal style, these flip flops do offer something that standard flimsy ones don't - extreme comfort! These are made more ergonomically with the shape of a woman's foot in mind. The extra padding and curvature of the design work flawlessly to provide a sleek and comfortable everyday look!
If I were to give this one a shot, I'd likely pair them with a flowy maxi dress(which we're also seeing make a resurgence this year). I'd keep the color palette neutral, probably sticking to the rich deep brown that has had a hold on the fashion world this past year!
Trend #5: Glitter & Sparkles
What Vogue calls "Living Room Disco", glitter and sequins are making their comeback! Using more elegant and formal staples for everyday looks is a trend that seems to be taking off! The ability to repurpose articles that may be seen as "one-use" to everyday casuals is something not everyone possesses, but you may want to learn it if you want to keep up with this one!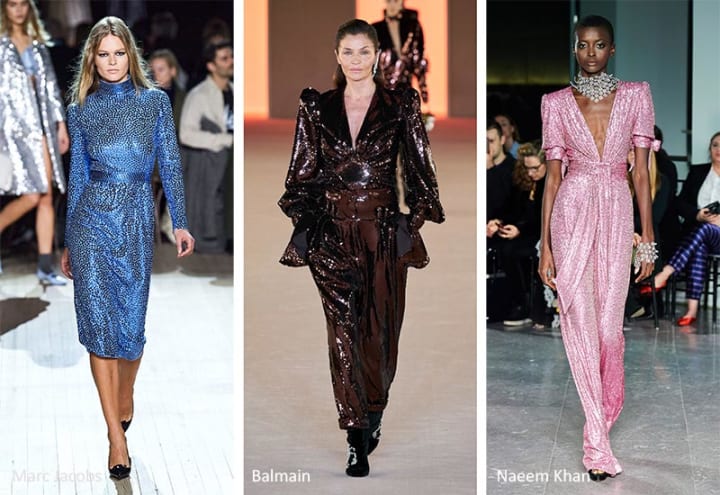 I'm all about a versatile look! Anything that can take me from a party to a shopping trip to my own living room! And this is shaping up to be the perfect trend for such requirements! So many of us have spent our last year in complete quarantine! Loungewear sales have soared, meanwhile we all are aching for the familiar presence of other people!
I'd opt to try this trend as a casual staple! A glittery bodysuit or fitted high-neck top paired with fitted trousers, or even a patterned statement trouser would be sure to brighten my lockdown blues!
Trends are always changing, and the beauty of fashion is that you're allowed to toy with it as you see fit! Whether or not you opt to stick with the trends or find your own look that strays from the norm, a perfect outfit can add to self-confidence and add a bit more color and individuality to the world!
Happy shopping!
trends
About the author
Disney blogger with a dark side
23-year-old blogger and photographer
Follow along with my misadventures - IG: @livinglikealesia
Reader insights
Be the first to share your insights about this piece.
Add your insights