Tough Love: How a Soldier's Advice Led to a Military Decision
This is a look into my own personal journey through the ins and outs of the military with the guidance of a retired war veteran — and how it rang true after it all came tumbling down. This is a real story based on my experiences.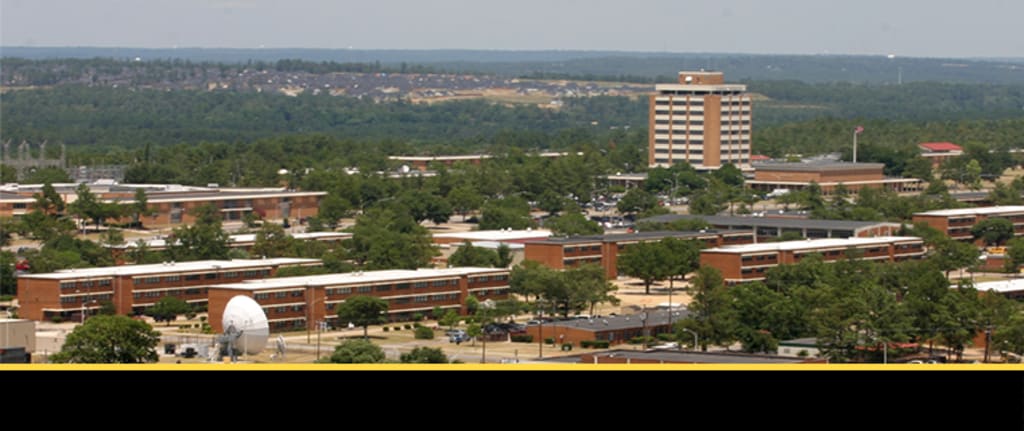 An image of Fort Gordon, GA, as taken from its official website
My mom took the oath of enlistment at the age of 17. Just before she had retired at the age of 43, at the rank of Sergeant First Class — an E-7 in the Army — she decided to have a conversation with me after school, one that she would repeat time after time again — especially when I became a part of my high school's MCJROTC program. She told me that if I ever joined the Army like she did, I would regret it; more specifically, she said she would beat my ass. But why the negative reaction? Everyone in my family had expected me to follow in her footsteps and join, maybe even be a part of the Signal Corps like she was. But no: Sergeant Walker would not have it. "My child? Join the Army," she'd declare. "Over my dead body."
The experienced soldier would critique the military at times in conversations we would have, giving her own detailed opinions on each branch of the Armed Forces. We were sitting in the car at the time, about five years after her retirement, when I told her I'd might like to join the military. "As long as it's not the Army, we'll be alright."
"Well, why not the Army?"
"The Army... You're too smart for that. They're full of jokers and it's too big — and you have a big heart. They will swallow you up and manipulate you in a heartbeat. They'll treat you like an object. Go with the Air Force or the Navy. Anything but the Army or the Marines." She cleared her throat, taking a sip out of her soda can, before continuing with the statement that changed my life. "The Air Force is the better branch. They'll treat you like a person instead of a thing. The Navy is for intelligent motherfuckers that can swim (insert a small chuckle). Now, the Marine Corps are some trigger happy motherfuckers. Crazy as hell. Intense. But — if you did decide to go down to that island — you'll come out a very respectful and respectable with confidence. Lord knows them cocky crazies are confident as hell, insane bastards."
When I had turned 17, I had narrowed down my military career choices to the Air Force and the Marine Corps; I definitely wouldn't join the Army, but I'm not proficient enough in math or the art of swimming to join the Navy. I had an appointment with an Air Force recruiter that morning, and he made a lasting impression on me; the Staff Sergeant was late.
He had brought his daughter with him and it made me smile, reminiscent of the childhood days when I would sit in my mom's cubicle when she was stationed at Fort Gordon, Georgia, coloring and making drawings on the paperwork she was going to trash anyway.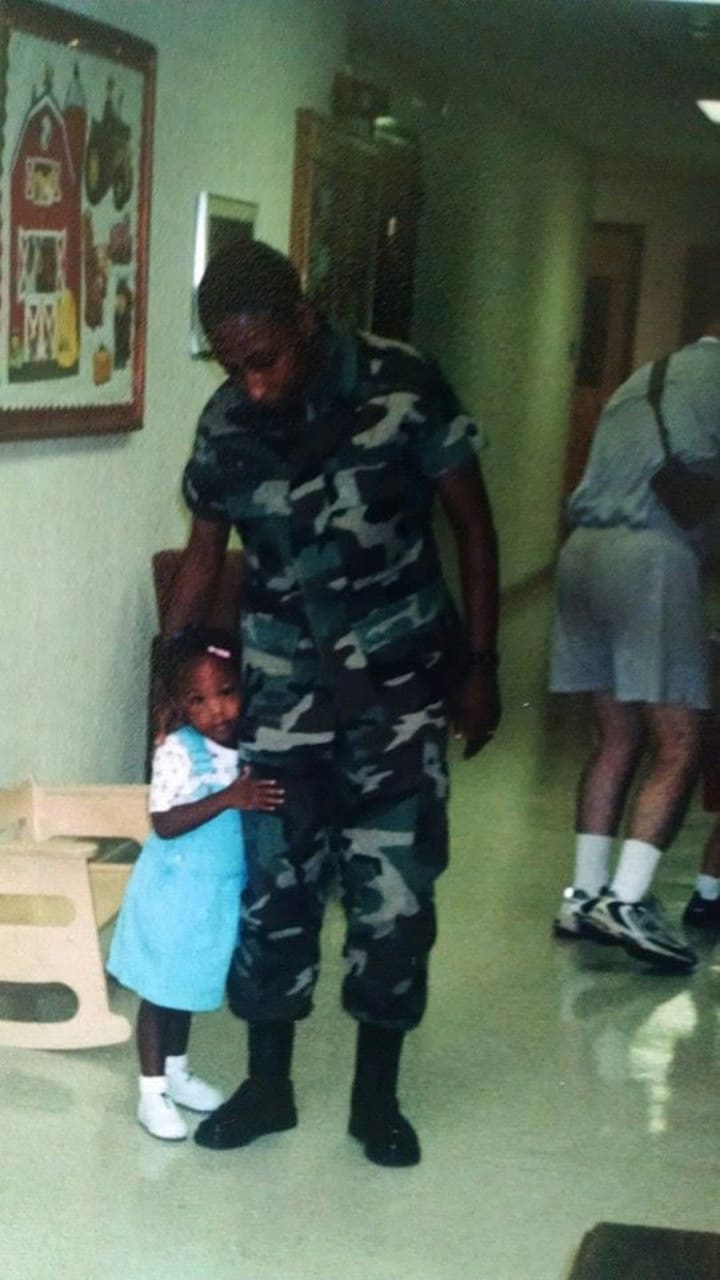 The recruiter had went through the spiel he had probably used on the dozens of people that walked through his doors, ending it with what I already knew — I was too young to join, and that I should come back when I was of age to talk more about my future.
As I was leaving, I heard a rustle behind the closed door of the Marine Corps recruiting office next door. Timidly, I knocked, and almost immediately the door had opened. This recruiter, a younger Sergeant enthusiastically shook my hand and sat me down immediately — even though he was preoccupied with other things — to talk to me about the Marine Corps. When he had asked me why I wanted to join the military, I informed him that my mom was the inspiration. He understood completely, initially telling me to thank my mom for him for her 24 years of service to the country. When I had told him that she had died seven months before, he was taken aback — although he had only showed it in his eyes — before giving me a solemn nod.
A year later, I had taken the gigantic step my mom had and enlisted — as a poolee in the DEP. When I was shipped down to boot camp in the spring, I could do ninety-six crunches, three pull-ups, and could run a mile and a half in 14:29; I thought I was ready for the yellow footprints. I couldn't have been any less prepared.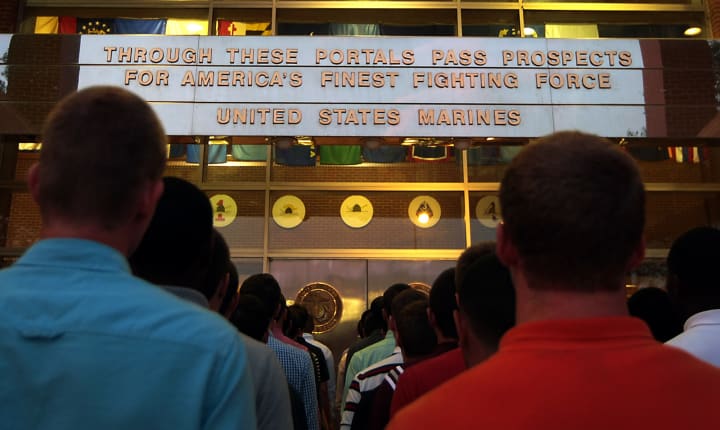 I ended up being dropped from recruit training not too long after I had gotten there. My steady separation from Parris Island took approximately a week — and it was one of the most painful weeks of my life. My goal, ultimately a big dream of mine, had ended as soon as it began. I felt like a failure, felt like I had let down all those who had supported me. What do I do now? I didn't have a back-up plan and had relied on the idea that I would come out of Parris Island a Marine.
I ended up flying back home, getting there in the wee hours of the morning — almost like my journey was in reverse, but instead of being petrified and being screamed at by Drill Instructors at one in the morning, I arrived at my place of origin. In the car, I took a deep breath, clutched the donut I had bought as a surprise for my younger brother, and closed my eyes. As I described my boot camp experiences to my other parent, my eyes were suddenly opened. How did I go through all of that and expect to come out of it okay? I remembered my mom, who was in Kuwait during the Gulf War, who had informed me that she had lost some of her friends over there. "Just pick up your feet. You keep going because you have to."
I took her words to heart. I kept going, and I still am steadily walking no matter what life throws at me. I have a part-time job right now with the intent to go back to college, eventually getting a bachelor's degree and going to graduate school. The person I had been dating for four years proposed the idea of marriage. The occasional thought to get a tattoo darts through my mind every few days or so. The Air Force has become more appealing as time passes and — believe it or not — I am willing to risk a supernatural beatdown and talk to an Army recruiter. I am picking up my feet, getting through this one day at a time and — like the outdated Army slogan my mom liked most — being all I can be.
family
About the author
I am an author/freelance writer out of western Massachusetts that enjoys writing poetry, fiction, and non-fiction. Hope you enjoy my work! :)
Reader insights
Be the first to share your insights about this piece.
Add your insights