The US Airman Who Sacrificed His Life to Save a Small English Town
Maureen watched it all happen from her bedroom window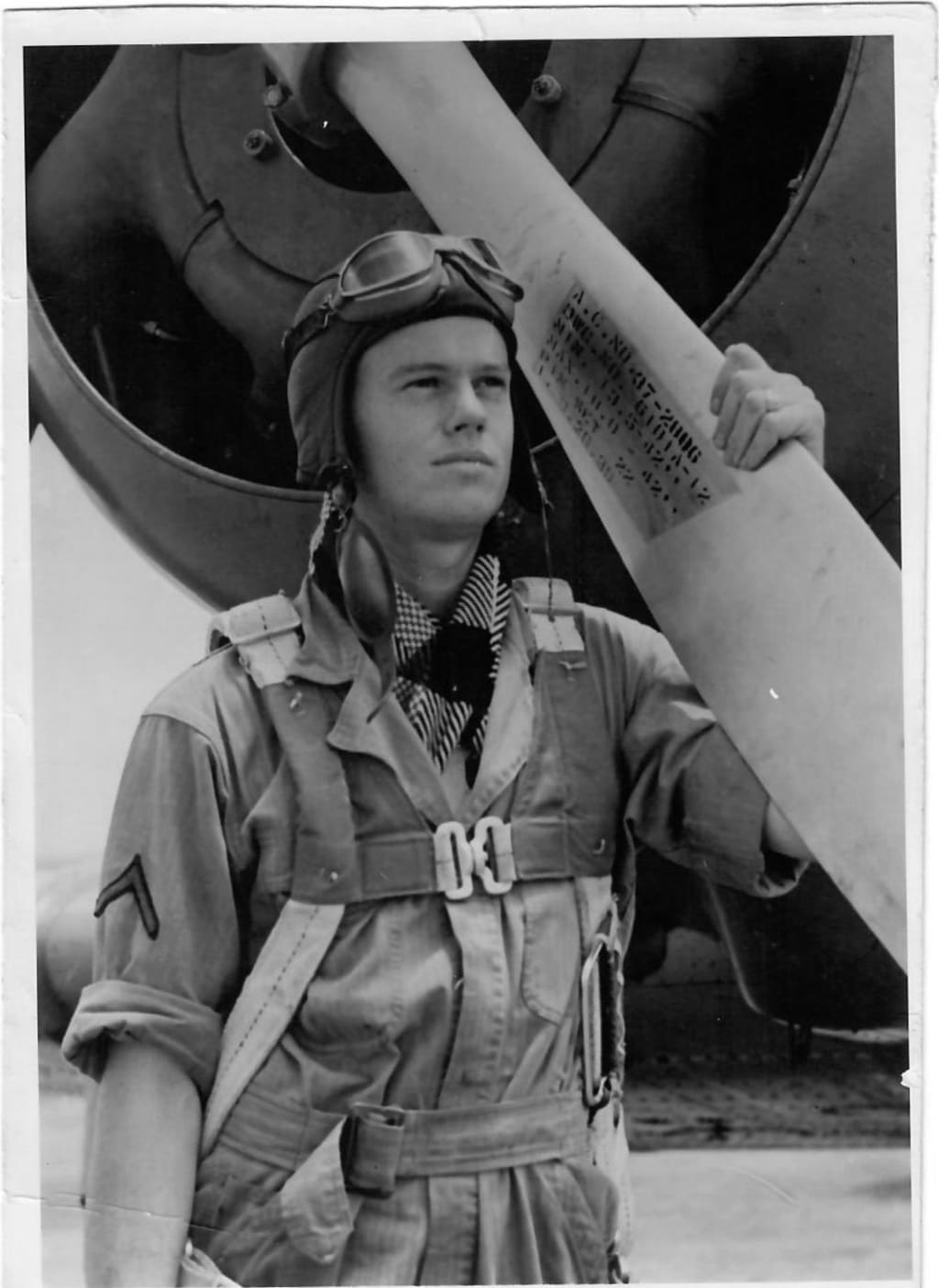 Clyde 'Sparky' Cosper © Texas General Land Office
13 November 1943. It was around 8 am in the sleepy town of Princes Risborough, Buckinghamshire, England, when 11-year-old Maureen was awakened by the roaring engines of a B-17 bomber which came uncomfortably close to the roof of her house.
The pilot had lost control. She watched in horror as he tried to steer the huge plane away from buildings. The flaming B-17 narrowly missed a bungalow over the road, before crashing into a field and exploding, sending shrapnel flying in all directions. Maureen ran downstairs, jumped on her bike, and went off to see what had happened, with her mother calling after her, 'don't go into the field!' Maureen's father set off in hot pursuit, terrified that she would be exposed to a dead body, or something worse.
Maureen didn't enter the field, but she saw from the road, crowds of people, police, firefighters, emergency ambulance crews, and local people trying to help.
Some 50 years on, it was the early 1990s, when Maureen told this story to a gentleman on an aeroplane to the United States. He had been made an honourary member of a B-17 club because he had written a book about planes. On Maureen's behalf, the gentleman put a letter in a US air force magazine seeking the name of the pilot who diverted his striken plane away from Princes Risborough and in so doing, saved the town. The letter led to a stream of correspondence, which identified the airman as Lt Clyde 'Sparky' Cosper.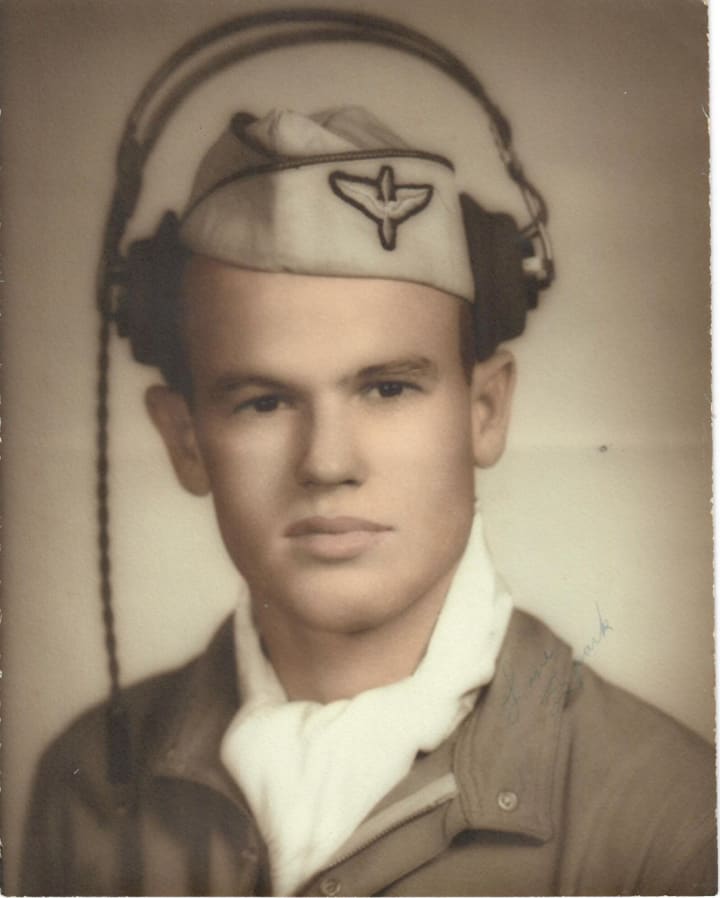 Lt Clyde 'Sparky' Cosper was aged 21 in 1943. He had only been serving in the UK for three months, having been training for four years, and he had received his Wings in February of the same year. During his service with the American army, he had shown amazing promise as one of the top ten bomber pilots. On 13 November 1943, he set off from his Thurleigh base in Bedfordshire, on a mission to bomb German U boats at Brenham. The mission was never completed.
Sparky lost control of the plane in severe storms as he approached Princes Risborough and the aircraft started to break up. He told his nine colleagues over the intercom, to evacuate by parachute because the plane was going down. They survived, but seven were killed a month later on another mission.
The journey that day had started badly. Storms were brewing and flying conditions were precarious. The planes were recalled after they started to ice up, but it was too late for Sparky and his crew. The plane hit a huge thundercloud and went into a spin. He wrestled with the controls and leveled the aircraft long enough for his colleagues to escape, but as his aircraft broke up in mid-air, it was on a collision course with Princes Risborough. The plane was on fire. He managed to gain some height — just enough to clear the roofs of buildings in Princes Risborough before crash landing in a field, bursting into flames. Three tonnes of bombs detonated at once.
Charles Vondrachek who bailed out of the plane before it crashed, told the Bonham Favourite (newspaper):
"We took off and started climbing, but we hit a thunderhead. One minute you're at 10,000 feet and the next minute you're in a steep dive. I'm standing between him (Sparky) and the co-pilot, watching the instruments go crazy because the plane's being tossed around by the thunderhead. The plane would go up thousands of feet, then go down thousands of feet.

"I had no thoughts as I bailed out, things were happening too fast. I was busy dodging telephone wires. I'm sure he (Sparky) could have bailed out if he'd wanted to. I think he was trying to clear the town. He wanted to save those people and park the plane where it wouldn't take anyone's life. He guided it into a field where it blew up with three tonnes of bombs on board."
If Sparky hadn't taken the action he did, then Princes Risborough would have been decimated. As it was, the impact caused an eruption that shook the ground for miles and sent shrapnel flying across the town, so much so, that one resident was pinned to his milking shed by a piece of the aeroplane's tail. He was otherwise unhurt.
Sparky was originally buried in a US military cemetery in Brookwood, England, but his body was later moved and he is now buried in Dodd City, Texas. He was posthumously awarded the Silver Star, the Air Medal, the Distinguished Flying Cross, and the Purple Heart. His mother couldn't bear the shock of his death and in 1954 she shot herself.
In 1989, an excavation of the crash site uncovered one of Sparky's 'dog tags' and the metal insignia from his cap, as well as the intercom switch from his plane, left in the 'on' position. These pieces were held in a museum at High Wycombe Air Field until they were stolen.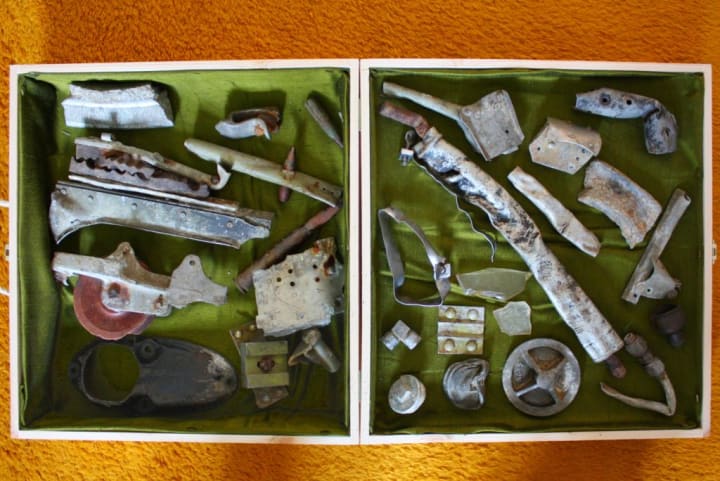 In 1992, the Bucks Herald, a newspaper local to Princes Risborough, revisited the story working with Maureen Knopp, the little girl from England whose house he avoided all those years ago. Sparky's family didn't know the full extent of his heroics until Maureen and Tim Robinson, a reporter from the Bucks Herald, launched a campaign to remember Lt Cosper and raised funds to erect a memorial plaque in his name. The plaque was unveiled outside Princes Risborough library in 1992.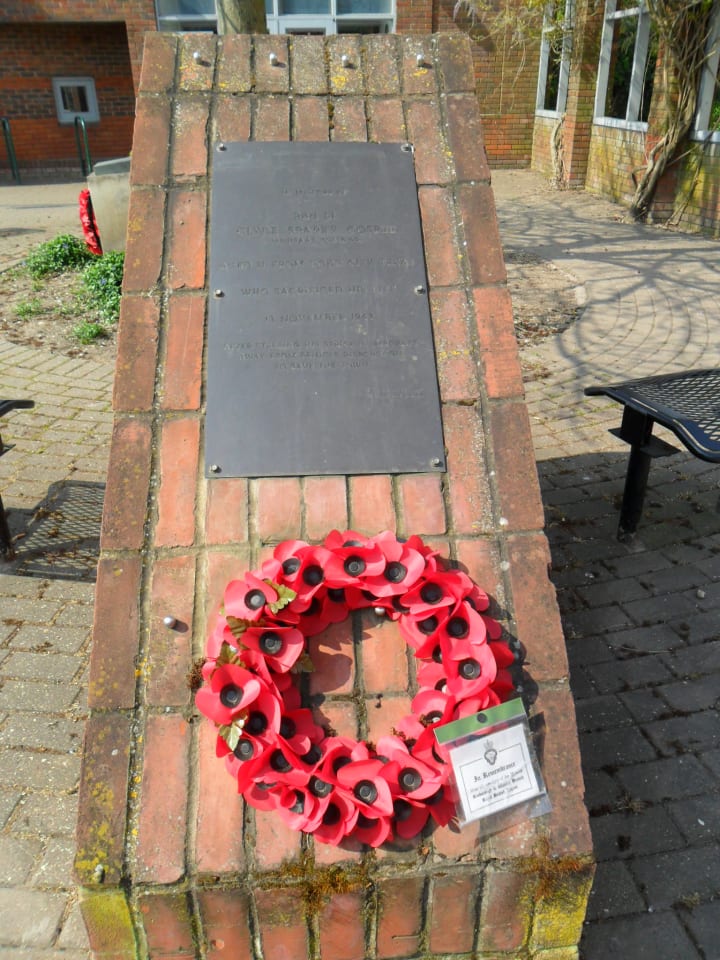 In 2001, a memorial day was held in Texas, dedicated to Lt Clyde 'Sparky' Cosper. Maureen attended the ceremony, as did Charles Vondrachek, the last survivor of the crew. The event celebrated the opening of the 'Clyde W Cosper Texas State Veterans Home'.
Maureen continued to live in Princes Risborough, until she passed away in her 80s, in 2019. She kept a drawer full of letters and newspaper clippings covering Sparky's story, which she shared with me at the time. She told me about the time she went to America for the opening of the veteran's home - pictures of the veterans in their prime adorned the corridors. "It is such a shame what war does to people," she said.
Today Clyde Cosper continues to be remembered and his memorial in Princes Risborough has now been accompanied by memorials to other pilots who lost their lives in the area during the Second World War.
**********
Read more about wartime Britain, in 'Memories of the Second World War' by Susie Kearley, available on Amazon here. http://myBook.to/war-memories