The Most Common Food Truck Recipes in Every Streets
Food Truck Recipes: The Most in Every Streets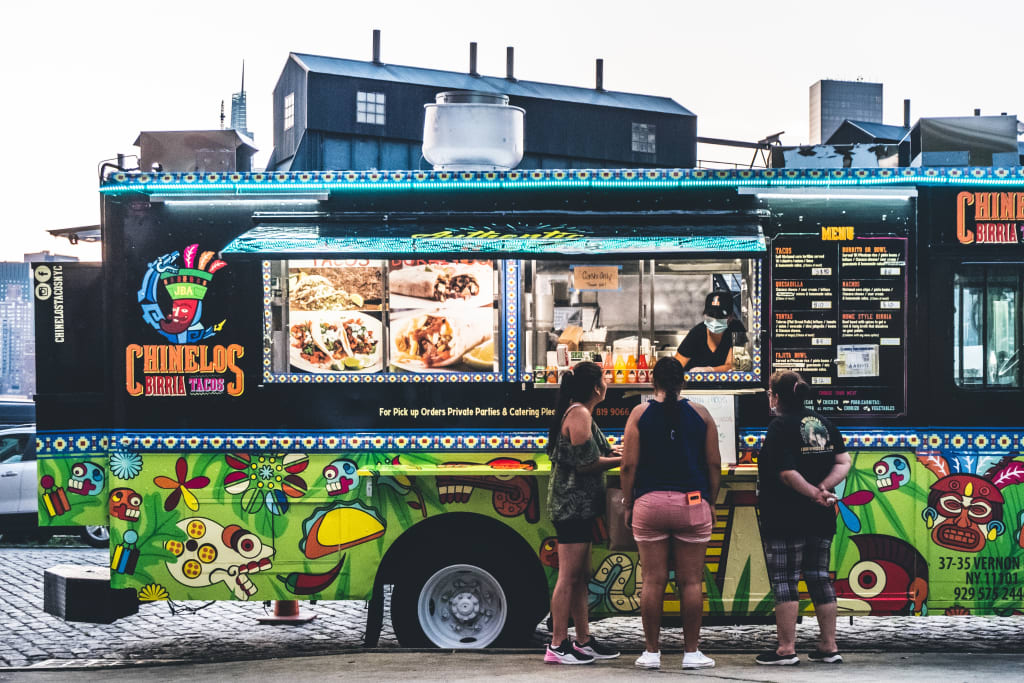 https://images.unsplash.com/photo-1612208176815-e132bcf971b0?ixlib=rb-4.0.3&ixid=MnwxMjA3fDB8MHxwaG90by1wYWdlfHx8fGVufDB8fHx8&auto=format&fit=crop&w=870&q=80
A food truck is a restaurant that can go anywhere because it has wheels. Food trucks were the most common on city streets a few years ago. But now, you can find these mobile kitchens at corporate events, weddings, birthday parties, anniversaries, and even in your backyard.
On the other hand, today's food truck recipes have stepped up their game and are serving up novel flavor combinations, wacky recipes, and fusions of food from diverse cultures that are difficult to beat. Some of our favorite food blogs have created dishes fit for a gourmet food truck.
What Foods are Most Popular in Food Trucks?
People like food trucks, and on the street food scene, you can find anything you can get in a restaurant. Some food trucks have long lines of hungry people waiting to be served, while others have shorter lines or none. Well, food truck recipes that make the most money tend to find a balance between how popular their recipes are and how much it costs to make them.
Some foods get more attention because of how they are served or how many people want them. If you know the best recipes for food trucks, you can decide what to serve your customers. Putting a new spin on old favorites will help your food truck business.
It's hard to beat good barbecue. Whether you put barbecued food on a sandwich or in a bowl, you can be sure that everyone will like it. Today, many different kinds of barbecue are sold by food trucks.
At food trucks that sell things like burgers and hotdogs, they are sometimes sold as a main dish and sometimes as a side. All you need to make loaded fries are potatoes, salt, pepper, spices, and toppings. Think garlicky mayonnaise, cheese, and a sprinkle of thyme and rosemary.
Burgers have been sold from food trucks and trailers since the beginning and for a good reason. They are cheap and easy to make for the recipe food truck. They are also very popular. They also taste great. They were popular back then and still are now, making them one of the most profitable things to sell from a food truck.
The average profit margin for coffee shops is 25%, which is one of the highest of any business. Coffee is always in demand, so putting it on a menu is a safe bet. There's always time for coffee, even if it's hot outside. People want iced coffee drinks, so how much coffee you sell will depend on the weather.
Because most people couldn't afford a freezer at home, the first ice cream trucks came to them. As freezers became more affordable, ice cream trucks began selling popsicles, sandwiches, and ice cream cones. When it comes to ice cream trucks, there are so many flavors to choose from.
Tacos must be mentioned when talking about food trucks. Some say that the taco trucks in Los Angeles were the first to start the trend of food trucks. Since the 1990s, people have been getting food from these trucks.
Tacos must be mentioned when talking about food trucks. Some say that the taco trucks in Los Angeles were the first to start the trend of food trucks. Since the 1990s, people have been getting food from these trucks.
Cookies are one of the most popular food truck items. They're ideal for gifts and corporate events. You can distinguish by offering unique tastes, shapes, and sizes.
A lot of food trucks no longer sell the traditional slider. They don't want a simple hamburger with grilled onions and a soggy bun. Instead, these chefs want to make things like bison sliders with green garlic aioli and capers.
How Food Trucks Make Money
Successful food trucks cut costs and optimize earnings in a variety of ways.
Menu Options Should Be Limited
Food from a food truck can be profitable if only a few things are on the menu. Generally, you should have between three and five food choices. Fewer food lists will be needed if there are fewer things to choose from on the menu. It brings down the cost of the recipes for the food truck.
Use Seasonal Ingredients From Your Area
Costs are higher for ingredients that come from far away. Because they have to be grown, packed, and shipped from far away. Try to plan your menu around the seasons and use food and suppliers from your area.
Price and Demand for Ingredients
No one will buy food from your food truck, no matter how good it is, if no one wants to buy it. Finding a recipe for a food truck with a proven market and cheap ingredients can take time and work.
Conclusion
The key to making money with food truck recipes is to find a balance between how popular a dish is and how much it costs. A food truck item that sells well and doesn't cost much to make is most helpful. If you follow this method, you can make money with a food truck.
Go to Island Seafood Girl to learn more about food trucks. They give you several options for how to start your food truck. Get in touch with us quickly to find out more.
Reader insights
Be the first to share your insights about this piece.
Add your insights