My American Heroes
Bold Soldiers, Friends, and Family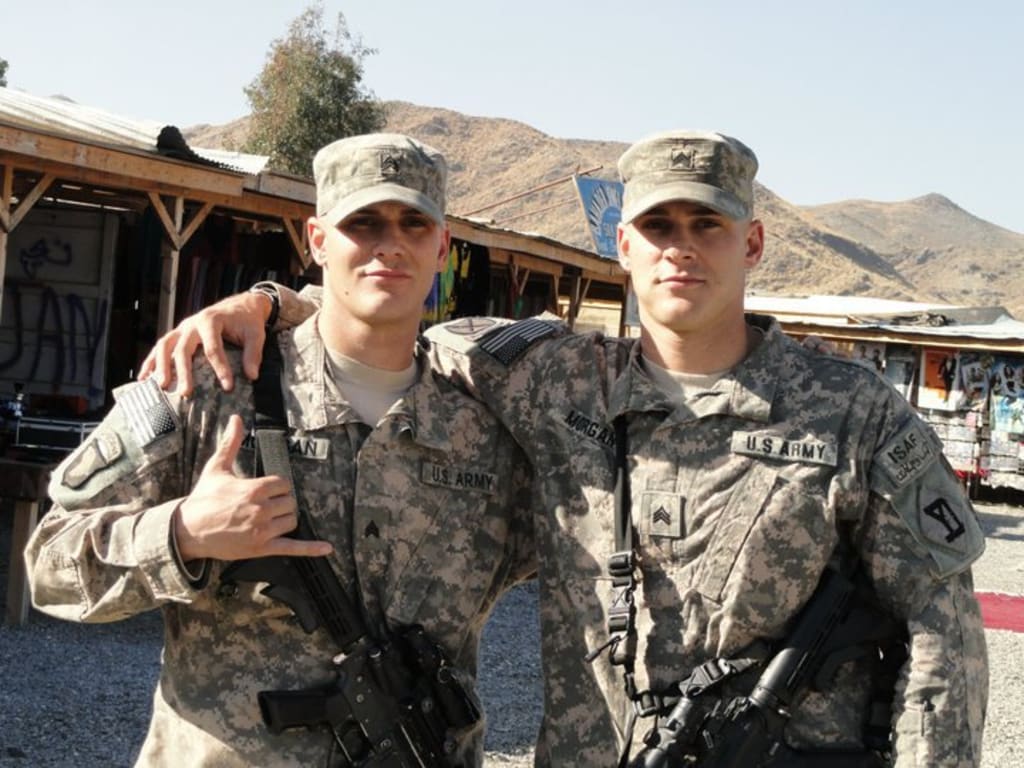 As Remembrance Day nears us in 2018, I want to take some time to honor the veterans in my life. I didn't know the men in the picture above very well, but the impact they've had on my family is indelible. Veterans fight the worst battles, not only on the frontlines, but also in their minds when they return home. Mental health among veterans is somewhat of an area of stigma, when it truly shouldn't be. They have gone through unimaginable horrors for our sake.
These brothers, Jonathan and Joel, sacrificed years of their lives to helping others, fighting overseas in Iraq and Afghanistan to protect their country and others that couldn't fight for themselves. They left behind families and friends to give up their time, their safety, and possibly their lives.
Fighting in a war leaves a scar on you that can't be seen. This scar left Jonathan with a pain that he couldn't move beyond, images he couldn't erase. We who haven't been through what they have can never imagine the things that our veterans have seen and had to do in order to make our lives comfortable. We haven't had to worry about our own safety because of the ultimate sacrifice that these men and woman have made. We haven't had to put ourselves on the line because they have answered the call.
Jonathan Michael Morgan took his own life on November 11, 2012. He couldn't get the help he needed to get past the horrors that he experienced while fighting. Jonathan left behind a young son, Preston, a daughter, MacKenzie, his twin brother, Joel, sister, Ashley, and mother, Donna, among hundreds of friends and family members who miss him dearly. He was the recipient of a Purple Heart award, which his daughter now proudly bears in memory of her father.
This Veteran's Day marks the sixth anniversary of his passing. His daughter has grown up and is graduating from high school. His mother, sister, and brother have to live with a massive hole in their hearts. When you lose a family member, your heart never really heals—you just learn to live with the pain. My mother, who used to babysit these twin brothers when they were young boys, took my cousin's death especially hard. He was a young man in the prime of life, with so many people around him that love him. I can only imagine the pain his immediate family is enduring at this time of year, and I would never wish their pain on anyone.
"Tomorrow marks the fourth anniversary of my son Jonathan's passing. Unfortunately, it is also Veteran's Day, a day that loudly reminds us, as a family, of our personal loss. Many soldiers come back from war without any visible wounds, but rest assured they don't return unscathed. The invisible ones are often just as great. The price they and their families have paid to protect our freedoms is unfathomable. So, as a mother of two veterans, and a family that has paid the ultimate price, I would ask that you would reach out to the veterans you know and let them know you care and are thankful. The journey back for them is often a hard and lonely one as well a long one. And to my sons Jonathan and Joel, I want to say that I am proud of you and thank you for your sacrifice and service. And to the other men and women who have served, and are reading this post I want to thank you all too from the bottom of my heart. I know well the price you have paid." - Donna Morgan, November 10, 2016
All I can do is echo this sentiment as we approach this holiday. Please don't neglect the people who have paid the ultimate price in service for their country. It's quite a sacrifice to give up the comfortable life we take for granted, to serve overseas in a war you didn't start. Thank a veteran for their service. We can never thank them enough.
family