Heartbreak Ridge (Movie Review)
This is one of my favorite movies, so I thought I'd do a review on it.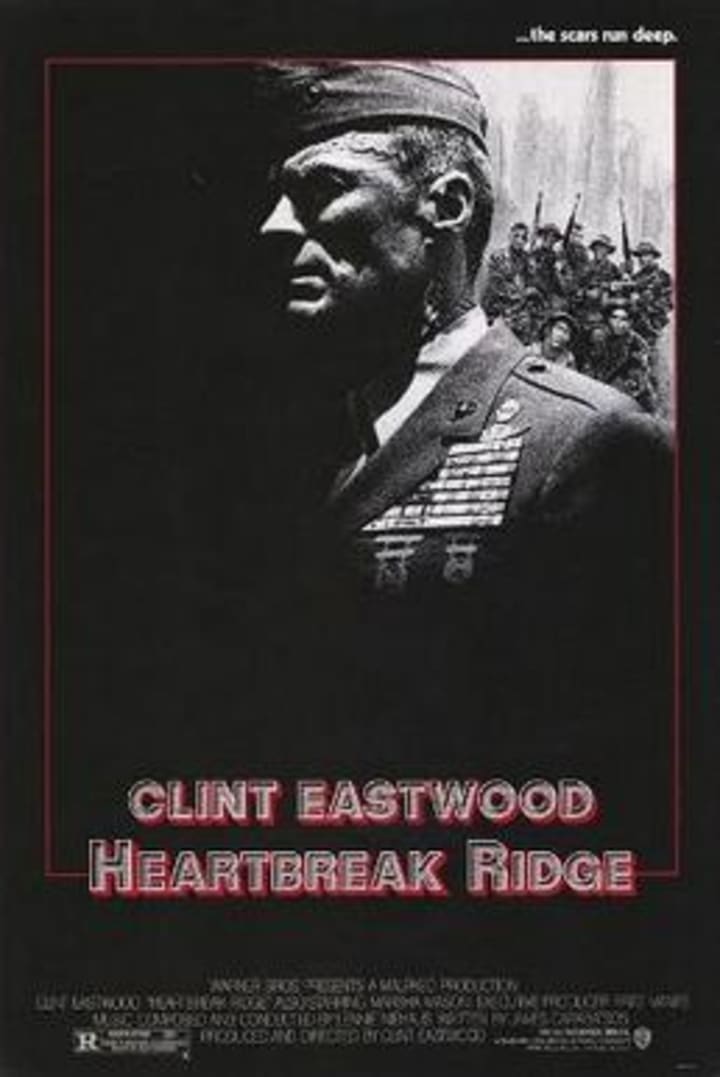 Genre: Drama, Action, Military/War
Released: 1986
Cast: Clint Eastwood, Marsha Mason, Mario Van Peebles
Summary: Decorated soldier, Gunnery Sergeant Thomas Highway (Clint Eastwood) is asked to train a group of second platoon soldiers, a last assignment before he retires. To his dismay, he sees that the men from second platoon are very inexperienced. The men are playing pool, wearing cool sunglasses, their hair is unruly, and they listen to loud music on the boombox, as if they're in a college dorm lounge.
Upon seeing this, Highway decides that the only way to get them ready is to be tough and strict on them. Some of his discipline includes waking them up early, doing daily runs, cut their hair in crew cuts, wear the same colored shirts, do candaces, and be aware of technical army weapon terms. The soldiers don't like him at all, and even try to fight him out using Swede, a tall burly, soldier with a body-builder build. When Swede loses the fight, the soldiers realize that the strength of Highway is no joke. They start to take him seriously.
Especially, one of the soldiers is Stich Jones (played by Mario Van Peebles). His comedic character and charm is what makes this movie stand out. He is the first of the soldiers that Highway meets, and already Highway doesn't have a good impression of him. He's loud, talkative, sings a lot, and on top of that, stole money from Highway while they both were at a diner on their way to the army camp.
The sergeants leading the other platoons don't like Highway's approaches, and try to boss over him, telling him to change his ways, but Highway doesn't give in. Highway's approaches work, as the second platoon soldiers soon learn to "adapt and improvise", Highway's trademark dialogue. They are now used to Highway's stern ways.
Near the climax, there's a competition between the first platoon soldiers and their second platoon group. The first group to reach the water is the winning team. The second platoon reaches the water seconds before the first platoon. But, the first platoon claims they were there first. This ensues in a brawl where the second platoon wins at the end.
Seeing their success in this, the second platoon soldiers feel confident about their newfound skills and start to like Highway and appreciate him more. When another officer checks in on their group and tell them that they can switch for another gunnery sergeant, they refuse. They break into a little song about it, distracting away from some of the more serious parts of the movie.
While this is going on, Highway shows his romantic side by visiting his ex-wife, who works at a bar near the army base. She's moved on, going on dates with the bar owner, to Highway's dismay. He says hi to her anyways and even visits her house for drinks, where he unsuccessfully tries to rekindle their romance. But she gets mad, knowing that things would still be the same, which is why she divorced him in the first place. He was always absent from her, and she always feared he would be gone forever, every time he went to war. And she didn't want that.
At the end, the second platoon is called to war abroad and they fight successfully in a dramatic climax.
At the end, most of the soldiers come back safe and sound, with the exception of one of the men, who succumbed to injuries. Highway's ex-wife is waiting for Highway to return and the two of them walk off together.
I enjoyed this movie a lot and have seen it multiple times. Eastwood's acting, as it is in his other movies, was great. He looked convincing like an army man- tough and strong. And Van Peebles' performance was a comedic relief, making this movie fun to watch.
Movies about war, battle, etc might not be for everyone, but this movie was likable and entertaining. 4.5/5 recommend.
Sources: https://en.wikipedia.org/wiki/Battle_of_Heartbreak_Ridge#In_popular_culture
https://en.wikipedia.org/wiki/United_States_invasion_of_Grenada
https://en.wikipedia.org/wiki/Heartbreak_Ridge
Movie poster image source: https://en.wikipedia.org/wiki/Heartbreak_Ridge#?media/File:HeartbreakRidgemovieposter86.jpeg