Handmade Military Icon Pens
A great gift for any soldier or veteran!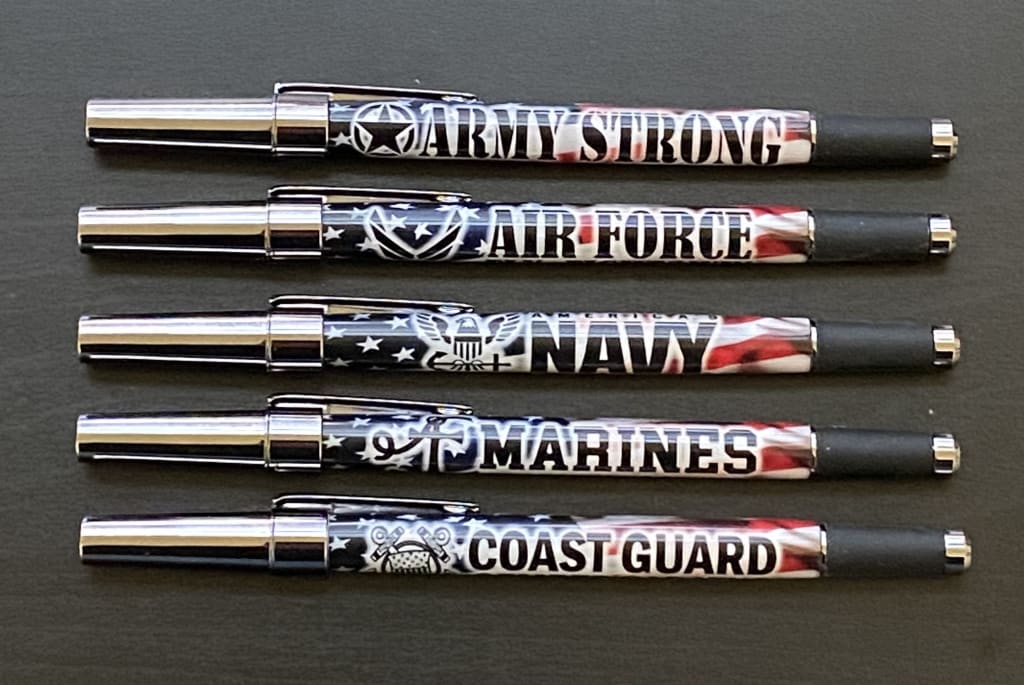 Handmade images for the WhataPen Icon Pen
Today WhataPen Handmade Creations brings you the New Military Icon Pen. I created the Military Icon pens after I received quite a few request from some of my customers that are soldiers. Their issue was the little pen pocket on the BDUs are very small and it seems only bic pens can really fit well. I am a ARMY veteran so I totally understood the issue at hand. I remember having to deal with that on a daily basis and sometimes depending on what pen you put in the little pen pocket you had a hard time getting it out if it didn't have a clip of some sort to hold it out.
A month or so ago I had already launched my new Icon pen which is based off the bic round stic pen and uses the refill right from the bic pen. It is a very slick and thin pen that is becoming one of my best sellers since the body is so customizable. It is made with all metal hardware and has cushions for the finger grips so no more sore fingers after writing all day. But I had only created wood and color alumilite bodies. So I had to look to try something new with these pens since I wanted to give the soldiers something to be proud of.
Now in my normal pens I create I can put almost any image on the pen that is under a resin coating. And there is more space to play with on the bodies of my thicker diameter pens. But on the Icon pen which is only .38" in diameter for the body that space is alot smaller. But when you are dealing with a smaller diameter then you have to deal with the issue of a smaller and longer image.
So I had to create the images in a way they would fit and look great and not stretched out. Now the real challenge begun for this idea. So after a couple hours of testing and thinking, I believed the images were finalized and ready to get tested out with the resin molds. Every image is placed onto a tube and the ends closed off. Then it is placed into a mold where clear resin is poured into the mold. After the molds are cured and trimmed, I can turn them down to size on my lathe. Do some wet sanding and polishing, then the final assembly process comes.
I was a little amazed at the final Military Icon pen and was excited to send out a couple to some active and veteran military friends. Well it seems they have been a hit and loved by each one that got them. I was told it fits perfectly and when they need a refill they just take it out of the bic round stic pens that are supplied to them by the military. So now they can be different and show their pride of service and have a comfortable writing day!
These pens are made to order currently by me and only me on my lathe in my little WhataPen shop in my garage right in the USA. All my pens are made by hand and with love of what I do. If you would like to order one or a couple of these pens you can visit Handmade Military Icon Pen.
If you would like to see a little more of the other popular pens that I create, you can visit WhataPen.com and hit view more anywhere on that page.
"A pen as custom as your signature, WhataPen"