Captain Tom Moore - An everyday Hero
One-hundred laps before his one-hundredth birthday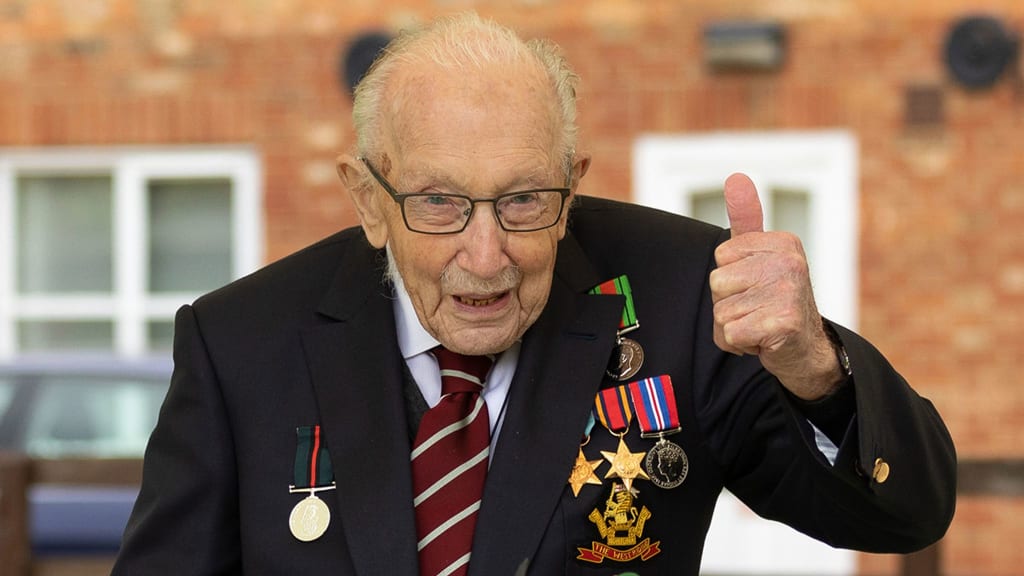 Captain Tom - An incredible man
Our world has been turned on its head; the world's economies are suffering and in every corner of the world health workers are battling to prevent more deaths from happening. The year 2020 has been rather horrendous to say the least. One of places worst affected by Covid-19 has been the United Kingdom with the death toll almost at the 40,000 mark. It is a number that might shock many but could have been so much worse, if it hadn't been for an unsuspected hero.
Maya Angelo, the famous poet, once said, "I think a hero is any person really intent on making this a better place for all." Step in, Sir Captain Tom Moore, a retired captain who had served in the British Army. Having served in India, Indonesia and Britain during the Second World War he later worked as the managing director of a concrete company. While his early life accomplishments were no small matter, it is what he did at the age of 99 that truly made him a national symbol.
While we all looked to overcome our newfound confinement, Captain Tom Moore decided that he would commemorate his 100th birthday by doing 100 laps around his garden. This wasn't just any old exercise routine, it was intended that he should raise £1000 in aid of 'NHS Charities Together' by his 100th birthday, which was on the 30th of April 2020.
The United Kingdom would have 24 days to help the man, who was now known as Captain Tom, to reach £1000, which is approximately £42 a day. The response would be astonishing. The public in an incredible show of solidarity answered Captain Tom's call and the initial target of £1000 was reached in just four days.
It would of course not stop there. The British media made Captain Tom's efforts public and the newly found hero even got a radio interview on BBC 2 on the 12th of April. Two days after the interview, on the 14th of April, donations had skyrocketed to over £1 million.
Justgiving.com announced the incredible milestone on their website.
"We have only gone and done it....over 1 million pound. We are so thrilled, and so glad to be able to unite our country at such a sad time and all for our incredible NHS. Tom would like to thank all of you, from the bottom of his heart."
In a matter of weeks Captain Tom had raised £1 million and become a national symbol in the United Kingdom. Was there any more to come? You bet there was. In the same month Captain Tom had also become part of the Twitter community, which was being run by his grandson Benjie Ingram-Moore.
On the 15th of April, Captain Tom Moore tweeted:
"7 MILLION POUNDS!!!! The Great British public, your generosity is just incredible! THANK YOU!!"
Twitter followers responded with well wishes and thanks and one follower, by the name of Amy Louise Chapman even responded to the above tweet with, "My friend Alice Brooks and I are making bets on how long it takes you to get to each million and whoever loses has to donate again."
By this stage Captain Tom was almost done with his 100 laps around his garden. On the 16th of April, he finished his set target, accompanied by the 1st Battalion of the Yorkshire Regiment, with social distancing in mind of course. It was a momentous occasion commemorated by Michael Ball, who is a British singer, actor and radio presenter. Together they sang the famous song 'You'll Never Walk Alone'. Michael Ball and Captain Tom Moore's version has now almost reached 2 million views on YouTube. Not only was the song a YouTube sensation but it went to Number 1 in the UK Singles Charts, making Moore the oldest person to reach this position.
When he was congratulated on becoming the oldest person in the world to be Number 1, he couldn't stop himself from laughing. He was also asked about his passion for the NHS, to which he replied, "They've done so well for me over the years. And I think they're doing such a magnificent job at the moment under very difficult circumstances. I think we still need to give the very best support that we possibly can."
On the 30th of April over 125,000 birthday cards were sent to Captain Tom, which were put on display at Bedford School in southeast England because Tom's grandson attends the school. When the project ended Captain Tom had not only become a fitness extraordinaire but also a top of the charts rock star and a symbol of hope for an entire nation. He was knighted for his efforts in mid-May after having raised over £32 million in aid for the NHS.
Prime Minister Boris Johnson called Sir Captain Tom Moore, "a beacon of light through the fog of Coronavirus". An initiative that only took a little more than three weeks to complete, showed the entire world what we as human beings are capable of when we stand together for a cause.
Captain Tom could so easily have stayed at home and enjoyed his retirement. Instead, he showed all of us that the right time for change is now, no matter your age. He is an inspiration to us all and has proven to be Britain's hero in these uncertain times. Thank you, Sir Captain Tom Moore, for all you have done, it is just remarkable and you will always be cherished.