Badass Women Who Killed Nazis
From snipers to anti-aircraft guns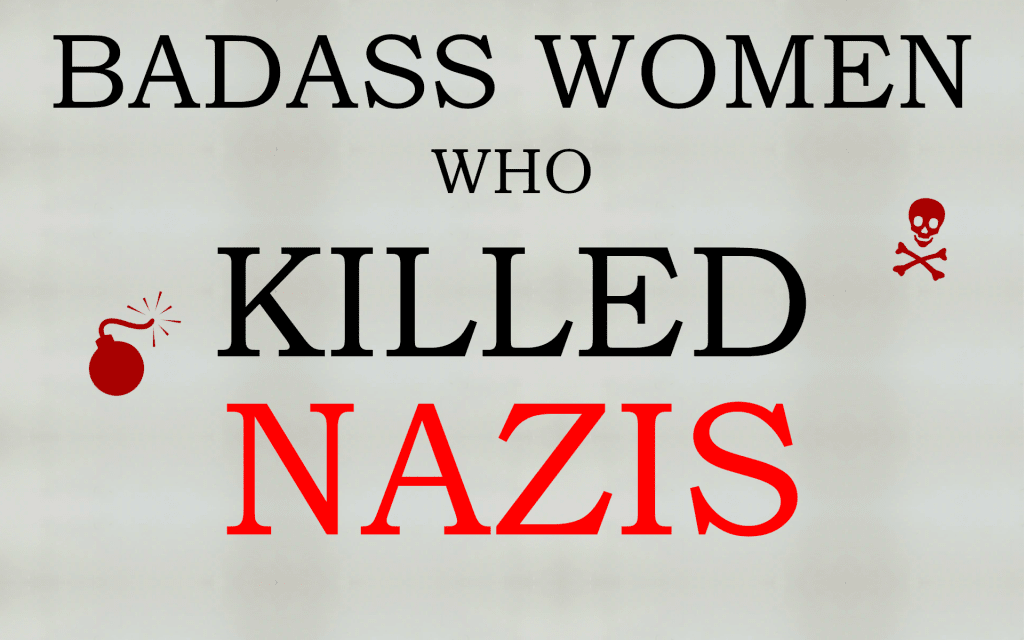 World War Two was a common part of most history curriculums, but if your school was anything like mine, little to no mention was made of women's involvement other than their roles as army nurses or factory workers on the home front. But that's a huge disservice to the remarkable women who did find their way into active, frontline service, and there's no better time than now to celebrate their achievements.
Mariya Oktyabrskaya
The story of Mariya Oktyabrskaya isn't long, but it is very intense and certainly the stuff of legends.
Born in 1905, [1][2] she spent her early life as a serf until the Bolshevik Revolution brought communism to the Russian Empire. [2] She became a working woman, eventually marrying a Soviet Union officer (Ilya Oktyabrskaya) and fully embracing the role of a military wife – even going so far as learning how to drive and receiving weapons training, which was uncommon for women at the time. [2]
This all went south when Germany violated its nonaggression pact with the Soviet Union and invaded in 1941. [2] Ilya Oktyabrskaya was sent to the front – and, sadly, died in battle. [1][2] Mariya took this news hard, but she didn't take it lying down. Instead, she sold all her belongings, donated all her money to the National Bank, and wrote an impassioned letter to Stalin asking that the money be used to purchase a tank for her so she could go to the frontlines and kill Nazis. Oh, and she wanted to name the tank "Fighting Girlfriend". [1][2]
Stalin agreed, seeing to it that she was provided a T-34 medium tank. [2]
On October 21st of 1943, Mariya saw her first battle. She was to help clear out the remaining Nazis in Smolensk. [2] During this battle, she killed 30 German soldiers, took out anti-tank guns, and destroyed machine gun nests. In the fray, however, her tank took a hit and she was ordered to remain inside her tank until it could be fixed. [1][2] But Mariya hadn't just been trained as a tank driver – she was also a mechanic. [2] So she disobeyed orders and got out of her tank – in the middle of a firefight! – repaired it, and then got back in and resumed killing Nazis. [1][2]
This sort of mid-battle repair job became the norm for Mariya during her brief time in the army, and unfortunately it's what got her killed. She was injured by anti-tank shell while repairing Fighting Girlfriend and fell comatose from her wounds, eventually dying two months later on March 15th, 1944. [1][2] For her incredible service, she was the first women to receive the Hero of the Soviet Union Award. [1][2]
Lyudmila Pavlichenko
Even if you don't know her story, you may have heard her name, or at least are aware of her legendary kill count – the highest kill count of any female sniper in history, and a record setting kill count for snipers of any gender. [3][4]
Lyudmila Pavlichenko was always competitive and always a tomboy. Born in 1916, she joined a shooting club as a child when she heard a neighbour's son bragging about his marksmanship, wanting to prove that girls could shoot just as well. [3][4] In later years, she enrolled in university to study history, and took sniper classes on the side to improve her marksmanship. [3][4]
When Germany invaded Russia, Lyumdila wanted to help the war effort, but the army wouldn't accept women for anything except support roles like army nurse. [3][4] Thankfully, after much insistence on her part, she was allowed a sort of impromptu audition. To prove her claims about her skill with a rifle, the Red Army brought her to a hill they were defending and pointed out two Romanians who were aiding Germany, indicating that they were her target. When she successfully killed both, they allowed her to enlist with the Red Army's 25th Chapayev Rifle Division. [3]
Notably, Lyudmila didn't count those first two kills as part of her final 309 tally because they were "test shots". [3]
The majority of her kills came from Odessa and Moldavia, where she killed hundreds of enemy combatants, including 100 officers. [3][4] As her kill count grew, she was given riskier and riskier assignments, eventually reaching the point of being called upon for countersniping – a sort of long, drawn out duel between snipers. [3] She ended up killing 36 enemy snipers this way. [3][4]
Her legend so preceded her that she had to fend off Germany's desperate effort to get her to join their side instead. [3][4] When bribery didn't work to this end, the Germans instead sent her threatening messages, saying they would tear her into 309 pieces. This reference to her kill count only delighted Lyudmila, however, as it meant they knew of her work and her prowess. [3][4]
But Lyudmila's time in service was not without its hardships. She was injured four times and suffered shell shock, and after taking shrapnel to the face she was removed from action. [3][4] Instead, she trained new snipers and travelled to the US to spread word of the war effort and vie for the US to help fight Germany (a journey that led to her befriending First Lady Eleanor Roosevelt and speaking out against the rampant sexism of American media).
When she returned to Moscow after touring the US, Lyudmila had many personal demons to contend with, suffering from alcoholism and what was likely PTSD. But she went on to complete her history major as planned prior to the war and remained friends with Eleanor Roosevelt. Sadly, she was only 58 when she died in 1974. [4]
1077th Anti-Aircraft Regiment
In 1942, Nazis invaded Stalingrad in an unexpected strike from the north. [5][6] Extensive bombing left the city ablaze, and the 16th Panzer Division was able to move in unhindered. [6]
That is, until they reached the Gumrak airport, at which point the tanks came under fire from anti-aircraft guns. [6] There was no infantry or rifle units in place to defend the area because the Soviet Union hadn't been prepared for the attack to come from the direction it did, so the only people there to fight off the Nazis was an all-volunteer unit comprised of young women barely out of high school who had no combat experience. [5][6]
Despite their lack of experience and ill-suited equipment, the women were able to hold off the tanks for two days. [5][6] In the end, however, the 1077th Anti-Aircraft Regiment succumbed to the Nazi forces, losing all 37 of their anti-aircraft guns and facing heavy casualties. [5] But their efforts weren't for nothing: They "destroyed or damaged 83 tanks and 15 other vehicles carrying infantry, destroyed or dispersed over three battalions of assault infantry, and shot down 14 aircraft." [6]
References:
1) Porath, Jason. 2016. "Mariya Oktyabrskaya." Rejected Princesses. Retrieved January 21, 2020 (https://www.rejectedprincesses.com/princesses/mariya-oktyabrskaya).
2) Johnson, Alex. 2019. "Mariya Oktyabrskaya: The Fighting Girlfriend." Museum Hack. Retrieved June 22, 2020 (https://museumhack.com/the-fighting-girlfriend/).
3) King, Gilbert. 2013. "Eleanor Roosevelt and the Soviet Sniper." Smithsonian Magazine. Retrieved June 22, 2020 (https://www.smithsonianmag.com/history/eleanor-roosevelt-and-the-soviet-sniper-23585278/).
4) Raga, Suzanne. 2018. "Lady Death: Lyudmila Pavlichenko, the Greatest Female Sniper of All Time." Mental Floss. Retrieved June 22, 2020 (https://www.mentalfloss.com/article/565151/retrobituaries-lyudmila-pavlichenko).
5) Porath, Jason. "1077th Anti-Aircraft Regiment." Rejected Princesses. Retrieved January 21, 2020 (https://www.rejectedprincesses.com/blog/modern-worthies/1077th-anti-aircraft-regiment).
6) Wikipedia Contributors. 2019. "1077th Anti-Aircraft Regiment (Soviet Union)." Wikipedia, The Free Encyclopedia. Retrieved June 22, 2020 (https://en.wikipedia.org/w/index.php?title=1077th_Anti-Aircraft_Regiment_(Soviet_Union)&oldid=923449873).