10 Gory War Movies on Netflix
Whether they're depicting the brutality of combat or overall horror of conflict, the best gory war movies on Netflix will open your eyes and need to be experienced.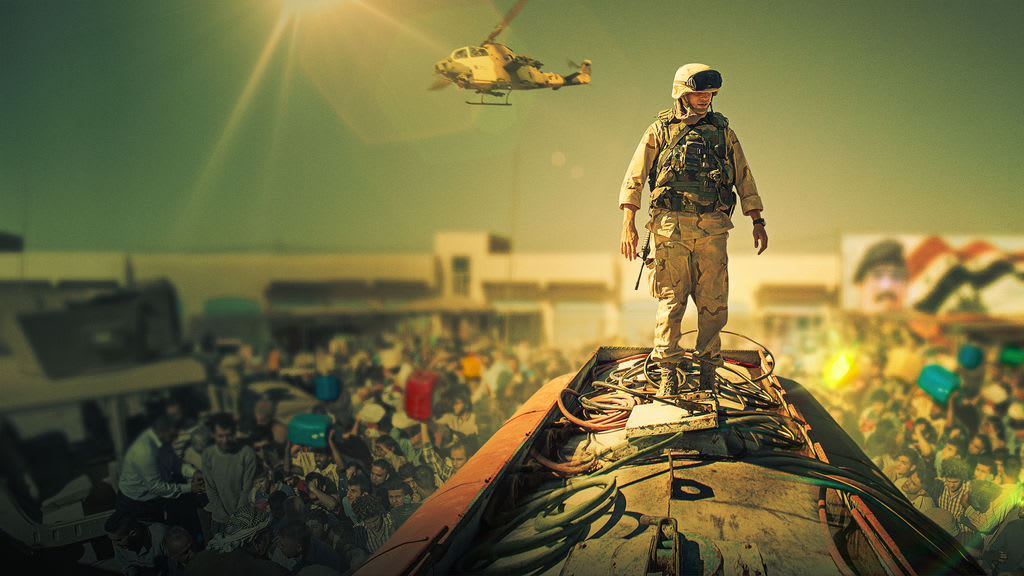 Despite removing some of their best titles in the war genre, Mel Gibson's Hacksaw Ridge and Steven Spielberg's Saving Private Ryan come to mind, there is still an abundance of gory war movies on Netflix that you need to see. These war movies take you into war from several different perspectives and all tell unique stories. What bands these movies together is the realism and gore they provide.
These war movies do not back away from the horrors and reality of war, in fact, they run right up to them and ask them to stick around for a while. With the ingenious business strategy of Netflix (the ability to binge without commercial breaks), you can sit back and knock all of these war films out in a matter of hours. Or you can watch them at a normal pace like a normal person, but where is the fun in that? Whatever route you choose to take, these are films you need to see sooner or later if you enjoy gory war movies.
Taking place during the Iraq War, Sand Castle boasts an impressive cast (Nicholas Hoult, Logan Marshall-Green, and Henry Cavill), and packs plenty of gory scenes. The Netflix original movie centers primarily around Hoult's inexperienced Private Matt Ocre, as he comes to learn the brutality of war firsthand. His unit is stationed in an Iraqi village to repair a water pumping system. Obviously, things do not go as well you'd hope. Henry Cavill does a commendable job as Captain Syverson, and both actors make you feel as if you're in the thick of war yourself.
Ethan Hawke's Good Kill explores a new phase of war, drone kills. Hawke is a former military pilot who has been re-stationed to an air-conditioned cube in Las Vegas, Nevada. His job, now, is sitting at a desk and controlling a remote drone, raining down carnage and destruction from the sky.
Similar to American Sniper in how it depicts the life of a single soldier and how they cope with adjusting to new environments, Good Kill explores how technology can have a similar effect to the psyche of an active duty military member.
During the bloodiest war of all time, World War II, the Battle of Midway was an incredibly huge turning point in the war of the Pacific. With American and Japanese soldiers engaging in both the air and the sea, this was one of the biggest battles of the entire conflict. Numerous ships, planes, and lives were lost in this epic struggle. Director John Ford takes you through this decisive battle in this short film and leaves nothing out.
Hyena Road is an interesting one. It combines a Canadian sniper, an Afghani freedom fighter, and a lot of gore. If you're a fan of military movies with snipers (American Sniper, Saving Private Ryan, Enemy at the Gates), then you're in for a treat with this one. I won't give away any major spoilers, but it includes some intense action sequences and enough sniper content to keep everyone on the edge of their seat.
Based on the incredible true story, Defiance is based on four Jewish brothers (Tuvia, Zus, Asael, and Aron Bielski) and how they protected over 1,000 Jews from the Nazis during World War II. Led by Daniel Craig and Liev Schreiber (in the movie, not in real life, though that would be cool), this movie is the very definition of enthralling.
It involves epic freedom fighters, inspiring moments, suspenseful scenes, and fantastic action sequences in a large forest. With an R rating, you can rest assured that this war film has the action and realness you're looking for.
The second Netflix original included in the best gory war movies, The Siege of Jadotville tells the real-life story of an Irish commander and his small United Nations battalion as they defend themselves against thousands of armed enemies. Think 300 but with guns and fantastic Irish accents. Jamie Dornan does an admirable job in the lead role, and the action and pace of the film are superb. With certain aspects you won't believe are true until you look into them afterwards, this film will surprise even the most veteran movie-goers.
Even if Netflix removed Saving Private Ryan from their registry, they cannot keep Steven Spielberg out completely. The legendary director was also behind the camera for Schindler's List, which won him the Academy Award for Best Director, along with six other Oscars. This iconic film, shot in black and white, shows what life was like in Germany during World War II.
The moving real-life tale of Oskar Schindler takes you through the cruelty of the Nazis in concentration camps, and how they viewed Jews as less than people. It is never an easy watch, especially if it is your first time seeing it. If you haven't seen it though, you need to add it to your list right away. With seven total Oscars and several huge names attached, it's no surprise this is one of the best war movies streaming right now.
Legendary chronicler Ken Burns, known for his impeccable documentaries, presents one of his best ever works with The Vietnam War. While technically not a movie, this 10-part, 18-hour mini-series feels like several rolled into one, so I think it safely fits here. One of the most brutal wars ever fought, full of guerrilla and trench warfare, Burns' directing skills are on full display as he guides you through the rough conditions at home and abroad.
Idris Elba could be painting a fence for hours and I guarantee I would enjoy it. The talented British actor, who's hinted that he will play the next James Bond, stars in this war film and completely makes it his own. Beasts of No Nation follows a young African boy whose is torn apart by civil war. Elba comes across this boy and forces him to join his personal militia/mercenary unit, mostly made up of similarly aged children.
Elba forces his "soldiers" to carry out horrible deeds as they go along, which only serves to further horrify the audience. A captivating story and a strong cast, Beasts of No Nation has everything you could be looking for in a war movie.
Of all the gory war movies mentioned, Full Metal Jacket has to be my personal favorite. From the mind of Stanley Kubrick, this Vietnam War movie is a bonafide classic, and it's easy to see why. Combine fantastic directing, acting, musical scoring, and storytelling, and you end up with a great movie. Who could have guessed?
From boot camp to real-life combat, Full Metal Jacket displays the gory aspects for every facet of war, leaving nothing to the imagination. With bone-chilling sequences throughout the movie, you'll be on your toes waiting to see what happens next for the full two hours, making this one of the best military movies of all time.
movie review
About the author
Huge sports fan, primarily hockey and football. Also a big TV and movie fan. Recent Marist graduate writing about whatever interests me!
Reader insights
Be the first to share your insights about this piece.
Add your insights