Strike Policy
It's important to us that our Strike system is clear and consistent for our creators, so we laid it out for you here.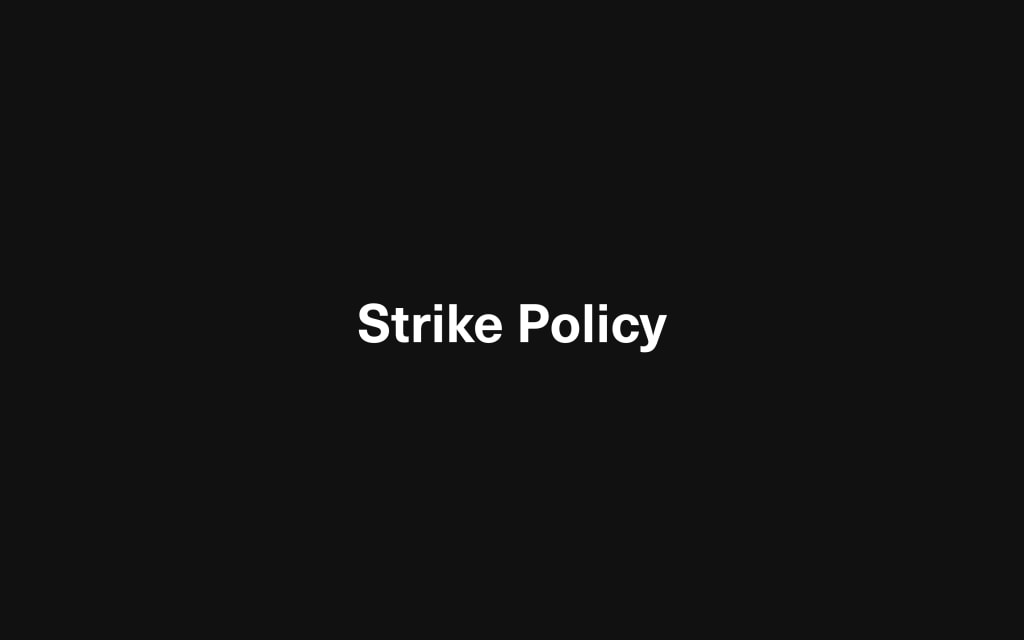 It's our goal at Vocal to provide all our creators and readers with the highest quality user experience. For this reason, everyone who uses the platform has to agree on some ground rules to be sure that we can all enjoy a consistent understanding on a safe community. These rules are outlined in our Terms of Use and Community Guidelines, and we encourage all of our creators to take a look at them to be sure that we all understand what's expected.
When creators act in a way that's not consistent with our Terms of Use, by either sending artificial traffic to their stories or otherwise violating our Community Guidelines, we take action to ensure that we're protecting others and our platform. Here you'll have an opportunity to better understand our policies and the penalties that can result from not adhering to them.
If your story contains content that doesn't meet our community guidelines:
No worries. Our moderation team checks every story submitted to be sure that it meets our guidelines. If it doesn't, they'll just send it back to you and let you know exactly what needs to be changed in order to have your story published. In the case of your submissions, you won't receive any strikes against your account—just guidance on how to get your story published.
The only exception to this is if we're made aware in your submission of an instance where we're obligated to contact the authorities. Additionally, instances of child endangerment, admissions to felonies, or other potentially harmful content makes your account subject to immediate suspension or termination.
If your account is found to engage in activity that harms others or the community:
In addition to the instances mentioned above, other behaviors like doxxing, impersonating others, or harassing or threatening can result in account termination. Vocal has a zero tolerance policy for behavior that's harmful to other users; so, depending on the seriousness of the offense, we may disable your account for a 90 day period, or your account may be terminated. Decisions will be at our complete discretion.
In instances of impersonation or doxxing, we may reach out to the email address associated with your account asking for verification of certain information. If you're not able to provide requested validation within one week, we reserve the right to disable the account. We'll never disable your account, temporarily or permanently, without notifying you via the email address associated with your Vocal account and giving you the chance to dispute it.
If your account was found to have been generating suspicious traffic:
This is where our three strike policy comes into play. If we suspect that your account has been showing suspicious activity, or attempting to monetize via Vocal reads by directing artificial traffic to your stories, then you're subject to our three strike policy. You'll be made aware of each strike through an email sent from [email protected] to the address associated with your account.
Strike one:
The first strike serves as a warning that we've noticed some suspicious activity, and will be monitoring your account weekly going forward for a 90 day period to ensure that all instances of suspicious activity are resolved. Once you've received your first strike email, we reserve the right to reject any payment requests within that 90 day period that we determine to have been bolstered by artificial traffic.
If the 90 day window passes without another instance of artificial traffic noted by the Vocal team, then your first strike expires and you have a clean slate on your account. If you're found to violate our terms again in the future, you'll start back again at this first strike state.
Strike two:
A second strike on your account means that you've already received a first strike email, your account has been checked weekly by our team, and they've found further instances of suspicious activity within 90 days of your first strike. A second strike results in a temporary two-week locking of your account, after which your access will be automatically reinstated. The date of your second strike will also mark a reset of the 90 day monitoring period, and our team will continue to check your account for suspicious activity weekly for 90 days following.
Strike three:
If you've received a second strike alert, and our team becomes aware of a subsequent instance of suspicious activity within 90 days of your second strike, you'll receive a third strike and your account will be permanently disabled. In the case of a permanent account lock, you will not be able to access your Vocal account at any time in the future. All stories published under the offending account will be removed from the network, and you will not have access to any of the earnings you've accumulated.
What should I do if I get a strike?
There's a reason that strikes expire after 90 days—we want you to keep using Vocal, sharing your stories, and earning, and we don't want a mistake to keep you from doing so forever. You'll get an email alerting you of every change, strike, or status update to your account, so if you ever feel that we've made a mistake, you have the opportunity to appeal a strike or disabled account, and we'll always look further into it.
That being said, you should always be aware of Vocal's Terms of Use and Community Guidelines. We understand that often creators don't mean to violate these terms, so if you ever feel that there's been a miscommunication, or you need any of these terms clarified for you, just reach out to us. We'll be happy to work with you and do what we can to help you stay an active Vocal creator.