Creator Spotlight: Poems by Kiesha
"Poetry helps me to really use my imagination when writing about my mental health. There is a constant theme of personifying depression and anxiety as a female person who lives inside of me." -Kiesha Solanki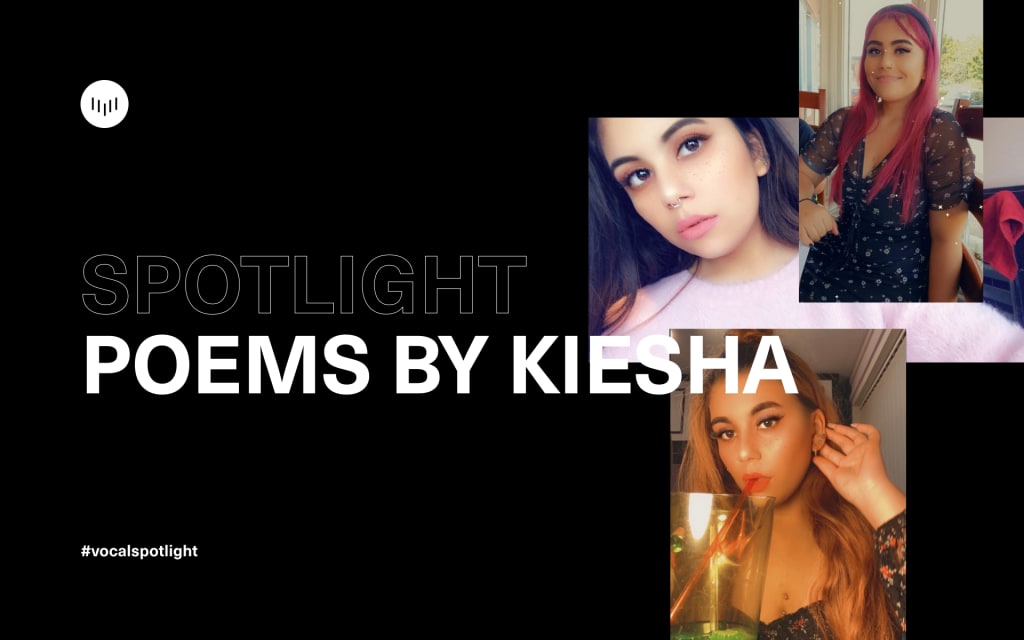 Poems by Kiesha is a project by creator Kiesha Solanki, an independently published poet who, in the span of only four months, has made a name for herself as one of over 27,000 creators in Vocal's Poets community.
Kiesha's first-person, free-verse style is driven by raw, confessional emotion that always seems to tie back to a familiar place. Poems by Kiesha read and feel like a coming-of-age movie—each scene a reckoning of where she's been, a yearning for where she's going, and a sincere expression of where she is. Her unique ability to reference her readers through her poetry while still maintaining the artistry of it all is fascinating and speaks to the organic nature of her craft.
We're proud to highlight a creator as ambitious as Kiesha in this #VocalSpotlight. Enjoy!
On Her Background, Education, and First Book of Poetry:
My name is Kiesha and I am 20 years old and from the UK. I'm currently at university working towards my degree in Mathematics. During lockdown I wrote and published my first book of poems and illustrations on Amazon; 'make him starve,' which surprisingly was very popular in Japan.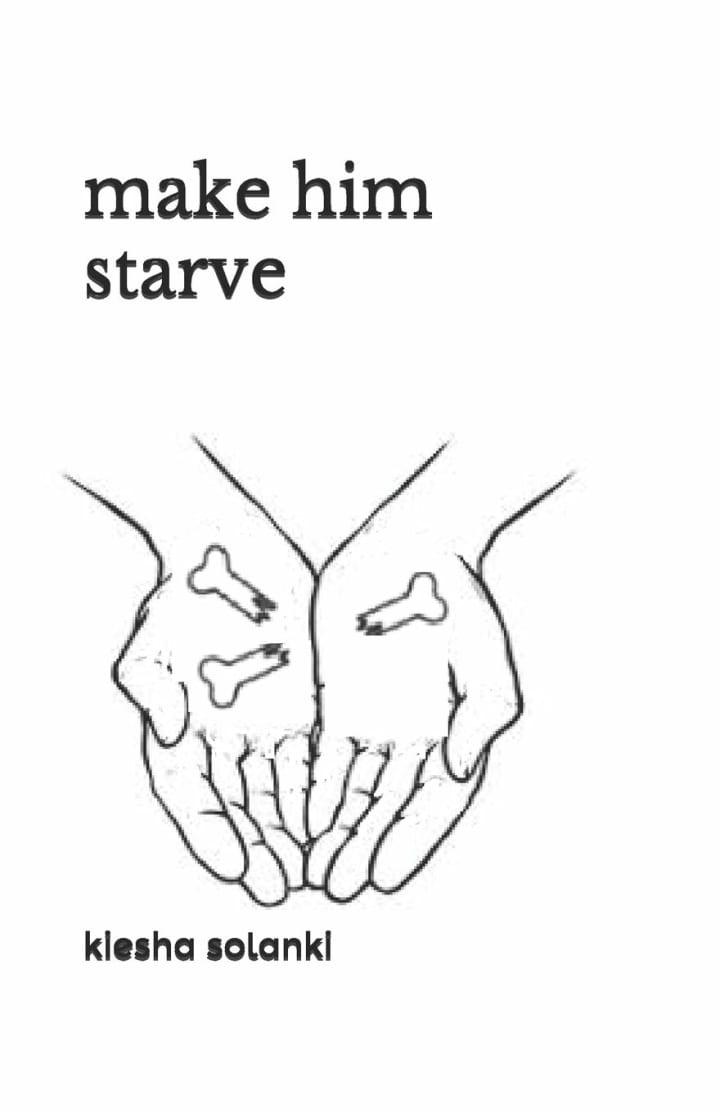 I was raised in an Indian household with a great deal of morals and culture, which I try to express through my poems. From the ages 5-14 I attended karate—I now hold a black belt with a great amount of discipline.
On Her Budding Relationship with Poetry:
I have always adored reading poetry. Writing my own poems, however, did not begin until very recently. I took the time during lockdown to begin writing as a sort of coping mechanism by turning my diary into poems. It started with something to just do and has now turned into a passion I pursue daily.
On The Next Chapter of Her Success Story:
new opportunities i am embracing

my dreams i am finally chasing

this road has had one too many bumps

but never will i ever give up

this second chance i will not treat poorly

this will be my success story
For as long as I can remember, I have been suffering from depression. I am now at a point in my life where I am finally finding my purpose and my story is only just beginning. I will always write about depression, she has been a big part of my life; but by putting my pen to paper I am slowly getting rid of her, one day at a time.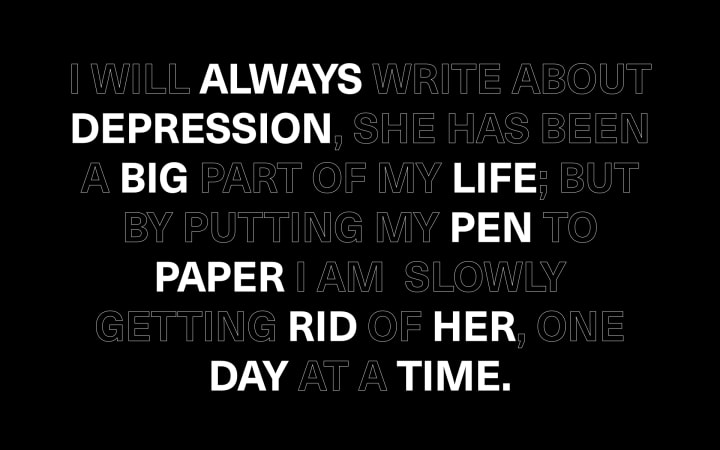 No longer am I still in the state of mind of letting depression control my life. My next chapter is my second chance to do better, I am finally gaining back my motivation and determination to succeed. Past chapters constantly contained the theme of negativity with many 'I can'ts' and 'I won'ts' future chapters will be spread with 'I cans' and 'I wills.'
On the Theme of Mental Health in Her Poetry:
Mental health affects so many people, more recently as a society we are opening up more and seeking professional help. Personally, I suffer from depression and anxiety, which began at 12 years old. The doctors advised me to write a diary reflecting my moods.
I treat poetry as my own diary. Basing most of my poems on my thoughts and feelings greatly supports my mental health. Poetry helps me to really use my imagination when writing about my mental health. There is a constant theme of personifying depression and anxiety as a female person who lives inside of me.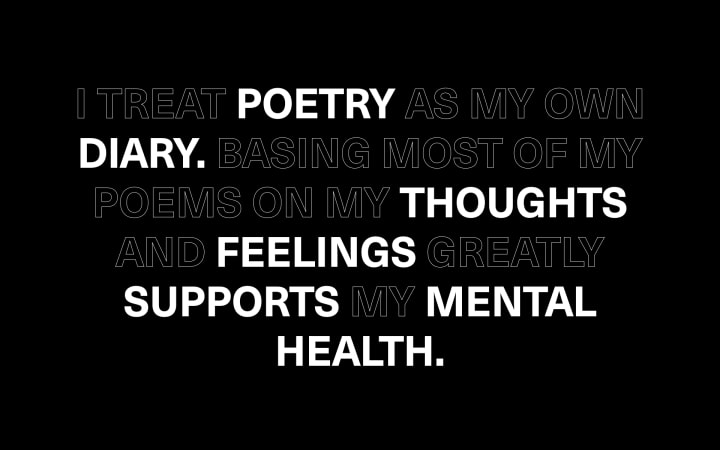 On Addressing Her Readers Through Her Poems:
i am so so grateful

my poems are mainly painful

but the fact so many of you can relate

is my motivation to stay up late

it is why i carry on writing

we all have demons that we are constantly fighting

but my dear followers you help

your love and support makes my heart melt

i just wanted to be an inspiration

a guidance for this strange generation

my mission has not yet been completed

but with your help i am one step closer to getting this pursuit defeated

i want to so deeply thank you

and end this by saying that i love you
I involve my readers to show how grateful I am because they are helping me to become the writer I aspire to be. I have no experience in writing so to get any support is valued and cherished. Addressing my readers through my poems is my way of giving thanks to each and everyone of them.
On Who Inspires Her to Create:
My parents bought me 'milk and honey' by Rupi Kaur which I immediately fell in love with.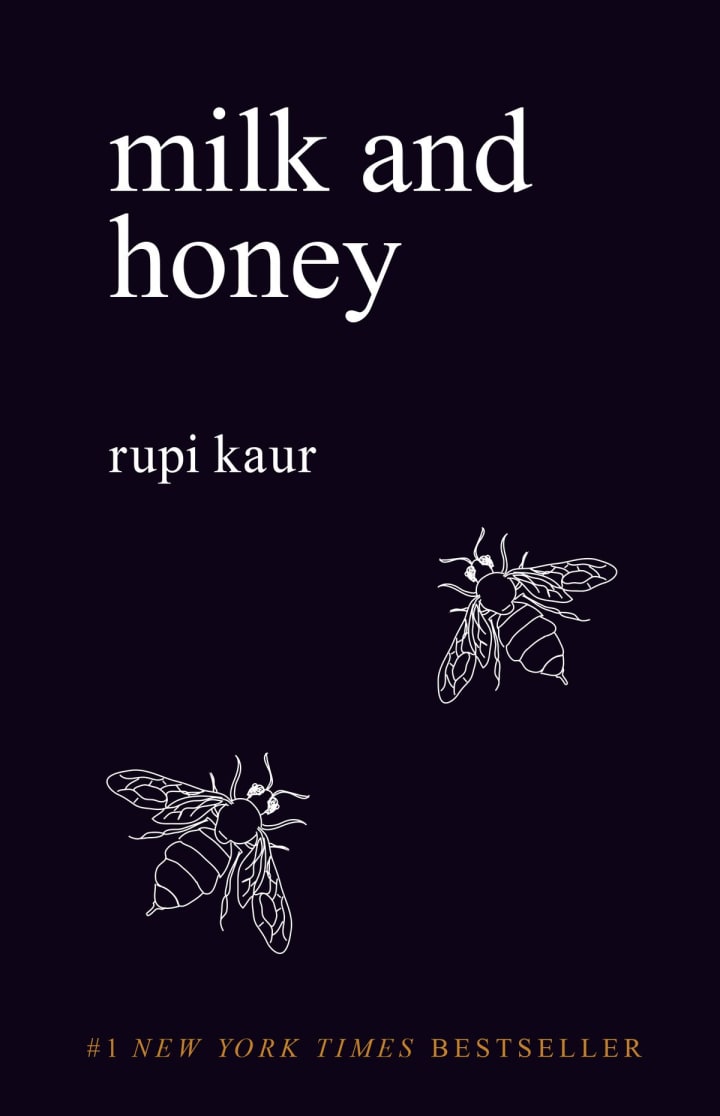 My top poets would have to be;
Rupi Kaur;
and Amanda Lovelace.
I also love performance poetry from the likes of Blythe Baird and Prince Ea. I mostly connect with writers who are very personal and write/speak in first person.
On Her Goals as a Poet:
In the near future I would love to start my own podcast. My goal is to create a podcast of slam poetry, with each episode being based on a different topic.
Long term goals include performing my work vocally in any way possible.
On Other Creative Outlets Besides Poetry She Enjoys:
Aside from poetry, I do a lot of drawing and painting, mainly of celebrities. I would like to get into producing music which I am planning to start very soon.
On How Becoming a Vocal Creator Helped to Develop Her Online Presence:
My online presence has expanded since I became a Vocal creator. Vocal offers me the opportunity to earn from doing something that I love—and tipping is something I thoroughly enjoy to do and receive. I love the opportunity to subscribe and like others' work—Vocal offers a huge interactive aspect.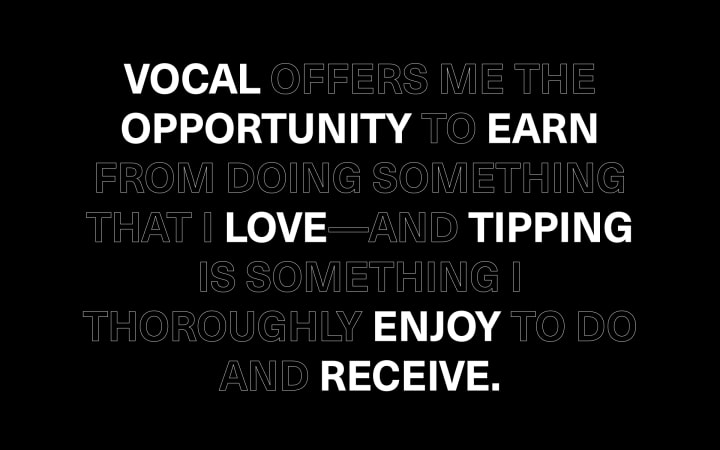 On Her Favorite Poem She's Published on Vocal:
'russian roulette' was definitely my favorite poem to write.
A Sneak Peak at a Soon-to-Be-Published Poem:
heart beating lets us know that we are alive

without it how would we survive?

when the world is trying to hold you back

she beats so you can attack

when you lose your motivation and everything is a distraction

she beats for you to gain back that passion

when life knocks down your mental health

she beats to give you strength

when you have not been watered because you are a flower

she beats to inject you with power

thanks to my heartbeat

this poem for you i could complete
Don't think about it—first thing that comes to mind:
What is one thing you couldn't live without?
My phone
Favorite Musical Artist at the moment?
Favorite Album?
Favorite Movie?
Favorite Poet?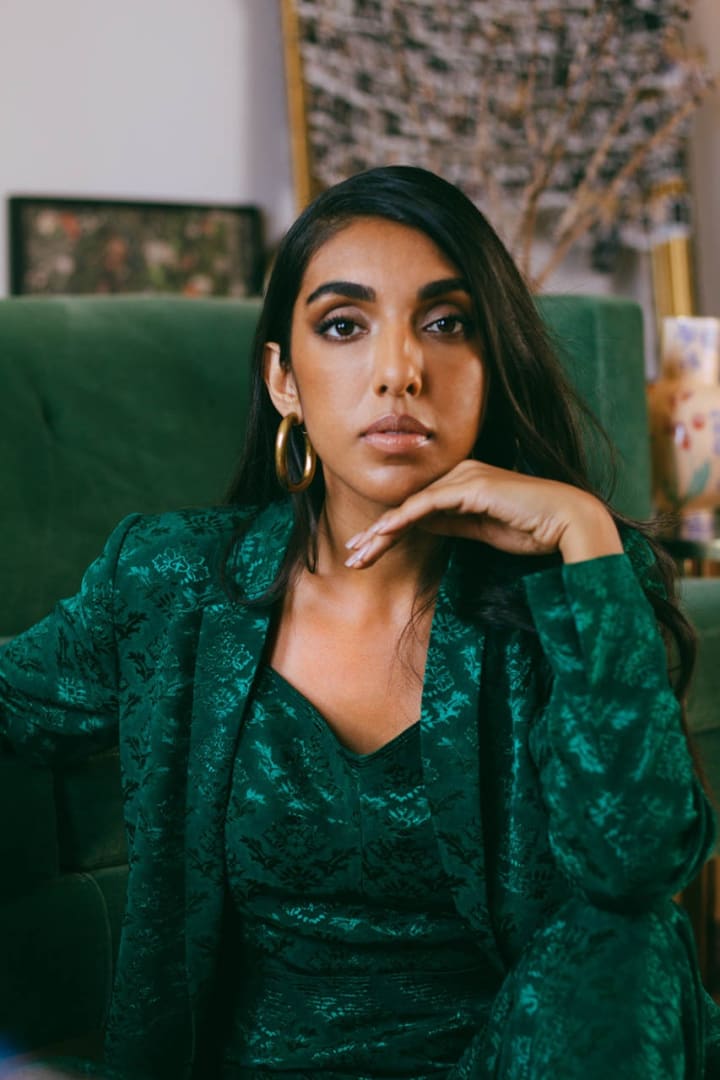 Favorite/Most Impactful Poem?
'can't be life.' by r.h. Sin
sadly, so many people

are setting the bar really low

in terms of their personal lives

working a job they hate

content with struggling

settling for relationships

that aren't actual relationships

life for so many is not living at all

and that's the problem

you get what you allow

watching others live life

instead of living your best life

and they wonder why everyone

is self-medicating

suppressing their pain

pretending to be happy

instead of trying to cultivate

a lifestyle that brings them peace

- Whiskey Words & a Shovel I, r.h. Sin
Cats or dogs?
Dogs
Favorite travel destination?
Turkey
Day or Night?
Night
Favorite local restaurant?
What's your go-to late night snack?
A pot noodle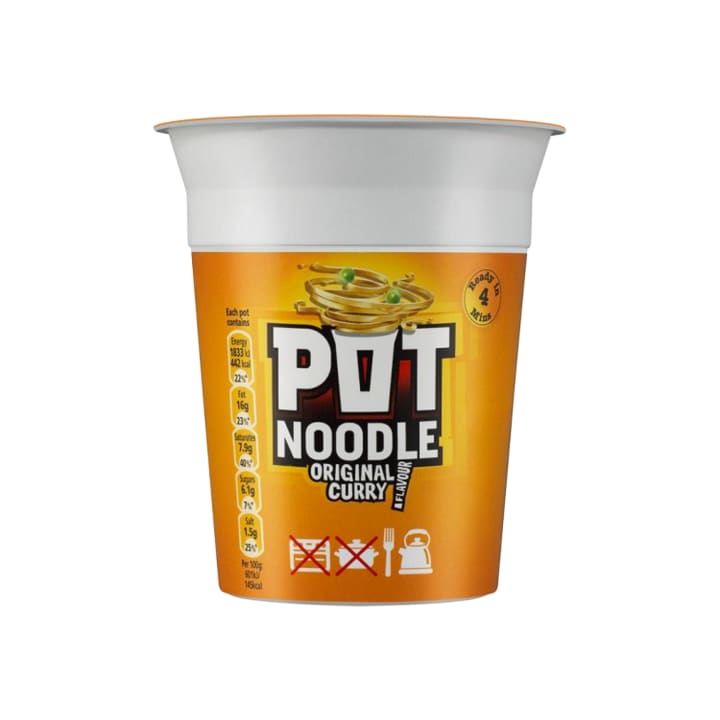 What are you currently binge watching?
What are you currently reading?
'She is Fierce' by Ana Sampson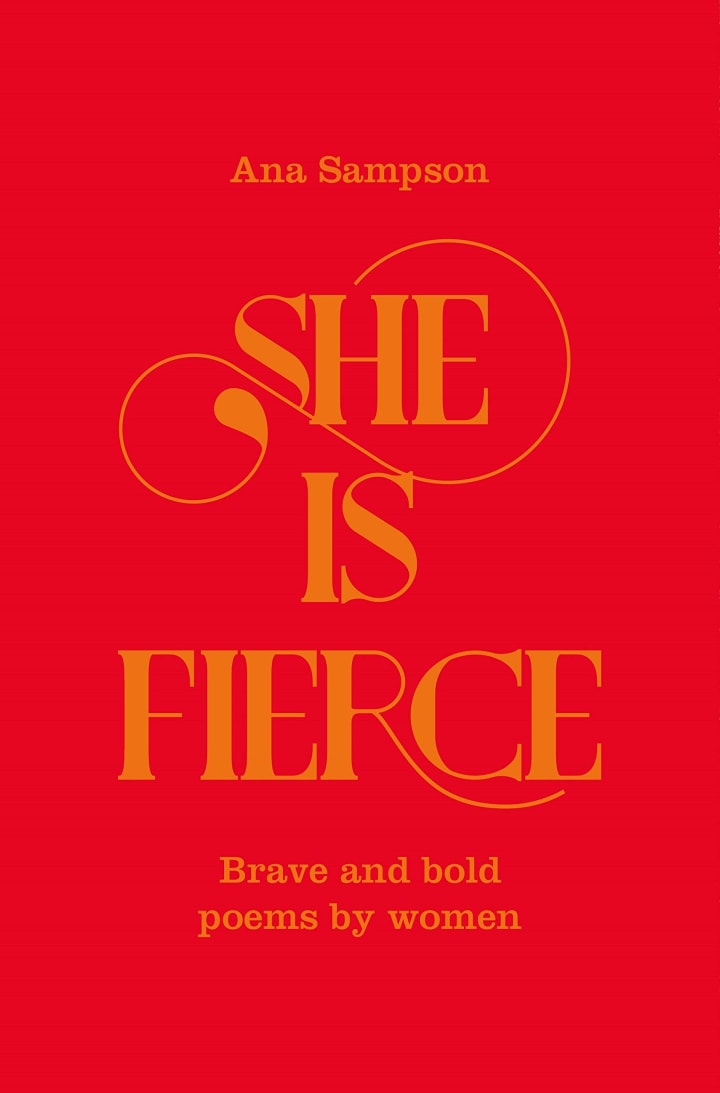 If you could speak a new language, what would it be and why?
Mandarin to challenge myself
Favorite story you read on Vocal by another Creator?
A Life Broken by Pam Reeder
Closing
Thanks for chatting with us, Kiesha! It was such a pleasure to get to know you better in an expanded, long-form format like this. Keep up the incredible work—it should go without saying that we'll be following along with each poem you publish. We'll also be keeping an eye out for your slam poetry podcast!
If you're as big a fan of Kiesha's poetry as we are, be sure to subscribe to her author page here on Vocal, follow her on Instagram, and buy her first published book of poetry, 'make him starve.'
spotlight
About the author
Vocal Spotlight aims to highlight standout creators who are changing the world one story at a time. We're getting to know the storytellers who inspire us the most, and we can't wait for you to meet them.
Reader insights
Be the first to share your insights about this piece.
Add your insights