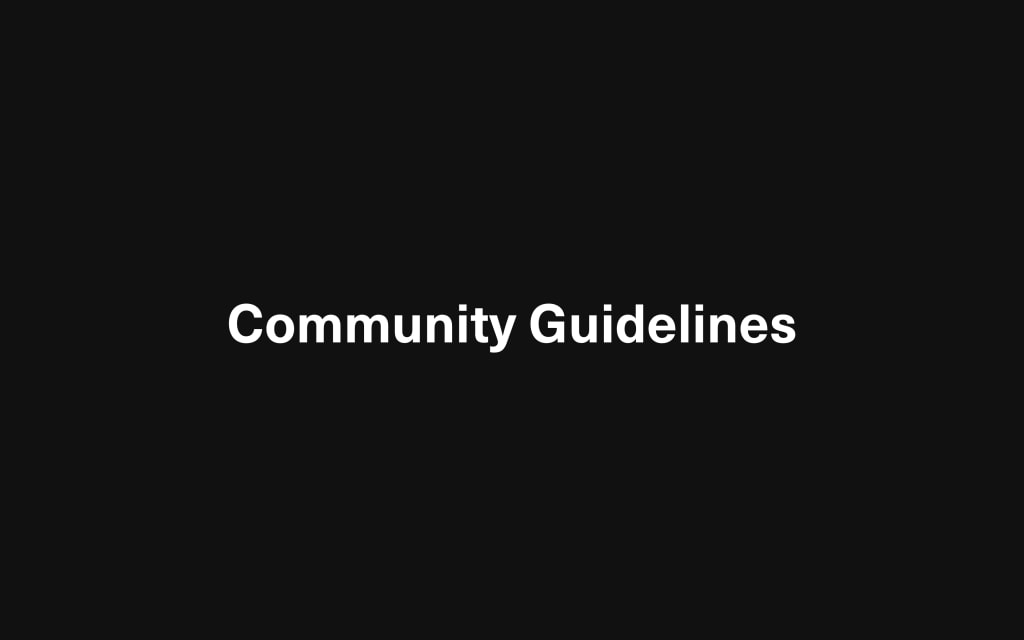 Vocal envisions a network of engaged readers and dedicated creators, fostering one another's creativity and fueling one another's passions. Idealistic? Maybe, but we're big dreamers.
If we're going to make this vision a reality, though, we need your help. Building a network of creators supporting creators requires respect, positivity, and just a little bit of common sense. By following these few basic community rules and guidelines, you'll be contributing to a network that's a safe, open space for all voices.
If you're looking for more detailed legal jargon, give our Terms of Use a read; or, if you have any questions, feel free to reach out to our customer support. Before you get started, we encourage you to explore our Creator 101 resource guides to help you complete your profile and learn how to create amazing stories.
Vocal welcomes creators of all shapes and sizes. The community is here to provide writers, musicians, filmmakers, podcasters, and other creators a place to share their stories and fund their creativity. To participate in the Vocal community, we have some guidelines that should be followed.
We generally don't accept stories for publication if they have:
Plagiarized content
This one should go without saying: Don't steal stuff. Attempts to pass off someone else's work as your own will not be published, and are also super uncool.
But that doesn't mean that all content needs to be 100% fresh and new to be published—you're free to submit stories that you've published elsewhere in the past, as long as we can confirm that you own the full rights to the content. Sometimes this confirmation requires a little help from your end; if you're submitting content that's appeared elsewhere, we may reach out to you asking you to verify your ownership of the story before we publish it. Don't worry if you see one of these requests from our team—we just want to be sure we're keeping your content secure.
Quality errors
This can be a pretty broad umbrella, but it essentially focuses on reader experience and the professionalism of your story. We want to encourage your creativity, but if there are too many issues with grammar, punctuation, incorrect facts, or clarity in your story, we'll send the story back to you to let you edit your own work.
Copyrighted Images
You can say "don't judge a book by its cover," but the truth is that readers always will. Your featured image not only appears in the story right beneath your title and subtitle, but will also be included in previews of your story on Vocal or on social media—and if your image is stolen, watermarked, or lacking a credit, it might be a good indicator to your readers that you might not be the most reliable source. That's why we won't accept images with watermarks or other indicators that the image might be being used without proper permission.
Less than 600 words...
Vocal is a long-form publishing platform, meaning that we publish stories, not short posts. A 600 word count minimum means that you keep readers engaged for at least two or three minutes, and have put together a significant bit of content you can be proud of.
...Or less than 100 words, if it's a poem
We don't require you to write long-form poetry, though—we have a lower word count minimum on Poets, our community for poetry.
Inappropriate material
Personal information or doxxing behavior: Information about others should never be shared without their consent. We'll never give out any of your personal information, and we ask that you do the same on the platform. Please refrain from including addresses and other particularly personal information in your story that may result in threats to the safety of an individual—any identifying info that is not already accessible to the public will not be accepted for publication. Also refrain from using images or videos of others not already in the public domain or otherwise covered by fair use without the subject's knowledge and consent.
If anyone reaches out to us because you've included information about them in your story that might violate these guidelines, we may move your story back into your drafts and request that you remove specific personal information before we can republish at our discretion.
Graphic violence: Violent behaviors, phrasing, or threats towards others are not published on Vocal's network. This includes threats of committing violence, harassment, or hate crimes, as well as instances of hate speech, slurs, or showing support for violent acts. This also includes notably graphic or violent descriptions, images, or videos, including gore or excessive description of gore, dead bodies, the harming of animals, and hate symbols.
Terrorism: We won't publish anything that encourages, incites, or shows support for any terrorist or supremacist groups, individuals, or actions.
Glorification of suicide or self harm: Don't submit anything that encourages or romanticizes any form of self harm. This includes promoting self mutilation or disordered eating behaviors; it also includes encouraging others to follow through with suicidal or self harming ideation, or discouraging people from seeking professional help for these kinds of thoughts. Feel free to talk about your own past or current mental health struggles—Vocal is a community for sharing experiences and supporting others—but do not shame or talk people out of seeking treatment, including medications, and do not present suicide as a potential solution to problems. If you or someone you know is struggling, please reach out to a help line here.
Nudity: Vocal accepts non-nude erotic or suggestive images, but we don't publish photographs depicting frontal nudity. Acceptable iterations of nude images include fine art (paintings, drawings, digital art, or statues) as well as photographs of breastfeeding mothers. Unacceptable iterations include pornography, as well as hyperlinks leading to pages containing pornography.
Confessions: Vocal does not publish any story that serves as an admission of guilt to a crime for which the author has not been charged.
Certain erotica subsets deemed inappropriate: While we do publish erotic fiction on our Filthy community, we do consider certain types of erotica to be harmful or too NSFW for the platform; erotica implicating a minor or involving extreme taboo violence will not be accepted.
Soliciting: Vocal does not publish any content that promotes or advertises sexual or escort services.
Minors: If we find explicit content involving minors we'll report it to the National Center for Missing and Exploited Children. We also remove nude photographs of anyone who appears to be a minor (except infants).
Copyrighted content
Like our plagiarism guidelines, this is a good rule of thumb for Vocal and for life: Don't infringe upon any copyright laws. Pretty simple.
Assertions of personal beliefs
Vocal strives to be a platform for voices across political, religious, and ideological spectrums. That being said, religion and politics can be touchy subjects, and can result in alienation or offense in a way that's become all too apparent on the internet over the past few years. We want to keep Vocal a happy, safe place for everyone—that's why we don't accept any content that takes a religious stance of any kind, or stories that make assertions about any political, racial, national, or ideological group.
Content not written in English
At this time, Vocal is an English-only platform. Any content in a different language should have an English translation provided.
"Spammy" content
No one wants to feel like they're being scammed or taken advantage of. Too many forced hyperlinks, unrelated products, or particularly sales-y language can come across as inauthentic or suspicious, and don't make for a very positive reading experience.
Deceptive content
This can include undisclosed affiliate links and other fraudulent content; hyperlinks that are misleading in where they lead, or that link to ads—interstitial, pop up, or otherwise—shouldn't be included in your story.
Fake traffic
None of our creators should try to falsify engagement data or manipulate Vocal's monetization algorithm. We reserve the right to deactivate any account making these attempts, or deny making payments to accounts connected with these attempts.
Invalid accounts
Underage Creators: You must be at least 13 years of age to create an account with Vocal. Any accounts created by a user under the age of 13 will be terminated, and we encourage parents of children under this age to notify us if they become aware of such activity.
Multiple accounts: Creators should only have one Vocal account, as outlined in our Terms of Use.
Previously disabled accounts: If we've disabled an account of yours for suspicious or malicious activity in the past, attempts to create another account without permission may result in the deactivation of the subsequent accounts as well.
Sharing login information: Your Vocal account should be a safe place! Don't share any of your login information with others, and make sure you keep it safe from prying eyes.
Impersonation and parody: Any satire or parody accounts should be explicitly stated or made otherwise clear. You can use parody for humor or fandom purposes, but don't lead others to believe that you're actually someone else. You're welcome to publish stories under a pseudonym or pen name, as long as it's not used for the purpose of misleading others. We reserve the right to reclaim any usernames on behalf of individuals, products, or institutions.
Collecting of information and data
Don't use any methods of scraping or data mining to collect content or user information, or make any attempts to decipher or tamper with Vocal's softwares and services. You also shouldn't use Vocal in any way that deceives others into giving out credit card/banking information, social security numbers, or other personal data.
Improper use of Vocal's property
Don't use Vocal's name or logo in a way that could confuse people into thinking you are a Vocal representative. We encourage you to connect with other creators, but please do not do so in a way that can lead them to believe you are affiliated with the company in any way.
Sale of regulated goods
We don't allow the private selling or buying of regulated goods like drugs, alcohol, tobacco, guns, or the sale of products from endangered species. Regulated goods are products that can cause harm to the owner or people around them when used incorrectly. If a story selling regulated goods is reported to us, we'll remove the story and reserve the right to suspend the account owner.