The Shock of Becoming Nothing
Depression as a sci-fi story.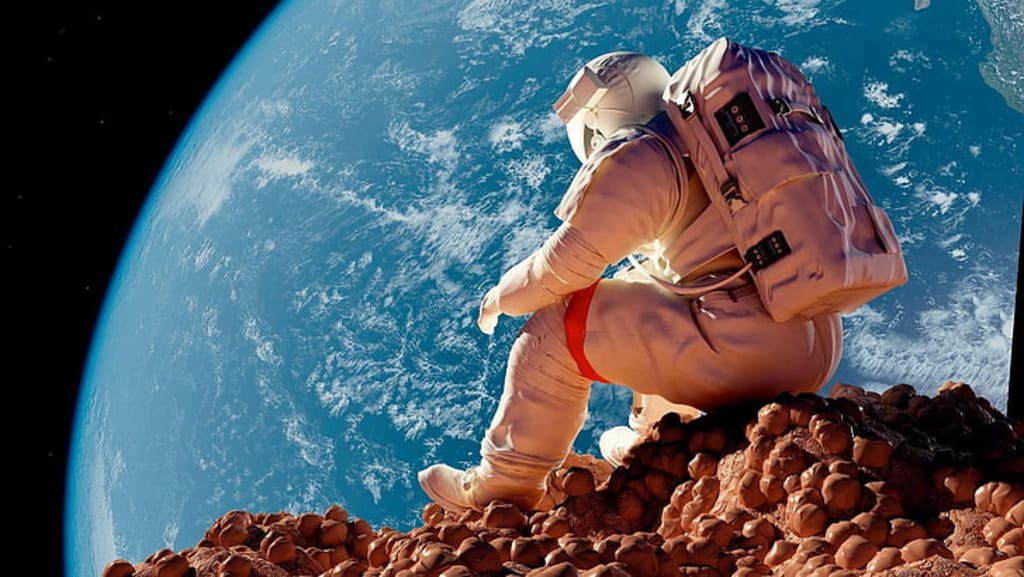 "Nobody can hear a scream in the vacuum of space, or so they say."
No, this isn't a misplaced sci-fi challenge story. I submitted something for that, but the required opening line has kept turning around in my brain.
I do that. Endlessly ponder an expression, a fact, or even a leaf that normal people would see as a step along the way, but not a place to stop. There are worlds that open up inside the mundane sights and sounds we breeze by every day. Entire philosophies spin out in fractal snowflakes; Years of self-discovery are in a single turn of phrase. All lost in the fog of normalcy.
I rarely share those thoughts.
A co-worker returned from international travels a few weeks ago, full of stories and pictures of beautiful landscapes and new foods. As she talked (and don't get me wrong, she's amazing to listen to) it occured to me that I think about the dogwoods and crepe myrtles outside our offices the same way. I wonder if she revels in those too, the seasonal changes and growth. New worlds in familiar places.
I've learned that "you're a deep thinker" or "you're overthinking it" are often used as a polite way of telling me "You're being weird again and it's making me uncomfortable." Apparently, it's important that I not make other people uncomfortable. The discomfort I feel at being dismissed isn't the same?
I'm sorry, I'm overthinking this, aren't I?
I noticed today how quickly I'll put up that shield. The discomfort is so deeply ingrained that I'll become an active participant in dismissing my own thoughts. And that's where the prompt comes back into this rambling picture.
Vacuum isn't forceful. It doesn't take that proverbial scream from you or suppress your voice. If anything is being active in this scenario it's you. You with your body of cells brimming with energy and heat and motion. Your scream is a tsunami of air molecules into the void, dissipating until it can no longer support the wave of sound.
There's no struggle because there's nothing to struggle with. Literally nothing.
I think this is my new favorite image for thinking about my depression. It's almost always imagined as an active pursuit: we struggle, win, lose, fight, battle, overcome, and arm ourselves. Well-meaning friends, family, and even therapists can make astoundingly long to-do lists for us and then be frustrated by our lack of action or success. We're not trying, they say. We need to listen. Ironic, since we long to be heard.
Depression isn't always some epic poem for the ages. We aren't all Beowulf fighting Grendel or David defeating Goliath or Scott Pilgrim vs the World.
Some of us are going through the shock of becoming nothing.
Our whirlwinds of thought and expression and creative energy are met by casual dismissals: half-hearted interest delivered via always divided attention or the quiet discomfort with loving something or someone different. We shouted, we really did. We tried to fight. But shouting only helps when people can listen and our influencing-focused lives don't value listening. Plus, how do you fight with a lack of something?
We rarely (based on the people I've met) win the battle. We abandon it.
This experience of depression isn't all bad. It's an opportunity to learn that the worth of a person isn't measured in likes or political acceptance or even in listening, but in the very nature of a person. You'll often find us living on the edges of society by choice, helping others around us and listening carefully to them. "We live small lives out here", we are told, or, "we could be more". In the business and loudness of everyday life, we look like tiny pinpricks of light. We simply nod with a smile. Out here in the void, we are blazing suns.
Thank you, patient listener. I hope you discover a new world today.
coping
About the author
By day I'm a data analyst.
By night I'm learning to write. And by that I mean I write, I hate what I've written, I write again. I'm also learning to listen to my voice and treat it kindly. Thanks for being part of that!
Reader insights
Be the first to share your insights about this piece.
Add your insights