Self-Care Sundays
Relax and Reset!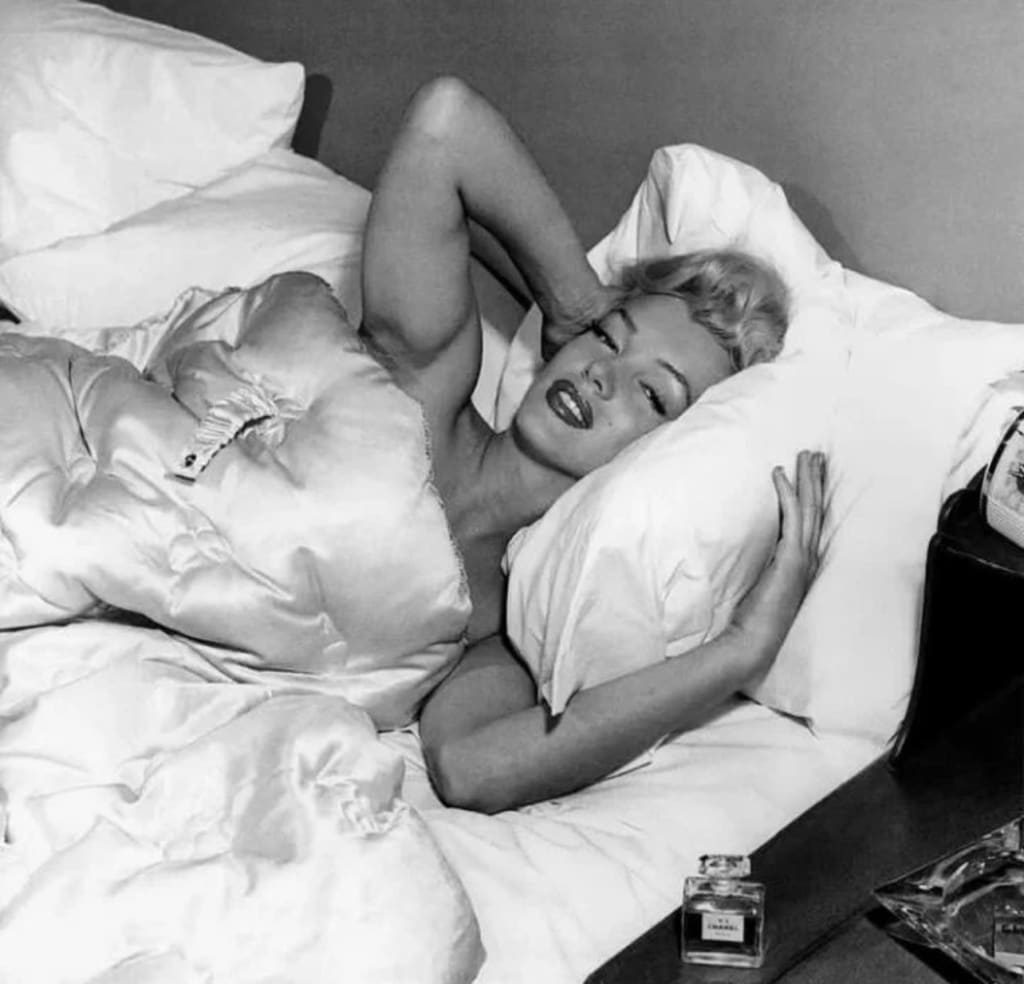 Marilyn Monroe being an absolute Sunday mood!
Two stories high and made of bricks, the first rays of sun light shine through the frosted glass windows and beam into my bedroom, lighting it up brightly. It's Sunday morning.
Awake and pandiculating, my perfectly pedicured toes curling into the bed sheets. The creamy iced cappuccino and lightly toasted croissant are at my bedside, along with some reading material. Sometimes it's a Vogue magazine or sometimes it's Charles Bukowski's Hollywood, but never my iPhone.
Taking coffee in bed on an early Sunday morning is just one of my many simple pleasures. It's a time where I can just chill and enjoy that peaceful moment to myself. Despite doing this every morning (minus the lightly toasted croissant - I leave that only for Sundays) there's something about Sundays that makes this entire experience extra special - Possibly because for the first time in my life, I no longer have to work it.
Sundays are my Saturdays, I get that same feeling of joy and excitement as any other that cannot wait for their weekend to begin.
I continue to sip on my creamy iced cappuccino and nibble on my lightly toasted croissant while slowly reading through the glossy pages of Vogue's latest issue.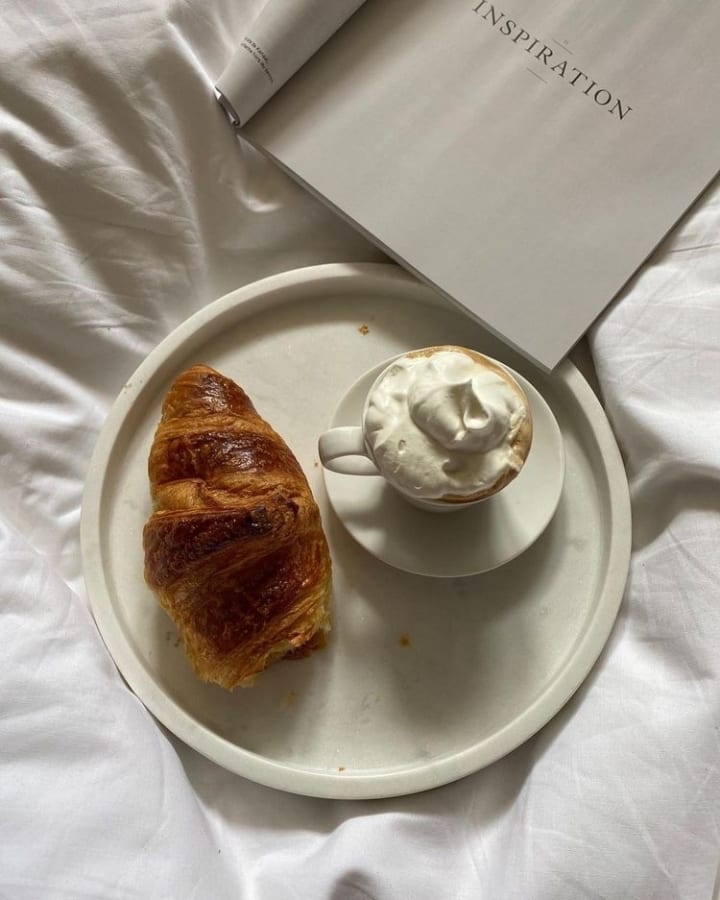 It's roughly 10am now; I'm lacing up my Nikes and am about to head out for a morning walk. I've only just gotten back into the habit of walking, it's something that I like to do on my days off. For me, doing that little morning workout helps to clear my mind and gets me energized for the day ahead. Sometimes I'll switch it up and do a morning yoga session instead.
I'll walk for about an hour before heading back, may or may not stopping by a local café and picking up a takeaway café latte for the way home.
Sunday afternoons are my most lazy especially in the winter time, which currently at the time of writing this Australia is experiencing. I like to spend the cold afternoons cozied up on my bed with a soft fluffy blanket and a book while the faint sounds of Lo-Fi beats play in the background. I could stay like this for hours if I don't have to go anywhere, slowly sipping my café latte as I read.
When I'm not working, this is what I can be found doing most of the time. I rarely ever go out anymore; the novelty of it wears off.
As a Makeup Artist, I'm around people all day every day, and I love it, but sometimes you need that alone time to just do nothing but exist, relax and reset your energy levels.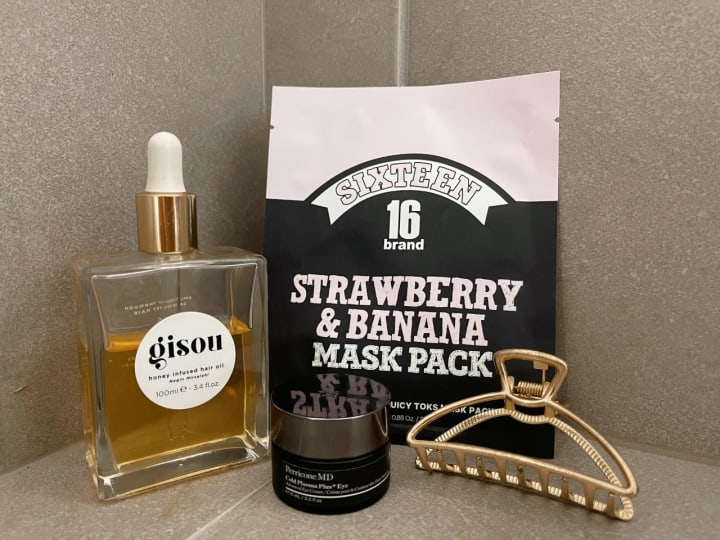 Its Sunday evenings that I look forward to the most! For dinner I usually keep things light, either a whimsical salad with balsamic glazed strawberries, walnuts and feta tossed over some rocket leafs or a small grazing board. No matter which meal I go with it will always be accompanied with a glass of red wine - and of course Netflix.
The tub is filled and the bath-bomb sizzles and fizzes as it turns the warm water a soft milky blue. I can feel my entire body relax; nothing is tense. More Lo-Fi beats sound in the background as I lie back, during this time I like to use a face mask. My go-to is a strawberry and banana sheet mask. These sheet masks are made from fruit extracts and help with a variety of skin concerns. I continue to laze in the bath for another twenty minutes before peeling the sheet mask off my face as though it were second skin.
I nuzzle a white fluffy robe around myself and begin to gently massage the remaining essence into my face. I view skincare as self-care, despite doing my routine nightly, Sundays are for sheet masks.
Fresh dewy skin reflects off the black screen before the opening movie credits begin to roll. Sitting back against propped up pillows I begin to file my nails, re-shaping them softly to mimic a coffin. I love this shape because it's not entirely square - which I loathe. Massaging glistening gold cuticle oil into my nail beds I instinctively begin quoting Elvira Hancock's lines because now it's become a force of habit every time I watch Scarface.
Two stories high and made of bricks, moonlight shines through the frosted glass windows and beams into a dark bedroom, casting a white glow. It's no longer Sunday. It's no longer lazy, but I feel reset, self-cared for and ready to take on another week.