Ode to Amber
Music credit: Patrick Michael Muella, my future husband.
He wrote this for me. My love. We met through an app called Tinder. In fact, we haven't even met in person. Yet, we fell in love. The song below is when I fell in love with him.
His name is Patrick. My name is Amber. He is currently commercial fishing in Homer. I just admitted myself to rehab for the third time in my life.
He is aware of all that. He's very supportive of me going to rehab. He wants me to be healthy.
I have worked as a nurse for the past seven years. I was working at a jail for the past 4.5 years as one of the two nurses in Nome, Alaska. My nursing license is suspended for one year since last week.
I was in a 12 year relationship until June 1 & we have two children together. They were in Panama City, Florida since January. I was commuting to PCB on my weeks off a few times until COVID hit bad.
We were not on good terms but I was still staying at his house until June 1. The night before they got back, I invited a guy over & someone took a picture of the guy's truck & sent it to my ex.
When they got back, he carried my California king sized mattress out right in front of me. It was so big that I didn't know what to do with it so I lit in on fire. Then I realized it was not a good idea so I tried to douse it out.
Then the cops showed up & arrested me. I was brought to the same jail where I've been a nurse at for 4.5 years.
The windows had to be covered up before I was brought it so the inmates wouldn't see me. They saw me anyway. Heckled me. I was in there for two days & released on my own recognizance.
So on June 1, when the whole country was rioting & I didn't even know about the riots, there I was, all 5'4" & 125 pounds of me up in Nome, AK causing a scene & getting arrested.
Later that week, I moved to Anchorage, Alaska. I purchased a brand new 2020 Chevrolet Silverado & picked it up on June 8. The next night, I went out on a first date with a guy named Clayton.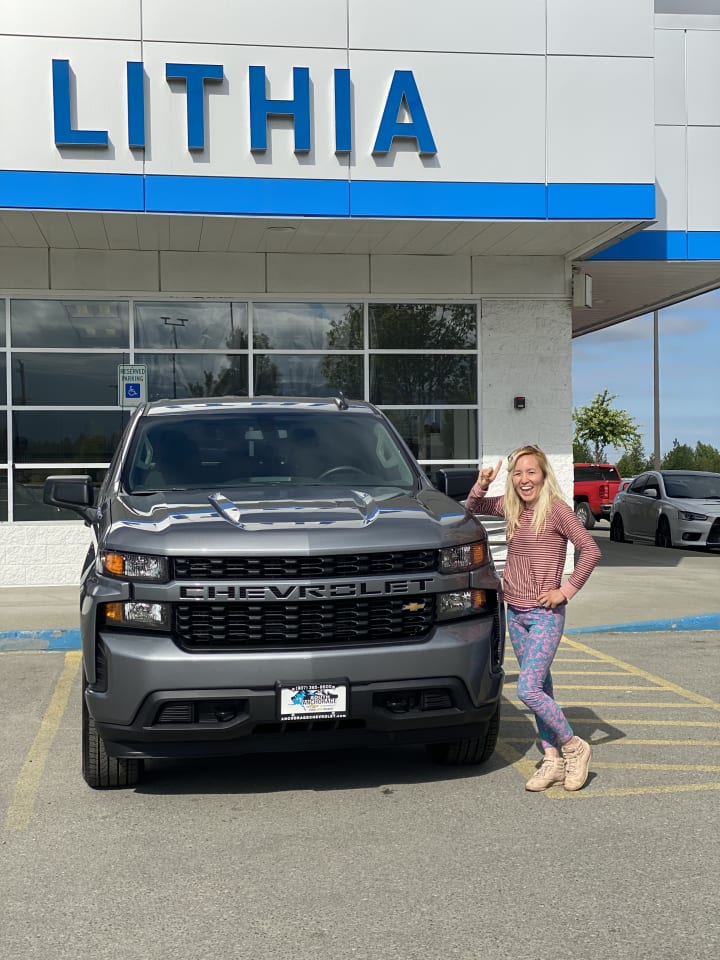 I wanted to drink, so I let Clayton drive. We got involved in a high speed cop car chase & got away.
We drove down the New Seward Highway & there is a long stretch where it's just a straight path. I wanted to go fast so he hit 115 mph. Thank God we didn't hit anyone or crash.
We turned onto Gorsuch Road. Having a good time. Then everything went white around me. We crashed into the trees. We were both wearing seat belts, so we did not get injured badly. Seat belts save lives. I got a scratch above my right eye, one on my nose & a small black eye.
I called a cab. I asked if I should push the Onstar button & he said no. I did anyway. They asked what happened & I said we crashed my truck, didn't know where we were but we would be okay.
We got into the cab. About to get away, then the cops showed up. They asked who was driving & we said a third person. Where's the third person? In the woods somewhere?
Without thinking, I said I tried to move the truck. So I had to do sobriety tests. I did two & thought I passed. Then the male cop told me to turn around, walk towards the cop car & put my hands behind my back. I was arrested. Nine days after being arrested in Nome.
Once the guy saw I was getting arrested, he admitted he was driving so he got arrested too. Great first date, huh?
Two nights later, I was with the same guy at a hotel drinking. We were outside along with five other guys & Clayton got upset because some guy was being flirty with me.
He tried to fight him. I wrestled him back into the hotel room & he started punching the walls & yelling. So I got naked to try to calm him down.
He calmed down. Then the knocks came. It was the cops, again. One of the cops was there at the scene of the truck accident. I answered the door naked. They asked if there was a fight going on in the room. I told them, "No, the only fight going on in here is my boyfriend beating up my pu$$y."
I took two steps towards the cops. One said if I took another step forward, I would be placed under arrest for indecent exposure. So I backed up into the hotel room and shut the door. They left.
On June 14, I went back to rehab at the Betty Ford Center for two weeks. Once I left there, I got myself into so many different things.
I stayed in California with the intention of doing intensive outpatient treatment for alcohol. I was kicked out of the program because I missed a whole week of IOP.
I got mixed up with several different people. I did shrooms for three days. I tried crystal meth three days in a row. I tried ecstacy & cocaine. Eventually I made it back to Alaska on July 18.
Now I'm in Dallas, Texas for rehab. I got here on August 8. This time it's not just for alcohol. I've gotten into shrooms, ecstacy, cocaine, smoked crystal meth a few times, smoked black tar heroin once, smoked OxyContin once, & I tried speed once. The speed was put where the sun don't shine so I didn't feel normal for several days.
I'm finally starting to feel normal. My mind isn't so foggy. Addiction nearly destroyed me. Sometimes I didn't even know what day it was or what I was doing. I didn't even know what rehab I was coming to this time.
I almost lost my life & my soul. I didn't even know who I was anymore or what my purpose in life was. Addiction is a disease. It destroys so many & we all have to fight back. I'm trying my best.
Patrick should be done working in a month. I should be done with rehab in a month. After that, we are meeting up & we're going to the courthouse to get married.
I've never believed in love at first sight, until this man came into my life & swooped me off my feet, stole my heart & locked it into his & threw the key away.
I'm his forever & he's mine forever. Forever & for always. He's my new addiction.
Ode to Amber. Ode to Patrick. Lovers for life.
addiction
About the author
Inupiaq Eskimo from Unalakleet, AK. Registered nurse. Mother of two boys. Cannabis is my favorite hobby. Not your average human being. Breaking the stoner stigma one smoke session at a time. Up in smoke getting higher than a motherfucker.
Reader insights
Be the first to share your insights about this piece.
Add your insights