How To Be Free, Truly Free, In A World Of Illusory Freedom
"But, I am already free." You might say, "But I am already free."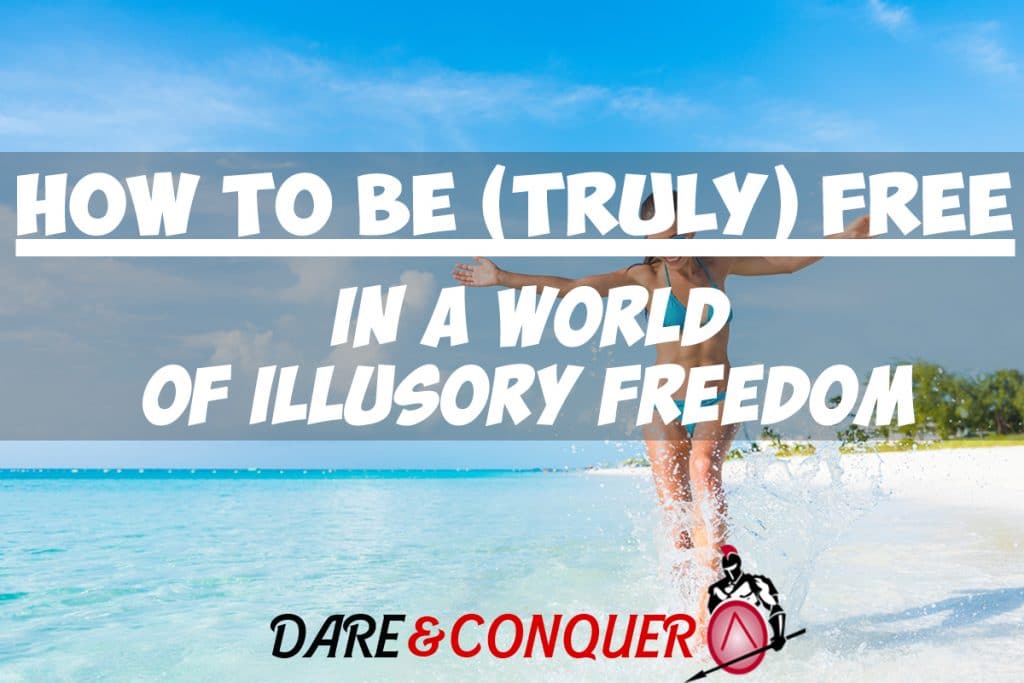 "But, I am already free". You might say, "But I am already free."
This is a lie.
The majority of the rest, except for a few lucky winners, aren't free. They are slaves.
They are enslaved by their work.
They make you slave to their relationships.
They have made you slave to your financial woes.
Their college education has made them slaves.
Worst of all, they are enslaved to their own limitations and regrets.
It's not easy to live a life filled with regrets, limitations, and uphill battles.
This may be because you believe that it is how things are. You cannot make major changes in your life.
You can't eat the whole cake. It shouldn't be easy. You don't need to learn "how you can be free" because you are already free.
Listen...
You don't have to live a life filled with regrets, disappointments, and uphill battles.
You could actually be truly free in a world full of illusionary freedom.
Before I tell you how it works, let me tell a story.
New York City has always been a dream of mine. Mykonos is the most popular destination for a Greek 20-year-old, where they can party, drink, and have sex with other drunkards.
People who travel to foreign countries often choose to visit low-budget destinations like Budapest, Prague, Barcelona, etc.
These are wonderful cities to visit. However, I don't like the idea of compromising with the familiar. I like to explore the unknown.
I was in Dubai and I had a great time.
New York City is the most likely destination to be "big".
It was difficult for me to find someone who would be willing to travel to NYC with my.
The following were the problems that most of them encountered:
They don't have the money.
They are students at college and cannot leave Greece for more than a week.
They are being funded by their parents, but they wouldn't give them that much money to go on a trip.
They work in a job they cannot leave, or they will be fired.
Please illuminate.
What is "freedom?"?
You are wasting your time trying to get a useless degree and enjoying college like it's the best part of your life.
You have to work long hours and your children grow up without you there?
This way of living is not possible.
Freedom is, by definition, the ability to do what one pleases without restraint or hindrance.
How can you be free if you're being held back by your parents, college, job, or financial troubles?
The Life of a Person in a World Of Illusory Freedom
There are three types of people in the world.
Roaming Bums, Educated Drones and Free Men.
Unfortunately, the majority of people (like 99%), fall within one of these two categories.
1. 1.Educated Drone
The lie that you can get a degree if your college education is hard work and you study hard, is bigger than the lie of being truly free.
Most people go to universities as a way of gaining more freedom.
They don't know how they can be free so they believe that college and education will give them more options.
While that may be true to a certain degree, it is not the truth.
This is what actually happens in the real world today:
You will need to put yourself through 4-5 years worth of boring classes and 2 years of post-graduate studies in order to be able to work 40 hours a week for just 1500E.
But that's just for the fortunate ones. A large percentage of those who follow that path will be unemployed and living with their parents by 25.
Even for the fortunate, it's only $9 an hour. is the only who has graduated .
Your college time wasn't taken into account. The same goes for what could achieve if they had more time.
This is without considering the possibility of having to take student loans, which could lead to a mountain in debt once you graduate.
Let's take an example of no student loans:
7 years x 6 hours per day for learning, attending classes and studying = 61.320hrs.
Although you weren't paid for the entire time, you were told that you "invested" in yourself.
If you worked for all of that time, would have earned $551.880.
This is a random example based on the notion that you could have worked for $9 an hour before graduating.
It is possible to do so today. Learn a basic skill online and make money.
In a few months after I started my self-employed/entrepreneurial endeavor, my ability to produce went over $60 per hour.
It was then that I realized that I didn't have to work at an hourly wage. My income skyrocketed from that point on.
Regardless, the simple math calculation that I made above revealed how much I would have lost if I had continued my Chemical Engineering studies.
When you realize that going college is a great idea, your thinking starts to change
is half a million USD
In potential earnings (in a best case).
Imagine if you could build a passive business that makes you more money than you ever imagined.
The loss potential is much greater than half a billion dollars.
After graduating, educated drones will not be able to see the consequences of their actions. Only then can they see that their time was not well spent in exchange for a piece paper bearing their name.
Society standards say that some educated drones "make" it. But are they truly "making it"?
Would you have known Mark Zuckerberg or Dustin Moskovitz if they had continued their college educations?
Facebook would have been built by someone else.
Two unknown men, Zuckerberg and Moskovitz, would work for the man who built Facebook.
They would have "made the cut" according to society's standards. They would have a Harvard college degree, a job with good benefits and a two-week vacation each summer.
Instead of following that path, they chose their own. What did they achieve?
Mark Zuckerberg bought the four homes around his villa to protect his privacy. The total cost was $30 million.
This is freedom.
They are correct when they say that money can't buy happiness.
Money can buy freedom and choices which can make you happier.
However, the majority of educated drones are confined to their homes.
Because they are either in college or do not have the funds to travel, none of my friends can accompany me on my travels.
Many of them have been working their tails off during the summer because they realize that their parents will not support them for ever. They are now able to travel for 3-4 days across Europe. But that's it.
They are interested in the possibility that this could happen with binoculars, whether you're talking about North America, South America, or Asia.
2. 2. Roaming Bums
I don't like traditional education, colleges or universities in general.
They are not something I hate, but it is not worth the effort. We live in an age where being successful doesn't require a degree.
It is so shameful that many people take that to mean "I don't need to go to college to study, so I will do nothing. But my life will still be great because it is what I deserve"
This could not be farther from the truth.
It is not logical to abandon the traditional educational path. To get on the fasttrack to wealth and knowledge, it is only logical.
You don't have to go slow when you can do it faster.
Instead of moving quickly, people choose to just be lazy and wander around like bums.
These people work to make ends satisfy. They are usually people who work for minimum wage or low wages.
You can be a waiter, a secretary, or a delivery boy, and many other commodity jobs.
They could be re-elected by the next applicant. They end up wandering from one job to another, doing everything just to survive. They complain about how hard life is and that they weren't given enough opportunities.
They don't take the time to learn on their own. This is a requirement for success even if they do not go to university.
It's not enough to sit back and hope that riches will come your way. It is possible to go from poverty to wealth, but you have to make it happen.
Being an educated drone can be a horrible choice, but being a wandering bum is usually a worse choice.
3. 3.
We are now at the top of all categories. How to get free?
Do what you have to do to get there.
The top 1% are the Free Men.
Freedom-loving men can have their own life and the freedom to make their own decisions. They make an average of $10.000 per month, while others make many millions.
However, not all wealthy people are .
Don't confuse having money with being rich. To get the money they have earned, many have to pay a high price. Many people are unhappy, even though they have a lot of money.
Free Men are outliers, contrarians, and non-conformists.
They don't like being considered politically correct. They do their own thing and don't care what other people think.
They are a great investment in themselves and surround themselves with winners.
Free men are a real asset to the world. They have the ability to make a positive difference in the lives of others by giving advice and using their wealth to benefit them.
They are also not bound by society's expectations and standards. They have the knowledge, money, and power to live their lives on their own terms.
Join the Free Men clan and you'll never leave.
When you are truly free, it is impossible to go back to being an educated drone or a roaming bum.