Demons & Angels
Peace is an inside war.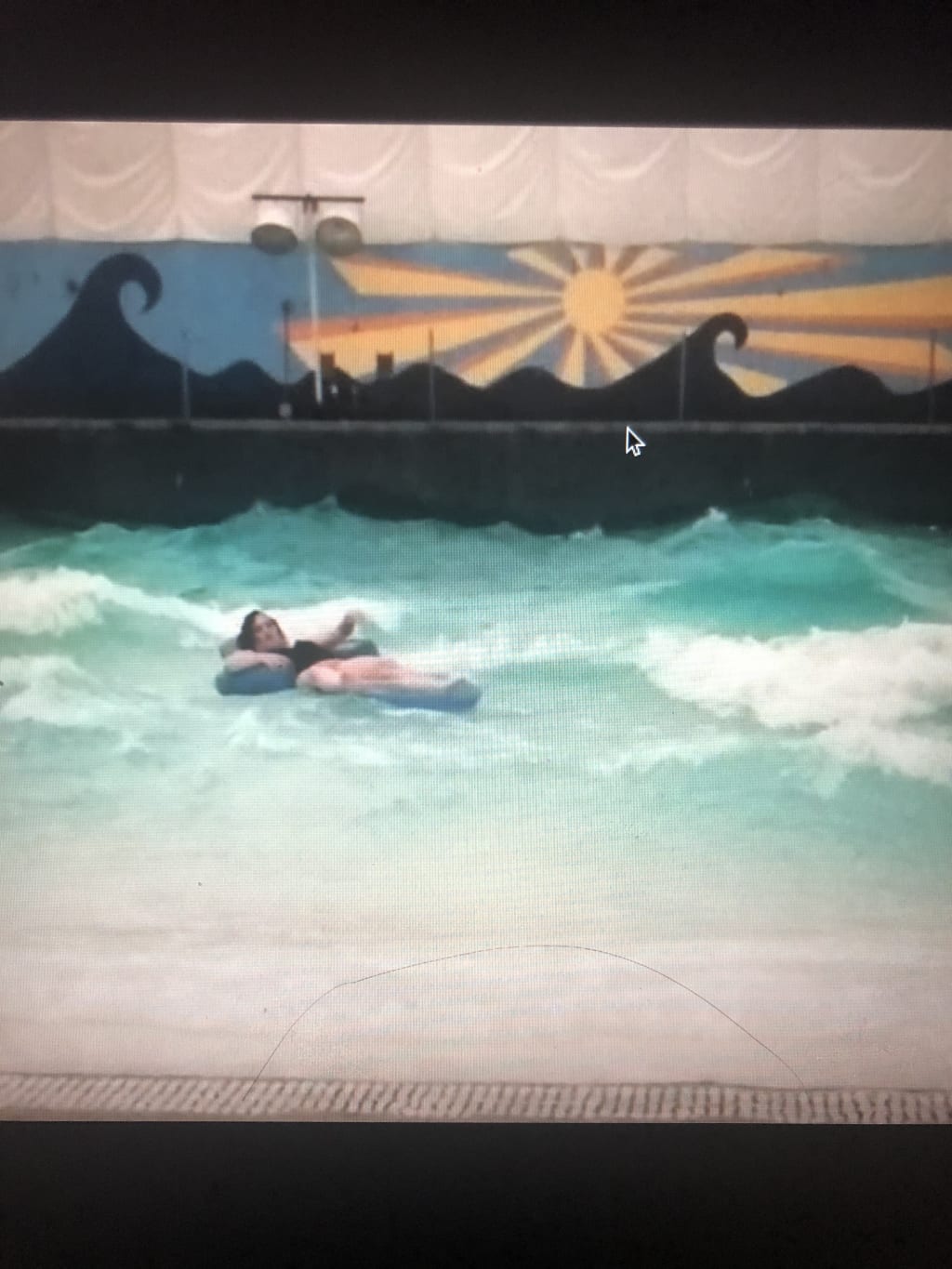 At a wave pool in my home state of Utah. One of the happiest and peaceful moments of my life.
Even as a semi-professional medium, I'd never seen or believed in Demons. Sure, I believed in Angels and spirits. They appeared everywhere as flashes of light supporting someone who was in tears. Hugging a stranger who was hiding the pain inside of them.
Yet, the only demons I'd personally encontered were the ones in real life. Not that I judged. I certainly had my own demons and demon-like behavior. Maybe even pushed someone over the edge. The way someone did to me last Friday. Not saying it was karma, but it was definetly a result of me ignoring my gut insticts.
Many times throughout my life, Angels catched me when I fell. Like at work six months ago when I collapsed and couldn't get back up. Why? Because of my psychic gifts, I knew my 13-year-old baby's light above her body was dimming. She was on her way out. The only baby of mine. Since I was unable to have biological children. Faith was not only my baby. She brought faith back into my life so many times. Helped me believe in unconditonal love again. And was a life saver for me. For I knew she needed me to stick around, no matter how much I didn't want too. She was my child and service dog. Right up until the last few years, I took her everywhere. Until she slowed down and preferred to stay at home with her grandma. My Angelic Mom looked half her age, had a heart of gold and was with my baby the second she died. I was unable to garnish the inner strength my Mom possessed as she watched my doggy die in her arms. Work wouldn't let me leave anyway.
The other reason I collapsed at work that September day, was due to it being the anniversary of my adoptive brother's death one year before. Well, my sisters and parents called him their only son and the brother they never knew they wanted. But to me, he was so much more. He was my protector as a big brother, he was my soul brother and we could talk about anything. He understood me. We didn't need words to speak to each other. For example, I knew when he was rolling his eyes at me, even if he was wearing his shades. Something he often did. As the light of the world, like with me, was often too painful for him in more ways than one.
He made me feel like less of an alien, less of a lazy freak who couldn't hold down a job, couldn't sustain a relationship with a man or woman, couldn't keep friends or myself above water. He was healthy, when I was sick. I was healthy, when he was sick. Angels and his Mom, who took her life as Will did. He took a knife to his heart and can now only show his love from the other side. Gratefully, due to our connection and my clairaudience abilities, I knew he was gone so for once I didn't rush over to save his life from a failed attempt. This time he told me not to go and that he was already on the other side.
That was no accident. If I had seen his body the way our other best friend had, his death in cold blood, how could I recover? My platonic soulmate was dead. I collapsed at work on his anniversary and an Angel was there to not only pick me up off the floor but to put me in a room at the former building I cleaned and take time out of her busy schedule to talk to me for about an hour. Not only was I able to finish my shift and go home that day. But the next day, this woman. This Angel who became my closest friend outside of my direct coworker. She had left me a greeting card the next day and since I'm a janitor, she left it in the kitchen where there's a space for me and the cleaning supplies.
Not only did she help me deal with Joe's passing, but she also got me through Faith's death, as I had predicted a few months later. She told me words that were lifesaving to me, "Going through the death of my puppy baby was the hardest thing I'd ever gone through."
This woman, Hope, was correct. She helped me in more ways than she will ever know. I needed to understand that this whole in my heart that had grown deeper after Faith's passing was something, like her, I could get through. The loss of my baby was akin to the loss of a limb. I would gladly give a leg to see her or Willy again. If I could sit on a bench and talk to anyone in the world who has died or is alive, it would be Willy holding Faith.
Friday was the day everything changed, and I didn't have an Angel holding me up. At least, not where and when it counted. I was trying, as I often do, to be my own Angel. To find inner peace inside myself. But after an angry letter by my boss, giving me thirty-day probation because I was reading a book while I was cleaning one of the bathrooms.
This last day, a supervisor was there in the kitchen with me, making me mega nervous. I had had three hours of sleep due to being concerned with the loss of my job. My fears or premonitions were about to come true, as they often did. And it was worse than I expected. If only, I had listened to the terrible gut-wrenching emotions overcoming me the night before.
Without my comfort book I carried with me everywhere, I felt lost. Uncomfortable. Scrutinized. Scared this job was about to be sabotaged in some way as so many before it. The day. The last day. Demons were at play everywhere, especially the ones inside of me
My brother-in-law laughed one time when he saw me coming out of the shower with a book in hand. He thought I was reading the book in the shower. I wasn't. Hey, kids have blankets. I have the current book I'm reading. It makes me feel safe and gives me the opportunity to escape into another world for a while, any time I want. Even in the shower. As long as it was my book, because I financially support my local library more than I do my own stepdaughter.
Speaking of money, my hands trembled as I cleaned the counters.
I knew something would happen to cause me to lose my job and there also went two-thousand dollars a month. Even though money was never something I cared much about. Partly because I have three angels in my life, who would never let me go without. My husband of two years, and my parents. They've all seen how every day is a struggle for me. I was on Social Security and medicaid for two decades. But then I got married. Inherited a hermosa or beautiful stepdaughter, I wanted desperately as the only citizen in her able to support her path to citizenship, as her step-Mom. But that dream went out the window that day at work.
The last light in my soul went dim the moment a co-worker said these words, loud enough for everyone in the lunchroom to hear, "Get a rag. That is so disgusting. Wash it. My God." She pointed to someone else and they laughed.
I froze, trying to open my mouth as I tried many times when I was bullied as a mute child from elementary to high school. I wanted to defend myself. To tell her I had just used a rag. It wouldn't get that one spot. So I used my nails, but I had gloves on. Her laughter deafened me.
The words triggered the demon inside me. I walked backwards, somehow made it to the bathroom. I cried and cried. A few asked if I was ok, but I could only respond with, "I think."
It was time for lunch break. I figured I could take a breather in my silver bug with bandaids all over it, from my many dents in my car. I logged out on my phone, figured I'd be back in a half an hour. The pain was intense and spread to every cell of my body. With every bad memory and word haunted me. A sibling once said, "Everyone can't stand the way you eat. It is so appalling. Learn how to eat." My abusive ex who I had a two-year protective order with was major OCD and would yell at me for hours, calling me every name in the misogynistic book for females, because I had the nerve to spill a spot of spaghetti sauce on his rug. A roommate yelling at me for forgetting to brush a few crumbs of her couch, leading to a huge PTSD attack, as well. My last one was with her. More than three years ago.
I didn't think anyone would understand. Didn't believe I'd ever find relief. Didn't believe I could ever please my parents or my sisters, who are so much more accomplished than me from doctors to judges to saints. They are all so stable in their fields of employment. Parents both retired with about thirty years to their jobs and comfortable yearly incomes.
I wanted to be with Joe and Faithy. I wanted to stop feeling like an alien in a cold, dark world. I had memories of the Other Side. Another side effect of being a psychic/medium. Not only had both Joe and I had Near Death Experiences due our many botched suicide attempts, but I also had occassional flashes of memories. Memories of a place where I was accepted just as I was. Unconditionally.
A knife Joe gave me for protection gleamed on the top of some papers underneath my stereo system. Yes, I recognize the irony in that statement. I didn't want to be a burden anymore. I wanted to go to that place I called home. I wanted more than anything to end the tortue, the hot coals of pain over all my body and soul.
Somehow I lost complete control of my body and cried to my higher power to not allow anyone I love to grieve or be hurt by my actions, but that I was so tired and needed a rest. Needed the pain to stop. The pain released less and less each time the blade made contact with my neck.
But, I couldn't do it. I got control of myself as an image of my husband burying me came to my mind. I threw the knife out the car door for now. And called my husband. "You're the one I'm afraid won't be ok without me." Everyone else had their soulmates. He was mine.
Luckily, he had that day off work and came with my wonderful parents, who knew where my job was as they had dropped me off a few times. When I came home, I threw away the knife, hid my neck with chokers and my favorite hat with those fuzzy balls. And with blankets over my neck and slept like my life depended on it. Cause it did.
Sure, PTSD is a certain brand of demon. But no matter what happens outside of me, even if I can't always control the symptoms of this wicked disease or its disastrous effects.There is one thing I can do. The most important thing. I can take care of me. Somewhere lost in a full-time job that wasn't what I loved or what was best for me or the company or my loved ones. If anyone has seen the interior of my car, they know well they can't see the interior of my car. No matter if I encounter demons or angels in my path at any day, I do know that every day I can grow the angelic light and happiness inside me by doing what I love. By not ignoring my own needs to fit in or to take care of others. The more I heal myself with meditation, therapy, meds, and doing what I am passionate about, the more the inner critic that feeds my PTSD will dissolve. I know that mental illness is as real as physical illness, in my life, even more so. It is the worst demon of all.
I blame no one, even me, for this incident and even for the PTSD itself. I am never a victim. Always a warrior. A survivor and a forgiver. Life is too short to hold grudges. I may not be a war hero. Maybe to many, my severe PTSD didn't make sense. I hadn't been to battle, at least not in this lifetime. But to Joe and those on the other side, it made all the sense in the world. I learned then. That I only needed me to understand me. And I did in that moment. Perfectly. Scenes of my life flashed before my eyes, of constant terror of the next time a kid would spit on me or laugh at me or a teacher would kick me out of class for not speaking. Of the many times I allowed others to control how I saw myself. Of the times people hurt my body, through violence, death attempts or threats, sexual assault or rape, I am only responsible for getting back up and never once hitting someone in my entire life. That was the real me. I had light inside me, that no matter what happened outside of me, never dimmed. I never stopped loving.
As a Phoenix Angel covered in my bodily ashes, I will rise again and spread the wings I sustain every day by showering myself and others with good deeds. As many have done for me. Saving me time and time again, often in the smallest of ways. I've always struggled saying mean words to others, now is the time to struggle saying mean words about me.
I changed a few names to protect privacy.